Despite this only being Hinds' third year in Austin, their recording-breaking 18-showcase lineup has earned them much-deserved street cred as SXSW veterans. It's easy to see why they're a festival favorite – it's hard not to be infected by the band's bubbly brand of punk rock and coordinated stage moves.
We caught up with Ade, Ana, Carlotta & Amber just before their show at Cheer Up Charlie's to talk about vintage gear, balancing a hectic tour schedule, and how Ade ended up with a bass previously owned by the guitarist of Blonde Redhead.
Is this the band's first SXSW?
Carlotta (vocals, guitar): No, it's our third one.
This year, you're playing 14 total shows in Austin. How did that come about?
Ana (guitar, vocals): Well, the first year we played 16 shows, then the second year we played 18 - we thought, Hmm, let's have a little break and just do 14.
What is it like playing that many shows back-to-back?
Ana: We love performing, it's what we enjoy the most. It feels like going to the gym, or getting ready for the next world tour.
How do you guys stay sane on the road – any tips/tricks?
Ana: Having clean underwear - a lot of clean underwear [Laughs].
Amber (drums): Whole Foods.
Carlotta: Here's my survival kit for SXSW: [Pulls items out of bag] Ricola, throat lozenges – wait, but this is the best part. This is ginger. It's good for your vocals to chew, because, as you can hear, it's easy to lose your voice doing this many shows.
What advice would you give other artists who want to play SXSW in the future?
Ana: Playing as many shows as possible is our number one tip. There's always a chance that someone is randomly going to be in the audience who may like what you do. That's the best – when people who just happen to be there to see the band playing before or after you end up discovering your music. You should absolutely play as many shows as you can.
Ade (bass): And also, bring shorts.
Hinds: Shorts! You're always going to need them.
Carlotta: And sunscreen.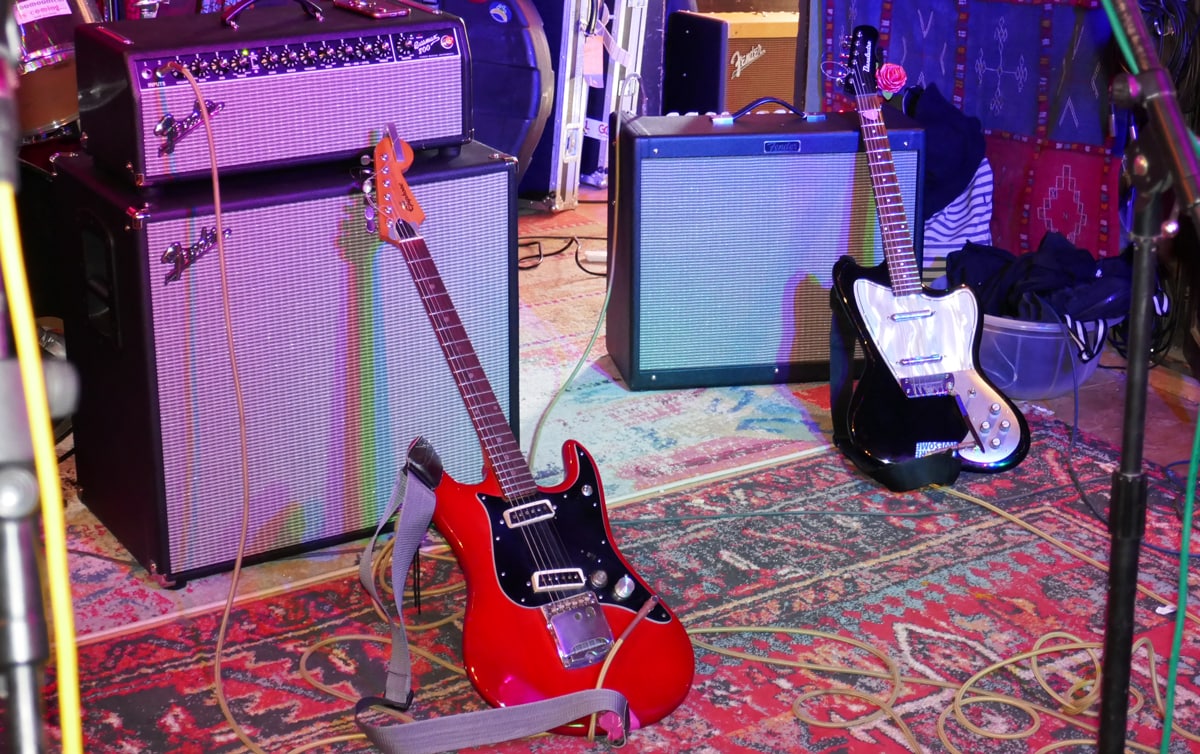 Let's chat about the gear you guys brought on tour. Can you show us around?
Hinds: Gear, yeah!
Carlotta: I have a Danelectro. (a discontinued "Dead-On '67" Model) I love it because it's pretty light. I have two other guitars, another Danelectro and a Supro, but this sounds better running through distortion. In most of the new songs, all of the riffs & solos I play have a lot of distortion. It fits perfectly. It's a really awesome guitar.
Carlotta: Thank you. And don't forget the rose. [points to headstock]
Ana: My turn? This is an Epiphone ET-270. I got it at a music store in New York in the East Village called Rivington Guitars. Apparently Kurt Cobain toured with this model Epiphone for a year.
Definitely a super cool Epiphone.
Ana: I know. It's really special. I love the color, too.
Ade: This is my touring bass - it's a vintage Kalamazoo. I got it in New York in a really cool store called Pentatonic Music. It belonged to the guitar player for Blonde Redhead - it's written here [points to bass body] "Blonde Redhead." He was a fan and friend of Sonic Youth as well, so there are Sonic Youth stickers on the back. And look [points to strap] – Carlotta made this for me. It says my name.
Amber: I have a new Gretsch Signature Series Steve Ferrone snare. I just bought it two weeks ago for my birthday. I like it - it's a deep one.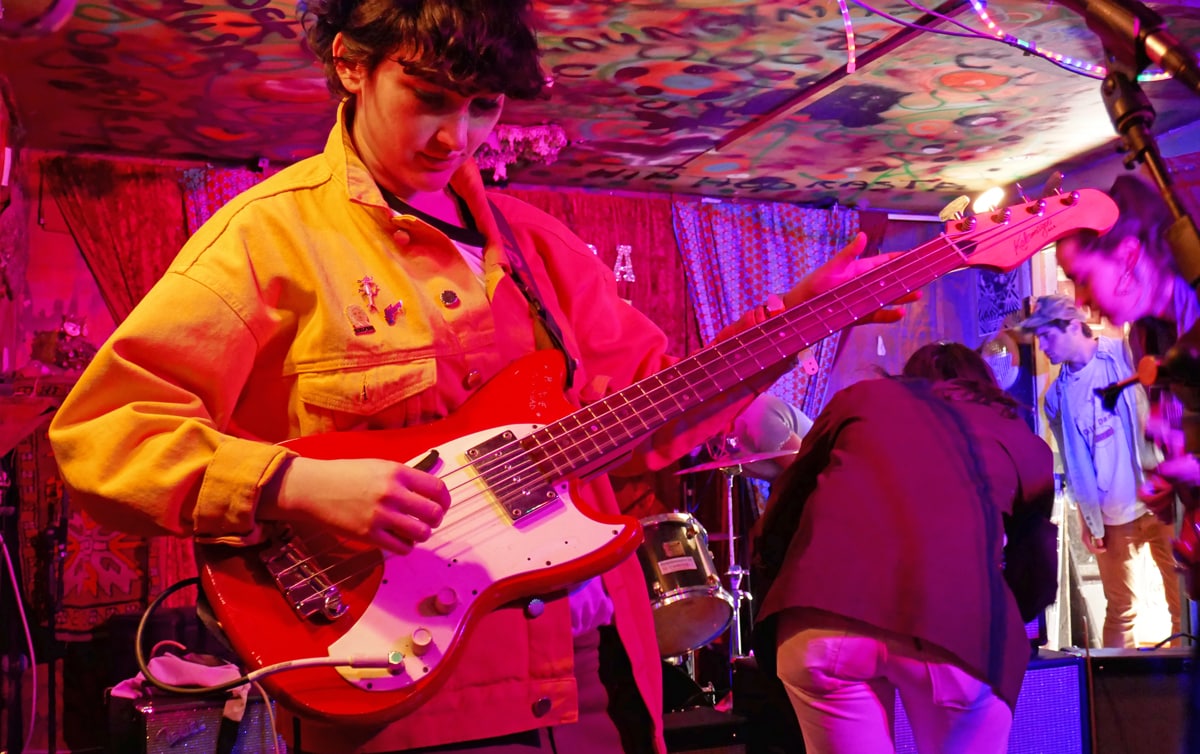 How have your gear choices evolved as a band throughout the years?
Ana: We started [as a band] playing acoustics, and then switched to electrics. I started with Carlotta's big brother's guitar first – we toured with it for a long time.
Carlotta: Two years. It was green.
When you finally made the switch to electric, what was it that drew you to vintage guitars?
Ana: I think it's more of a romantic thing - just knowing that it was old without knowing the life it lived before. I like that.
Social media is a major tool for artists to keep in touch with their fans while on the road, writing new songs, etc. How have you creatively utilized social media to grow your audience?
Carlotta: I think the trick is just being yourself. It can be scary, but in the end, it's the most authentic. We travel all over the world, and it's a way to communicate with fans from Singapore, Australia, Japan – wherever. Social media makes the world smaller, in a way – we can freely communicate anywhere globally.
During the She Shreds showcase earlier at SXSW, Ana's guitar strap broke off (which was handled like a champ). What tips do you have for dealing with something going wrong on stage?
Ana: You have to realize that no one notices those things as much as you do. It took us so long to realize that - even when you're feeling uncomfortable on stage and you don't hear your voice, or something breaks – whatever happens in a show, you've just got to go with it. You've got to make the effort of thinking no one's hearing it, because likely no one is. You might realize something isn't working in your chain, and your bandmate right next to you on stage won't even notice.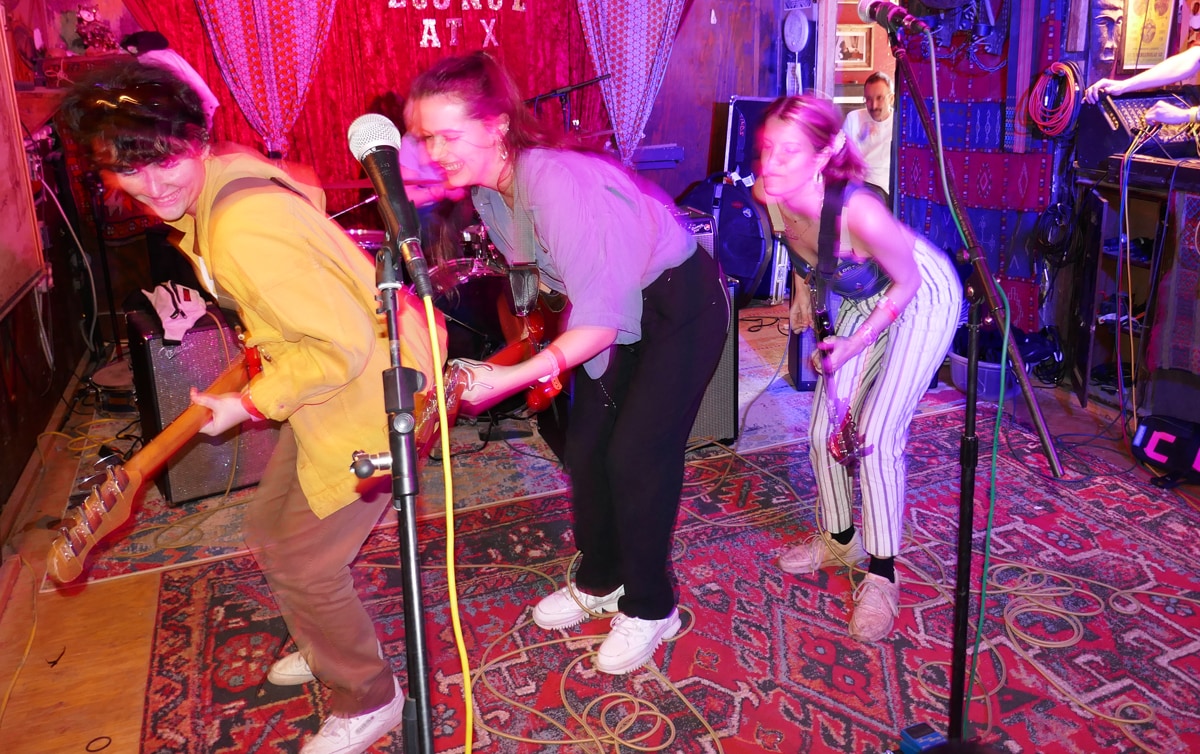 Okay, so we always have to ask – food recommendations here in Austin?
Ana: We haven't had time for food [Laughs].
Ade: The burgers at Hotel Vegas are really good.
Ana: Yeah, even the veggie ones - really good at Hotel Vegas.
What's next for Hinds after SXSW?
Hinds: We're touring. Woo!
Carlotta: We're touring the US with Albert Hammond Jr. next week. We also have a new album coming out April 6th, called I Don't Run.
Check out the latest from Hinds:
Hinds is on tour this May! Get tickets: http://www.hindsband.com/
5/7 - Boston, MA - The Sinclair 
5/8 - Philadelphia, PA - The First Unitarian Church 
5/10 - Brooklyn, NY - Warsaw 
5/11 - Washington DC - U Street Music Hall 
5/13 - Toronto, ON - The Legendary Horseshoe Tavern 
5/14 - Cleveland, OH - Grog Shop 
5/15 - Chicago, IL - Lincoln Hall 
5/16 - Minneapolis, MN - 7th Street Entry 
5/18 - Denver, Co - Globe Hall 
5/19 - Salt Lake City, UT - Urban Lounge 
5/21 - Vancouver, BC - The Biltmore Cabaret 
5/22 - Seattle, WA - The Crocodile 
5/23- Portland, OR - Wonder Ballroom 
5/25 - Santa Cruz, CA - The Catalyst Atrium 
5/26 - San Francisco, CA - The Independent
5/27 - Santa Ana, CA - Constellation Room
5/28 - Los Angeles, CA - Teragram Ballroom