In 2016, we asked multi-Grammy-Award-winning country artist Vince Gill to choose 5 new guitarists to join him on stage for one night only at The Mint in Los Angeles, each competing for the chance to record their own original music with Vince in the studio, as well as open for him at one of his shows. After choosing Claudio Tristano as the winner for the evening, he shocked the audience by also inviting all 5 finalists to join him as opening acts for a future show.

After a few years of touring with legendary rock group The Eagles, Vince Gill returned to Nashville for a special evening at 3rd & Lindsley with all five finalists, each joining Vince and his band for 20-minute sets of Vince classics and original music. We caught up with Vince, Arielle, Claudio, Justus West, Stephan Hogan and Tony Pierce backstage before the show to see what they've been up to since we last brought them together.

Photography by Alysse Gafkjen.


Vince, tell us how this showcase tonight came to be.

Vince Gill: I was part of a contest with Guitar Center in Los Angeles a few years ago - Claudio won that night, with the prize being the opportunity to open a show for me. I don't always like that aspect of contests - choosing one guitarist "better" than the others. That night, I remember truly enjoying everyone who played. So for my peace of mind, I wanted everybody to come and play a night of music with me somehow. At the time, I didn't realize that I was going to get a job with the Eagles - all of a sudden, my dance card got pretty full. But once it cleared up, I said, Man, let's all just have a pow-wow in Nashville. I knew a cool place where we could all play together, and make it a night of young guitar players people may not be familiar with yet.


What is it about this group of artists that is special to you?

Vince: When I picked these five finalists, I not only listened to what they did when playing songs of mine, I also listened for little things that each of them did to stand out. The five finalists all seemed like artists to me. They sang, they wrote songs - they're just musical people.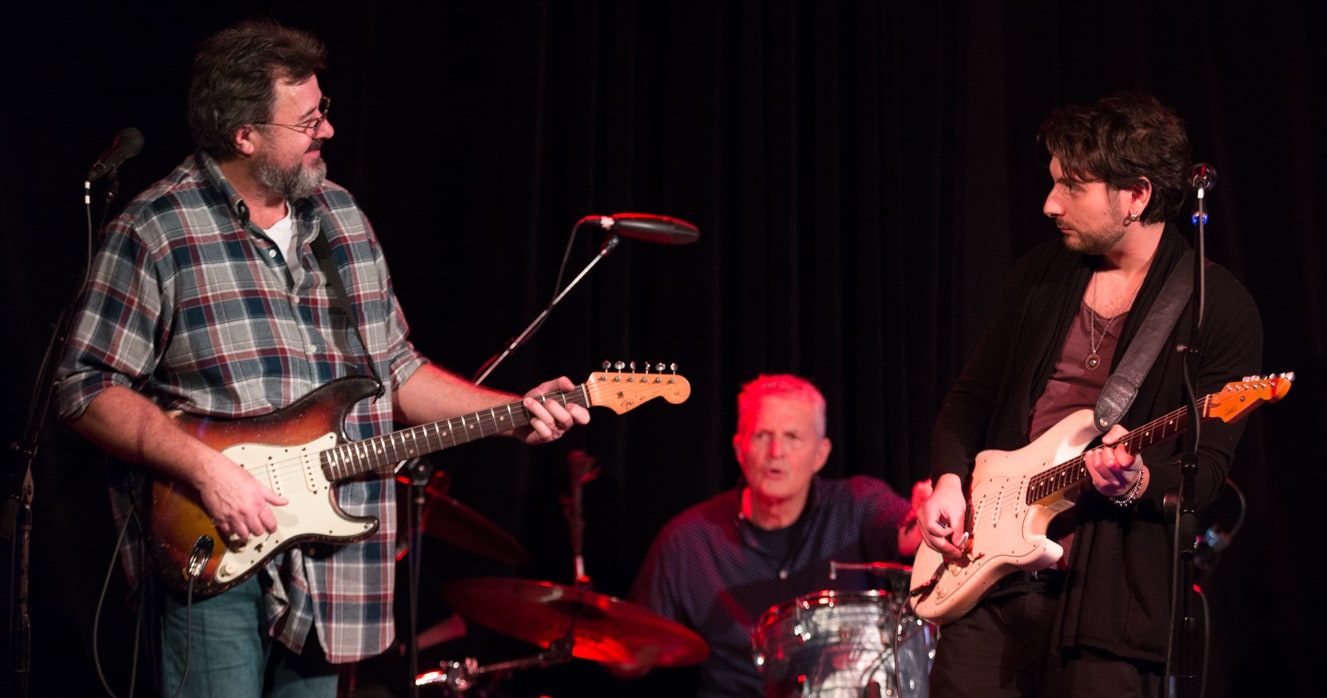 Vince Gill and Claudio Tristano sharing the stage at 3rd & Lindsley in Nashville, TN.

Having shared the stage with many musicians throughout the years, what do you feel makes a great collaborator?

Vince: I think being a great collaborator means you have to be an even better listener. That's the key to it all - listen to what everybody's playing. That's been my goal for the last 45 years - whatever I'm doing, if I can't add anything, I'm not going to play. If I can't sing or play something that makes it better, then sometimes not playing is just as important as even just one more iron in the fire, making a racket. That's what I see from each of them - I really like the way they embrace each other's styles.
Arielle: I just think it's really cool that we all get to experience this together. To have the chance to play with Vince and his band, at that caliber - we have to meet them in the middle in a way, and support each other. It's a really special night.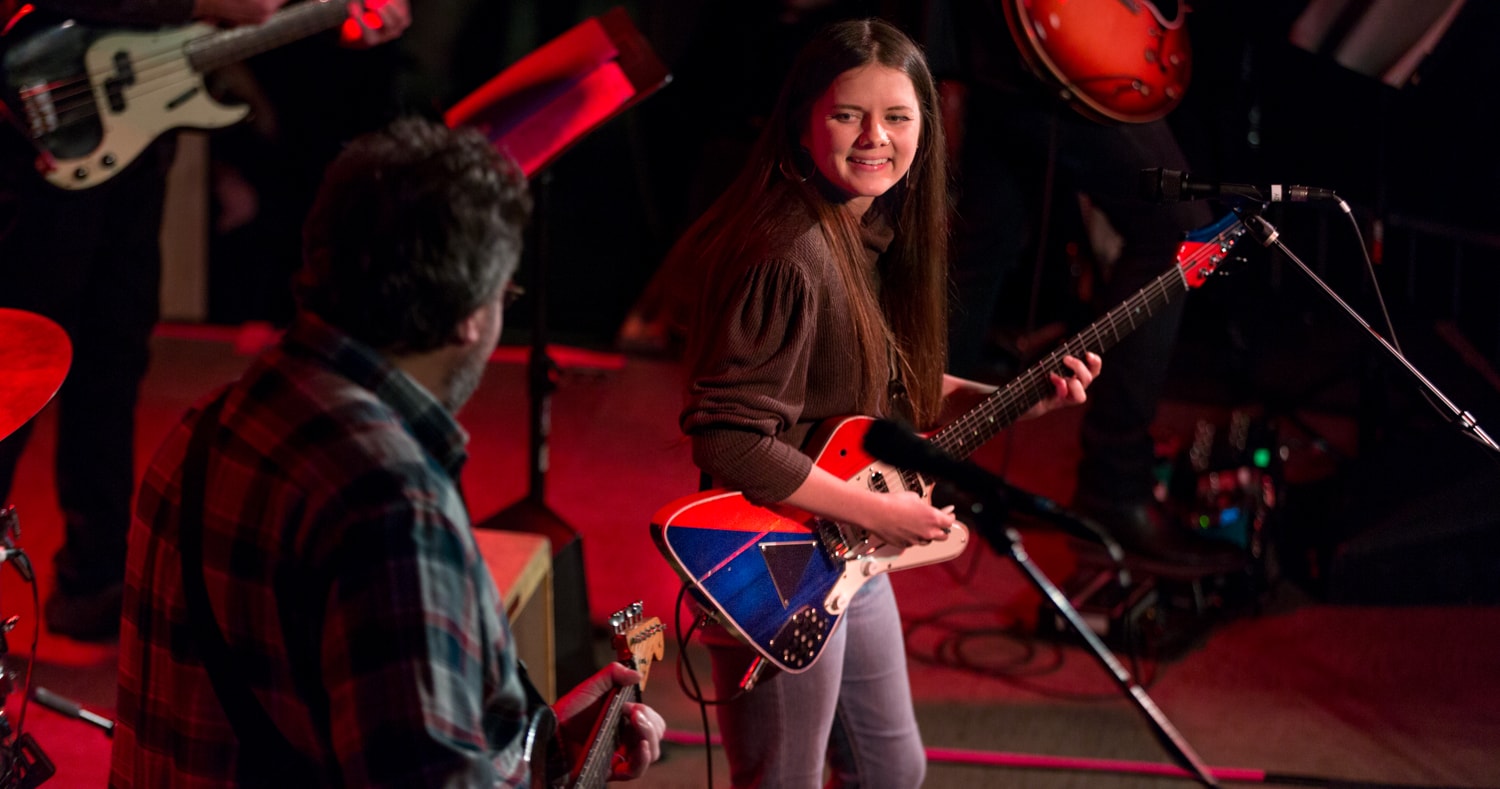 Vince Gill and Arielle sharing the stage at 3rd & Lindsley in Nashville, TN.


How has your setup changed over the past few years?

Vince: I always want to take [on the road] what's appropriate and authentic. I don't play a lot of guitar with The Eagles - a few solos a night, that's it. You've got Stuart Smith and Joe Walsh on stage that can take care of that just fine. [Laughs] I know that I'm going to be a primarily rhythm-minded element to that band. We've all got rigs, we've all got pedals - but if you've got this sweet ballad happening, you don't want a big, distorted mess going on in the background.
Justus West: I play a PRS guitar now. After the competition, I was back in Nashville playing with Vince one night, and a guy who knew Paul Reed Smith was in the crowd. He sent Paul and email about me, and I've been playing PRS ever since.
Stephan Hogan: I just started playing a PRS amp, too. It's a little 16-watt called the PRS Sweet 16.
Tony Pierce: I have to give a shout-out to Marty MacMillian, who builds MacMillan Guitars. That's what I play at 90% of our shows - he builds great, unbelievable acoustic guitars. Electric guitars, too - I just don't have one yet.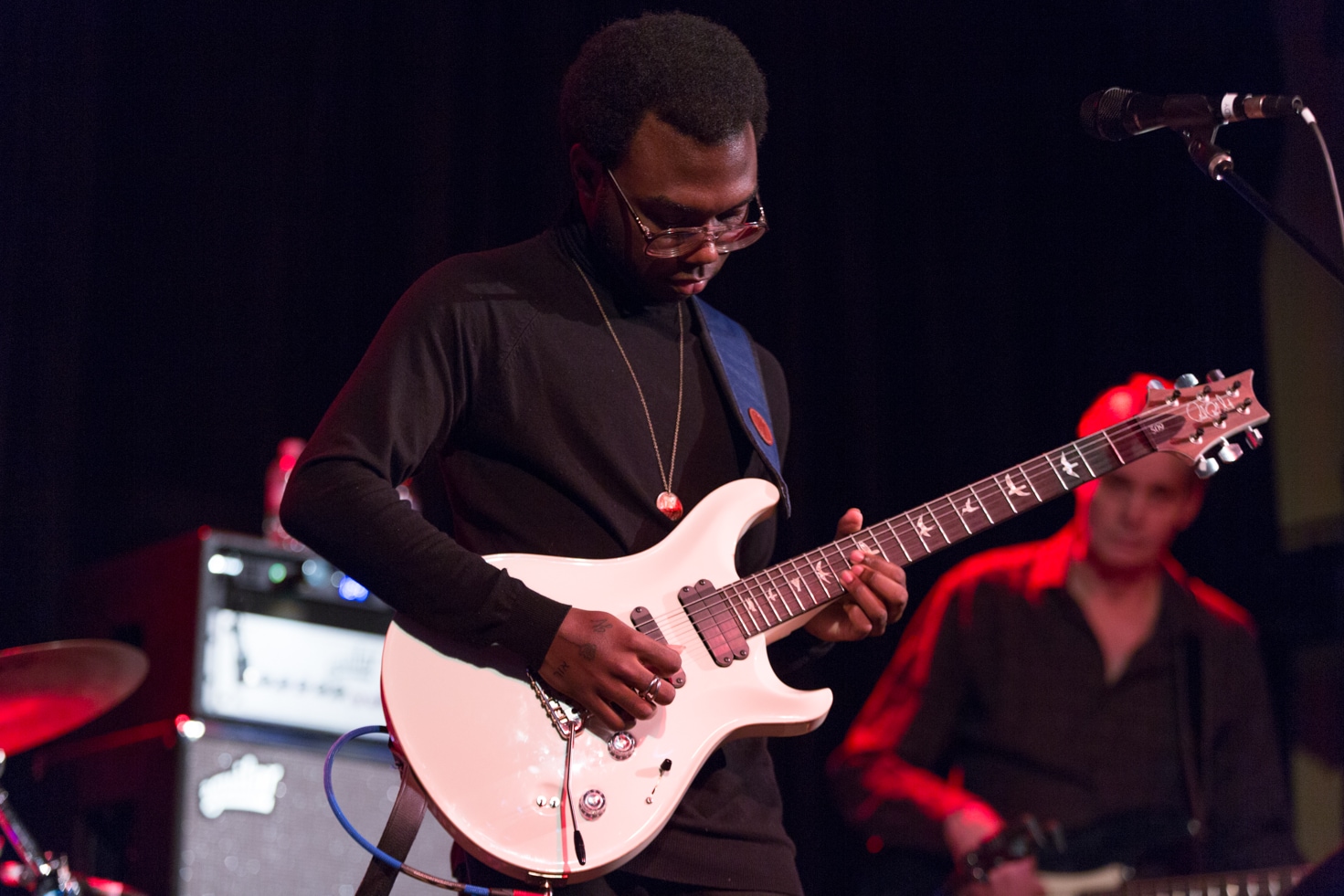 Justus West on stage at 3rd & Lindsley in Nashville, TN.


Which guitarists are on your radar right now?

Vince: I'd probably point to Derek Trucks - we're good friends, and I always keep tabs on his projects. He's one of the only people I've ever seen play slide with the most articulate pitch, never losing an ounce of soul. There are artists who play very articulate and precise, sure, but the soul goes away. Whatever is raw, guttural and soulful - that inspires me to no end.
Stephan Hogan: Chris Stapleton. I saw him last summer - it wasn't that flashy, but he was always playing the right notes at the right time. His phrasing was really clean - he used discretion. That was what impressed me - he could play for two hours and I felt like I didn't hear him make a single mistake.
Claudio Tristano: I'd say Michael Landau. He's basically like Derek Trucks, but with no slide. He's in his 60s now, but he always manages to sound like he's keeping it simple, even though the music itself is not.
Tony: There's a songwriter who played with Guy Clark for a long time - we got to play a show with him and meet him, his name's Verlon Thompson. If you have the chance to hear him play, both his lyrics and music tell the same story. It's kind of interesting how he approaches it that way. And, of course, the guy sitting to my left. [Points to Vince]

What's next for you guys?

Stephan: I've been writing a lot of songs. After On Stage With Vince Gill in 2016, I had a conversation with Vince about songwriting - he advised me that it's all about being yourself. Before that moment in time, I was trying to write for what I heard on the radio. It was a freeing experience to have Vince Gill say, You know what? Just try to figure out who you are. I've been on this journey the last few years ever since, writing songs and discovering more of who I am as a musician, instead of trying to sound like someone else. I also released an EP, which Justus played bass on.
Justus: I've lived in a lot of cities - I live in LA now, and am working on my own music. I'm also producing a project for my mom, who just got signed to Capitol Music. I've also been able to work on films (Lego Movie) and even wrote with Alicia Keys - it's been a cool little journey so far.
Claudio: I've been working on my own music also, recording my first record to be released sometime this year. I've toured in Japan, which was really dope.
Tony: My wife and I perform as a group called Pierce Avenue, and we've been traveling around. We're based here in Nashville, so we play pretty regularly here as well. We just kind of take on the world - flying all over. Keep the lights burning by playing the guitar, you know?
Arielle: I just finished an album - I was on the road with Eric Johnson for a couple of years. I've also got a new guitar model coming out - the Two-Tone model guitar I made is going to be manufactured by a guitar company I love - more on that soon.


You can check out all five of Vince's picks here:

Arielle: https://www.instagram.com/officialarielle/
Claudio Tristano: https://www.instagram.com/claudio_tristano/
Justus West: https://www.instagram.com/justus.west/
Stephan Hogan: https://www.instagram.com/stephanhogan/
Tony Pierce: https://www.instagram.com/pierceavemusic/

And see what Vince is up to here: https://www.instagram.com/vincegillofficial/