Before playing livestreams and drive-in shows, Marcus King was bringing his blues and southern rock sounds to iconic stages and sold-out shows across the country. We were fortunate to catch one of his last live shows before the lockdown ensued earlier this year, at one of San Francisco's most legendary venues, The Fillmore, and chatted with him during soundcheck. He spoke about the language of music, the evolution of his rig, and the importance of musical community and connection. This young guitar phenom values tone, tradition, and the universal aspects of music-making — inspiring a new generation of guitarists to find their voice on the instrument.
Tell us about your musical roots.
Our family reunions would be kind of a hub of creativity for the family to get together, and it would be mostly gospel music and old folk music. Everybody would get together and play at my great-grandfather's house, and that's where we all felt most comfortable. The main thing that I took from watching my elders play [was] the unspoken thing of just being a friendly player, and not stepping all over what somebody has to say — and it gives you an opportunity to say what you need to say with an audience of people that'll listen.
What is your approach to performing?
I've always tried to think as little as possible when I play — there's a lot of practice involved with that, and to know the instrument well. And you just try to get it as an extension of your mind, just like your voice is. People don't think about how every word is spelled, and you don't think how everything is phonetically working to make a sentence. That's how guitar is. You just need to know the vocabulary and build from that, and be able to just construct a sentence or a story without having to necessarily think about each word in the story.
Music is the language that everybody understands, and that's what's beautiful about the instrument being able to convey what you have on your mind, your soul, and in your heart. Everywhere we go in the world, people understand this language. It's nice to have a conduit within my hands where I can express myself to anybody, and they'll understand at least a little bit.
How does your band support your musical communication?
These guys have been through it with me, and we all share a van together, share hotel rooms together. We sat in green rooms with half the roof gone in the middle of winter in Michigan. These kind of things just pull you closer together. So creating with them on stage every night starts to become a telepathic communication thing. Music is so powerful, where certain things just happen that you can't really explain with any laws of nature. It's just a comforting feeling to know that you're going into battle with people that you trust and admire, and the admiration is mutual. And we look up to each other, we're a cohesive unit. This band is really the thing that keeps me going, as well as the fans.
How has your rig evolved since you started playing?
My rig's evolved, not a lot, since I first hit the road when I was 17. I just had a Fender Super Reverb and a Tube Screamer, and I had an SG. I needed a little more dB on stage, so I'd started using Marshalls, and I used Homestead amps for a while. I've been working with Orange, and we designed a special 50-watt head. And I got two 212 cabinets with the vintage 30s in them. The head has 6L6s in it, so the circuitry is reminiscent of a Fender amp — and I still have my Super Reverb down there. That's the greatest amp that's ever been, Fender Super Reverb, black face. 
On my pedal board, I've been using some tape echo delay from Dunlop, and there's a great company called Super 5, been using their fuzz pedals. And my drummer was going through the house that he and I used to live in, and he found my dad's old Super Fuzz pedal. We dusted that off, got it worked on, and now I'm using Super Fuzz too, and obviously using my 345 every night. Gibson was kind enough to replicate my 62, and they did a fantastic job. Also got a few Fenders in the arsenal, a couple Les Pauls. Tools of the trade.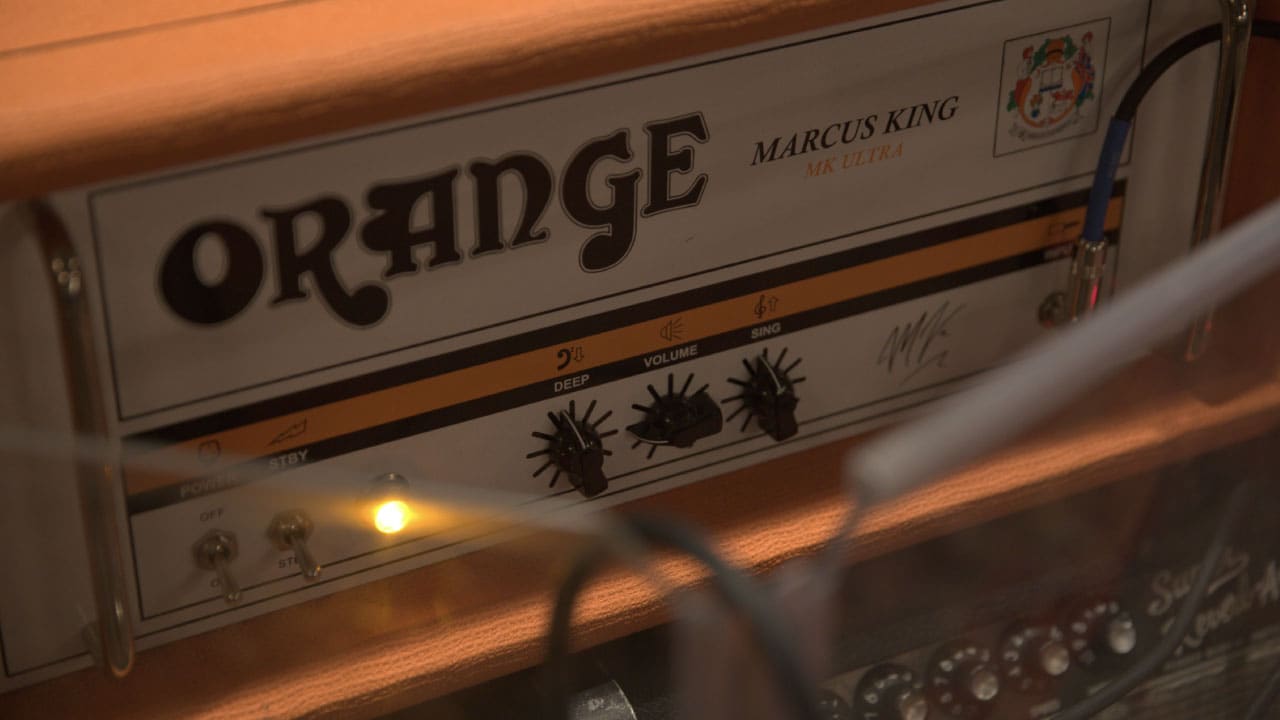 What advice do you have for the new generation of guitar players?
I think the younger generation's kind of reclaiming the instrument, they're bringing it back as a relevant art form and piece of expression. Trust your ear, trust your gut, and my advice to young players that are trying to find their own sound is find your own path.
For me, the way that I did that was to just listen to anything but guitar players. Stevie Ray Vaughan was a big influence of mine, and Hendrix, and Robin Trower — all these cats that everybody looked up to so much. I was also really into Jimmy Herring and Derek Trucks, and they were very inventive players — and I got into Al DiMeola and John McLaughlin. There were a lot of different playing styles that I could pull from — but at a certain point, it's like, these are all guitar players. So, I'd listen to Jimmy Smith and I'd think about his approach, musically, to his instrument. What I got really into are musicians.
There's a passage in Victor Wooten's book where he speaks about not being a bass player, but just being a musician. That really spoke to me as a kid — I was like, that's what I want to strive to be —  a musician. This is just a conduit in my hands. Just allow the instrument to be an instrument, and your voice needs to shine through it in your own way.
Keep up with Marcus King. 
Live Photographs by Paige Parsons