It's rare to find young musicians who gel as organically as Julia, Nick and Jake of Sunflower Bean – as Julia puts it, "playing bass with [Nick & Jake] helped turn me into a musician I can be proud of."

We sat down with the band for a conversation about growing up under the influence of rock & roll, buying your first big piece of gear and how to gig like a pro from the club to the stadium.

Tell us about the main instrument you featured today.

Julia (bass): I'll be playing my Rickenbacker Bass, 4001. I got this bass about 7 months ago – it was kind of a treat for myself for making this record. I was lucky to have a Gibson Thunderbird before this that Gibson lent me – I remember thinking, I'm a big girl, I need a real bass. I wanted something with that classic Rick sound. I feel like it's an achievement when you put a little money down and get something for yourself. It feels better than when someone gives it to you in a way, because you earned it. It's definitely changed our set and our sound. I think it's made our sets better, holds a tune better and sounds great in basically every amp. It's been very nice.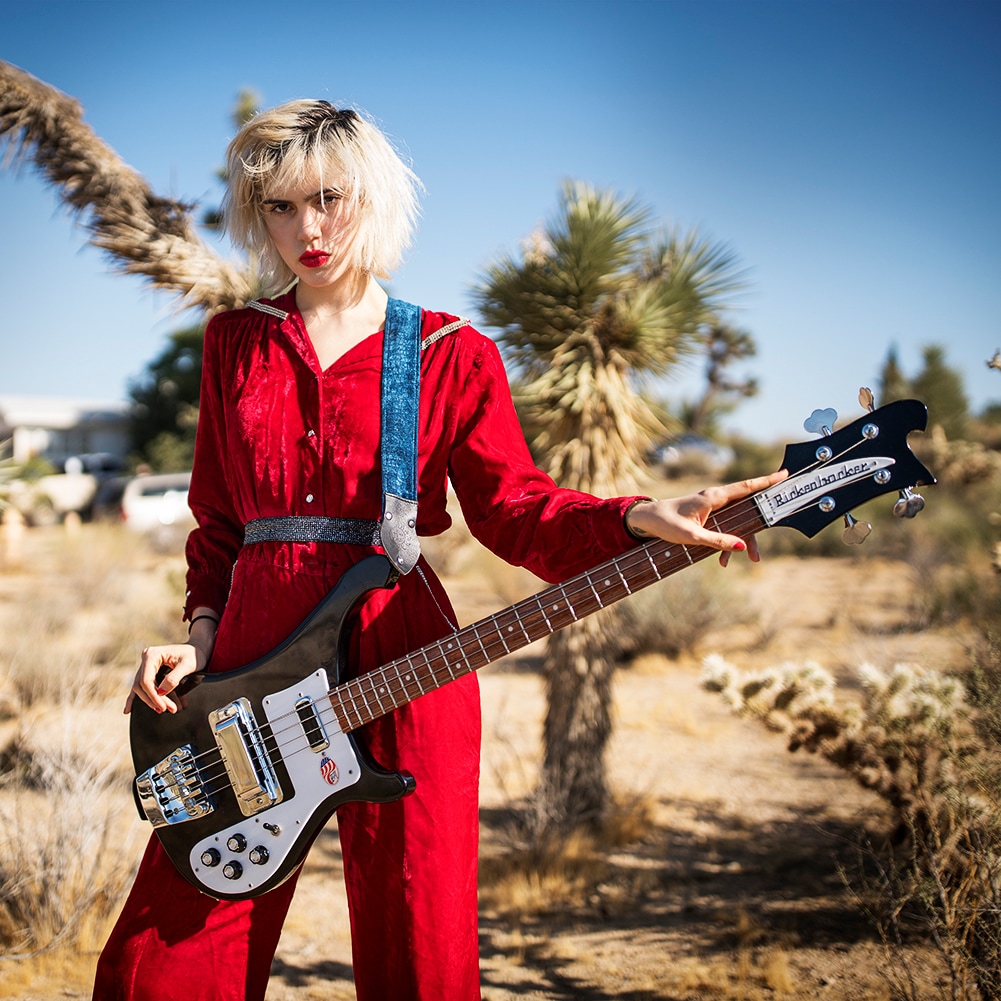 What is it about the tone & feel of the 4001 that fits your playing style?
J: It has a lot of sustain, which really works for the kind of music we make, especially when it's kind of "jammier". It's not too plucky, but still has a lot of personality. It's classic and versatile. I've written songs around the sustain style of the Rick. When I don't have a bass that can do that, I feel like we don't sound right.

How about the Strat?
Nick (guitar): This is my brand new American Pro Strat I got from Fender in April. It's the first year that they've been doing the new American Pro series – it's probably the nicest guitar I've ever owned. I was playing a Squier Strat before, so it's the best upgrade. I've always loved Strats – I've had one for like 8 years now.
Julia: Strat man.
N: It's kind of just like an extension of myself – of electric guitars, the Strat is the complete form. It's the essence of what [an electric guitar] is. You can get 5 different sounds out of it, and each one is really unique and useful. Whenever I play another guitar, I always end up wishing I had the options of the Strat.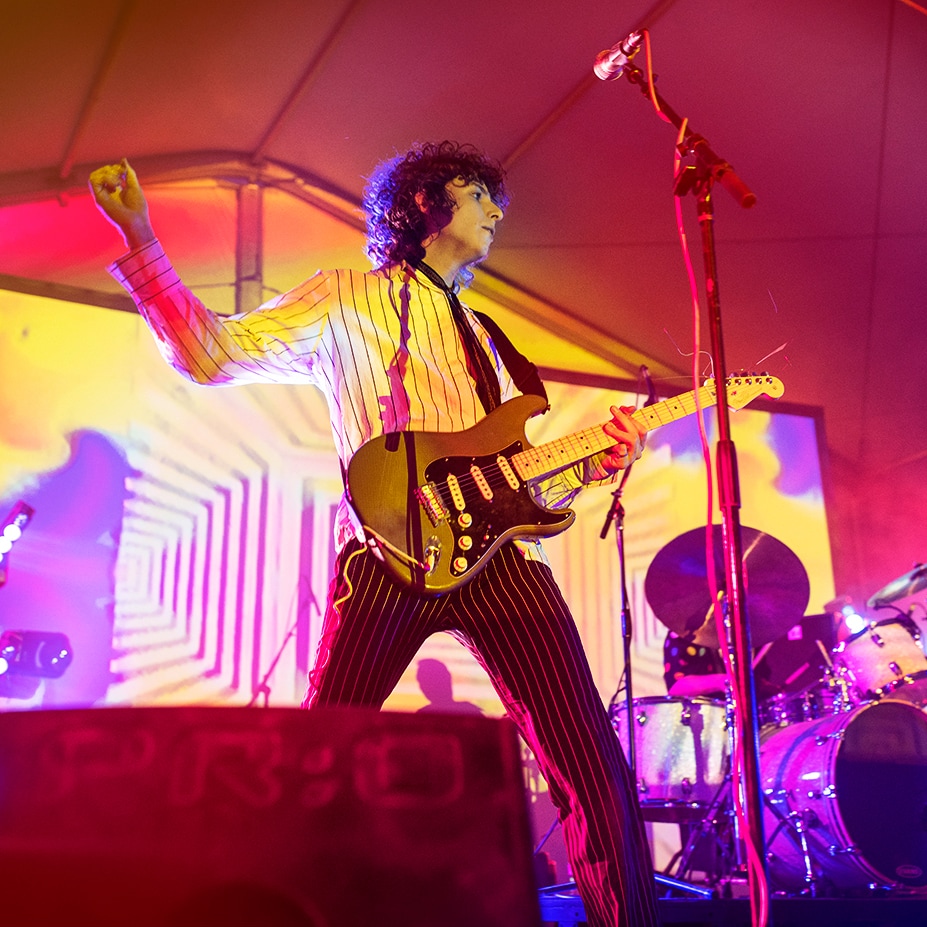 Tell us about your cymbals.

Jake (drums): This is my Dream Contact Ride Cymbal that I absolutely love. I grew up playing Ziljdian or Sabian, but I decided I wanted something a little more unique sounding with a different character to it. Warm, but it cuts. You can play all different parts of it, getting a different sound on each part. Really work it up, sizzle on it. I really love it.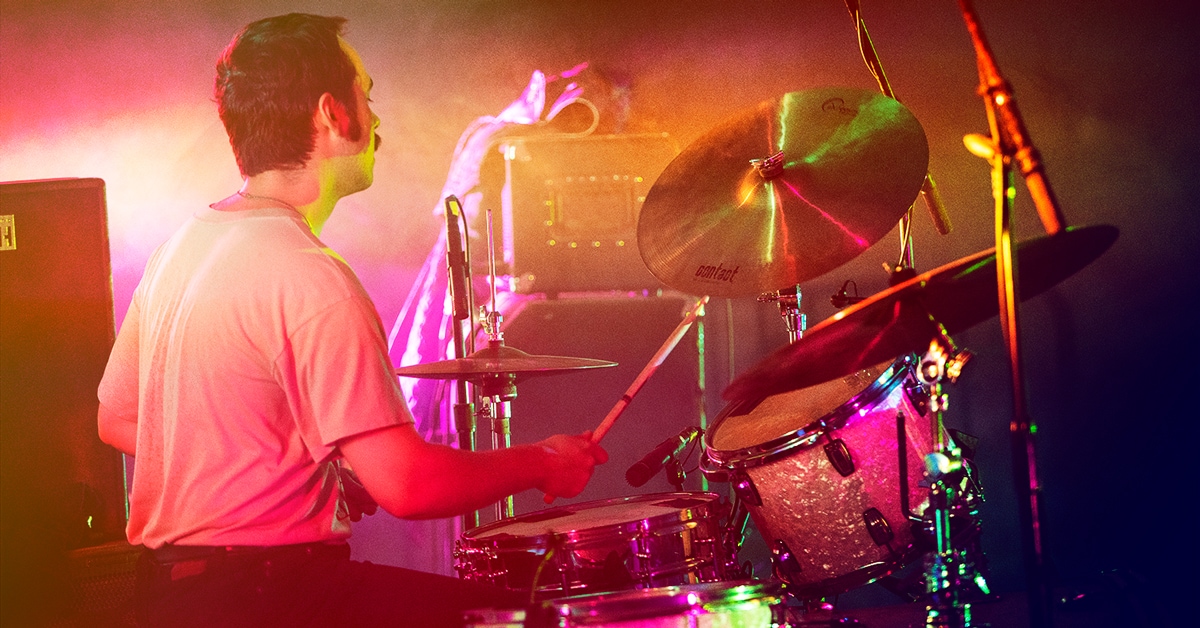 Do you each remember the first instrument you ever had? What was it?

Julia: Guitar Center is like a safe haven for us. If you love rock music, it's like, what are you supposed to do after school? Sure, you can make silly jokes about all the guys soloing or whatever - but there's another side to it. I've probably bought at least 600 things at GC through the years. I remember really early on, with my old band, I bought my first drum pad - we called it "Darth Vader's Laptop". We couldn't' remember the actual name of it. It was super industrial. We militantly didn't have drums – we just had someone playing a ridiculous drum pad. We never would have found it without Guitar Center. I've also noticed lately that there are more women working there, which makes me really happy. As a female in the industry, I'm excited to see more of that.
Nick: I got my first two guitars at the Guitar Center in Carle Place, NY. I bought a Yamaha acoustic, and a year later I got the Squier Strat box set – the one that comes with the amp. I also bought a blue lightning guitar strap that I still have. Actually, I was in GC last week buying an acoustic pickup for a show, and I saw the same exact strap still being sold on the wall. Some things are just classic – like that blue lightning strap at GC.
Jake: I actually used to play the sax, and I got a sax at Guitar Center. That was cool. I think it was the Carle Place location, too – used to be down the street next to my hockey spot. I'm constantly going there buying drum heads.

Do you remember the exact moment you realized that music was what you wanted to do for the rest of your life?

Nick: The first guitar lesson I ever had was when I was 8 years old - it was my mom's hairdresser. Her boyfriend played drums in a band called Agnostic Front – a classic hardcore band from NY. He was a super nice guy - he'd give me hour long lessons. On the first lesson, he taught me how to play "Come As You Are" and I was hooked. I went to Guitar Center with my mom to get strings, and that's when I played an electric for the first time. It was plugged into a chorus pedal, and it sounded just like the record by accident. I told my mom, "Listen, it sounds just like it!"
Jake: My friend taught me how to play the intro to "In Bloom", and that's when I thought – oh, I can do this.
Julia: I had played guitar before in another band, and I also played what I called "songwriter's bass," which was just for the songs that we were writing, that I would end up teaching our rotating cast of bass players. But I remember when I met Nick & Jake, they asked me what I played and I told them I played guitar and bass. Nick was like "You gotta play bass in my band!" There was a big part of me that was super worried – Am I lying? Do I play bass?! But I showed up, and Nick and Jake have always been the most supportive friends and bandmates. I think playing bass with them helped turn me into a musician that I can be proud of, actually. I'm really confident with my abilities, and I'd say that comes from playing with these guys.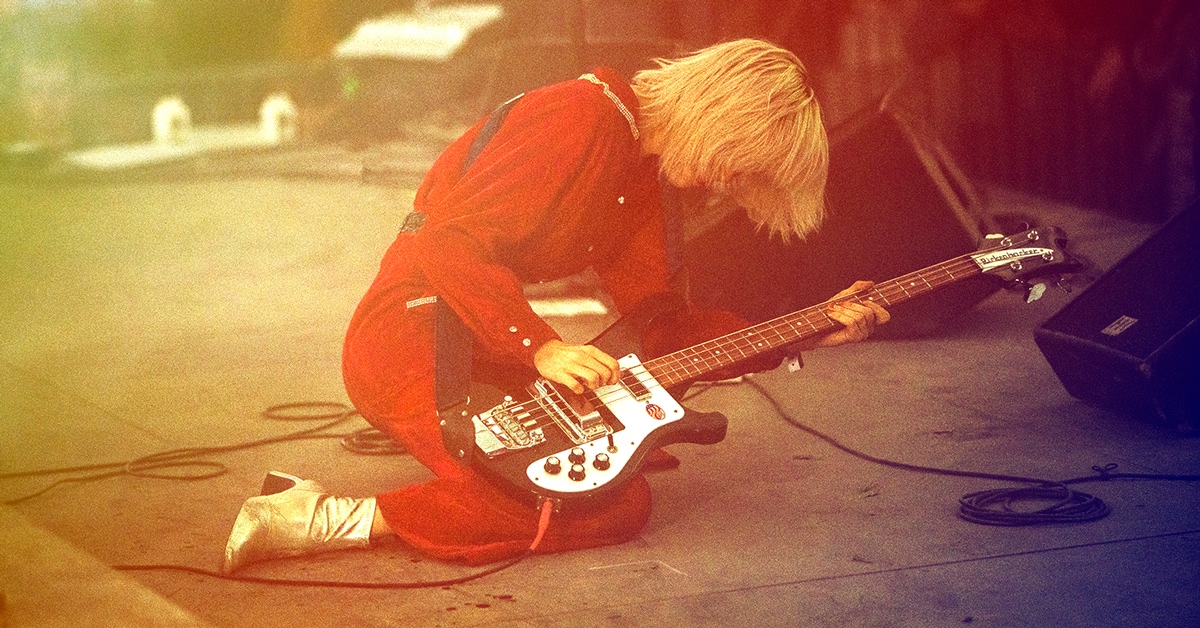 Any tips for musicians on what to do when something technical goes wrong on stage?

Nick: You just gotta play your share of bad gigs in life. I think all three of us have probably played at least 300 bad gigs.
Jake: I feel like there was a period of time when the monitor mix started getting good – somehow that was more off-putting.
Julia: You get really used to the bad quality. It depends – we did a tour last summer with Cage the Elephant and Portugal the Man, and the set was 30 minutes every night exactly. Almost every single night, without fail, somehow my gear was messed up. I stopped making sound for like 2 minutes, which isn't a long time, but in a 30 minute set in front of an arena of people…
N: So multiply 2 by 4,000 and that's how much time it feels has passed…
Julia: Mistakes like that are always in the realm. It's a funny thing you're doing – you have your cords that you travel with, and they all have to connect - but then you step on one wrong and suddenly you're not making sound anymore. You could be in front of 20 people or 8,000 people – each time it's embarrassing. My only advice is to cover your tracks - be responsible and try to have it not happen. The golden rules of touring are: always be respectful, always be on time, and always be nice to the venues – all things that help you book a lot of shows. When you're known for being a really solid person and a solid musician – that really goes a long way. It's doing your best as a whole – not just as a musician.


That's great advice for the musicians out there. Lastly, we have to know - what did you listen to on the way over here?

Jake: Cardi B.
Julia: Can't get enough of "Bodak Yellow" – I love Cardi B's voice & natural tone.
Jake: It was only a 15 minute ride over here, so…
Nick: My best friend showed me Little Yachty recently – I love "Minnesota" – I love his falsetto. He sounds like Alan Wilson from Canned Heat – and I think if he sampled "Goin' Up The Country" that'd be perfect for him. I think the flute solo would be a fun sample.
Julia: We'll listen to our classics, the ones we really love – like Lou Reed, Unknown Mortal Orchestra – we'll listen to them for like 8 hours on repeat. Anytime we enter a new town, we try to listen to hype ourselves up.
N: When you're on an 8 hour ride – it's like a jog. You've gotta sprint at the end with your song choices.
Julia: Right – you end with Little Wayne or Kanye. In the last 20 minutes, when you see Cleveland for the first time in six months, you're like "I've just gotta vibe this out – I've been driving for so long."