When Dave Navarro pawned his custom Ibanez in 1991, he told himself he'd go back to pick it up that same night, but he never did. Twenty-eight years later it made its way to Guitar Center Hollywood and, through some local connections, back to Navarro himself. We chatted with Dave about how he and the guitar were separated and what it's like to reunite after all this time.
In the late 80s, Jane's Addiction was on the rise to becoming one of the biggest bands in the world, with early alternative rock radio singles "Jane Says" and "Mountain Song" off of their major-label debut Nothing's Shocking - featuring cover art by lead singer Perry Farrell.
By '91, the band had hit double-platinum status with their second album Ritual de lo Habitual and the custom Ibanez Navarro wielded for the creation and recording of most of those hits now donned the notorious Nothing's Shocking cover art. When Navarro ran out of cash on the LA stop of Lollapalooza (founded by Farrell), he pawned that guitar, never imagining the next time he'd be reunited with it would be 28 years later.
"A lot of the great Jane's Addiction songs were written on this guitar, the music that just changed my life and put it in a different direction," Navarro says, admiring the guitar. "When Ibanez signed me, it was a big deal unto itself, because I was a kid, self-taught listening to Hendrix and Page, and now I've got a sponsorship with the same guitar company as Steve Vai?!"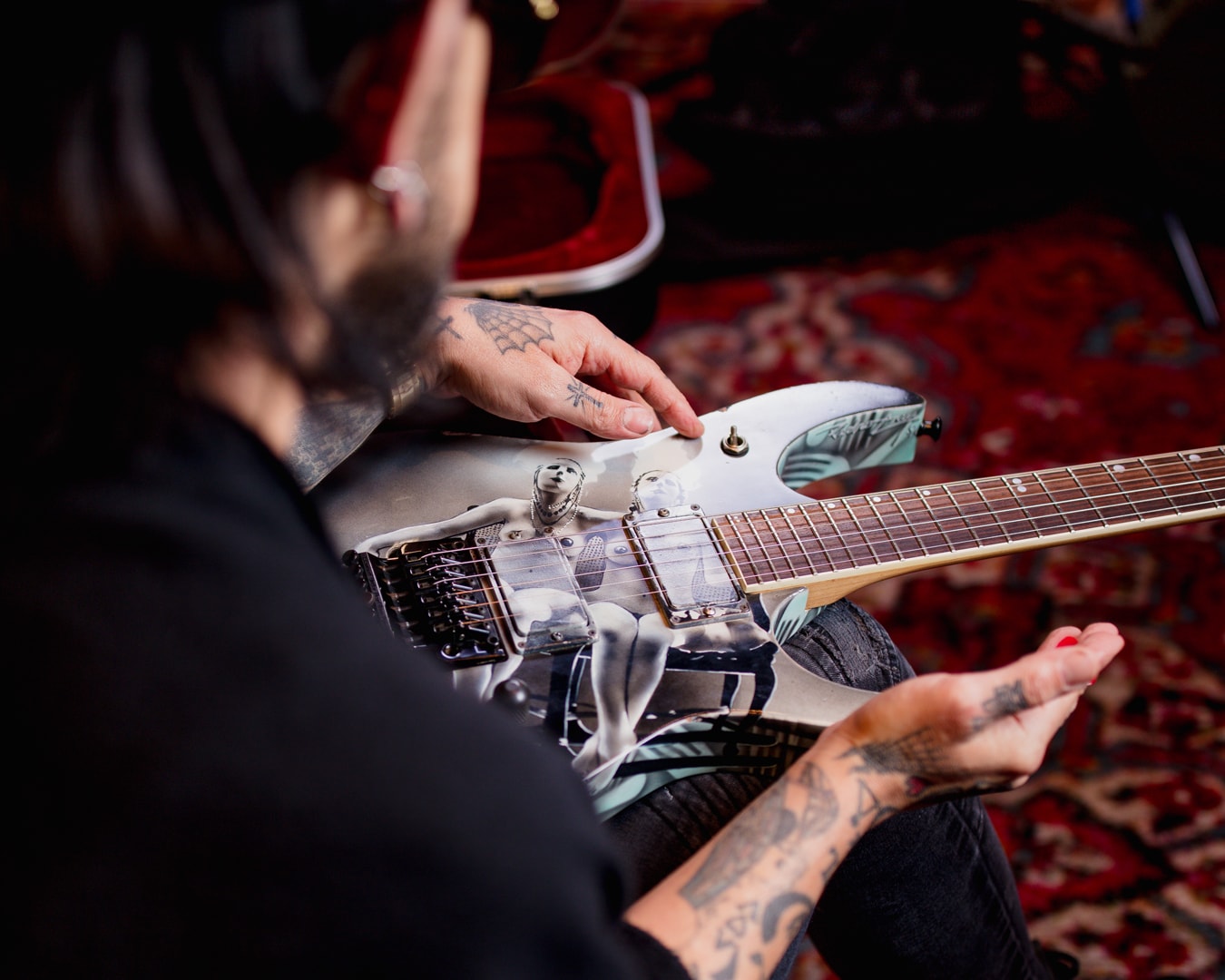 The guitar resurfaced in late 2018, in reasonably great condition given its unseemly departure. "A couple of customers came into the store with the guitar, and I instantly recognized it," says Eric Bradley, Artist Relations Manager at GC Hollywood. "I was like, what? How do you guys have that?"
After purchasing the guitar, Bradley was eager to verify its identity, as well as get it back to Navarro if possible. "I didn't have Dave's contact info, but I knew Steve Jones (of the Sex Pistols and Jonesy's Jukebox) knew Dave, so I texted him some pictures," says Bradley. "Steve Jones calls me, he's like, 'Oi, this yours?'" Navarro explains, "And I say 'YES!, that is mine' - it doesn't get more surreal."
Upon further inspection, Navarro was reminded of the tale of the art found on the back of the guitar. "'Soul Kiss' was a home video we released with the banned 'Mountain Song' music video." Navarro says, "In the video, I show off my pet eel - later on, I show a trick it can do, I smack it on the table. Animal rights activists were so upset- it was totally not a real eel! We even credited 'Stunt Eel' in the credits, so this is a nod to those fans in the know."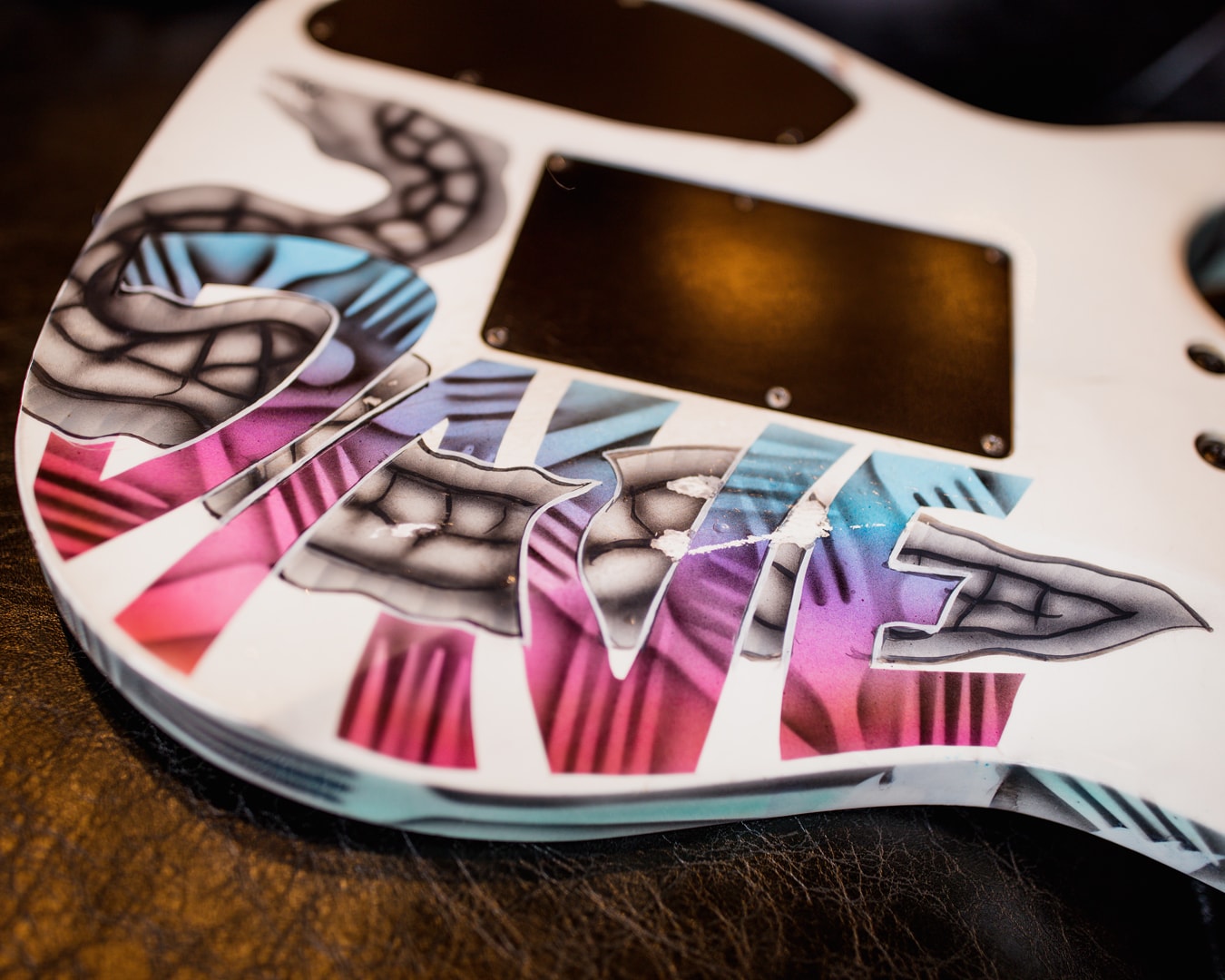 The fateful night Navarro pawned the Ibanez also kicked off his relationship with PRS Guitars, with whom he has since had signature Core and SE models. "Chris Haskett from the Rollins Band had a spare PRS. He was like, 'Dude, I got you-take this, play this tonight.' And that's another story because that's when I fell in love with PRS."
After Navarro plugged in the Ibanez and played through classic riffs like "Mountain Song" and the intro to "Stop," it was clear he and the guitar still had some mojo together. "An instrument like this is not unlike a relationship with a human being. It's something you connect to, that hears you, understands you. It's your tried and true that's never going to leave you... unless you pawn it for drugs."
Reflecting, Navarro explains, "At the time, I was really trying to get clean. These forks on the side represent the fact that heroin cannot be cooked up in a fork, because it drips through. I was trying to change my utensil of choice from the spoon to the fork. And pawning this, clearly, I chose the spoon. But luckily, it found its way back, and I'm clean and healthy now. I get to take this home with me today, which I'm super psyched about!"