These days, songwriter Marv Green is known as a bit of a Nashville legend. After penning the 1999 Lonestar hit song "Amazed", reaching the top of the Billboard Hot 100 charts shortly after its release, he's gone on to write for top country artists including Carrie Underwood, Reba McEntire, Eric Church, Tim McGraw and more.

We sat down with Marv at his This Music studio on Music Row in Nashville for chat about making it as a songwriter, as well as the story behind his trusty Vintage 1950 Gibson J-50.

Photography by Alysse Gafkjen.


Tell us about your guitar.
Marv Green: When I play out, I play my Gibson 1950 J-50. I went out on a search and asked my buddies around town if they had a Gibson J-45 or a J-50, and a good friend and great session musician Tom Bukovac said "Oh, dude – I've got your guitar." He goes through his cases and pulls out this J-50 – I played just one G chord and asked "What do you want for it?" My friends have been good about locating guitars for me. The good thing about Nashville is that there is no shortage of guitars flooding around. Also, when I play with my buddy JT Harding, who I'm performing with tonight, I'll hope in on a solo in-the-round, and I like just a hint of delay. I use a little MXR M169 Carbon Copy Analog Delay.

As a songwriter, you're usually in-and-out of sessions each week, almost in a 9-to-5 routine. How do you inspire creativity each day?
First, let me preface this by saying I love what I do. I have one of the greatest jobs in America, in the world, really - to be able to write songs every day. I do sometimes have my mornings where I don't know if I have anything to offer. But I always make myself go. I mean, nothing happens if you don't show. That's the cool thing about cowriting - the energy that you don't have today might be there for your cowriter. Sometimes even just the pressure of knowing that you have a commitment – you have to just show up and let it happen. The regimen is important. I write almost every day – if I'm not recording, I'm writing. My schedule is usually writing sessions Monday through Thursday, and then Fridays I call my "idea day" - time to play my guitar and just be a musician. Pick up an instrument - a mando that I hadn't picked up, or a ukulele - and discover something new. It's a vital part of the writing process. Or, you know, maybe a keyboard patch - that might start a melody for you.

What do you feel makes a song successful?
Success begins at getting excited about the song personally. If us as songwriters are not excited about the song, we don't see how anybody else is going to be excited about it. Obviously, you hope that it resonates with other people. As far as determining what's a hit or not – I really just don't know sometimes. After they're done, the songs either take off and fly or they don't. Some of them are still in my catalogue getting, you know, seven, eight, nine, ten years' dust on them – but they could still find life.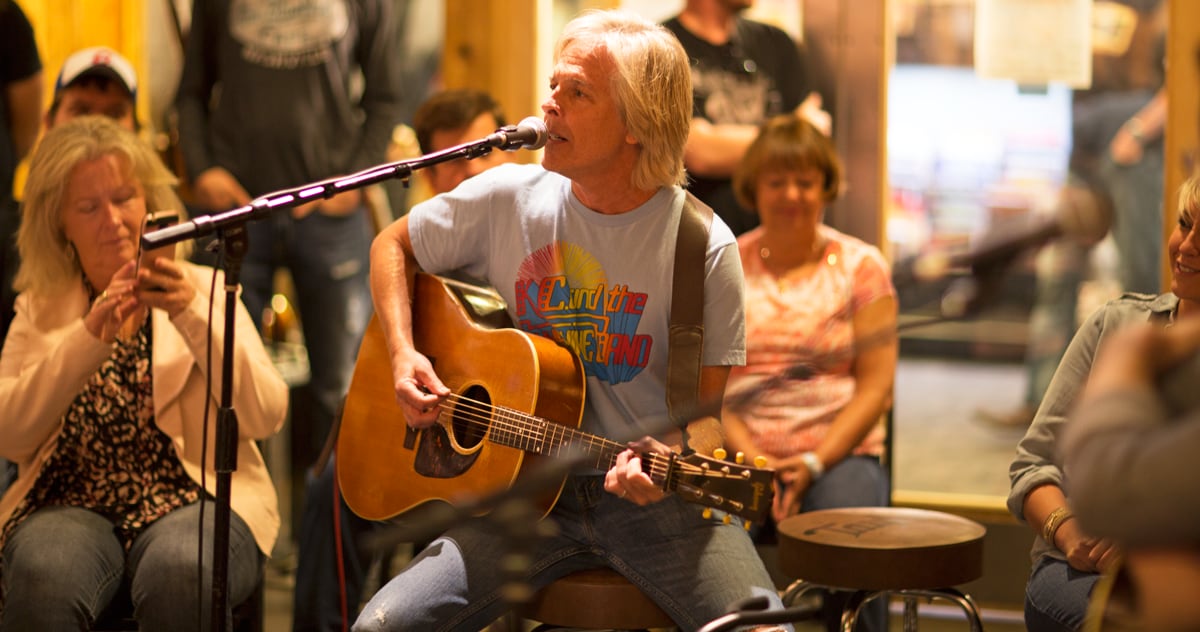 What's it like hearing a song you wrote for another artist on the radio for the first time?
There's a level of surrealism to it. That happens when you go see the artist in concert, too, because you're looking around at all these people singing your song. That's [the artist's] song up there on the stage, and that's fine. I mean, we all know that. It's important too, when you do hear it on the radio, to remind yourself to breathe it in – it's a special thing. Sometimes you may hear the final version and think, That wasn't the production I had envisioned. But you have to let it go, because it's their version of your song. It can be interpreted in many ways.

Looking back, what are some key steps you took to get yourself to where you are today?
Early on, I played as many honkytonks, bars and clubs as possible. Before I got to Nashville, after graduating from high school, my brother was really good at booking every honkytonk in Southern California. We had plenty of work Thursday through Sunday. Sometimes I wish I would have gotten to Nashville sooner, but those were valuable training years. You don't realize it then, but you're actually learning the craft of songwriting just in playing cover songs. Most importantly, though, would be the actual move to a music center. When you get to Nashville, you've just increased your odds [of making it] by one thousand percent. You've got to be present to win. Nashville's unique - it was my town because I wanted to write songs. If you're here, not before long, you're doing a songwriters' night with someone who just got their first song cut, and you're like Wow, that just happened right in front of me. When you are in your little hometown in Wherever, America, expecting to mail a package to Nashville or somewhere in New York hoping to break into the industry, you likely won't. You're going to get a letter back that says "Thank you for your interest, we'll get back to you someday," and that's the end of it. You're out on some deserted island.

Advice for an artist just starting out?
Choosing your first guitar - ease of playability is essential. A Taylor guitar is a great choice - whether it's a big baby, a baby, or a smaller dreadnought kind of neck – it's a great choice. You might also look for an old guitar, just because of the spirit - the songs for me are in the old guitars. They have souls. Spend a little more than you're thinking on something that will last, because you may want to keep it around forever. There are several along the way I wish I still had. Stop by Guitar Center and find what speaks to you. The cool thing about Guitar Center is they have a lot of choices, and their staff is generally really helpful as far as what your needs are. I'd also get a tuner right away, a little Snark or something, because if you don't have a guitar that's in tune, you're not going to want to play it. You don't need to know a chord until you can tune that baby every time you sit down with it.

For more from Marv Green, click here.

For our interview with Bluebird Cafe artists Josh & Judy Allison, click here.

For more Bluebird Cafe at Guitar Center, click here.