With 24 Latin Grammys, two Grammys and the distinction by TIME magazine as one of the 100 Most Influential People in the World, Colombian singer/songwriter and multi-instrumentalist Juanes has proven that his music knows no boundaries. Juanes' distinctive sound blends a love of pop, rock and metal with his reverence for traditional Colombian folk.
For his eighth studio album, 2019's Más Futuro Que Pasado, Juanes again drew inspiration from the past, while also looking toward the future, experimenting with new sounds and collaborating with up-and-coming artists like Alessia Cara, Christian Nodal and Sebastián Yatra. Juanes discusses the journey that led him to creating Más Futuro Que Pasado and why he'll never stop making music.
You grew up in a big family in Colombia. Can you tell us about some of the music you were exposed to early on?
I am the youngest of six brothers and sisters, and I remember my father singing all the time at home. Singing folk music from Argentina, tango and, of course from Colombia, boleros. And then all my brothers started to play guitar. Every day after school I remember that we came home and in the living room there were like three or four guitars, so my brothers were always playing music. Music from Colombia, Argentina, Cuba, Brazil, so I just fell in love. When I see pictures of my first Communion, I see myself with a guitar and my brother singing in the living room.
You also got into rock and metal early on. When did you start getting into those genres, and what bands were you listening to?
I started listening to rock when I was in fourth grade, learning about bands like Van Halen, Metallica, Iron Maiden, Sepultura, Slayer and Kreator, and I just got crazy, especially with Metallica. I remember in my home in Medellín, Colombia, my room was full of posters—Metallica, Slayer and one Beatles poster. At that time, there was no internet, so it was hard for us to find a [VHS] tape or something to see them. It was just photocopies of magazines, but I always felt so inspired by these guys. Even if my music doesn't sound like them, when I was 13 and 14, I said, "No, this is what I want." I remember singing Prince songs in front of the mirror, and Bruce Springsteen, and of course at the same time, all this music from South America.
How has metal influenced your sound, and how did it inspire you to start your own band, Ekhymosis?
That time, the '80s was very hard for us [in Colombia]. There was a big war between the mafias and the government, and there were bombs almost every week. We were so afraid as teenagers, and we just found, through this aggressive sound, a lot of inspiration. We didn't have any amplifiers or pedals. When I met my friend, Andy [Andrés García], when we started the band, he just used to make his own pedals. He'd just connect his guitar through his sound system in his house. We didn't have any big gear. It was just a lot of soul and spirit, and just ganas [desire], you know, to make music.
We were just making music, making art and reflecting through our lyrics. We were asking why young people are getting killed every day. Why corruption is all around, you know?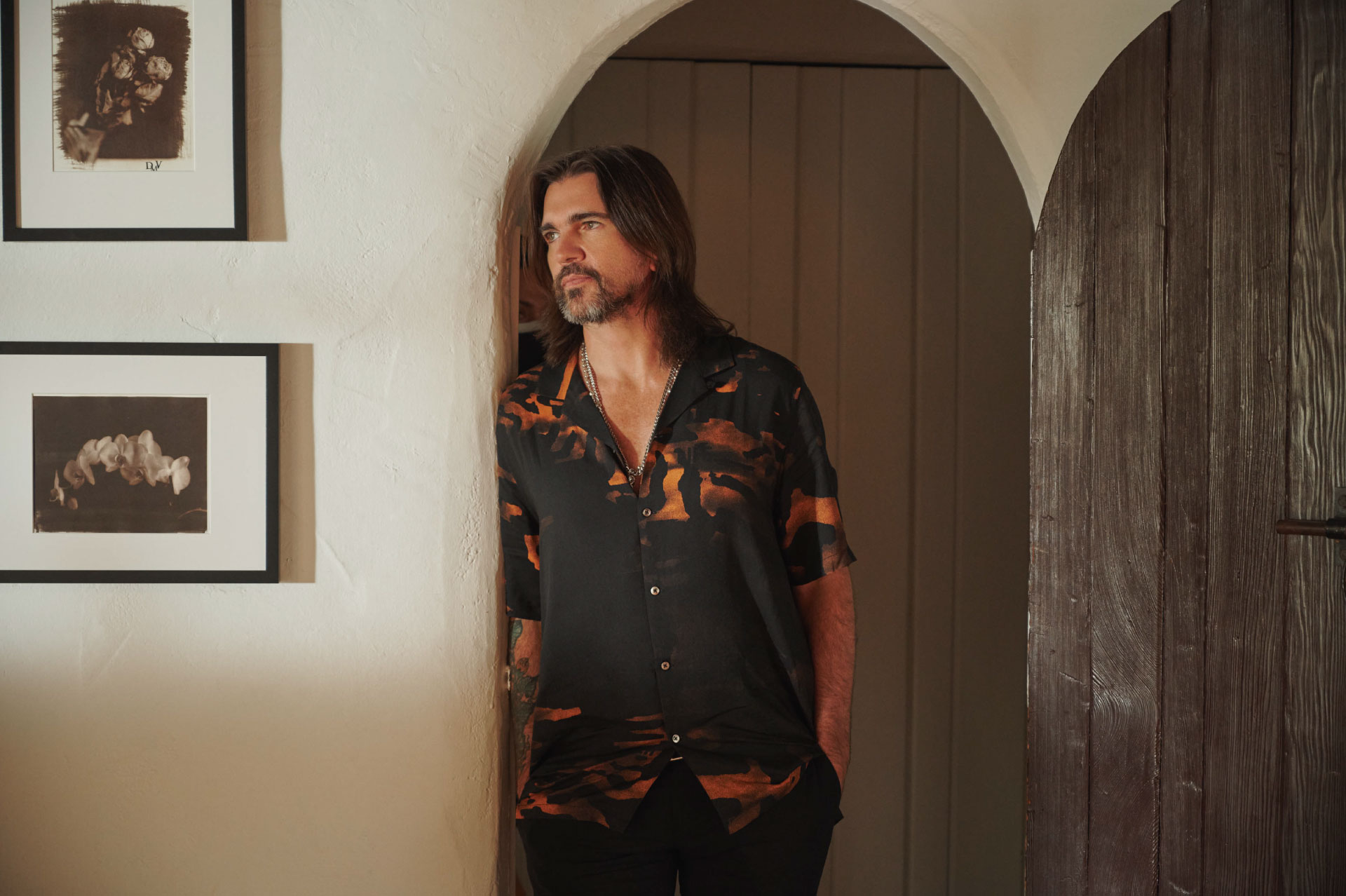 Why is it important for you to experiment with different styles and sounds in your music?
If there is a place where we don't need barriers, or walls or division, it's music. I don't want to be radical—"I [only] want to play this music and that's it." I used to be like that when I was 17, 18. Then I realized that I cannot renunciar [give up] my essence to the music I listened to. Let's bring all these elements to the table. These days, with technology, it's so easy to listen to music from India, Japan, Germany—it's like the democratization of music, and I want to be part of that.
What is your secret to combining these influences and making them your own?
It's such an important thing to do. As a musician, it's like the essence of me. All the time, I'm looking back to my roots, to who I am, where I'm coming from, and also always looking to the future, and to what is happening in music. I have three kids, teenagers, and they listen to trap, hip-hop and reggaetón all the time. So, I'm also absorbing that. But also, I have the other side of my soul in folk, rock and metal. So, sometimes I am very eclectic making music. I can enjoy metal music and reggaetón. I just think it's important to be connected with who you are, and not be afraid of that. Try to put all those elements into your music. 
What's the story behind your album Más Futuro Que Pasado?
We were in Chile probably two years ago, and we saw a wall in some street, and it was Más Futuro Que Pasado [More Future Than Past], and it touched my heart. It's like a philosophy of life. I want to believe that there is more future, that there is a lot of things to do, that I want to keep making music. And I also want to feel connected with the past, because I don't want to forget who I am, or where I'm coming from. But I want to look also to the future and try to still [be] awake and creative, just feeling alive. This title gives me a lot of that.
What inspired the title track?
The rhythm is inspired by cumbia music, which is this mix of African and indigenous sounds we have in all of South America and Mexico. Depending on the country, the cumbia sounds different. We say it's like a calle [street], you know, like reality on the streets. Cumbia is like hip-hop for Americans or reggaetón now. I really love this music, and so that's the inspiration for [the song]. But the harmony, progression, chords, the melody is not really like traditional cumbia. It's more pop. So, we're trying to find songs with different styles, and mix elements, working with beats, guitar, the [Roland TR-] 808 and these kind of elements more from the hip-hop world, but trying to make a mix. And the lyrics talk about difficulty in life. When you have difficulty in life, it's always an opportunity to think out of the box, and to believe in love, and believe in the people you love, and just try to learn the mission.
I make music because it's like a cure for me. My brain and my heart are all the time thinking in music, melodies and lyrics.
Why is making music important, and what impact do you see that it has on society?
For me, it's almost like a religion or something spiritual. When I sing, I feel a connection to something bigger than us, something from the universe, like energy. I think art is really important for anybody and any society. I find, through music and art, a way to connect with the rest of the world, and a way to feel and identify with something. It's just like magic.
The way you connect with people through music is above politics. It's just something that goes ahead of everything. I really love that because you can connect with people even if you don't know them. Even if you're singing in another language.
Can you tell us about your Gibson Custom Shop L-00 Deluxe?
I really love this guitar because it's small, so I can travel with it. But also I can record with a microphone in my studio, sounds beautiful. For me, the guitar is my company. I really feel that I have to have my guitar every time I have a trip anywhere, because it helps me stay calm. Every time I travel, I have a new idea, I have this riff, I record it on my phone, and I go back to my home studio and I start to work on something. It's like a weapon of peace. It's like a projection of my soul—that's the guitar for me.
How do you continue to find inspiration to make music today?
I make music because I feel so [full] of energy and love when I play guitar, when I sing. Since I was a kid, I remember when I was in the living room of my house singing by myself at night. There was one day that I just felt, oh, this is so good. I really love what I feel now singing and playing guitar. That stayed with me until these days, and I think it's going to stay with me for the rest of my life.
Keep up with Juanes on his official website and Instagram.