As a teenager, Joan Jett was already a legend. A tomboy rhythm guitarist in a '70s glitter world, she started the blazing all-girl rock 'n' roll band the Runaways as a high school Hollywood misfit, penning the chugging riff of the iconic "Cherry Bomb" and touring the globe—a campy, glam-punk response to David Bowie and the Rolling Stones. The Runaways' bottle rocket intensity blared too bright to last; they combusted after only three and a half years. But Jett soon struck out solo after connecting with her longtime manager and producer, Kenny Laguna—a one-time architect of bubblegum pop tunes, to which Jett brought sharp teeth—and eventually formed her enduring band, The Blackhearts.
Now 63, Jett has lived out on Long Island, New York, ever since meeting Laguna and his family, having settled in the surfside suburban town of Long Beach. She chose one of her favorite local rock clubs as the location for this interview: My Father's Place, which opened in the town of Roslyn in 1971, and has, since 2018, been housed inside the nearby Roslyn Hotel.
It's a venue close to Jett's own heart. In the 1980s, after Jett's demos for soon-to-be hits like "I Love Rock 'N Roll," "Bad Reputation" and "Crimson and Clover" were rejected by dozens of major labels, she and Laguna started their own label, Blackheart Records, and built a grassroots following at clubs like My Father's Place instead. Outside the venue after shows, they sold copies of the independently pressed Joan Jett solo debut LP from the trunk of Laguna's car. The Runaways had also played My Father's Place in the '70s (as did CBGB's fixtures like the Ramones and Blondie, not to mention such greats as James Brown and Bo Diddley, among many others).
At My Father's Place, Jett told the stories of her favorite guitars, including the white pawn shop Melody Maker she bought in her Runaways days, previously owned by a member of Cleveland pop-rock outfit Raspberries (and now collaged over with a lifetime of her own stickers). She's played that secondhand axe on "everything," she said. That includes her crucial early '90s studio session with feminist punk progenitors Bikini Kill, when she produced their ripping 1993 "New Radio" single, featuring the definitive version of their generation-defining riot grrrl anthem "Rebel Girl." (Long beloved by punks, Jett had previously produced the sole Germs album, 1979's GI.) Jett's music took on another life as it was embraced by a new movement of bands like Bikini Kill and L7 in the 1990s—riot grrrl instigators Bratmobile also covered "Cherry Bomb" on their 1993 debut album Pottymouth—a legacy that rings through underground music and pop culture still.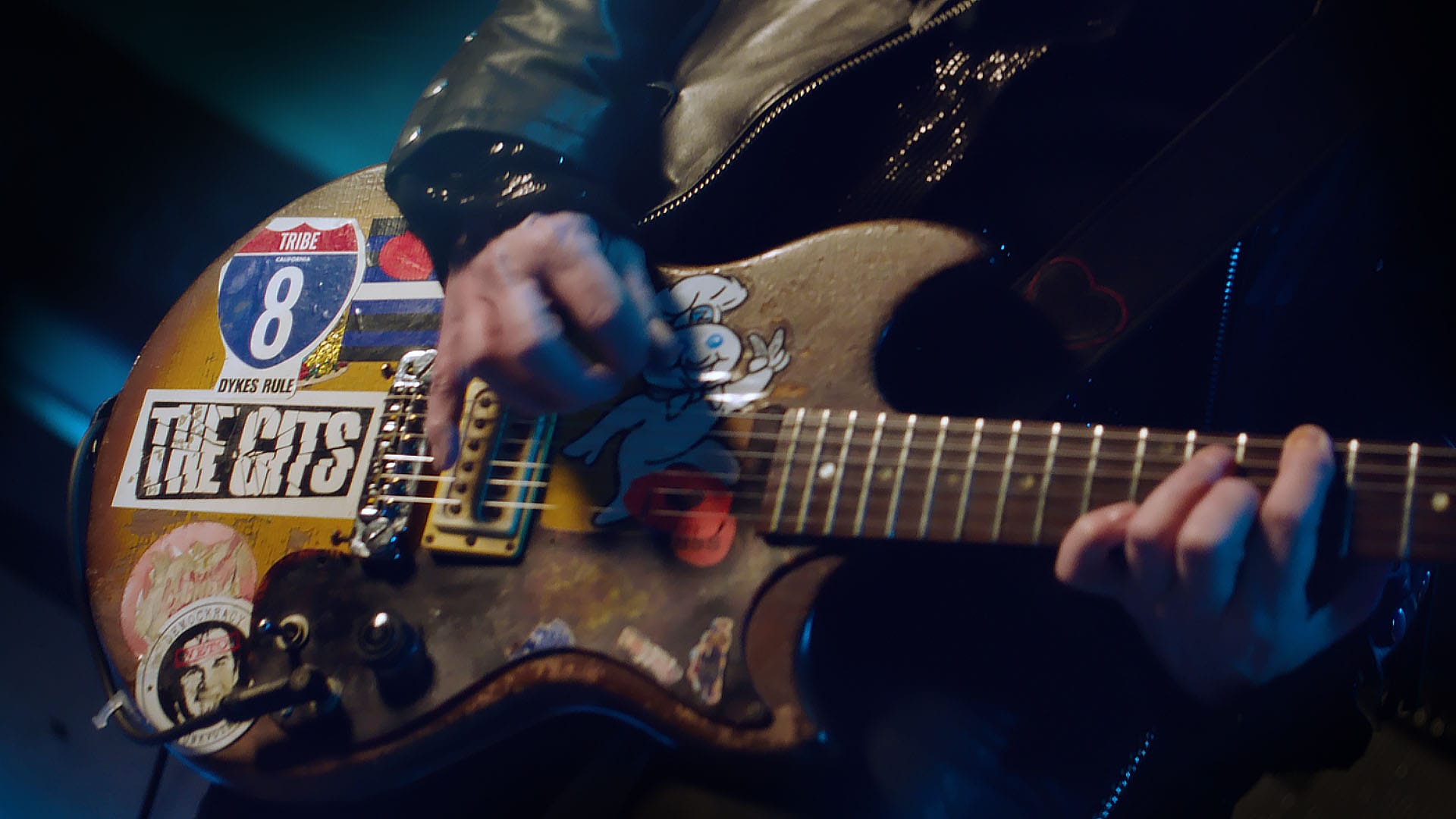 Jett remains a true rock 'n' roll lifer: the pandemic marked the first time she had been off the road since she was 16. She had never lived another way. Always persevering and evolving, the long game is on her side. Catch her back on stage during the Joan Jett & The Blackhearts 2022 tour, where she is sure to keep challenging us all to break down barriers and follow our passions.
Keep up with Joan Jett at joanjett.com.
Get your copy of Joan Jett & The Blackhearts I Love Rock 'N' Roll on vinyl.