How long have you been known as Resident Peasant? And where did the name come from?
That's been since 2009. Basically, I was eating burritos with a close friend of mine, and I was thinking. I don't want to be Andy Marshall. My name just says so little about me. Then my friend just said out of nowhere, "resident peasant." His father had a band or a song called "techno pheasant"…and for some reason it just stuck. It suits me.
How did you find your sound? What are some of your main inspirations?
I think my background in heavy music really contributes to it. I'm not sure how yet, but I'm sure I'll figure that out one day. The Beatles and other influences really helped me transition from listening to easy listening and pop music, so once I found The Beatles, and then Thrice was also a huge influence as well. They kinda broke me out of this hypnotic state that most 12-year-olds deal with.
What gear do you use to achieve your sound?
I have a pretty eclectic collection in my studio. My favorite is my Deluxe 1972 Re-Issue Telecaster. It was a gift from a friend. I have about six Line 6 DL-4s, a Royer 121 ribbon microphone, a Nord Electro electronic piano, and a stand-up electric Yamaha keyboard.
What was the first instrument you bought?
It was a Seagull acoustic, and I still use it to this day.
What is your dream instrument?
Oh man, the Rhodes Mark II original keyboard. It's on all of our favorite sounds, and it has such an elusive sound that I haven't really found elsewhere. I used it a lot on my last album Pendulum, which I recorded in Eagle Rock, and it's stayed with me ever since. That was the first time I'd ever worked with a producer.
How was that different from your previous recording work?
I did all of my recording and producing on my own before. The difference this time was that I could leave my neuroses at the door. I could be more reckless. When you're solo, you listen over and over, and you start hiding flaws, and you can get sterile, beautiful music. But with the producer, Theo Karon, and Dan Grimes on drums, they really helped me get out of my head. There was just some periods in life when you realize that you're not horrible at this anymore. I don't have to beat myself up … and that was that. Other players really help you get out of your head and move forward boldly.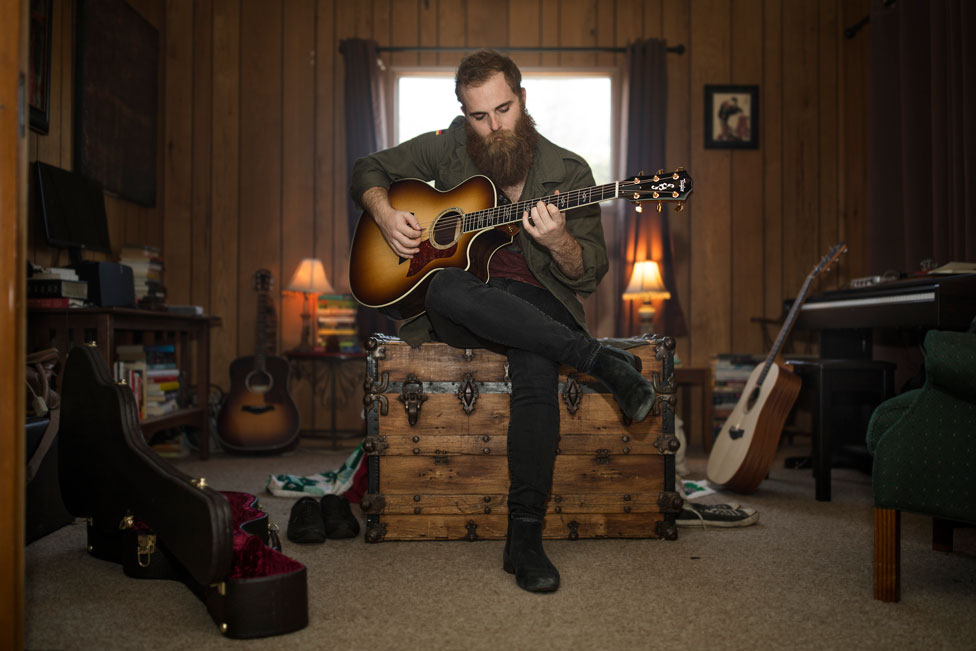 Do you have any unique gear?
It's a combo of quirky things. I have my grandpa's acoustic guitar from WWII. It's old and rickety and it sounds okay, but there's some kind of character to it. It's got this kinda cardboard box thing going on that's really cool and really specific. I don't have a bad-ass acoustic or electric guitar, though I'd love to get one some day.
Tell me about your process for writing your songs.
I almost always start with the lyrics first. I hear a thing from all the reading I do, and sometimes those are the germs of a song. I dunno, I feel more comfortable with the lyrics. It makes it easier to push through with a strong foundation. I like making a hook that relies on strong lyrics that I believe in. I feel silly if I'm singing lyrics that I'm not really fond of.
What advice do you have for other musicians who want to start a band?
Pursuit of perfection is foolish. I think everyone should know that. A great song is the sum of a million little special performances or quirks and you have to respect mistakes, because you don't have any perspective on the song at that point. So don't be so hard on yourself. Perfection doesn't exist—especially in the context of music or art. What I mean is, "tidying the thing up too much, rounding up the edges, making sure everything is just so. When you do that, you take away a lot of the natural friction that music has to have.
When I met Clifford Nicgorski in [my other band] the Sleeping Ghost in 2013 through some friends, and he heard one of my songs, and he just gave such an emphatic, enthusiastic, and genuine response to it that forced me to realize that I'm not horrible at it. No one ever made me feel the way about my music that I needed. I needed another great musician making great music to give me that little kick in the butt.
What has been one of your most unexpected discoveries as a musician?
On the latest Sleeping Ghost song, I rerouted the bass line out of Protools and into a DL4, and I let it play through the whole song. I twisted the dials and really worked it hard. But then at the end of the song, I turned the dials off really quick, and all of a sudden some kind of morse code came out of the DL4. I'm not sure how that happened, and I've worked the pedal liked that so many times before, but never did I hear that. It's great because it's in the song now!
What band would you like to open for?
Fleet Foxes would be up there. I think I geek out on the singer a ton, and I have a million questions to ask him. He's so resilient and such a huge influence for me. His voice is really comforting, but it's not narcotic. He's like a lion underneath this man. I dunno, there's something going on with that guy—his musical sensibility is really unique, and I like the way he thinks about music. Also, Minus the Bear. The Sleeping Ghost played with them at SXSW, and we enjoyed that time together. They're super geeky and tech oriented. It was back when I was impressed more than moved by music. It's in-and-out, and I'm into 'sushi' these days.
Is there a band whose sound you'd like to break down, decode and understand?
I've only been listening to two albums this year. Miles Davis's Kind of Blue (I'm trying to learn all those songs), and the latest Fleet Foxes album. I'd love to break down a Kendrik Lamar or Drake song. I'd love to hear what those sessions are like. That genre of music is so far outside of what I'm used to doing creatively, but I love it so much, and I think I can learn something. I think I'd be really entertained by the choices they made.
Drake's Energy – There's this crazy gunshot like three-quarters of the way through, and I want to know why something so out of place wound up in the track, and yet it works. It catches me every time.
Kendrick Lamar, DNA. – The third act of the song is amazing, when it kinda breaks down and puts on its combat boots. I guess Kendrick did that acapella, and the producer added a beat on top of that. I'd love to hear how that whole thing came together. The timing is so unconventional. He does phrases a little too long, yet it feels really immediate. That knocks me out.
Is there anything else you can share about yourself that you feel is fascinating, interesting or unique?
I think there's a point that I reached where the clichés started becoming good advice. Those things start making sense after a while. They're horrible words, but it's great advice. Stop being so hard on yourself … allow imperfection.
Check out Resident Peasant in our latest commercial, and shop the Unplugged collection for a great selection of acoustic gear and more.