Two years ago, London-based musicians Annie Wagstaff & Hannah Koppenberg joined forces to create their first Instagram video - looping synthesizers, piano & guitar through Ableton and sharing out to the world. Now performing under the artist name HANNIE, they've amassed a following of over 300,000 fans - and there's no end in sight for the duo's curiosity and creativity.
We met up with HANNIE during our recent visit to London for a behind-the-scenes look at their ever-evolving home studio set-up, a discussion about the role of social media in their success, and how they've utilized their online presence to grow their collection of gear.
Firstly, how did you two meet?

Hannah: We met on the first day of university. I was in a band - I was gigging and rehearsing all the time. I loved it. I was sure I definitely wanted to do something with music in some form of my life. That's why I came over to London, to study music here.
Annie: I ended up at ACM (Academy of Contemporary Music) - best decision ever. It was two years of me and Hannah just nerding out. Our friends would say "We're going out tonight, do you want to come?" We'd, "Absolutely not. We've got to practice our Dorian scale."
H: We were either in the practice room ... 
A: ... or the library.
H: The thing was, we were the only two girls on our courses. There were a few singers. But in the courses for keys and guitar, there wasn't a single other girl. We eventually ended up being in girl bands. We played in six or seven different bands together. It was great. Then we went to Berklee in-between year one and year two, because we were so excited to learn more. The jazz course was really cool. So we ended up filming a video together - we only had horrible videos with bad lighting, but we said "Let's just put a fun video together because we are housemates - might as well try something." We put it up on Instagram, and overnight, boom. It was reposted and featured by a few accounts. Loads of people were like, "Oh my god, where did you guys come from? What's this? Give us more." That's why we started to make more videos like this.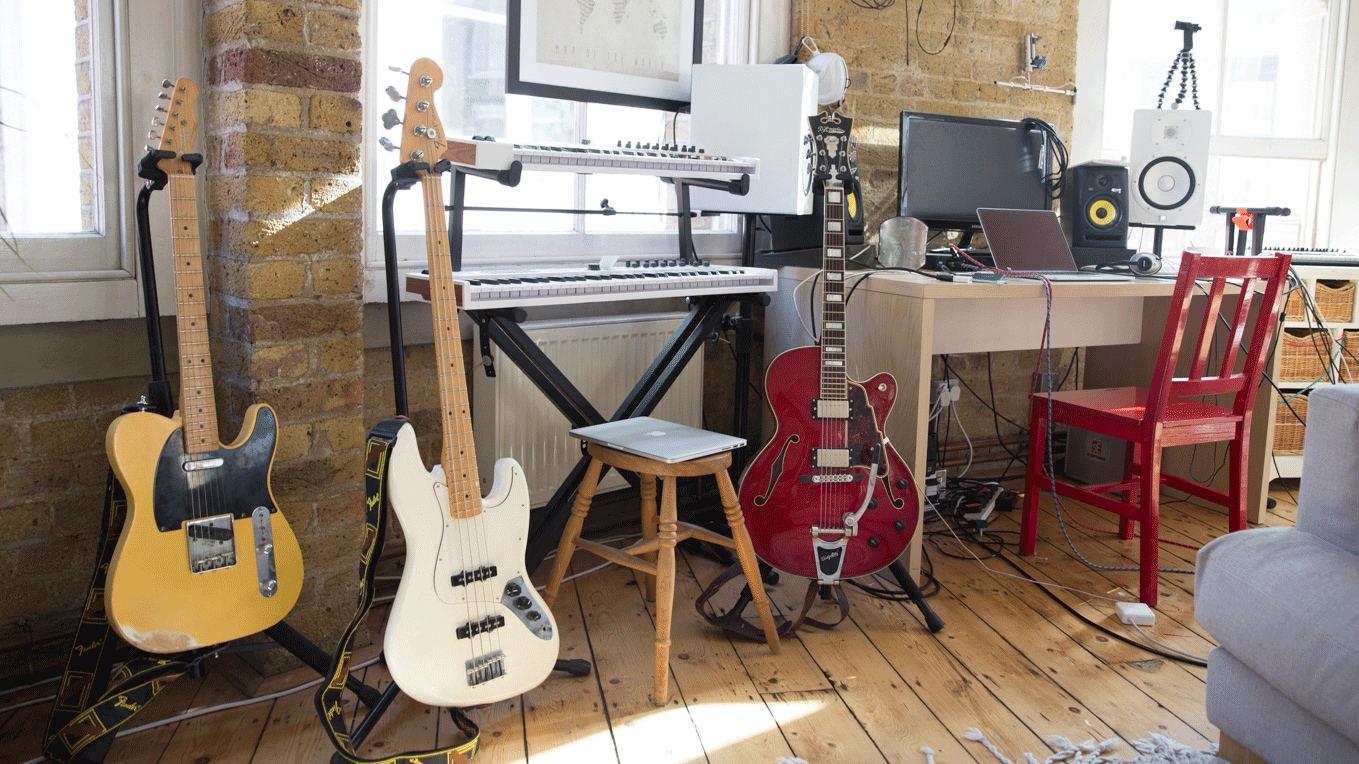 The mixing/recording station setup at HANNIE's London flat.


How long have you guys been creating videos for Instagram?

A: We started nearly two years ago. We hadn't been writing songs together before that, but as soon as we got a little traction, we said "We're not stopping. We'd be so stupid to stop this right now."
H: It was more like, "Let's do another one. Let's do another one." It was always one step at a time. We were still focusing on being session players for other bands. We originally viewed it as a sort of side thing. Two or three months in, people started commenting, "When are you guys going to tour together? When's the album coming out?" That's when we realized we could really commit.
H: I think in the beginning, we were winging it.
A: For sure.
H: We didn't know anything about songwriting, so we hit up a few songwriters and producers on Instagram.

Do you remember your first instrument?

A: My mom first set me up with lessons and a little classical guitar. Honestly, I remember not really enjoying it at first. I didn't practice every week. I knew my teacher wasn't going to be thrilled. When I'd go home and put up a fuss about practicing, my mom was like, "There's absolutely no way I'm letting you quit. You can practice as little as you want. I don't care, but you're going to your lessons." To this day, I'm so thankful. What would I have done if my mom had let me quit when I wanted to quit? My grandma had also sent me a little plastic drum kit, and no one could get me off of it. I eventually got a real kit for my ninth or tenth birthday, and that's what finally kickstarted my motivation for guitar lessons. They go very well together, guitar and drums - if you have good rhythm, you'll enjoy your guitar playing that much more. Once I got an electric guitar for Christmas, I never looked back.
H: I've been playing music my entire life. I think [Annie and I] both started playing instruments when we were six. When I was nine, I started violin. I remember, even before I had piano lessons, my grandma had this old upright piano. My aunt would play, and every time I was around, I'd play it too. I must have been four at the time. That's when my mom said, "Do you want piano lessons?" So we moved the piano into my room, and I started lessons. Eventually, my piano teacher at the time sold me his Roland RD-300SX, which I just sold a month ago. I'm a little bit heartbroken, because that was my first actual keyboard. It was portable. I had to run it through an amp because it didn't have speakers through the PA. That's what I had with me when I moved to England - had it on the plane with me and everything. I eventually realized that if I actually want to be a session player, I'd have to be versatile. That's when I found Nord Keyboards. I'd been saving up for so long for this Nord. I went to Denmark Street here in London and tried out all of the models at local music shops. I eventually settled on the Nord Stage 3 HP76 Red, so I saved up for it. Eventually, the day came, and Annie came with me to the shop to buy it. That really kicked things off for us in London. A few weeks later, we started doing our videos.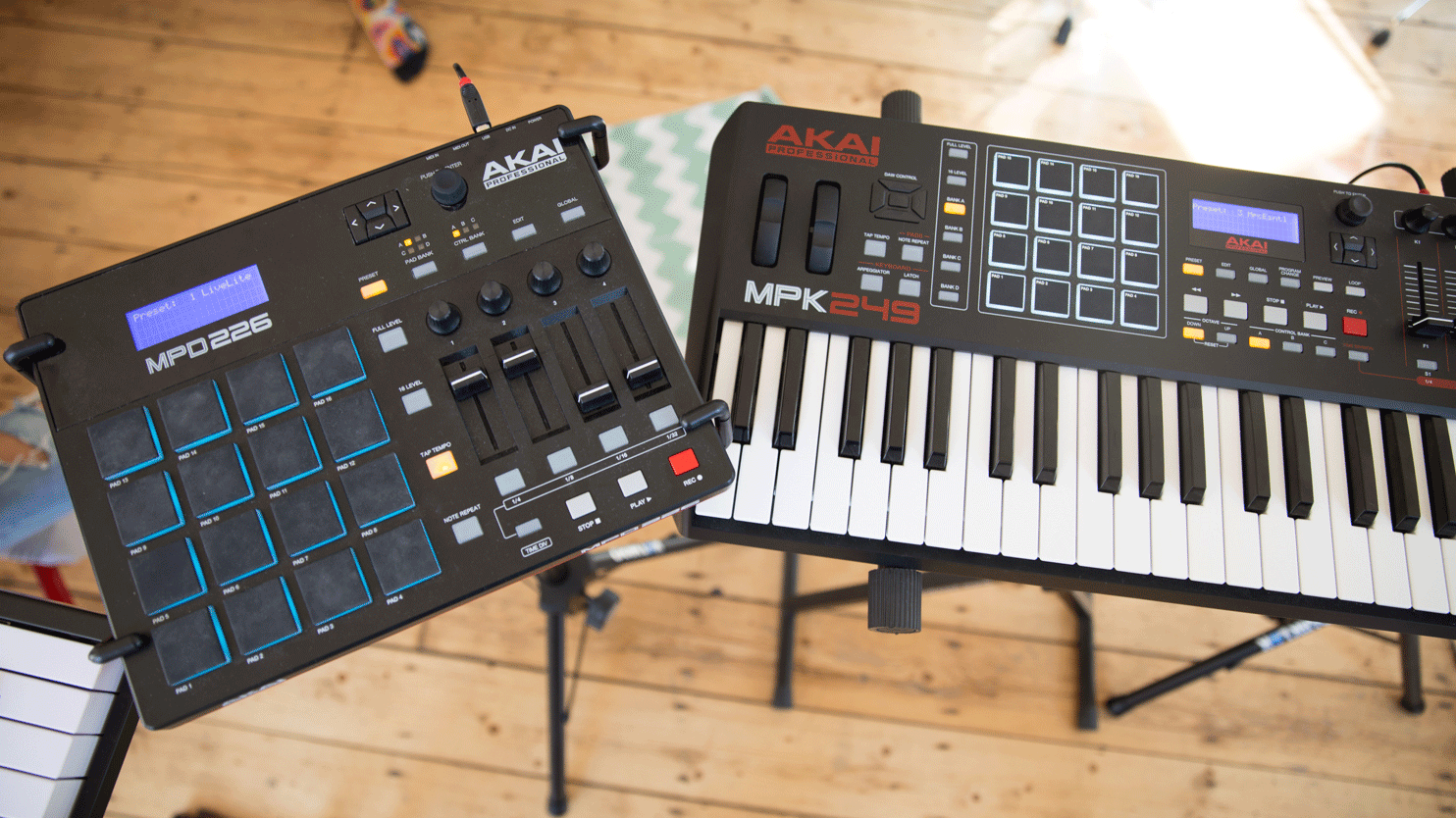 Hannah's AKAI Professional MPD226 & AKAI Professional MPK249.

Tell us about your first "real" guitar upgrade - how did it transform (or not transform) your playing style?

A: When I switched to a Fender Stratocaster, I was like Wow, this is unbelievable. It was the same as my tutor's guitar at the time. You look up to a tutor so much during those years.
H: I had exactly the same experience with violin. That's so interesting that looking up to them influenced you in that way, too.
A: Yeah, massively.
H: I think it's a mental thing. When you have an amazing instrument, you want to get the most out of it. Especially with my violin. When it came time to buy one, I spent so long trying out different ones. When I eventually bought it, I really appreciated the beauty of the instrument. You realize there's much more you can get out of a well-made instrument, so you start right back up on your practice routine to better your skillset.
A: I wasn't going to buy a Gibson ES-339 until I was happy with my jazz playing - I wanted one for so long.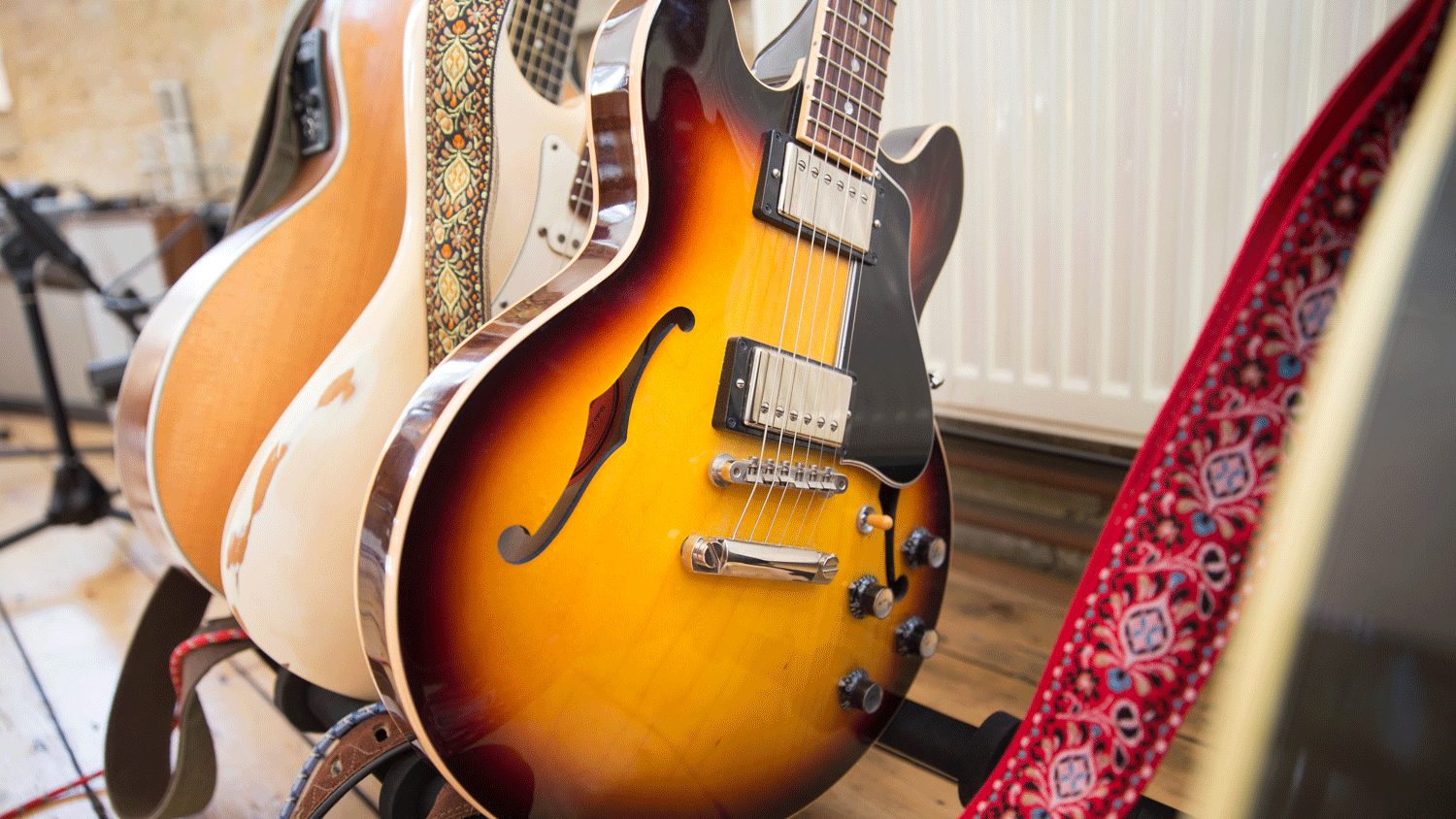 Annie's Gibson ES-339 Semi-Hollow.

How have you arrived at your current gear setup for HANNIE?

H: The biggest transition for us was from an acoustic, analog setup to an entirely electric and digital system. Now we're running our live setup through programs like Logic and Ableton.
A: Once our videos were gaining traction, we realized it was time to upgrade. Eventually, brands wanted us using their gear. That's when it goes a little bit mental - you're like, Oh my God, we were sent this for free! We even started hitting up our favorite brands on our own. We'd say, "Hey, we could really use this in our videos." That's how we upgraded most of our collection in the past year.

Have you ever had gear show up that you weren't sure how to use at first? How did you coach yourself up on it?

H: I remember the day Roland/BOSS sent us the SD-90, Roland SYSTEM-8 Plug-Out Synthesizer, and some pedals - we were supposed to head out to an event that night, but we looked at each other like "We want to try out all our gear - NOW." So we took the handbooks with us to the event just so we could get a head start. We're both so in our gear. [Laughs]
A: Yeah. Now that you mention it, I remember that.
H: I feel we still don't know all of the features of everything - there's always more to learn.

How did you both get into looping in terms of your performance/songwriting style?

A: It was quite a big transition. Originally, I was using the MainStage Loopback.
H: [Laughs] Oh my god! It's so complicated. I still remember watching YouTube tutorials on it when we first got it. The first couple of videos were done with only the loop pedal and MainStage. I think the key for anyone who wants to get into looping is tutorials - you can find anything on YouTube. There's always a way. You can teach yourself anything - you just have to invest a little bit of time.

How do you plan to take this home setup with you on the road?

A: The live show setting will be very similar to what you see on Instagram. We'll each have our own station.
H: I think the biggest difference is that we have vocalists, which we rarely used to feature. We've written proper songs with verses and a chorus, so we want to focus on performing our live instruments - less looping gimmicks.
A:: Lots of gear and triggers.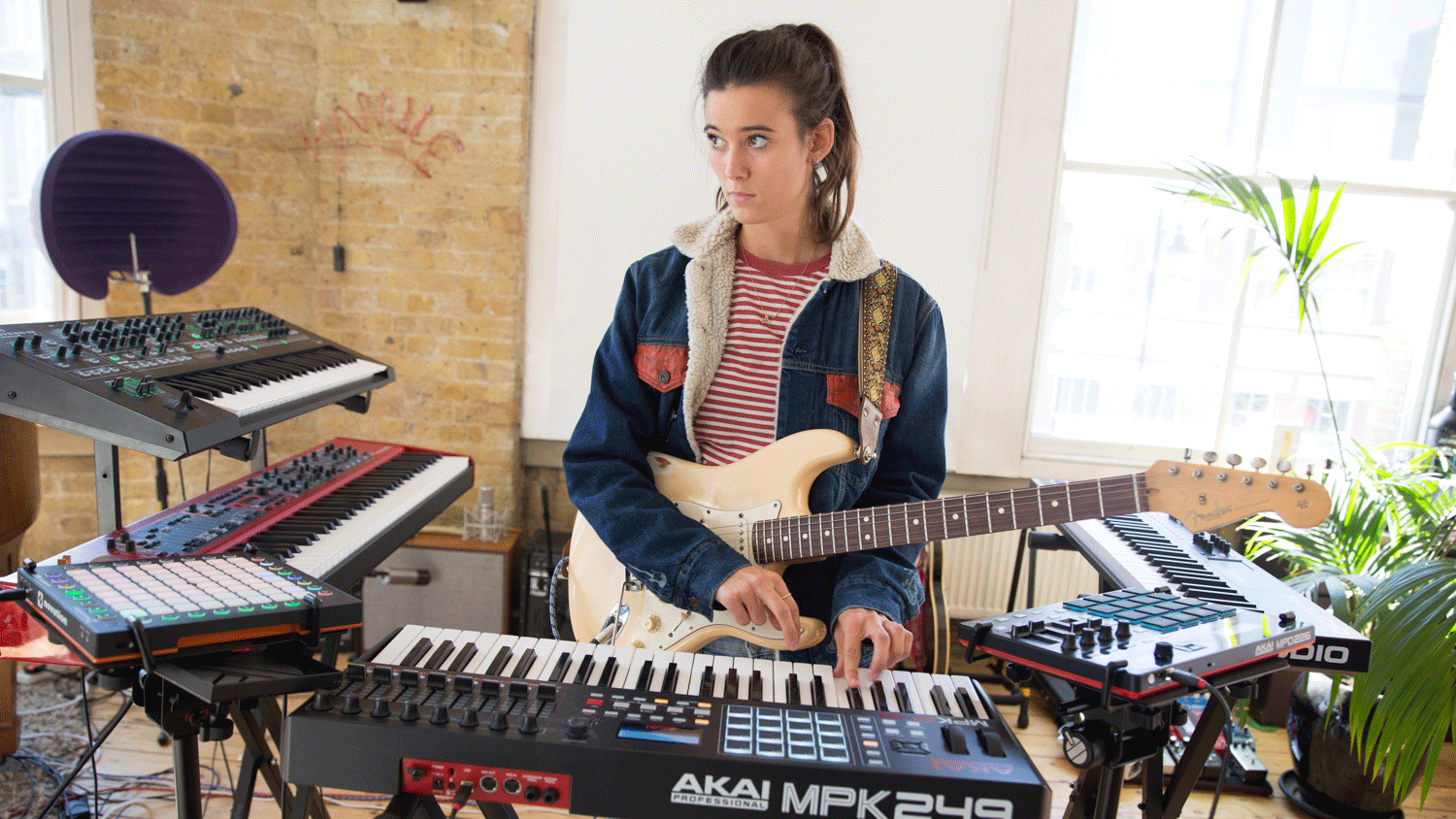 Annie in between takes, making adjustments on Hannah's keyboard setup.

How important is the sense of collaboration when songwriting?

A: So important. HANNIE is such a collaborative project. We feature different vocalists on each track. We're working with different producers and different writers every time. There's really not a day that goes by where we don't meet new people.
H: Collaboration is the key to anything. Together, you can achieve so much more - have new ideas and push each other higher. The second you're in a room with someone new, ideas flow. We are in writing sessions almost five days a week - we write a lot of songs. There are days where we wake up in the morning and one of us might not feel like writing. But that's where collaboration comes in. You have to get up and out of the house and meet other people. Maybe they're in a really good mood, which straightaway takes you to a different place. You can see from a different angle and create something new.
A: In so many genres of modern music - pop, hip-hop, rap - everyone's collaborating with everyone. You see the credits for a song, and you're like, "So many people!" It's amazing that everyone wants to work with eachother.


Finally, what advice would you give artists out there looking to grow their audience on social media?

H: The biggest thing is finding your niche. If you find it, you'll know instantly that you did. It could be a minor difference to someone else, but it's yours to own. Work 25/7 basically. Get involved on social media. I know loads of people are like, "Ugh. Social media." But it's so important. For us, it opened all of the doors. It's a full-time job, constantly being active. Even if you just have 200 followers, it's still 200 people who get to see your art. I think that's a really big part. Network and meet as many people as you can. Talk to them. See how you can collaborate. We've worked with filmmakers, designers - there's always something you can do.
A: Even clothing brands. It's still a collaboration that gets your name out there.
H: Just start with something simple. Buy one piece of gear - a keyboard, or a guitar, or a Novation Launchpad. Then get good at it. Even Chopin didn't fall from the sky, land at a piano and start playing a concerto - he had to put in the work. That has to come from you. Just get creative.

Follow HANNIE on Instagram
Follow Annie on Instagram
Follow Hannah on Instagram