Be Heard: Guitar Center is celebrating artists, brands and organizations that are using music to raise awareness on critical issues facing us all, to help us heal, to bring us together—to make the world a better place.
Blues music and its themes of redemption are what inspired Eric Clapton to start playing guitar. Through his journey solidifying himself as one of the greatest guitarists of all time, Clapton's own life became a redemptive tale. After overcoming addiction, Clapton founded the Crossroads Centre Antigua in 1998, which is now a world-renowned treatment facility for drug, alcohol and addictive behaviors.
"It's the cornerstone of my life. I mean, for 30 years now, I've been sober and not picked up alcohol or drugs in an abusive way," Clapton explained. "And so I consider myself to be a 30-year-old old-timer that's stayed sober and abstinent through the 12-step program, which started me doing this in Antigua ... And I found that the best thing that would have been given to me as a result of all this was the possibility of helping people, because if I can do it, you can do it. … Music saved my life, and still does. But it's abstinence from substances that I have to be aware of, 24 hours a day. Now, I live like that, one day at a time."
Clapton has organized multiple Crossroads Guitar Festivals to raise much-needed funds for the Centre, which offers free treatment to many who are unable to afford care. "What we do is we prepare people who have got problems with alcohol or drugs to become abstinent," Clapton said of the rehabilitation process. "And that's very difficult to do with willpower alone. My experience has been that you need a support group."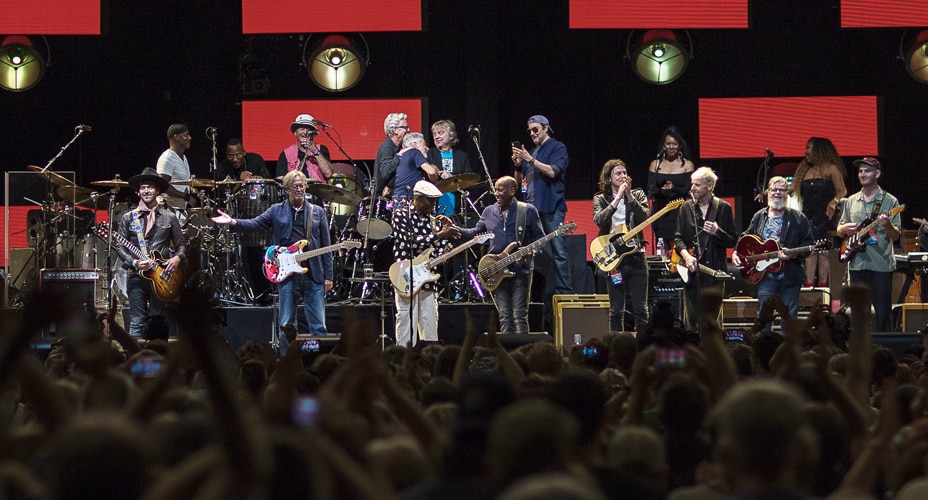 Finale of the 2019 Crossroads Guitar Festival in Dallas, Texas, featuring Eric Clapton, Buddy Guy, Nathan East, James Bay and more.
Clapton has described putting together the Crossroads Guitar Festivals as the culmination of all his musical ambitions: allowing him to fulfill a sense of duty to Crossroads and acting as a bridge for the past, present and future of guitar music.
"My identity is always going to be linked to Crossroads ... I can't walk away, so I've come back to do the thing I know how to do best, which is play, and also invite people that I have high admiration for in the music world … I like to use the festival platform as a way of getting [musicians] to come and play to a big audience, maybe for the first time … I think it's quite nice for the other musicians to meet them, too ... I like cross-fertilization … I mean, that was a fascinating thing for me, the fantasy. And it worked."
To learn more about Crossroads Centre Antigua, visit crossroadsantigua.org.