It can't be overstated, nor should it be underestimated, the iconic placement atop the world of popular music, enjoyed by Jimi Hendrix. Unarguably, Jimi was a game changer, transforming the electric guitar from a mere instrument into a vehicle to another realm, with otherworldly sounds and senses. His was a unique combination of hard, electric blues and torrential feedback that mesmerized audiences. The cascading effect of his music has rippled through subsequent generations of musicians, leaving an indelible mark. From Stevie Ray Vaughan to Living Colour to Prince to John Mayer to De La Soul—running the gamut of popular music over the past five decades—the imprint of Jimi Hendrix and his music lives on.
Janie Hendrix was Jimi's baby sister, coming along while Jimi was spending his stint in the army and, eventually, on the road as a professional musician. His celebrity never eclipsing his love of family, Jimi immediately embraced this little girl who looked at him with adoring eyes. It would be one of Janie's most memorable relationships. And, in an exclusive interview with Guitar Center, she recalled the Hendrix household where it was no surprise that music would be Jimi's launch-pad, because of its importance. "Music was everything. My dad was a huge record collector. I think our stereo only went up to 10, so he was trying to, like, stretch it. If there was an 11 or 12, he was trying to push it," she chuckled. "We always laughed [about the fact] that our house was probably like, you know, the cartoon house that was rocking back and forth because the music was blasting."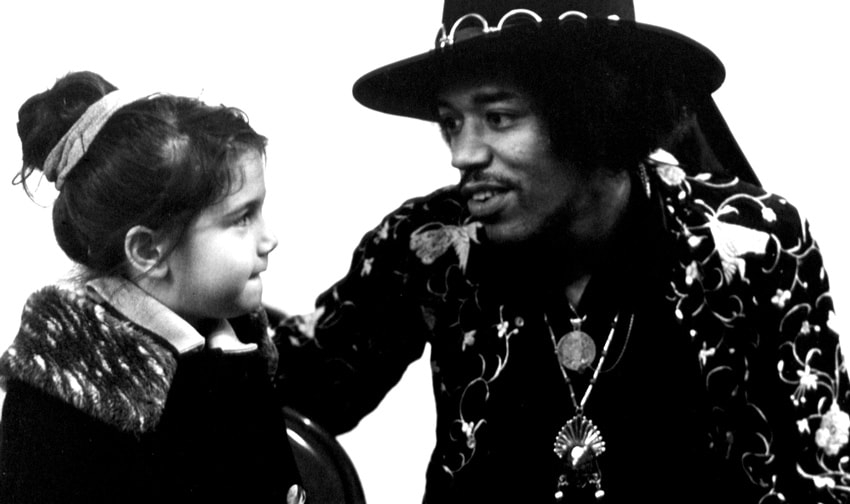 Janie and Jimi Hendrix, Seattle, 1968
It was this environment that fostered Jimi's love of music. When Jimi was 15, his dad, Al Hendrix, gave him a gift that would forever alter the teen's life … a guitar. "In Seattle, on First Avenue, there was a store called Myers Music, a music store. But they also had second-hand things, things that you could put on layaway or, you know, kind of pay as you go, but take the instrument with you. So, my dad bought Jimi his first guitar there." From that moment, the guitar became Jimi's constant companion. He poured himself into the instrument, a Supro Ozark, honing a self-taught skill with incredible precision. An interest in performance followed. Jimi began playing in bands, eventually forming The Rocking Kings. Jimi and his guitar were inseparable until one night when, between sets of a Rocking Kings show, Jimi's first guitar was stolen. A devastated Jimi finally mustered the courage to tell his father what happened. Instead of chastisement, Al's response was far different than Jimi imagined. His father decided to make a selfless gesture for his son. Janie recounts, "On that day, when my dad bought Jimi's first guitar, he bought himself a saxophone as well. He said, 'We're going to learn how to play together.' So, when the guitar got stolen, my dad took the saxophone back to Myers, and he bought Jimi another guitar, his Danelectro. And he said, 'I think you're going to go further with the guitar than I will with the saxophone.' I think that was like the ultimate sacrifice, you know? A father wanting to learn how to play music with his son, and then a tragic thing happens when a guitar gets stolen." Money being limited, and multiple instrument payments not being an option, Jimi's dad viewed giving up his saxophone dreams as a reasonable price to pay in order for Jimi's music aspirations to continue. The investment would prove to be pivotal for the young musician.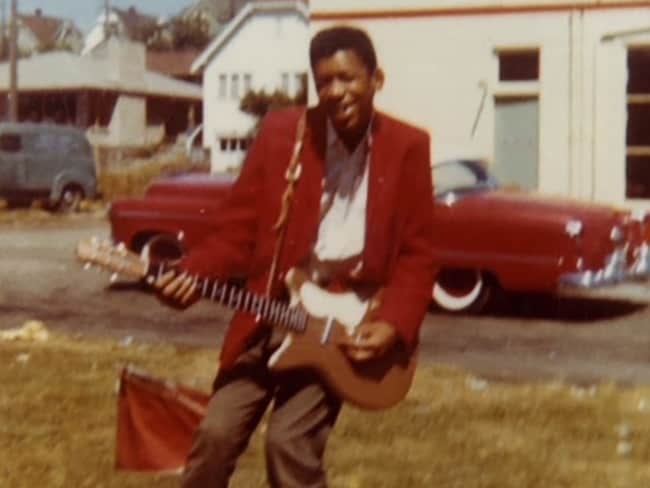 A young Jimi Hendrix plays guitar.
After briefly putting down his guitar to pick up his parachute, Hendrix returned to the true focus of his affections. Hendrix had always wanted to be a paratrooper, but after an injury ended his career with the 101st Airborne Division, he took to the road again, playing throughout the South in clubs known as the Chitlin' Circuit. Backing national artists, such as Wilson Pickett, Sam Cooke, Ike & Tina Turner, the Isley Brothers and, most notably, Little Richard, Jimi's appetite for something of his own increased. He moved to New York City's Greenwich Village in 1966 and formed a band called Jimmy James and the Blue Flames. Here, he met Animals bassist Chas Chandler. Recognizing Jimi's full star potential, he offered to manage him. Chandler whisked Jimi off to London to form a new band—one that would set the world on fire—the Jimi Hendrix Experience. Along with drummer Mitch Mitchell and bassist Noel Redding, Hendrix quickly became the hottest act in London, with the likes of The Beatles, The Rolling Stones and Eric Clapton attending his packed shows. By the time of his first single, a cover of the standard, "Hey Joe," and its follow-up, the incendiary "Purple Haze," Hendrix, with his style and appeal, had reached meteoric fame.
Onstage, Hendrix was the ultimate showman. His performances were more than music, but theatrical displays of both sight and sound. His rapidly growing collection of guitars, including his famous white Fender Stratocaster, were like members of his cast in every production, playing opposite Hendrix, the actor, the musician, the dancer, the provocateur. Impromptu choreography revealed the intensity of his form and physical strength. "Some of the moves that he did on stage, like at the Atlanta Pop Festival, when he was on his knees, and he goes all the way back, and then brings himself back up. Like, he definitely had a 12-pack, you know?" Janie laughed. "He had muscles galore. Just watching his agility, and the ways that he moved his guitar, and swinging it around his neck and his back, and with his teeth, and gyrating. I remember a lot of times we used to think, 'Oh, he's going to get in trouble for that!'"
Hendrix was known to push the limits and test the boundaries, politically and socially, of what was the norm in music. "He came back to Seattle, and he played 'Star-Spangled Banner,' that was before Woodstock. And my dad kept looking at the police officer, thinking, 'Oh my God, he's going to get arrested. He's going to get arrested.' Because nobody ever did that, right? They never took the 'Star-Spangled Banner' and created it as their own, which he did. I mean, it was incredible. The sounds, the movement, the music that's basically going through your bones. Like Jimi would say, 'You know, there's a lot of sleeping people. I want to wake them up.' And his music definitely did that. It evoked an awakening that heightened the senses of those who experienced his music.
"There's a lot of sleeping people. I want to wake them up."
"He had such electrifying energy, that you really could only feel when you were there. And it was different, because on stage, he was different than he was at home. He was very quiet, and bashful, and very sweet. And then on stage it was like, you know, no holds barred. 'This is what I'm giving you. And listen to my lyrics, listen to my music—hear my music!' was one of his things. Because he just wanted people to hear it. You know, it wasn't really about playing loud, it was just getting their attention."
Jimi Hendrix captivated audiences around the world with his live performances and a series of album releases over a four-year span, which many would say is nearly unrivaled in the history of popular music. Are You Experienced, Axis: Bold as Love, Electric Ladyland and Band of Gypsys remain as potent a four-potion combination today as they were upon release. The list of classic Hendrix singles introduced during that time is equally staggering. The aforementioned "Purple Haze," "Foxey Lady," "The Wind Cries Mary," "Fire," his jaw-dropping cover of Bob Dylan's "All Along the Watchtower," "Crosstown Traffic" and "Stone Free" are just a handful of Hendrix singles that shook the very foundations of rock music.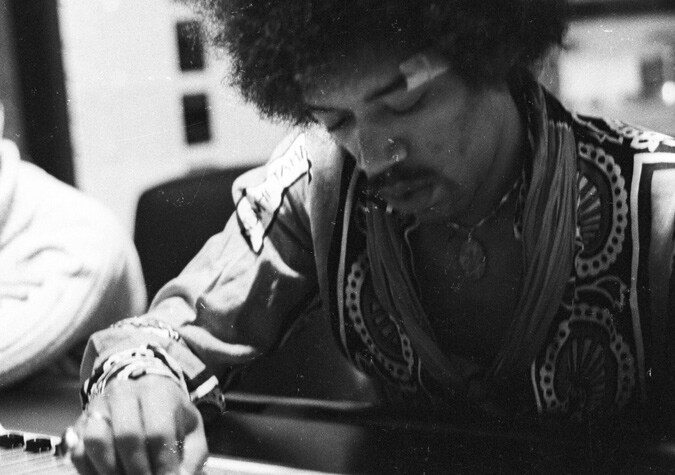 A focused moment in the recording studio.
In her role as President and CEO of Experience Hendrix and Authentic Hendrix, which together manage the Jimi Hendrix catalog and brand, Janie Hendrix has dedicated her life to upholding the legacy of her brother. She is thrilled by the timeless nature of Jimi's artistry. "What Jimi's left us is a tremendous gift. And I think that it still is a mystery to many. They're just still trying to figure it out. And because his music had all different factors, and genres in his music, I think that it has been able to span across time and generations, and people still wonder about it. People still want to learn about it. It's kind of like his music is a time machine, and it still is as fresh and new as it was then—and even more so now. And because of his vision and his lyrics, and writing lyrics and writing music—and I'll give credit to Chas Chandler, who really encouraged him to write his own songs, not just do covers—I think that all of that has helped musicians be inspired, and people, because they all listen to his lyrics and his music, and they're like, 'Wow, how did he do that?' They still can't figure it out, some of the things that he did, you know? They can kind of imitate him, or as he would say, 'Some people imitate me so well they even imitate my mistakes.' But he created it, you know? They're just repeating it in some ways. I mean, it does give honor, and we are very appreciative of that."
Interestingly, Jimi's music connects with other musicians, according to Ms. Hendrix, "I think a lot of people discover Jimi because of other artists that have done his music, you know, like Stevie Ray Vaughan and Prince, and oh, gosh, the list is long, you know? And even Bob Dylan says that 'All Along the Watchtower'—the song that Bob wrote— Bob does it in the way that Jimi did it, as a tribute to him. So, I think that there's a lot of respect between him and other musicians."
Nearly 50 years after his death, Jimi's music continues to inspire up-and-coming musicians, just as he was influenced by those before him. In this way, his vision lives on. "That was what he was about—sharing," Janie said. "I mean, it's a big wheel. Eventually, you know, you start and, at some point along the way, you'll pass along inspiration to the next person. Their wheel starts, and yeah, that's a beautiful thing."