Gibson's Generation Collection takes some of their most beloved acoustic models and gives them fresh, player-facing features, like the Player Port soundhole and flatter fretboard, at an accessible value. Staying true to their celebrated lineage while boldly innovating, the expert builders at the Gibson shop in Bozeman, Montana devised a line of guitars that offers familiar models—like the G-200 and G-45—with exciting acoustic and playability enhancements.
We spoke with Robi Johns, director of sales and marketing at Gibson, to get the scoop on what the refreshed Generation Collection is all about.
Tell us about how the new Generation Collection guitars came about.
Robi Johns: We discovered an old, original 1964 blueprint of a Gibson acoustic with a round shoulder body and a soundhole on the wide upper side. It was designed to allow the player to hear the "internal" sound of the instrument.
From this concept, our builders in our Bozeman, Montana shop began to experiment and found an optimal position for this extra soundhole. While the initial design put the soundhole on the wide upper side, we found that placing it on the narrower upper bout of the body resulted in a much more clear and powerful projection of the inner body sound—directly to the player's ears.
How would you describe the Player Port experience, as compared to a traditional guitar?
Johns: We usually hear the sound of a guitar from its top and frontal soundhole, blended with extra color and qualities of the space the instrument is in. This includes reflections from the walls and other surfaces, in addition to any added amplification.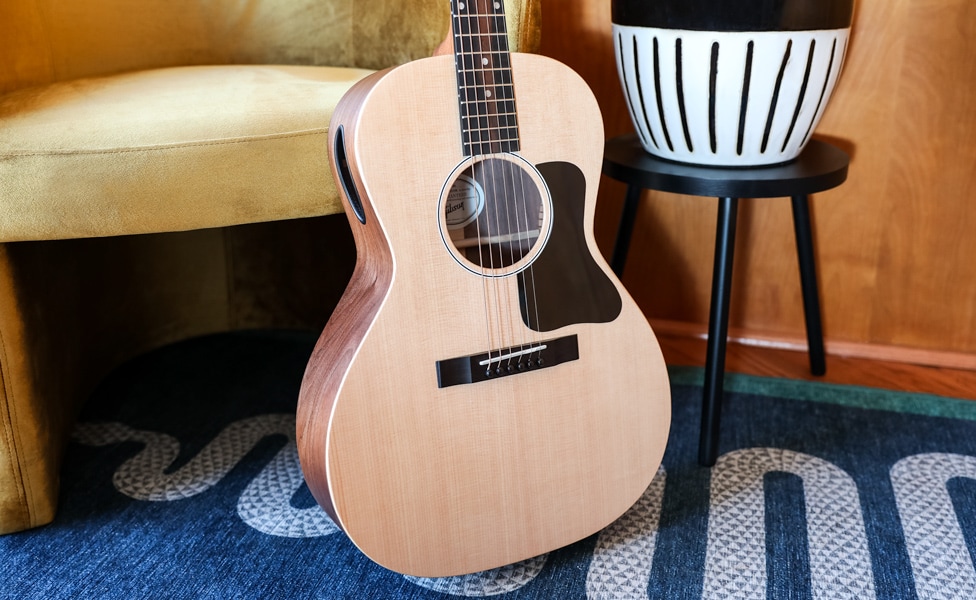 Pictured: Gibson Generation Collection G-00 Acoustic Guitar
The Gibson Player Port primarily enhances the sound heard by the instrument's performer, as opposed to others in the room, creating a more personalized playing experience by its nature and design. There is a joy and a boost in one's artistic confidence when you can more clearly hear each note, especially when on stage in a group performance situation.
While these models will surely appeal to players looking to buy their first Gibson, why would longtime Gibson players want one?
Johns: The necks of the Generation Collection models were designed to be as light as Gibson's famous Les Paul electric guitar models. This, coupled with their flatter fingerboards, accommodate all playing styles, especially ones that must adapt to both electric and acoustic guitar styles fluently.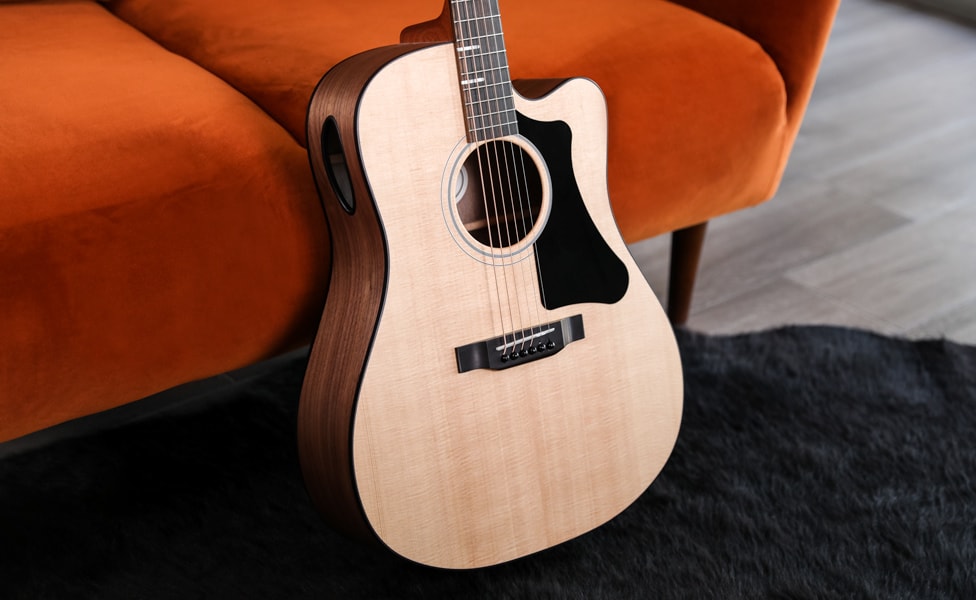 Pictured: Gibson Generation Collection G-Writer EC Acoustic-Electric Guitar
Can you speak a little bit about the tonewood choice of pairing spruce tops with walnut back and sides?
Johns: We first used this wood matching when we released the J-15 model back in 2014, and we've been very pleased with it. The walnut, in addition to its visual and tonal beauty, is also a highly desirable, sustainably farmed wood.
Having spent some time with these instruments, it's clear that each of the four body shapes has a unique tonal character. As someone who's been involved with these guitars from the beginning, how would you describe each model?
Johns: The round-shoulder G-45 offers a very warm and forward-projecting mid-range with a tight, punchy bass. The square-shouldered G-Writer has nicely balanced low-mids and highs, with a wide, expressive dynamic range. The Super Jumbo body of the G-200 projects a full and wide tonal range, with a large bottom end and crisp highs. Finally, the small body G-00 has a warm, "wood-like" focused tone, with smoothly rounded-off lows and high.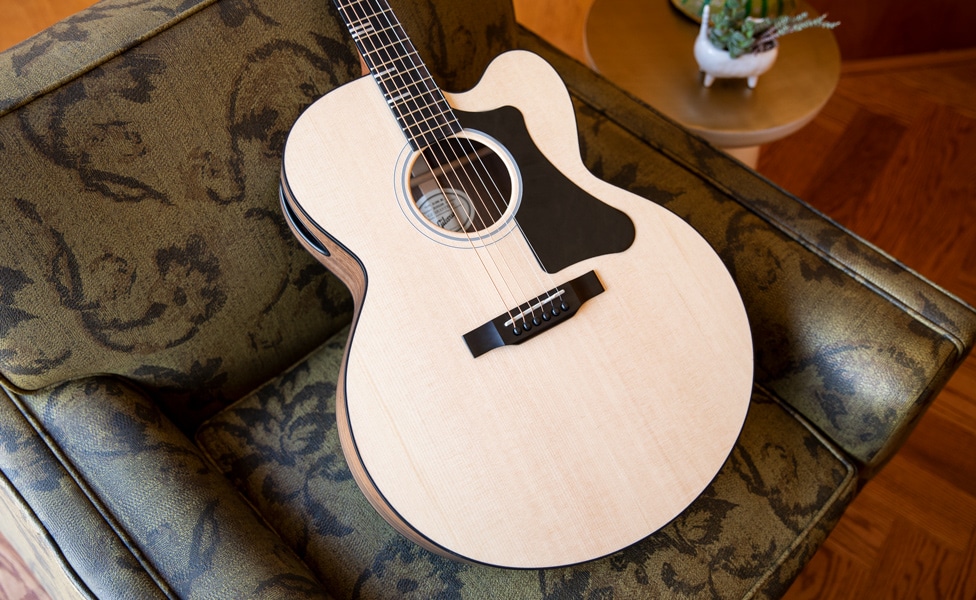 Pictured: Gibson Generation Collection G-200 Acoustic-Electric Guitar
The striped ebony on the fingerboard and bridge is quite striking. Can you speak a little bit about how you chose it?
Johns: It was uniquely beautiful and is a premium tonewood. Ebony offers a professional feel, long durability and a smooth texture—and the striped ebony was visually interesting and consistently available.
How does the legacy and tradition of building in your Bozeman factory, that incredible heritage, make it into the Generation Collection guitars?
Johns: Since we began building in the Gibson Montana shop, we've made it our legacy and tradition to build our acoustics with scalloped bracing, radiused tops, dovetail neck-to-body joints, handmade from solid woods, and a more "living" Nitro lacquer finish.
Absolutely all of those elements are in each Generation Collection model—no matter the price point.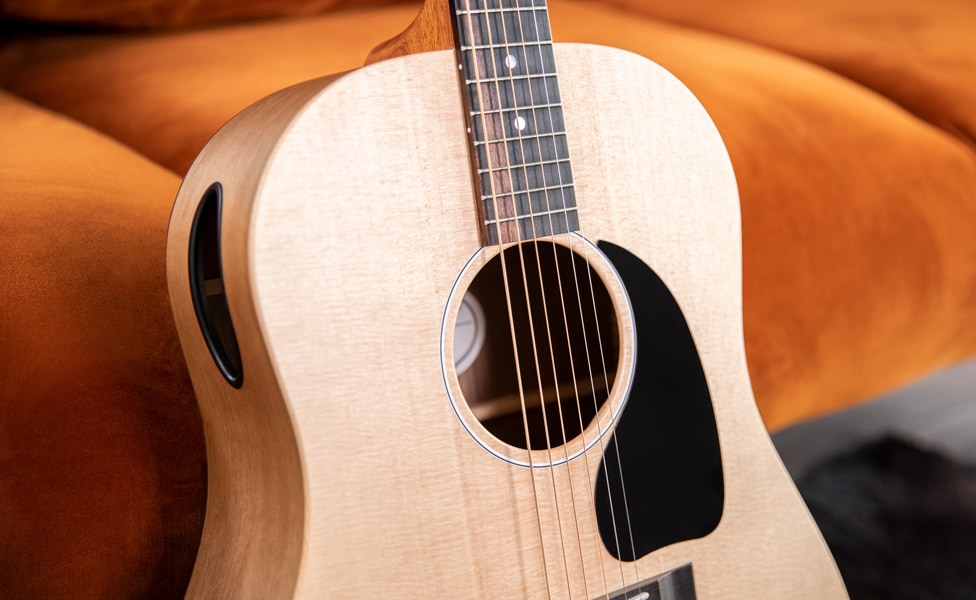 Pictured: Gibson Generation Collection G-45 Acoustic Guitar
When designing new instruments for such an iconic brand, it must be quite a challenge finding the balance between modern and classic. How do you move forward while staying true to your roots?
Johns: This question really brings a smile to my face. If you look at a historic procession of Gibson instruments, they don't look like a "conveyor line" of guitars. They very much look like evolving images, used to picture Darwin's Theory of Evolution. We've always chosen to develop and innovate, based on the needs of the masses, each and every year since 1894.
So, it's not really a "challenge." It's simply our mission and our goal.