Fender has a storied legacy of catering to players' needs while honoring the past. Building on the hugely popular Player Series, the aptly named Player Plus gives Fender enthusiasts a slew of player-centric modern appointments with cleverly conceived finish options. From slimmer necks and wider nut widths to Noiseless pickups and locking tuners, the new specs are primed to streamline playing and inspire creativity in hobbyists and professionals alike.
We spoke with Allen Abbassi, Director of Product Management for Fender Electric Guitars and Basses, who gave us insight on how the Player Plus was developed and geared toward high-performance, ease of playability and contemporary style with a nod to vintage models—including some '80s deep cuts.
The name Player Plus suggests that these are an extension of the Player lineup, rather than something wholly new. What ethos or spirit carries over between the two lines and what is unique about Player Plus?
Allen Abbassi: They are both contemporary versions of classic Fender models - the Strat, Tele, P Bass, Jazz Bass - with features that lend themselves to playability. The Player Series is the entry point into the Fender line, solid instruments with great tone and superb playability. The Player Plus Series is designed as a step-up with modern high performance features, such as 12" radius fingerboard with smooth rolled edges, advanced electronics, Player Plus Noiseless pickups and more.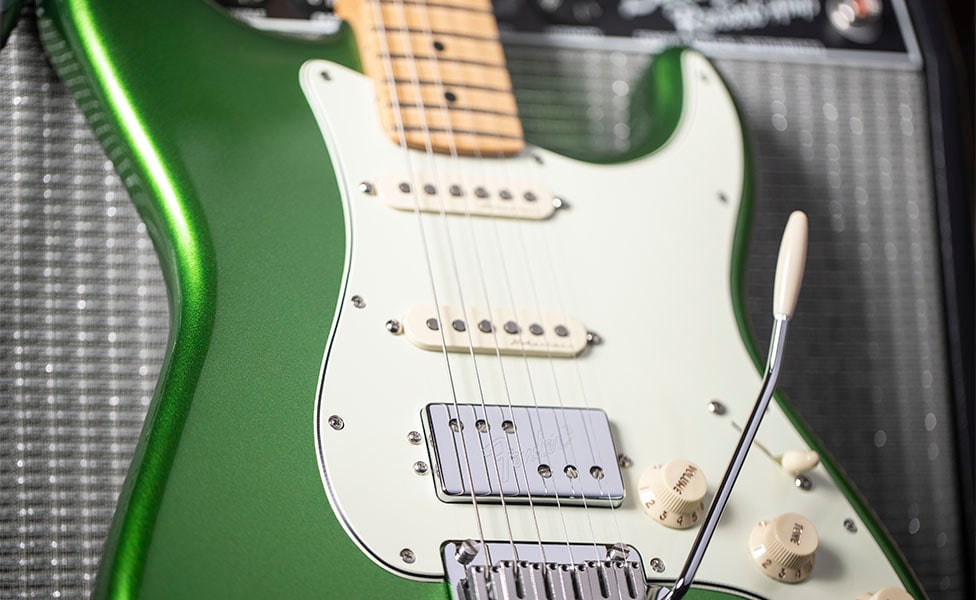 Pictured: Fender Player Plus Stratocaster HSS 
Can you walk us through some of the more modern specs of the Player Plus lineup? How do they compare to the "standard" takes on these instruments?
Abbassi: A vintage-style instrument, for instance, would have 7.25" fingerboard radius, which is comfortable for chording, while a Player instrument has a flatter 9.5" radius for easier bending. Player Plus instruments feature an even flatter 12" fingerboard radius which facilitates lower action for fast, precise soloing and a more modern feel.
Another great feature on Player Plus is the rolled fingerboard edges, which give the instruments a nice, smooth feel in your hand. When you wrap your hand around the neck, it fits perfectly, just like a well-worn baseball glove. And it really makes a comfort difference as you glide up and down the neck.
Player Plus guitars also feature a wider, more modern 1.685" wide nut width versus the 1.65" wide nut on a vintage-style guitar. It feels more substantial in your hand and makes precise arpeggios and soloing easier.
Player Plus Noiseless pickups provide authentic Fender single-coil tone without 60-cycle hum.   That's a welcome upgrade when you're recording or playing in a live environment that has a lot of ambient noise caused by fluorescent lights and things like that.
Another great performance upgrade we've added to Player Plus guitars are Fender locking tuners. They make it quick and easy to restring your guitar and they also help prevent string slippage while you're playing.
Finally – all Player Plus instruments feature advanced electronics. On the Strat and Nashville Tele, for instance, a push/pull tone pot allows you to add the neck pickup into switch positions 1 and 2 for additional tonal options. On the Tele, the push/pull pot puts the pickups into series mode and on the Strat HSS, it splits the humbuicking bridge pickup. All Player Plus basses feature active preamps with 3-band EQ and a mini-toggle to switch from active to passive mode.
Can you tell us a little bit about how you approached updating the Noiseless pickups? What do they sound like?
Our main goal with Noiseless pickups is always to provide classic Fender tone without hum. With Stratocasters, we're going for a little bit more spank, a little bit more of a crystalline bell-like tone. On the Tele, a little bit more twang. For the Jazz Bass, a little bit more of that clarity and growl and for the P Bass, more thundering low-end. All with no noise or hum.
Pictured: Fender Player Plus Nashville Telecaster 
Is there an overarching quality to the sound that unites all the instruments in Player Plus?
We wanted the guitars to have classic Fender sound, suitable for any style of music which would be perfect for recording or stage – with no hum or noise. For the basses, we created an active/passive system, so bassists can get both a classic Fender sound and a modern active sound with a wide palette of tonal colors. All guitars and basses were built for players who are working on their craft and getting better on their instrument.
Can you talk about the new colors and the impetus for them? There must be an infinite number of colors to choose from, so how do you narrow down?
Colors are always a huge part of a new launch for us. It's very important to the appeal of an instrument and we work hard to develop the color theme for any new series. Player Plus is about high-performance, so we wanted to make sure the colors were exciting, modern and fresh.
To that end, we start by looking back at the traditional Fender palette of colors. First, we take a look at vintage colors for inspiration, shift to looking at colors we've done more recently, and then we dream about new colors. Inspiration can come from anywhere. Back in the early '80s, the Fender Elites and "the Strat" had new gradient bursts, called "Stratoburst." Gradient bursts start as one color on the bottom and gradually transition into other colors as they go up the body - a "vertical burst," if you will. When we looked back at those guitars, we thought, "Wow, that's a very interesting look, what can we do with that?" We began experimenting with different ideas, such as which and how many colors on the body, how and where they transition and more. We finally arrived at the Tequila Sunrise, Belair Blue and Silver Smoke designs. We're really excited about them and customers are, too.
We always offer traditional colors, as well. Of course, Three-Color Sunburst. We have a new Aged Candy Apple Red, which looks like Candy Apple Red as it fades over many years. And we also included some exciting metallic colors like Olympic Pearl, Opal Spark and Cosmic Jade.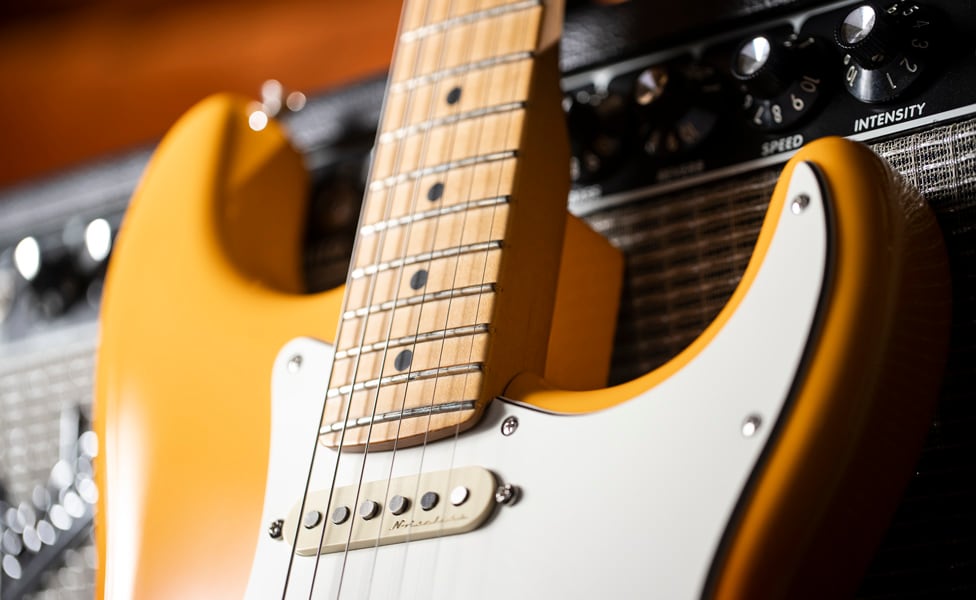 Pictured: Fender Player Plus Stratocaster 
As you were finalizing these colors, some of which recall that '80s vibe you mentioned, did that end up impacting any other aspects of the guitars and basses as you were developing them? Did you feel like "Well, if it's going to recall this bold look, maybe it should evoke this sound or feel?"
That's an interesting question. We had already created the specs for the series before we worked up the colors. The colors were designed to fit the modern theme of the instruments, rather than vice versa.
Do you have preferred rigs or amps to pair with specific models?
We always test new guitar designs through all the current Fender amps like our Mustangs, the new Tone Masters, which sound wonderful, by the way, and of course, a variety of vintage-style amps too. We want to be sure that we're maintaining the essence of Fender tone, and that it's coming through loud and clear.
It's interesting that these are "player guitars." Five to ten years ago, that may have meant that it was already "beat up" a bit; a "road dog guitar." Do you think we're seeing a shift in a guitarist's mindset where a "player's" guitar doesn't have to be beat up and road worn?
That's interesting. I think "player" has a dual meaning to musicians. One meaning would be that a "player" is an instrument that you've been dragging around from gig to gig for many years, my number one, my go-to. But in the context of the Player Series or the new Player Plus Series, we're talking about the players themselves. We designed the guitars for people that just love to play. They're the professionals or semi-professionals, weekend warriors or maybe a hobbyist, but they're all players at heart, and they have that desire to make music, to create and be inspired. And that's the player that I think we're referring to with the Player series or the Player Plus series. In that sense a "player's" guitar is the instrument that ignited your creativity.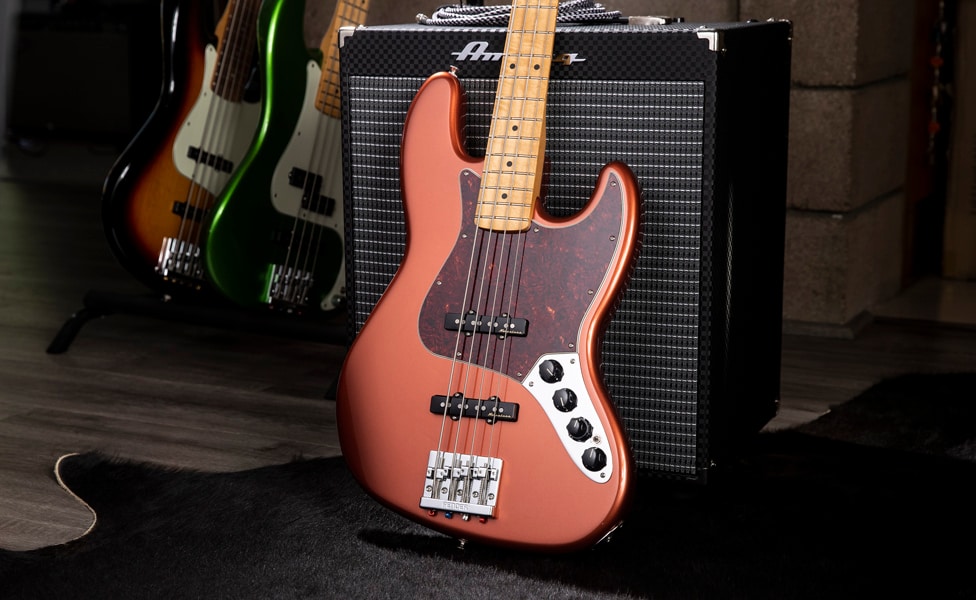 Pictured: Fender Player Plus Active Jazz Bass 
What do you hope a player experiences the first time they get their hands on one of these?
The first thing we want is to inspire. We are in the business of designing instruments that help people express themselves and express their art. So, inspiration is really the number-one thing that we want people to feel when they pick up an instrument.
What that means is, number one, it feels good. When you pick up a Fender Strat or Tele, it feels like home. I think that's huge - the way the neck feels. For the Player Plus series, one of the things we really hope is that when you grab that neck and you feel the rolled edges and the satin finish, you instantly feel like, "Wow – this is THE ONE."
Also, when you plug in and start playing, we want the tone to inspire you. When you hit a chord and instantly hear that [kerrang], we want you to think, "This sounds like me."
Player Plus instruments look great, sound great and feel great – our hope is that players love them so much they simply can't put them down!