Everything changed on July 14, 2020. Looking for a new way to share his sound, Atlanta-based musician Chavis Flagg strapped on a guitar, grabbed a battery-powered amplifier and began to busk along the city's BeltLine, shredding and serenading everyone he passed. Did we mention he did this while riding an electric skateboard? One viral video later, Flagg was national news. There's not always a correlation between view counts and talent, but this 24-year-old has plenty of both. Self-taught on guitar, bass, drums, keys and sax, he's already got two albums and an EP under his belt. We spoke to Flagg about his beginnings, his unique mobile rig, and what he hopes others will take from his journey.
What's your earliest musical memory?
I started playing music at the age of maybe 2 or 3 years old, just kind of beating on pots and pans, doing the drum thing. My grandmother told me that when I was young, there was actually a time where I was at the foot of the bed at 4 or 5 a.m., just making a beat, making a rhythm. She was on her way to work, and she was like, "What are you doing up? You're supposed to be asleep." And here I am with pencils or spoons or whatever I had in my hand, making a rhythm, making a beat, and she knew then I had the gift of music.
How did you discover guitar?
I started playing the electric guitar in seventh grade, maybe 13 or 14 years old. I went to my cousin Dre's house, and we were playing hide and seek. I went to his room, and in his closet there was a white electric guitar. I was strumming the strings, and that's when he knew that I was hiding in his room. He said, "What are you doing in my room? I told you not to go through my stuff." And I was just like, "I was playing the guitar. I didn't know you had a guitar." At the end of the night, I asked his mom, my aunt, if could I keep the guitar. She said, "Dre, Chavis wants to keep your guitar. Can he keep it?" And then he's like, "No, Mom. He can't have it. I already told him he can't have it." She said, "I'll give you $20." And he's like, "Okay, fine."
Who inspired you to make music of your own?
The first time I wanted to start creating music on my own, I was listening to some of my favorite rock bands growing up, like Bullet For My Valentine, Avenged Sevenfold or the guitarist, Orianthi. She's awesome. She's really why I got into playing guitars. I really love the sound of electric guitars. You can make it scream. You can make it cry. All of these emotions you can do with just this one instrument.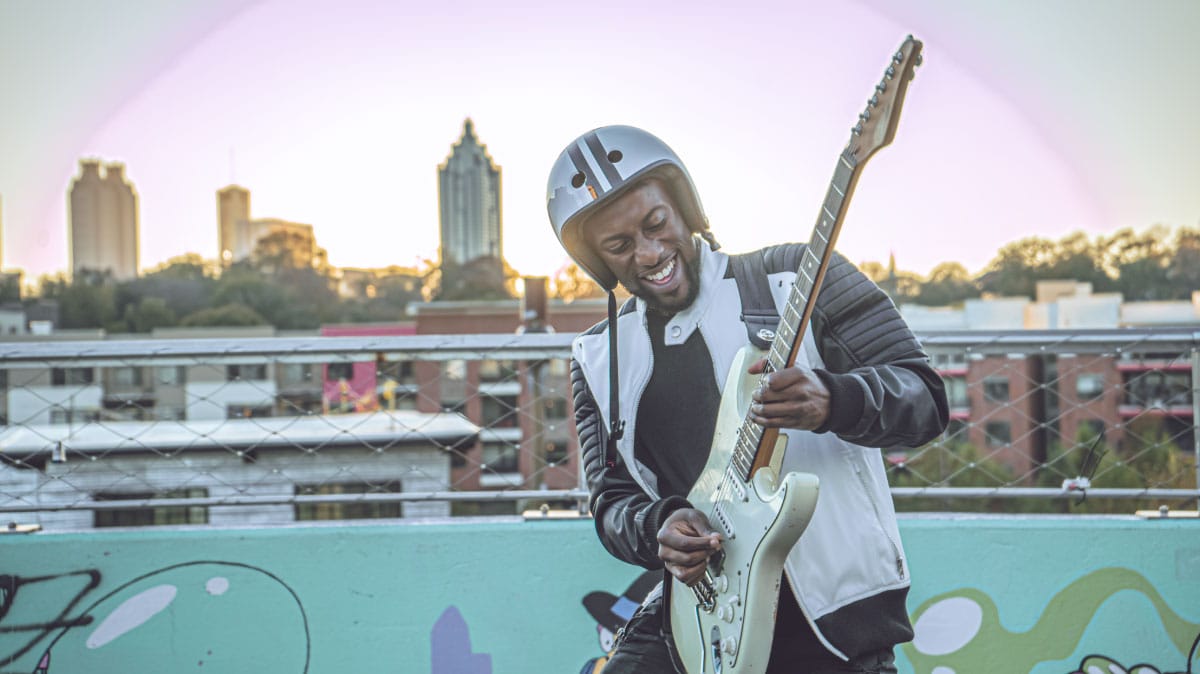 I make music to bring joy to the world.
How did you get the idea to play while riding a Onewheel electric skateboard?
I saw a lot of street musicians hanging out on the BeltLine. It's something I always wanted to do. Not for the money, though—just to get out there and play an instrument. I noticed that it would formulate a lot of crowds. Due to the coronavirus and social distancing, I thought we had to change our way of getting music out there to others. If there's a way I can ride this Onewheel and play the guitar at the same time, I could just come to people like Uber Eats, you know?
So, I would have the Onewheel going while playing. I was like, "Hey, today's my birthday. Can you listen to me play a song?" They would go, "Okay. Play me a song." Eventually, more and more people started sharing it on social media, and that kind of grew into something that actually went viral for me. And ever since that day—I'll never forget July 14th—that's when everything kind of went crazy.
What is your mobile rig while riding?
I have a Blackstar Mini amp that I picked up at Guitar Center in Atlanta. It has a lot of different effects. Some practice amps only give you a little bit of sound. This one actually pushes a lot, so I'm really happy. On the sides, I have two pairs of JBL Flip 5's. They sound amazing. Any song. Any genre. Pairing these two together just comes out really well. I just have them mounted with some duct tape.
How did you come up with the song "Mad Max"?
A lot of people on my social media told me that I reminded them of a character from the movie Mad Max: Fury Road. He's actually rocking out on the end of the truck with flames coming out of his guitar. I really felt like that represented me. That kept replaying in my head, and I'm like, "Man, this could be a hit." I wanted to have a catchy hook, something that could be sung and screamed at live concerts and in arenas. I recorded through a Neumann TLM 103 microphone and got some really good sounds out of my bedroom, but then I decided to bring it to a nicer studio so I could have the acoustics going.
Why do you make music?
In the world that we live in today, there's a lot of darkness. I want to be a shining light to those who want to start creating for themselves. When I first started, I recorded in the back seat of my mom's car with an interface, a laptop and a microphone. Whether you're young or old, music is a great outlet. It brings us back to this median of selflessness—you can be exactly who you want to be at any time.
What advice would you give to someone who wants to get into music?
Remain persistent—don't give up so easily. Even though you're not seeing any progress in the beginning, you will later. It's like planting a seed. You don't see the plant grow the day after. You give it some time. Weeks, maybe even years. Then you really see yourself grow. With music, we all have a voice. We're all heard in a special way, and we all have a story.
Keep up with Chavis at his official website and Instagram.