With origins in Bloomington, Indiana, Durand Jones & The Indications unite the forces of both modern + vintage gear to present their own unique blend of doo-wop pop. We caught up with the band after their show at The Blackheart in Austin, Texas to talk about their touring rigs, networking on the road, and how posting their favorite 45s on Instagram has helped grow their connection with fans.
Is this your first SXSW as Durand Jones & The Indications?
Aaron (drums, vocals): Second as a band.
What is it like to go from back-to-back showcases?
Kyle (bass): It can be hectic and it can be stressful at times, but the bottom line is we get to play a lot of shows, which is pretty fun.
Do you guys have any tips for staying sane on the road?
Durand Jones (vocals): Yes - stay hydrated. Drink as much water as possible. At the end of the day, that's really my goal - to make sure I can bring it every time.
Blake (guitar): I've been taking vitamins every day. I'm not a normal vitamin-taker, but I've been taking them every day on tour. I feel great.
From the perspective of an artist, what does it mean to play a festival like SXSW, with so many artists and showcases? What do you get out of an experience like this?
A: I think, especially for bands who are earlier on in their career, it's a really, really great place to be seen by people who are in the industry. They could be managers, booking agents, labels - but also other bands. A lot of touring culture is relationship-based, especially early on, before you have an agent. So to be able to connect with other artists as well as industry people is super valuable.
What advice do you have for artists who might want to play SXSW in the future?
D: Write good music.
B: That's a good answer.
A: We've booked our own shows in previous bands that we played in. Going through the process of booking your own tour and then playing it – it's not fun. It can be really hard work. It can be pretty tough at times to call these venues out of the blue and hope they don't hang up the phone. But at the same time, doing that gives you touring experience, so that when you do play a festival like this and start working with a booking agent, you're already prepared for the grind.
Tell us about the gear you each play.
Julani (saxophone & flute): I have a tenor Cannonball saxophone that's black nickel and gold-plated. It was played at Arsenio Hall & on Prince's stage at one point in its life.
D: Besides tambourine, I have a good set of in-ear monitors. They're UE7s. They're custom-fitted for my ears, and I love them because I don't have to scream and shout against the band. It keeps me in control of my voice.
K: I play a newer Fender Precision bass. I love vintage basses, but I think when you're touring, it's important to have something that you know is going to be a little bit more reliable. Sometimes with vintage gear, it can be hard to intonate, and also there's always a fear that it might get stolen. So I love touring with this newer bass. It gets the job done.
B: I play a vintage Harmony Rocket. It was originally purchased at a Sears department store, probably around '63 or '64. It's got the Dearmond gold foil pickups. They're really loud pickups, and for me, that's the most valuable part of the guitar. I love it. It's chunky and has its own sound.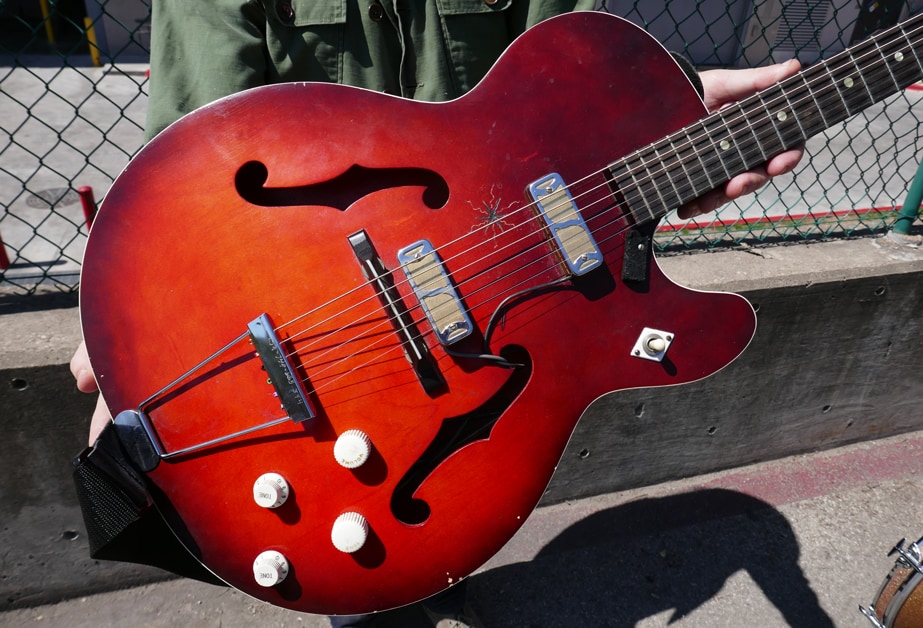 P: I have a Nord Electro 2 Sixty One - I've been playing that thing for probably ten or eleven years now. It's still doing its beautiful thing. In my opinion, nobody does the vintage keyboard like Nord. It's my go-to for the sound we're trying to capture as a band.
Kensha (trumpet): I play a vintage Martin Committee trumpet from the 1950's.
A: I play a vintage Slingerland four-piece with a Maryland Drum Company snare – which I don't think they make anymore. But I'm from Baltimore, so I picked that up years ago, and it's been with me ever since. I use Promark Paul Wertico Signature sticks, which I like because they're well-balanced - you can play quietly or loudly and they won't snap in half on you. I also play a 21-inch Sweet Ride Cymbal from Zildjian, which is super versatile. You can use it as both a crash and a ride.
D: Sometimes by the end of "Giving Up", Aaron's drum set is all over the place. He really likes to bang on that thing.
A: [Laughs] I mean, sometimes it's about letting the spirit of the song move you – and maybe you've got to knock over your drum set.
How have your gear choices changed throughout the years?
B: I use way less gear - I just use a tiny little guitar amp and a Wah pedal. I used to have an octave pedal, two distortion pedals and a delay pedal. But now, I like something simpler. It kind of changes the way you play when you have less options and less toys to play with. Feels a little more serious, I guess.
P: For me, the Nord fits in any setting – it's the central part of any project that I'm in. Country, R&B, reggae, jazz - you name it, it's going to fit. It can make so many amazing sounds. Sometimes I may add other keyboards or synths that work well with it.
A: Mine is kind of the opposite of a transformation, but just for the record - I've been using the same Roc-N-Soc throne for 13 years. It's awesome.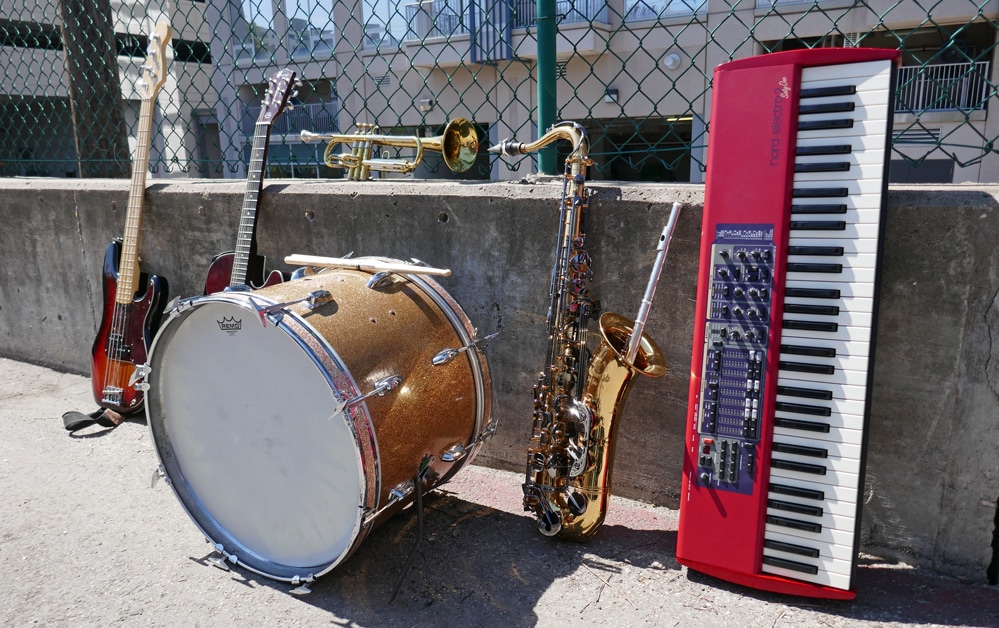 On a few of your songs, both Durand and Aaron sing. When you're writing, how do you consider who will sing on which project and why?
D: Well, Aaron, Blake and Kyle were all in a band before The Indications, titled Charlie Patton's War – both Aaron and Blake sang in that project. When I first start writing soul tunes with these guys, they laid down a demo of "Is It Any Wonder" with Aaron singing it, and it just sounded good as it was. We kept Aaron on the vocals because he nailed it. On the release of the album, we started to see how much audiences really dug Aaron on lead. So lately, we've been writing a lot more things with group vocals. I think that's the vibe we're trying to embrace. We're listening to a lot of vocal groups like the Brothers of Soul and the Majestic Arrows, and it's playing a huge influence on our songwriting.
For many artists, social media has become an important way of keeping in touch with fans while on tour, writing new albums, etc. How do you utilize social media to connect with your audience?
B: We always post pictures of 45s that we collect on Instagram, which is a cool way to be in touch with our fans while also sharing music with them. It's how we also discover a lot of new songs.
Have you been able to connect with other artists through social media?
A: Yes. We connected on Instagram with another soul artist named Jonny Benavidez, who's now based in San Antonio. He's from Austin originally. I just wanted to tell him how much I enjoyed the music. I think that's kind of a good thing to do - be a fan and let yourself appreciate other artists. Be genuine and generous with how you're using social media, and you'll get that same energy back.
Food is a major part of SXSW culture - what are some food recommendations here in Austin?
D: You can't go wrong in Austin with food trucks. How about you, Julani? You're a Texan.
J: I would say go with the barbeque. You can never go wrong with barbeque. Stubb's is really good.
A: I also have to throw in Ironworks Barbeque – really good.
What's next for Durand Jones & The Indications?
D: We're going to be on tour until mid-May, traveling all over the country. Then we're headed to Europe. We're also about to re-release our debut album as a deluxe version. We'll have a new 45 with Aaron singing "You and Me" on the A side, and myself singing "Put A Smile On Your Face" on the B side. There's going to be a live album as well that's going to come with the deluxe album. Be on the lookout for all that good stuff.
Check out the latest video "Smile" from Durand Jones & The Indications:
Durand Jones & The Indications are on tour! Get tickets & see all tour dates: https://www.durandjonesandtheindications.com/tour/
March 27 /// Los Angeles, CA /// Troubadour
March 29 /// San Francisco, CA /// The Independent 
March 30 /// Visalia, CA /// Cellar Door
March 31 /// Santa Cruz, CA /// The Catalyst Atrium
April 2 /// Portland, OR /// Doug Fir Lounge
April 3 /// Seattle, WA /// Barboza
April 5 /// Boise, ID /// The Olympic
April 6 /// Salt Lake City, UT /// The State Room
April 7 /// Denver, CO /// Larimer Lounge
April 8 /// Kansas City, MO /// recordBar
April 9 /// Davenport, IA /// The Raccoon Motel
April 11 /// Minneapolis, MN /// 7th Street Entry
April 12 /// Madison, WI /// The Frequency
April 13 /// Chicago, IL /// Lincoln Hall
April 14 /// Detroit, MI /// Underground @ DIME
April 15 /// Columbus, OH /// The Basement
International tour dates: https://www.durandjonesandtheindications.com/tour/