From blast beats to trap beats, 24-year-old Brandon Pertzborn does it all across a wide spectrum of artists and genres. Pertzborn's feverish intensity and hard-hitting precision are a perfect fit for Black Flag, Doyle (The Misfits) or his latest gig as Marilyn Manson's drummer. But it's his work with hardcore/rap crossover band Ho99o9 (Horror) that pushes limits and blurs lines of how music is being written and performed. It's refreshing to see the next wave of musicians continue to be inspired by the past while experimenting and creating new forms of music. With Brandon behind the kit, the future of drumming is in good hands. We got the chance to catch up with Pertzborn and asked him about his setup, his career thus far, and where he sees music going in the future.
What is your current setup (shell sizes, cymbals, pedals/hardware and electronics)? How has your setup evolved over the years? How does your setup differ in Ho99o9 (Horror) from other, more straightforward projects you do like Black Flag or Doyle?
I use Pearl drums and hardware (22x18" kick, 14x6.5" snare, 13x9" rack tom, and 16x16" + 18x16" floor toms), Paiste cymbals, and Roland electronics. For cymbals, I just use hi-hat, ride, two crashes and a China—all Paiste 2002s. To be honest, my setup hasn't evolved too much over the years, and I never really change it too much. I found what worked for me years ago, and I feel that I can do so much with a minimal setup. I've never been a fan of a huge setup. I've always thought it's cooler to get the job done on a smaller kit. Also, every band I've ever played with thinks it's cool that I use a small kit—win-win scenario! The only thing I might add for certain gigs is a Roland SPD-SX Sampling Pad and some electronic pads.
How long have you been endorsed by Pearl and Paiste? Was that a big moment for you to join those two amazing companies?
I've been endorsed by Pearl since 2014, and endorsed by Paiste since 2017. It was huge for me to team up with these companies. I've been playing their products for years, and for them to have my back means the world to me. I couldn't ask for better companies to be with. 
Most drummers are used to playing live with a bassist or guitar player. How is it playing along to an MPC live? Is it strange? Are there ever nights where you're not synced up or feeling it?
Up until 2016, I had only played with live bands, so when I was approached to play with Ho99o9, and realized it was all tracks I'd be playing to with no guitarist and bassist, I was actually really excited. It gave me an opportunity to grow as a drummer and learn how to play on top of tracks and stretch, pull and manipulate how those tracks feel with live drums. It also taught me how to make it feel like a live band even though everything is on track except for me. I also always like to shake things up and do something different. Every single time I step into something new and uncomfortable, I always walk away a better musician from it.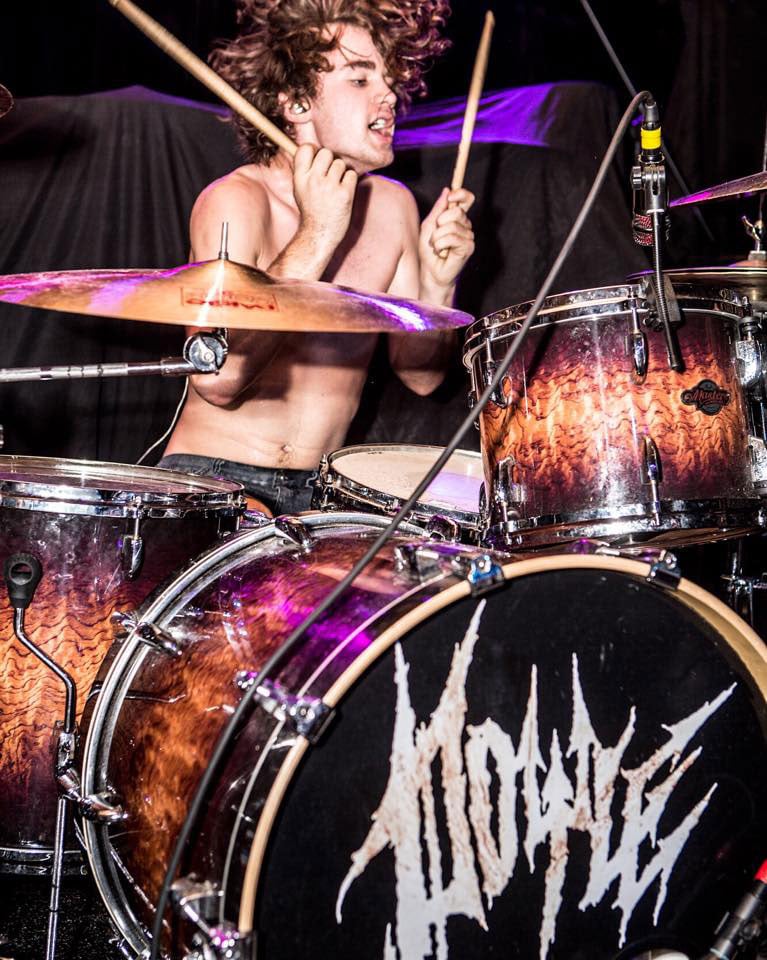 Brandon Pertzborn on-stage with DOYLE.
Is there a moment in your musical career that you would consider a revolution?
I think the biggest revolution and game changer for me was getting my first touring gig with Black Flag. Prior to that, I wanted to tour so bad but didn't know how to obtain it. So, I constantly put myself out there and would network, post videos online, and anything else I could think of. It completely changed my career once I joined Black Flag, and it taught me that I can do anything I want as long as I put in the work.
How would you describe your evolution as a drummer/musician?
When I was a teenager, it was all about how fast I could play and how many notes I could fit in a drum fill. Now don't get me wrong, I still LOVE playing fast. But as I grow older, I realize more and more how it's all about playing what's right for the song and not trying to show off your chops when it's not the right moment. When you lay back and play what's right for the song, it makes it even more powerful when you do get a moment to go off.
Who are your influences?
When I was growing up, my favorite drummer was Mike Portnoy because when I really started getting into drumming, I was obsessed with odd time signatures. Mike was someone who incorporated a lot of that, but the way he orchestrates his parts was easy for me to take in and learn. Currently, my favorite drummer is Ilan Rubin. To me, he's a modern John Bonham, and he's carrying the torch from where Bonham left it. 
You have a pretty unique resumé between playing for a hybrid rap/hardcore band with electronic elements and playing for some of the oldest names in punk, all while only being 24 years old. Where do you see the future of music and drumming going?
I think musicians will only get more and more creative, and genres will continue to be pushed, stretched and blended more and more. As musicians, we have more resources now than ever before to learn and grow and become more creative. I think right now is the most exciting time to be a musician. 
Subscribe to Brandon's YouTube channel for new drum covers and live show videos.