Even in a pre-pandemic world, it would have been a courageous move for a band to perform an extended residency at one venue in one city, and that's the one spot you could see them all year long. But when you're Maná—the colossally successful international superstars of Latin rock (40+ million records sold and multiple Grammy wins)—you can pretty much rule anywhere, anytime.
Back in March 2022, Maná kicked off an exclusive, sold-out residency at the Kia Forum in Inglewood, California, and continued to add more sellouts in April, June and July (the next run begins on September 16). For anyone wishing to see the band perform live in the United States in 2022, the Kia Forum has been your only option, and it has been an epic business strategy. Since the historic venue reopened after renovations in 2014, Maná currently holds the Forum record for sold-out shows with 19.
Alex González joined Maná at just 15 years old, and he has since become one of the most celebrated drummers on the planet. He has been featured in Modern Drummer and other international publications, fan posts of his spectacular drum solos on YouTube typically garner 500,000+ views and he is embedded as a star endorser of gear by DW Drums, Remo, Paiste and Vic Firth. Latin Percussion recently honored González with an 8" signature cowbell designed to produce a dry, low-pitched timbre that cuts without being abrasive. The cowbell also includes a special Maná/rose graphic and a patented Jenigor bar for sound damping and resistance to denting.
Who inspired you to become a drummer?
Alex González: I started playing drums because I saw the Beatles on TV. I was five years old, and that changed my life completely. Ringo Starr is why I wanted to become a drummer. Then, when I was in the first grade, I had a friend whose brother was into KISS. That took me in another direction—from Ringo to Peter Criss—and I became a huge KISS fan. In general, the 1970s were just incredible for music. I started dabbling around and got into John Bonham and Keith Moon. Then, new wave and punk comes in—boom—and I heard the Police for the first time. I remember hearing "Don't Stand So Close to Me" on the radio, and it totally freaked me out. I was hearing this backbeat, but kind of turned backwards, and then the song kicks in with this fusion of reggae, pop and punk. Just incredible.
Neil Peart is another huge influence. When I heard "Tom Sawyer" by Rush—that was it. I had to discover what the hell was going on with this band and this drummer. Then, it was Phil Collins, Alex Van Halen—his hi-hat work and the way he would crash the ride cymbal—and Terry Bozzio from Missing Persons. I played their Spring Session M album from beginning to end. Other drummers started to appear, such as Manu Katché and all the stuff he did with Peter Gabriel.
Those drummers were my education because I am self-taught. I never took lessons. Initially, I'd listen to albums and try to imitate what I was hearing, and then VHS cassettes and MTV came out, and I could see what these amazing drummers were doing. I also went to NAMM shows and watched some of the drumming clinics.
Musicians have to keep their eyes and ears open—whether you teach yourself and/or take lessons with an awesome teacher or go to a music school. You should absorb all of these influences, but obviously practice and experiment until you develop your own persona as a player.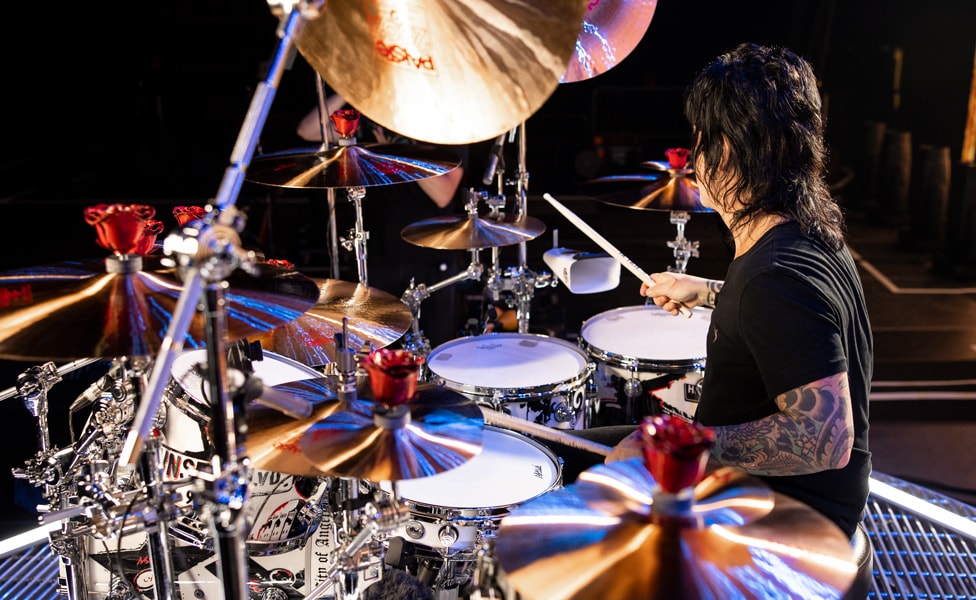 Like most bands, Maná was unable to play shows for the first couple of years during the pandemic. How did the time away from touring affect you, and what have you noticed most about returning to live performances?
The pandemic impacted everybody in the industry—not only musicians, but all the people behind the scenes who don't always get the credit they deserve. But, sometimes, if you are in a negative situation, and you look for a positive answer, you'll find a positive outcome. Once everything stopped, I think people really started enjoying the simple things in life, like being thankful for having good health or being thankful to be able to do what you love … or just the fact of being alive.
We really missed the opportunity to play live, because there's just something so amazing about being in front of an audience. It doesn't matter if you're playing in a small club, or a bar or in a stadium. Human contact is so important. People need music in their lives. We've all missed it so much.
What I've noticed is once we started playing again, there was such an emotional intensity from the musicians and the fans. I saw it with my band, and I saw it from watching other bands. So much emotion. So much energy. So much to be thankful and grateful for.
For your residency shows at the Kia Forum, you created a special custom kit. What was the inspiration behind that rig?
When I was a kid, Alex Van Halen was one of my influences, and I loved the fact he always had the coolest, one-of-a-kind drum sets. So, I said if I ever became famous, I would customize every kit for every single album and every single tour. Fortunately, things took off for Maná, so I've been customizing my drum kits since 1992. I still have all my kits since the very first one.
When the residency at the Kia Forum was confirmed, I started working with my dear friend John Douglas, who is an amazing artist as well as a great drummer. He's based in Houston, Texas, and he has customized the kits of a lot of famous drummers.
For the Forum shows, I wanted my kit to be a tribute to Los Angeles—a city that I love. Los Angeles was the first city we played in 1993, and it became like our base. It's also where everything took off for Maná in the United States. L.A. is such a rock-and-roll city. There's such a mix of different cultures.
So, I told John, "I have all these ideas. How can we do a tribute to the City of Angels and throw in all of these iconic buildings or areas?" I sent him a whole bunch of photos for inspiration. The Rainbow Bar & Grill. The Whisky a Go Go. Gazzarri's. Guitar Center—which is another important story in my life because it was the first major music store I had walked into. The drum department was like a candy store. Marilyn Monroe. Cesar Chavez—whose granddaughter just became the first Latina senior advisor for President Biden in the White House. L.A. sports franchises. The 405. Who doesn't love the 405? [Laughs.] We hate it sometimes, but it's very important. And we've got low riders, East L.A. and Beverly Hills. If you walk around Hollywood, there's Randy's Donuts and Pink's Hot Dogs. I wanted the kit to be an awesome tribute to a city that I love, but artistically very urban in a Banksy street-art style.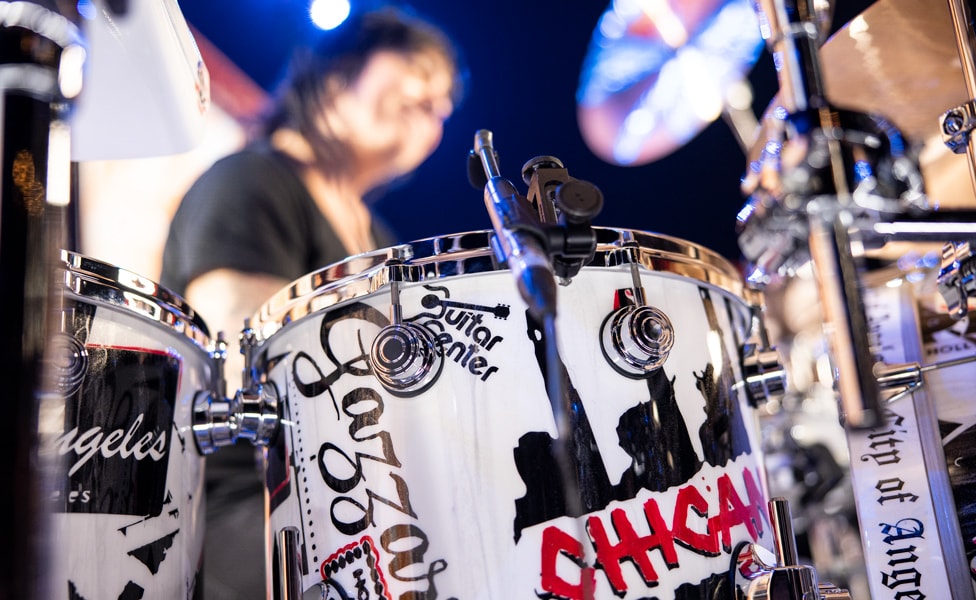 Why did you choose DW Drums for your kit?
I started playing DW drums in 2001, and I became an endorser. What I love about DW is even though they're so huge and successful, and known all over the world, the company still has a small, custom-shop vibe. There are a lot of cool people at DW—John Good, Don Lombardi and Steve Vega. I wish I could mention all of their names, because everyone who works there is just fantastic people.
You also use DW hardware.
DW hardware can take a licking. I mean, they take a beating, but nothing happens. They are so reliable. I tend to grab different parts to put things together—it's like building a custom motorcycle. I want everything to look clean and cool.
We've talked about the look of the kit for the Forum run, but did you also change up or add any drums?
No. This configuration is basically what I've been playing since I was five years old—one rack tom, two floor toms, a snare and a kick drum. Sometimes, I would go with two rack toms, but I love a very simple, basic kit. For the City of Angels kit, I'm using a 12x8" rack tom, 14x12" and 16x14" floor toms and a 24x18" kick drum. It's all made from DW Collector's Series maple—just old school. Nothing fancy or eccentric.
What about your snare drum?
I've always used small, piccolo snare drums—although I messed around with a 14.5x5" snare a couple of years ago. I liked that size a lot, but I went back to using piccolos. This snare is a maple DW Pi that they had custom painted in white. It's amazing. They also make it in carbon fiber, which sounds like a shotgun.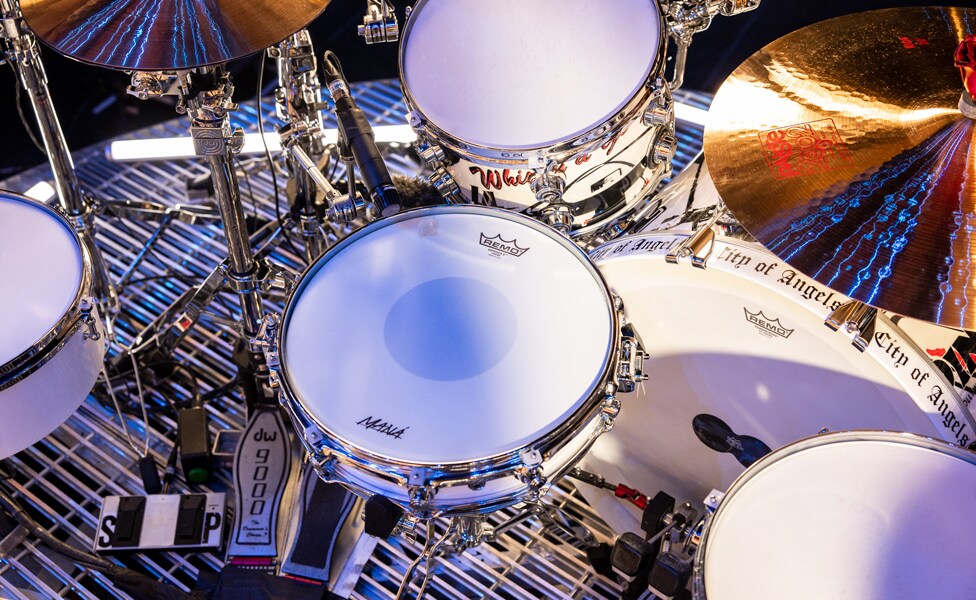 You also add some other percussion elements to your setup.
At my left are some pieces that are interesting, because I like to throw in Latin and reggae things. Maná plays such a mix of different styles. So, there's a 13" rock timbale over there, and some DW Rata Toms that are pitched very high. Sometimes, I have an auxiliary snare, as well—a maple 13x5.5".
How do you usually tune your drums?
Mostly, I like my drums to sound the same as they do in the studio. A high, clear-sounding snare—very Stewart Copeland-like with the piccolo—and fat, punchy toms. I want the kick drum to have a balance of low end and attack. When I hit it, I want people to feel it in their chests. The timbale has a very high, reggae-style tuning, and the high-pitched tone of the Rata Toms are, again, very much influenced by Stewart Copeland.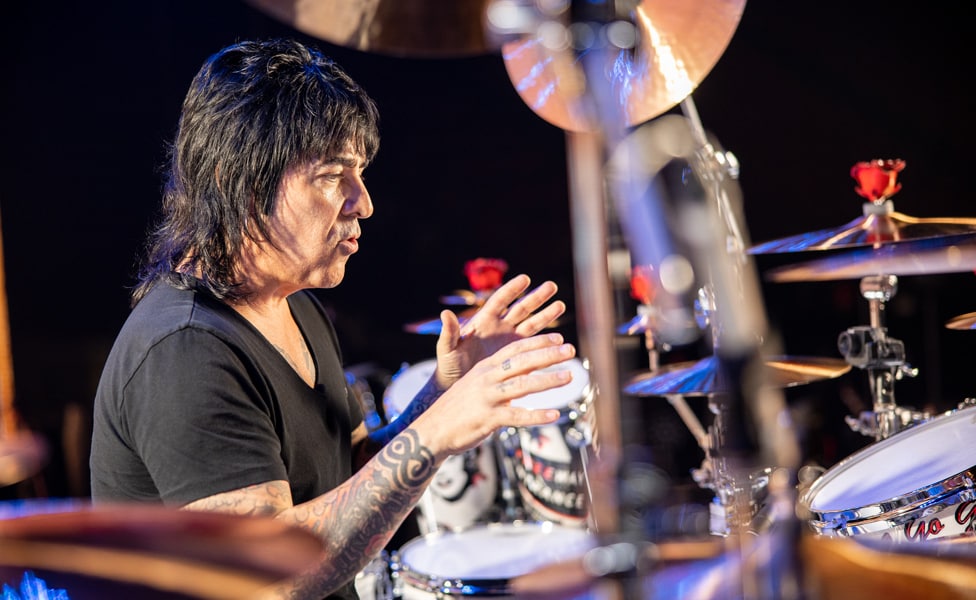 Could you take us through your cymbals?
I've played Paiste cymbals my entire life. When I was growing up, all of my idols played them, from John Bonham to Stewart Copeland, Alex Van Halen and Terry Bozzio. Paiste is another company I love tremendously. They've been incredible. The series I've used the most throughout my career has been the 2002s. The great thing about those cymbals is that you can use them for any style of music. They're so versatile, and they sound amazing whether I'm recording in the studio or performing live.
From my left, I have a 12" splash, a 6" cup chime, an 8" splash, a 18" China and 14" hi-hats. Usually, the crash is an 18" power crash, but for this particular set, I wanted to use an 18" medium. Then, there's a 6" accent, 8" splash, 10" splash, a 22" classic ride, 20" medium, 15" Soundage hi-hats, 20" China, another 20" medium and an 8" cup chime.
What made you select Remo for your drum heads?
The first person who believed in me in the industry was Remo Belli [1927–2016]—bless his soul—and I've always bought Remo drum heads. Remo gave me my first endorsement deal in 1989, and I was one of the first Latin pop-rock drummers to use Remo drums. It was me and my dear friend Charly Alberti, who was in a band called Soda Stereo from Argentina.
I was very fortunate to have an amazing relationship with Remo. He would come to the Maná shows in Los Angeles, and he would also come and see me in Guadalajara. I've been through different setups, from Pinstripes to Emperors and Ambassadors, but for this kit, I've put Coated Emperors on the toms. On the kick, I have a coated Powerstroke P4. It's the first time I've used that head, and I love the way it sounds. I have Smooth White Diplomats on the Rata toms, and an Ambassador white on my timbale. On the snares, I use a coated Emperor X.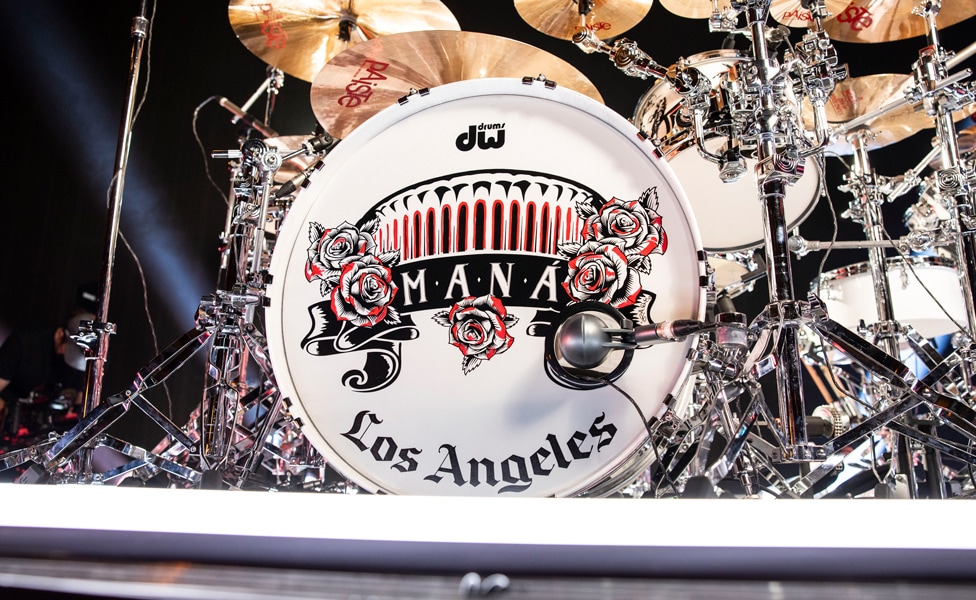 What are your favorite drum sticks?
It's Vic Firth all the way. I started playing Vic Firth back in 1989, and I became an endorser in 2006—thanks to my great and dear friend Marco Soccoli. Marco used to work at Vic Firth, and he not only got me my big break, he also made it possible for me to create my own signature stick. All the people down there at Vic Firth have been incredible. Joe Testa [Vice President of Artist Relations, Zildjian/Vic Firth] is a sweetheart, and he always has my back as far as sticks.
My signature sticks are modeled from what I was using when I started using Vic Firth sticks—the American Rock Classic. My sticks are a little bit longer, and the shaft is thicker—which gives me some extra power and more reach. It's also cool that even though they look very heavy, the sticks are actually light. I have a nylon tip because I like the way nylon reacts with cymbals. They produce a brighter sound.
Latin Percussion recently produced a signature Alex González Maná Cowbell for you.
I'm super honored that LP asked me to participate in their custom cowbell series. I'm there with some really awesome drummers, such as Chad Smith and Tommy Lee. So, it's "Welcome to the 'I Need More Cowbell' club."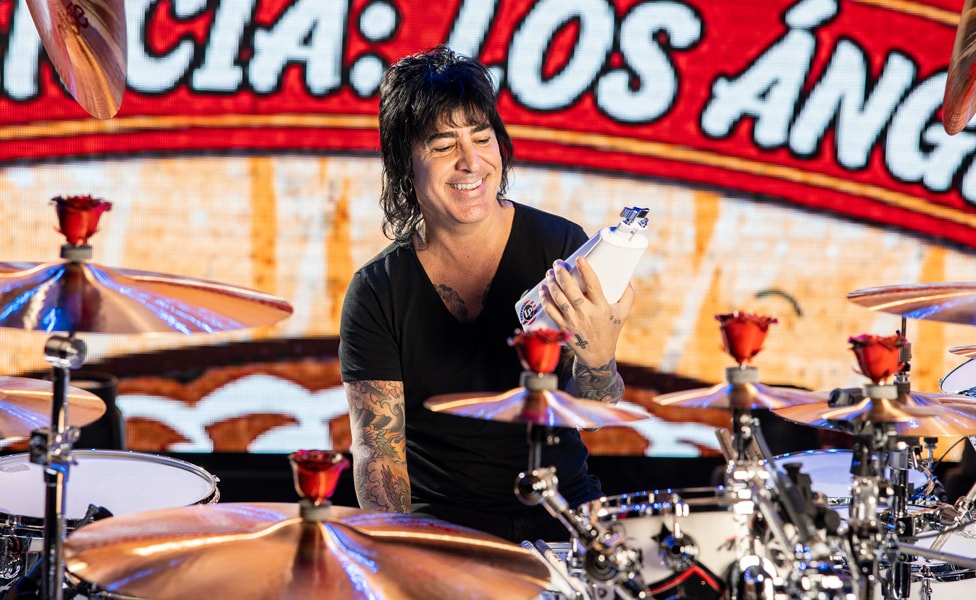 We really appreciate your taking the time to talk gear with us.
Oh, I'm blown away that I'm doing an interview for Guitar Center. Early on in my career, I didn't even know this kind of store existed, where you can find anything you want—any piece of gear and any brand. I got to meet Alex Van Halen at Guitar Center, and there's a photo of us. He was putting his hands in the Guitar Center Rockwalk, which Maná did, as well. An amazing honor for us. A lot of really cool things have happened at Guitar Center. Great stories.
Do you have any advice for beginning drummers?
The biggest advice I would give to anyone who wants to be a drummer is to never feel intimidated. Amazing drummers such as Vinnie Colaiuta and Terry Bozzio should be idolized and respected. But there's space for everyone, so don't get discouraged—get inspired.
Grab all of those influences and find friends who want to play the style of music that you do. Don't get caught up in all the social media stuff about who is the fastest drummer, or who can play at 250 BPM. Music is about feeling. Our job as drummers is to keep a pulse—to be the heartbeat—and to make people dance, move and groove. So, just have fun and enjoy this amazing instrument.