Bringing her own synth-stringed indie rock experience to Austin, Nashville's Becca Mancari made the most of her first year at SXSW. We caught up with her post-showcase to chat about transitioning from acoustic to electric, her guitarist's slide/pedal custom creation and the best advice Brittany Howard of Bermuda Triangle has given her about making it as an artist.
Have you been to SXSW before?
Becca: This is my first SXSW.
How many showcases are you playing?
B: We just played our last show – it was about six or seven shows total.
How was it bouncing from showcase to showcase?
B: We were so prepared for hell that Blake, my steel player, had us arriving early at every show. But it wasn't too bad. For me, it's been a great experience.
What are your practice tips/tricks for surviving SXSW from the artist perspective?
B: Plan where you're going to stay a year in advance, and make sure you have a clean bed and shower. That will literally save your life. I, on the other hand, slept in a minivan one of the nights [Laughs].
What tips do you have for artists who might want to play SXSW in the future?
B: I would say come with a reason. This was my first year – I just put out my debut record Good Woman this past fall. I could have submitted to play years ago, but I didn't feel it was the right time. We were very strategic about it – and we had some really great things happen at the showcases this year. There was a writer from one of my favorite publications, and he stayed the entire show and did a write-up.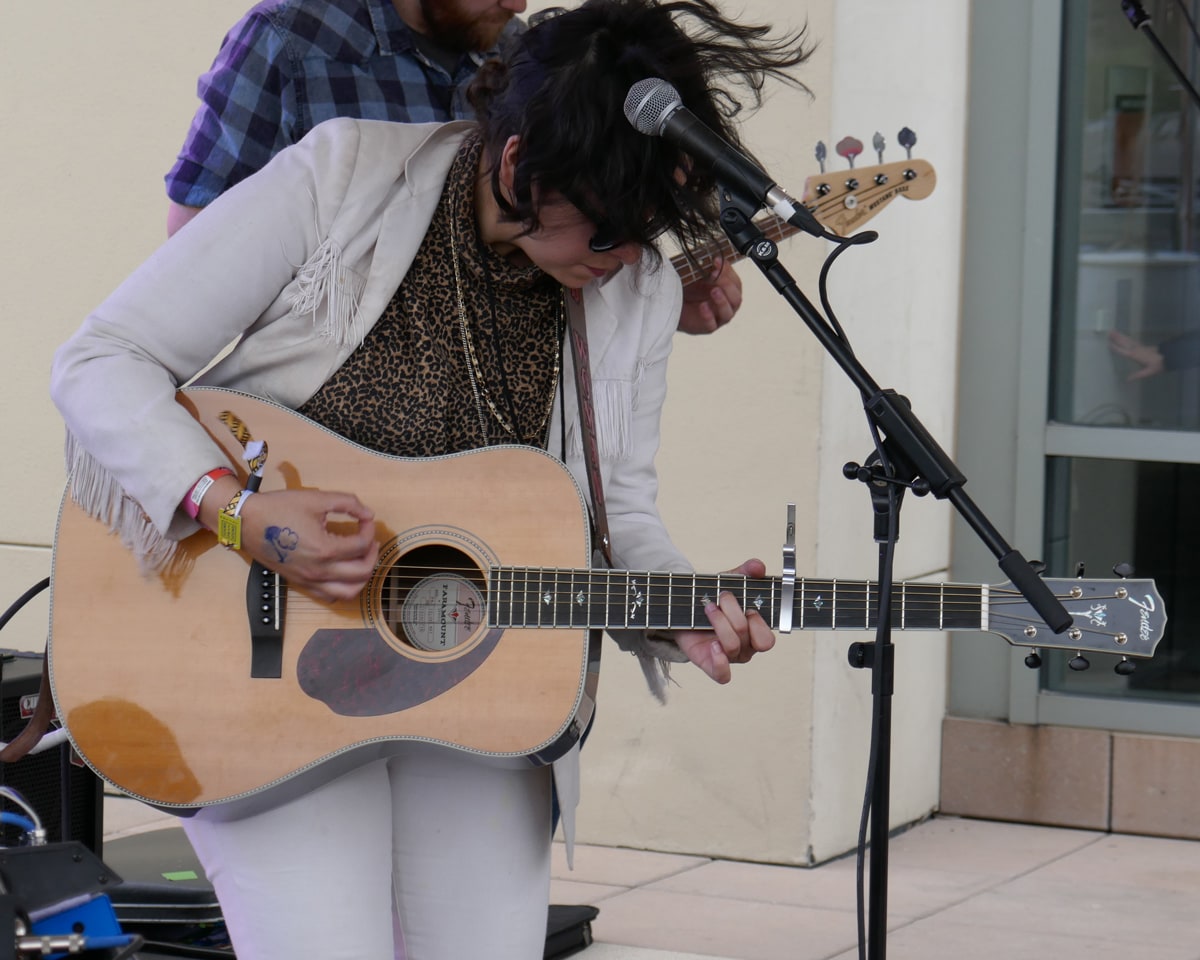 Fender hooked you up with a Paramount Acoustic. Tell us how you like it as a road acoustic.
B: The Fender Paramount has been amazing. It was like a godsend. I had been using the same guitar for years - my folks got it for me when I was sixteen. And it was great, but I needed something new that was also really adorable. The Paramounts sound good and hold up well. They stay in tune. Simple things that can actually make a huge difference when you're touring all the time. Shout-out to Fender - thank you guys so much. Jason, you know who you are, my dude [Laughs].
Tell us about your Epiphone.
B: It's a smaller-body Epiphone ES-339. I actually bought it at Guitar Center. I wanted a half hollowbody - I'm still working through my electric guitar playing on stage in general. I learned on acoustic, so it's been a transition - but it's been going well. I've had that on as a touring guitar.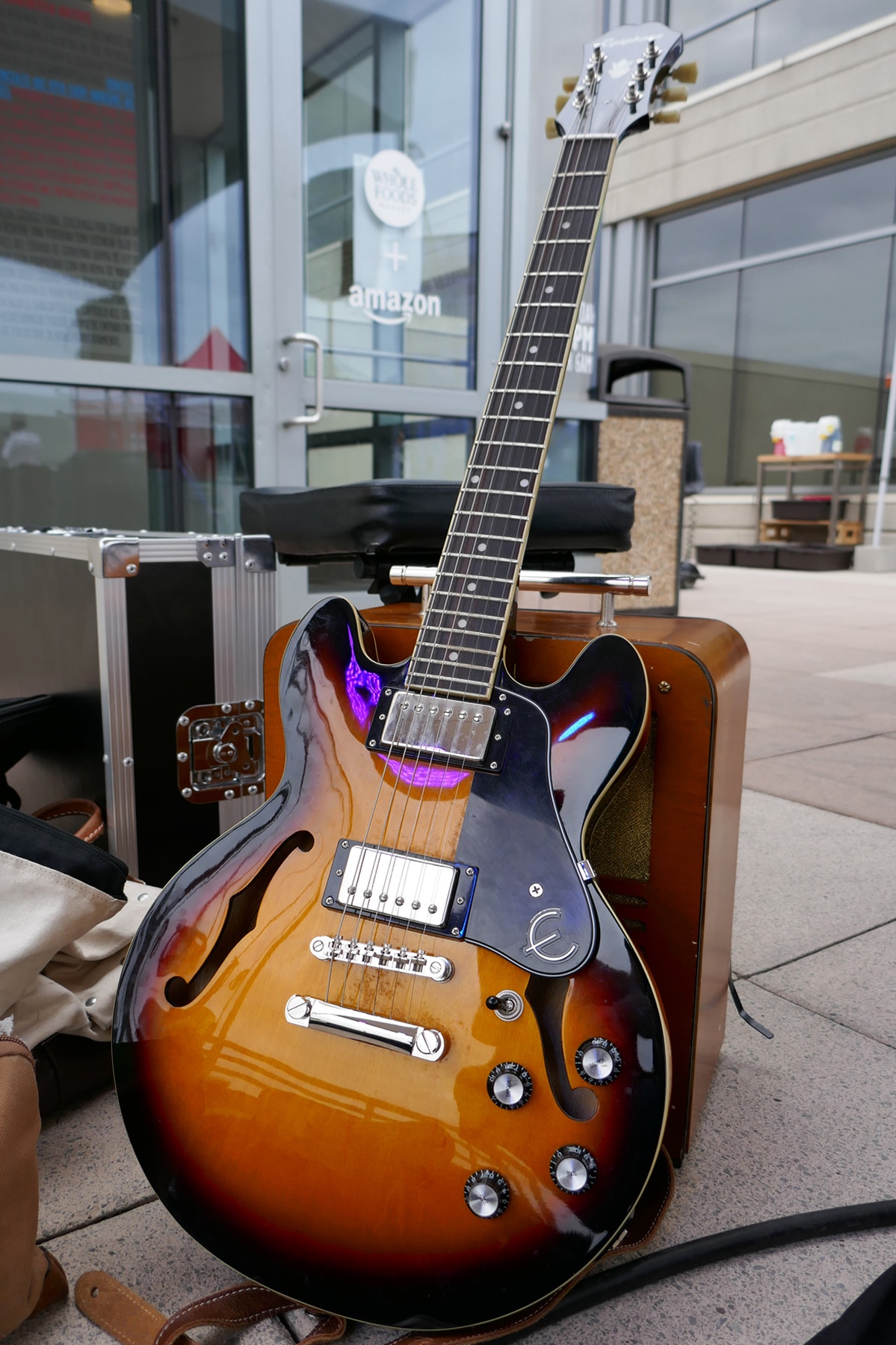 Your steel guitarist Blake has a totally rad custom slide set-up with pedals. How did you decide that you wanted to have that sound in your live setup?
B: Blake has always been a gear head – I told him I wanted the sound of steel, but I want it to sound almost like a synth. So he built his setup himself. He'll bring out gear that totally surprises me. I love the Mellotron (Electro-Harmonix Mel9) pedal running through the steel - it sounds like fake strings that are so beautiful, like an orchestra. Amazing.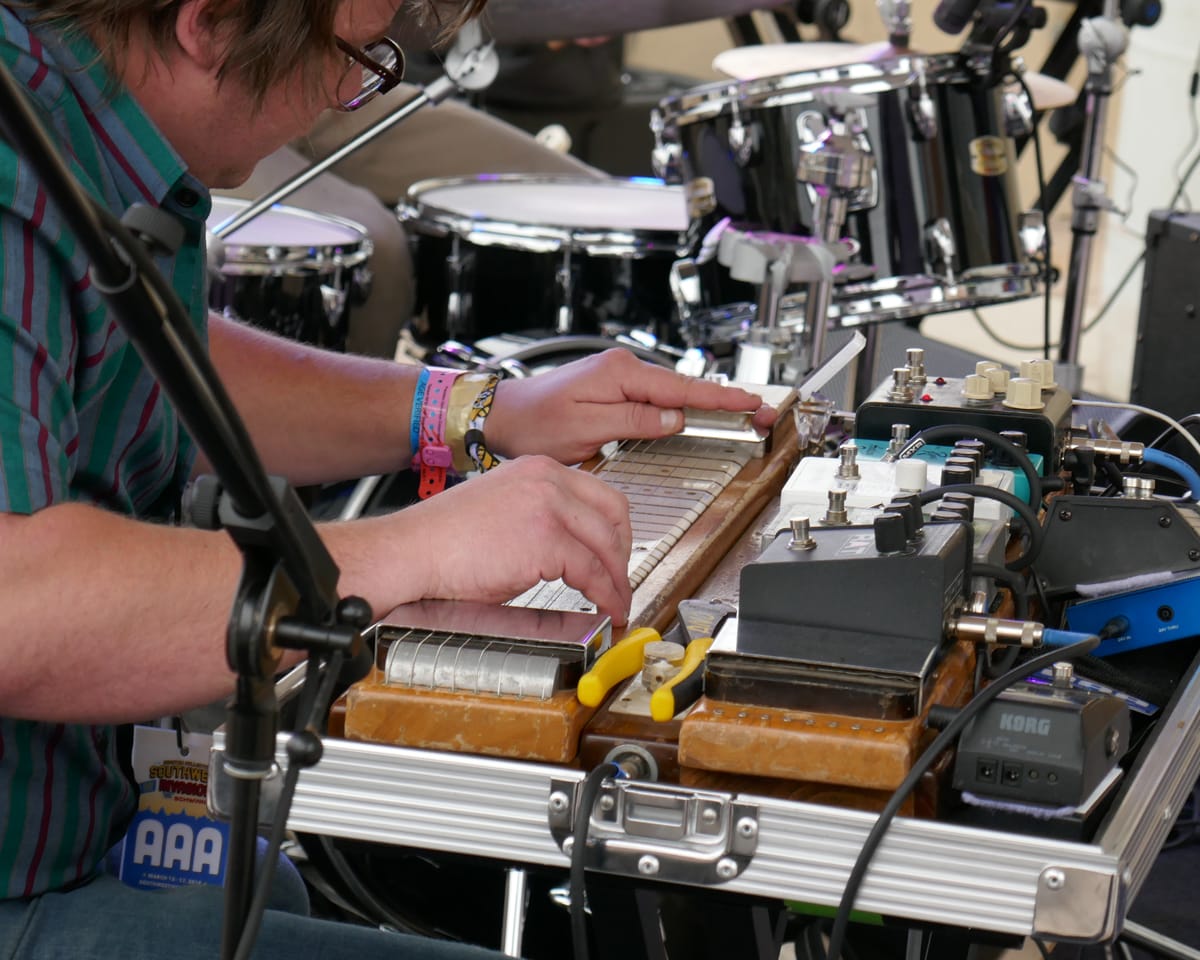 What is an obstacle you've overcome in your experience as an artist?
B: Not giving up? [Laughs] Throughout the recording of Good Woman, there was a struggle with many things - even money. We put [the album] out independently. For many musicians, the obstacle is money – money may come and go, but you will find a way. I play in another band called Bermuda Triangle - Jesse Lafser's in that band, and Brittany Howard from Alabama Shakes. She's a superstar. Through that, I've been able to finance my record. It's been like a saving grace. The hardest part is always not quitting. Brittany told me that one time. She said, "If you do not quit, Becca, and you have good music, it will prevail."
As an artist, how have you creatively used social media to stay connected with your fans while on the road, writing new songs, etc.?
B: This is something I've been thinking about a lot lately, because I still run my Facebook and Instagram accounts. Fans are very interested in connecting with my life. I'm really open on my social media. For example, I'll post pictures of my girlfriend and me. I live in Nashville - where it's pretty hard to be queer - and I have kids telling me, "I'm afraid to come out. Thank you for being visible. I need you, and your music means something to me." I've used my social platforms to connect to the music to the community.
What has been your favorite food stops here in Austin?
B: I went to a Vietnamese place called Elizabeth Café. I was having a very dark night - I was just so tired. Then I had some pho, and it was totally worth it.
What are you up to next?
B: I actually fly out today to meet with a band called Joseph - they're great. Two twins and their sister. We're touring the West Coast together, and then I'll be touring with The Weeks. We also just announced a tour in Europe with Julien Baker in September, and our next single will be out in August. We're going to be really busy.
Check out upcoming tour dates, announcements and more from Becca at beccamancari.com.