Paul Reed Smith is a world-renowned tone master with an obsession for getting things right. It certainly helps that the celebrated guitar and amp maker is an amazing guitarist, performer, producer and songwriter, as he brings a heightened player's perspective to product design. Quality, innovation and real-world performance benefits that challenge and inspire guitarists inform everything he does.
If he had stopped at manufacturing PRS guitars, all of the above would still be true. But he ventured into amp design and benevolently disrupted that market in a profound way. Now, Smith is exploring yet another sonic galaxy—the wild and crazy ecosystem of pedal design. PRS is launching what promises to be an ongoing series of effects with three brand-new stompboxes: the Horsemeat Transparent Overdrive, Mary Cries Optical Compressor and Wind Through the Trees Dual Analog Flanger.
Smith was kind enough to provide us with an exclusive peek into the unveiling of the new PRS pedals, what steered the creative team and why this is the start of something "fun."
What inspired you to dive into pedal design, and what made this the right time for PRS to enter the pedal market?
Paul Reed Smith: It all came from modifying the gear in my home studio. As far as what made it the right time to get into pedal circuitry, I'd say when JC Audio designed the bass preamp for Gary Grainger's PRS bass, it really turned my head. That was 10 years ago, so we've been at this for a while now.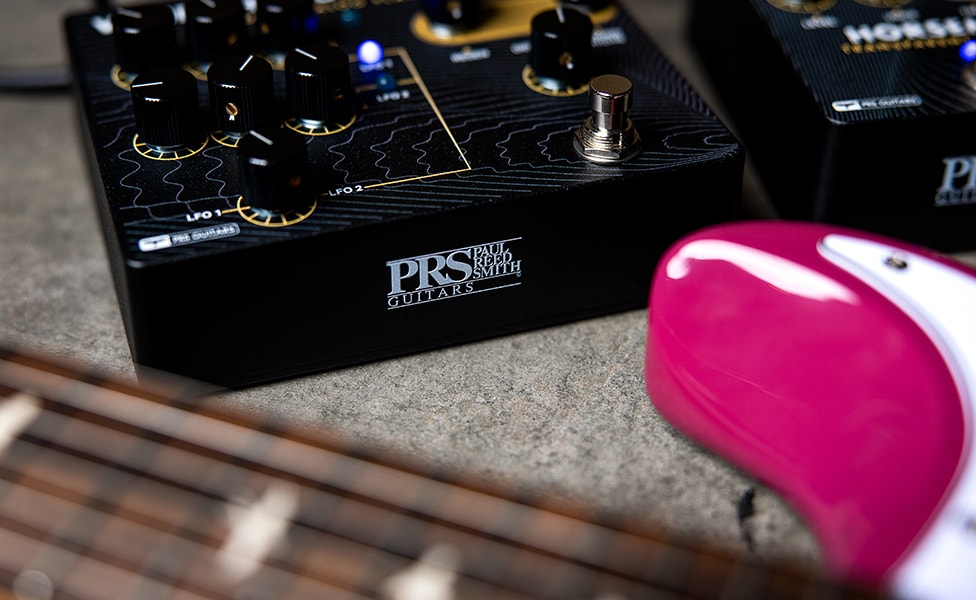 What about the PRS team responsible for designing and manufacturing the new pedals?
There are a lot of people contributing to PRS pedals—it's never one person here. It's circuit-design engineers, our accessories team, marketing, supply chain, sales, artist relations, engineering, quality control and even the amp department. Everyone is involved.
The pedals are made in Michigan by our friends at Cusack Engineering. We have completely calibrated with Cusack on schematics, components, processes and quality-control testing to ensure the pedals are made to our specifications. When we receive the pedals at our facility, our amp team does an additional level of quality-control testing.
With so many effects to choose from, what made you decide to launch the PRS pedal line with an overdrive, an optical compressor and a flanger?
Those three were ready to go. It's as simple as that. All of these pedals spawned from a specific need I came across while working in my studio, so the whole offering is very organic.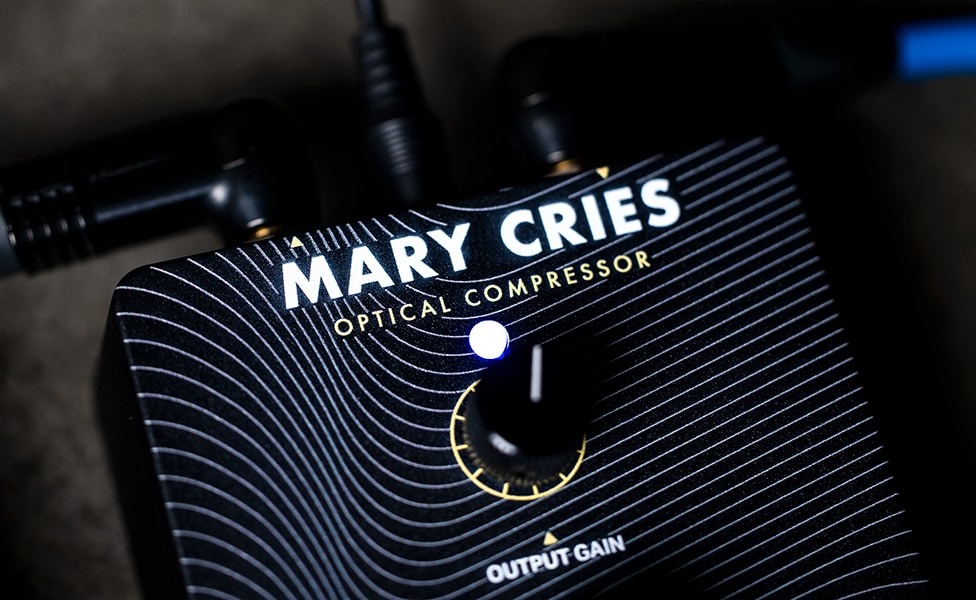 Can you give us a bit of background on the meaning behind the name of each pedal?
Wind Through the Trees is named for the sound it makes. Imagine a storm in the forest with the wind whipping through the limbs. Mary Cries is basically a [Universal Audio Teletronix] LA-2A compressor in a pedal. And the Horsemeat name is a fun nod to the Klon Centaur overdrive—even though the PRS Horsemeat is a "from-scratch" circuit.
How would you describe the Horsemeat pedal?
Horsemeat is a throaty-sounding, germanium overdrive that sounds like a really good amp. We call it transparent, because the pedal doesn't color your tone in a weird way. The circuit is an original PRS design—inspired by an idea I had discussed with a gifted electrical engineer. Horsemeat has a wonderful EQ section, with individual treble and bass controls, as well as a Voice knob that manipulates the high-midrange frequency response at the clipping stage of the pedal. This control can take the tone from fat and smooth to punchy.
Can we dig into the features of Mary Cries?
Mary Cries is basically an LA-2A in a pedal, but it can also act like a really good boost pedal. It's an optical compressor, which means the input audio signal is converted into light with a detector. How bright or dim that light is—a factor determined by the level of the input signal—will impact the behavior of the compressor. The Mary Cries LED tells you how much the compressor is working. If you really dig in and pick quickly, the light will grow brighter and blink faster.
Wind Through the Trees is described as "two flangers fighting each other." That's a pretty evocative description. What's going on in this pedal?
Like Horsemeat, Wind Through the Trees is a new circuit design. It has two LFOs, so you can set one flanger to a specific time, or you can set them both together, depending on the effect you want. The wet/dry mix adds the ability to set the audible level of the effect.
There's are also Regeneration and Added Highs knobs that manipulate the sound of the activated LFOs. Regeneration feeds the tail of the note back into the mouth to get a swirling effect. The Added Highs knob lets you control how much high end you want.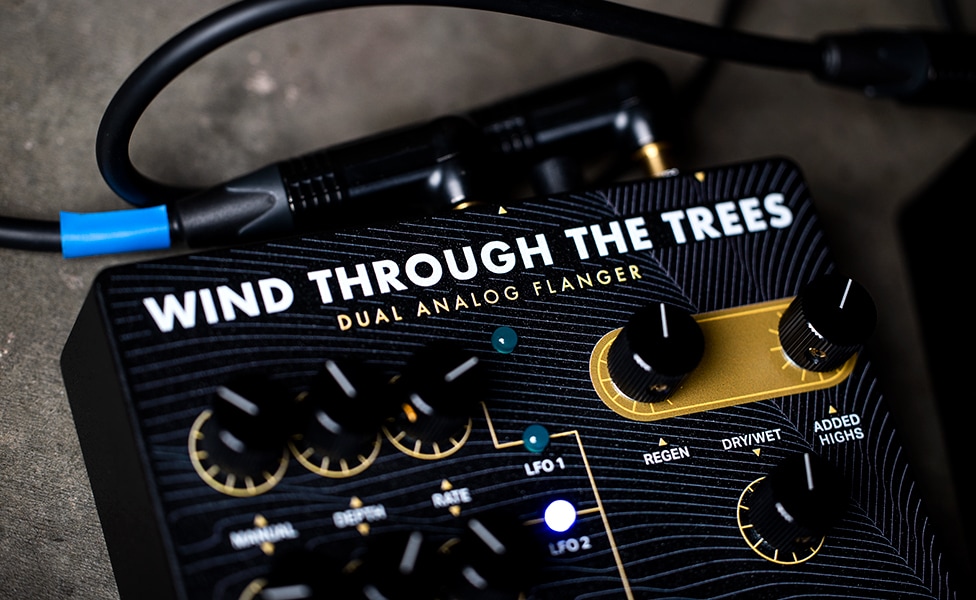 Did you have a preferred test rig to evaluate the pedals during the development process?
I like to use one of my Paul's Guitars through one of several amps I have at my home studio when testing things. If I'm at the shop, I'll plug the guitar I keep in my office into the amp in our Artist Relations room, or I'll use the PRS MT 15 amp in our accessories product manager's office with his Singlecut McCarty 594. I'm very familiar with those setups.
What are you most excited for players to experience when they get their hands on these? Do you have any recommended settings to get them started?
I want people to explore the pedals, and see how versatile, musical and usable they are. If we've done our job, they're going to stay on your pedalboard. My own favorite settings for each pedal are detailed in the manuals, as well as published on our website.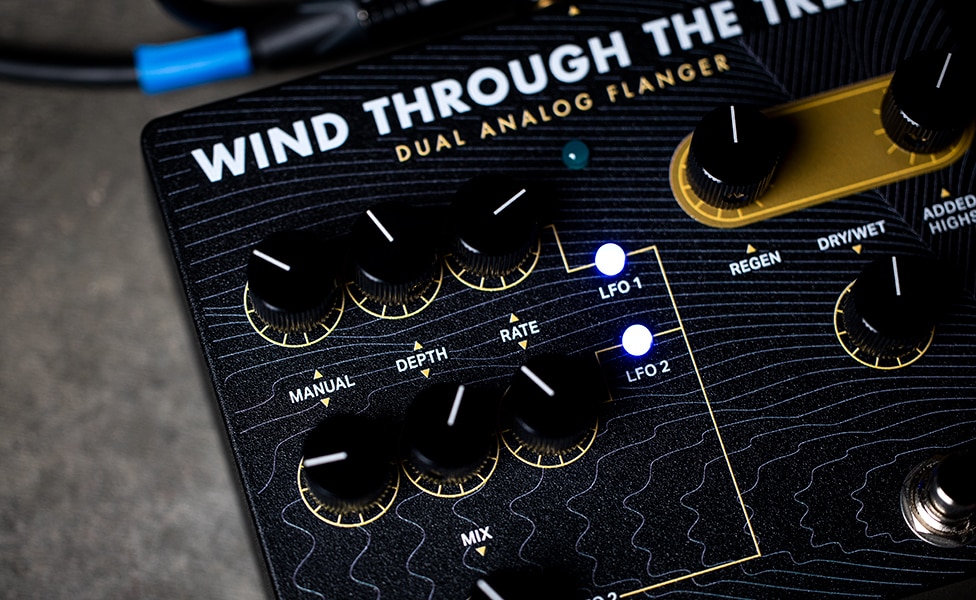 When you field tested the pedals, did you receive any surprising or insightful notes from players, or from your own experiences with them?
Tim Pierce—a session guitarist and teacher—thought Mary Cries was a great boost pedal. That wasn't its original intention, but it's good fun to be used that way, because of its dead-flat frequency response and input impedance. Then, I was really surprised I could get Wind Through the Trees to sound like a Univibe. I also discovered it can sound like two Leslie speakers if you set the knobs right. We're finding new ways to use these pedals all the time, as well as discovering things that help us make better tools for musicians.
We have to ask—what other pedals are in the works?
I can't tell you what's next with pedals—we're just releasing the first ones now. But I will say that this feels like the start of something fun.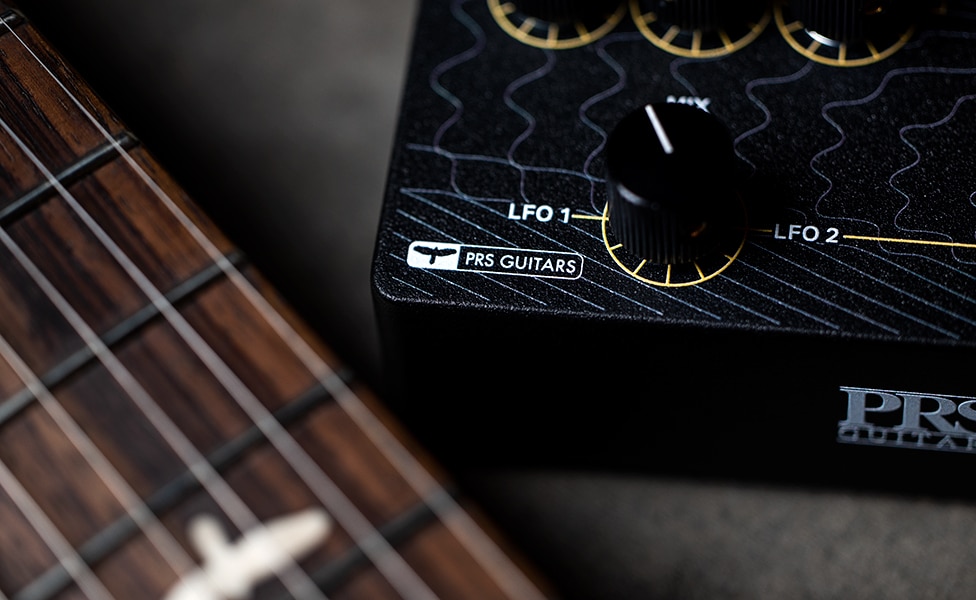 We know your knowledge of pedals runs deep. Taking the PRS models out of contention, what are your favorite pedals?
My top picks are the JAM WaterFall analog chorus/vibrato, Dustin Sears Uni-Vibe, Sobbatt Glow-Vibe and Klon Centaur—in that order.
I understand we share a February 18 birthday. Can we trade pedals as gifts? Maybe give me one of yours, and I'll scour GC's Vintage Collection for a "holy grail" pedal for you?
I'll give you the full set of three, as long as you promise to try them on your board and give me back any that don't stay. For me? I'll take a list of the oldest pedals in the GC collection and call you back.