Earlier this year Denon DJ unveiled the latest models in their Prime DJ Controller series: Prime Go and Prime 2. To learn more, we reached out to Jason Stout, Product Marketing Manager at Denon DJ.
Who is the Prime Go designed for?
The Prime Go is one of those products that appeals to many different types of DJs with diverse levels of experience. The control surface is refined to provide a beginner DJ with the essential tools without overwhelming them, while the embedded software (Engine OS) and rear panel I/O are extremely robust with the flexibility to cover any professional DJ application. Simply put, the Prime Go is perfect for any stage of the DJ journey.
How will this improve someone's workflow?
The portability and internal battery power allow the DJ to prepare his music practically anywhere. You can set your hot cues and loops from the comfort of your couch or build and create playlists on the go with built-in library management. Having the physical controls to mix the music while you prepare is huge advantage. You can even preview tracks directly from the library view without loading the track to a deck, this is big timesaver!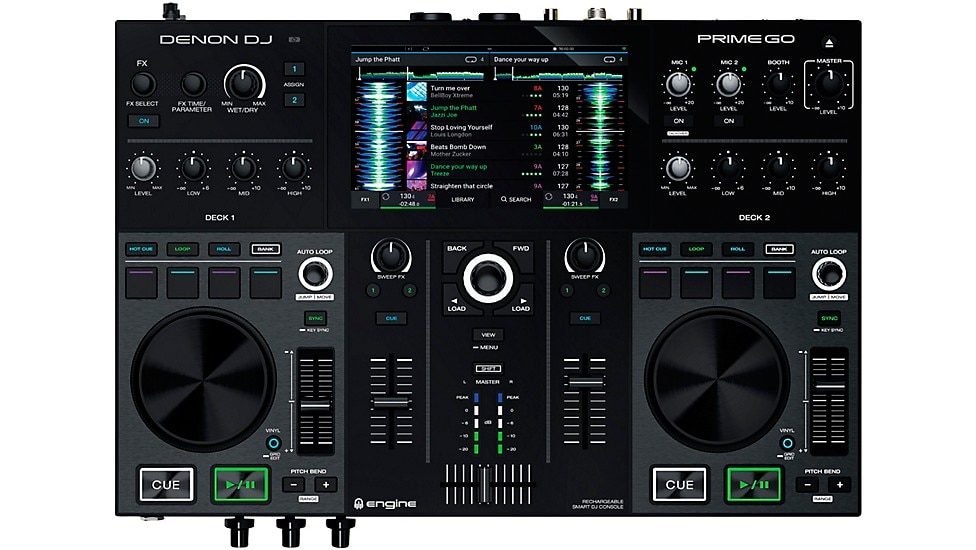 What are the unique benefits of the Engine OS? Why should someone go Denon?
Engine OS is unique in itself. The DJ industry has never seen a standalone platform that is as capable and future proof as Engine OS. There are a wide range of benefits such as multi-touch gesture control (similar to a smart phone or tablet), on-board file analysis, on-board collection management, track preview from the library, on-board recording, internet access for streaming services via Wi-Fi or wired, class-leading time stretch and musical key change algorithms, on-screen keyboard and music filters to quickly find a particular song in an instant, plus loads of personalization settings to customize the device for the particular DJ's workflow.
A new customer should consider a Denon DJ product if they are looking for a device that is reliable, offers a great feature set, has pristine sound quality, and is continually updated with new features over time.
What's required to use streaming?
First and foremost, an internet connection. This can be over Wi-Fi, wired or even a hotspot from a tablet or smart phone. Next, a subscription to an integrated streaming service. Currently, TIDAL is fully integrated with SoundCloud in public beta and Beatport/beatsource right around the corner. There are also services we are working on as well. Most subscription services offer a 30-day trial period and we offer new TIDAL customers 2 months of additional free service with the purchase of one of our Engine OS powered devices.
The roadmap for the future is very exciting with internet access on-board.
How can you bring your own music into Prime Go?
With any Engine OS powered device, the DJ has a variety of ways to access and play digital media. You can simply connect a media device with music in folders and start mixing immediately or connect a rekordbox media device and import an existing collection. The on-board file analysis provides BPM, musical key, and beat grid on load using just the unit itself.
If a DJ is looking for a more personalized experience, they can use Engine Prime to import iTunes, Serato, rekordbox, or Traktor collections, set hot cues/loops, and build playlists from the comfort of a computer. This type preparation offers workflow and performance hardware advantages but is not required as the Prime Go is capable of manage music directly.
Of course, a DJ can always just login to a streaming service and start mixing straight away without connecting any physical media device. So there are a lot of options in this respect.
What gets you most excited about Prime Go?
Endless application possibilities! The power within such a compact portable device allows the DJ to take his set to new and uncharted territories. I can't wait to see where DJ's will take their Prime Go's!
Why should someone consider Prime 2, and how does it stack up against Prime Go and Prime 4?
The Prime 2 and the Prime Go are very similar feature wise, so it really comes down to personal preference of the layout and control set. If you need something that's portable but still has a standard size mixing layout and larger platters the Prime 2 is for you. If you need your gear to fit in your backpack or handle those remote wedding ceremony applications, the Prime Go would be the best choice.
If someone is deciding between the Prime 2 and the Prime 4, that comes down to how many channels are needed for mixing, also the independent Zone output is a unique feature to the Prime 4. Both the 2 and the 4 feature built-in hard drive bay but the Prime 4 does offer a larger screen, and full digital mixer so if you need to mix in external line or phono devices the Prime 4 would be the best choice.
All 3 devices are powered by Engine OS so the on-board software feature set, workflow, and overall experience will be very similar between the 3 devices.
How do you feel Prime 2 best differentiates itself?
At this price point, the Prime 2 has some serious advantages over competing products. For one, no other competing product in the category or range offers internet access, standalone streaming, built-in HD bay, Aux in with Cue, HD touch screen, 2 XLR combination jacks for microphones, XLR Booth and XLR Master output.
The most important differentiator is Engine OS, the embedded platform that will continue to receive updates and new features over the products lifecycle. No other competing product has that capability.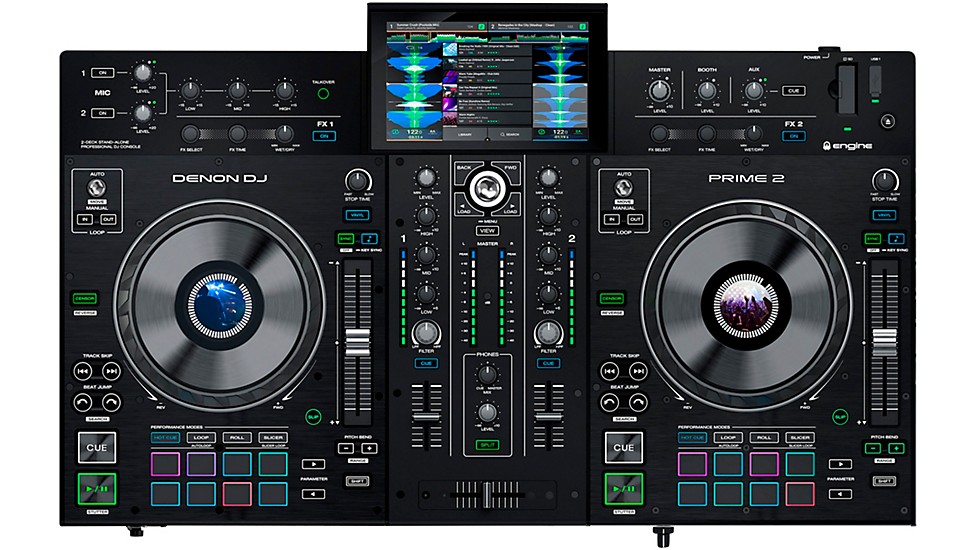 How can this help someone become a better DJ?
A simplified and intuitive layout makes it easy for any DJ to jump on and mix and the touch screen offers easy to use familiar navigation gestures. Also, having access to millions of songs and curated playlists is a powerful resource for any DJ. These tools make it easier for the DJ to focus on what's most important - selecting the right song for every moment and rocking the crowd.
What are some of the most useful effects?
The Prime 2 offers 13 built-in digital FX plus a low and high pass filter. All of the FX are useful, it really depends on the type of energy, sonic soundscape or transition you are looking to create. Personally, I find the echo's and reverbs useful when transitioning in and out of tracks.
How can someone customize Prime 2 for their preferred workflow?
All Engine OS devices offer a customizable user profile. This profile holds performance preferences such as hot cue quantization, default autoloop size, desired key notation type, deck color and more. The personal profile can be set within Engine Prime or the unit itself and recalled on command. They can also add their own custom DJ logo to the HD display in the jog wheel.
Thanks for your time, Jason!
Shop Denon DJ at Guitar Center.