The Fender American Acoustasonic Stratocaster is a shapeshifting hybrid guitar that lets players not only experience the classic electric sound of a Strat, but also a variety of acoustic guitar tones that can be mixed-and-matched, all thanks to the Fender/Fishman Acoustic Engine. Like the Acoustasonic Telecaster, the Acoustasonic Strat has a whole range of sounds to choose from. Players can go from mahogany dreadnought to dirty electric without switching guitars, making the Acoustasonic Strat a versatile and inspiring instrument for stage and studio.
Liz Phair rose to fame in the early '90's on the strength of her self-released bedroom recordings, known as the Girly Sound Tapes. Three decades and six albums later her music has taken many twists and turns, but what remains constant is that the core of her sound can always be pared down to just her and a guitar. We invited Phair to check out the new Acoustasonic Strat and share her first impressions.
"The first thing I noticed is how incredibly light it is… To be able to have that electric power, but then to have the resonance of an acoustic that you can feel through the body is appealing to me." Phair comments on the styling and shape of the new model, which features a hollow mahogany body and a modern "Deep C" mahogany neck with ebony fretboard.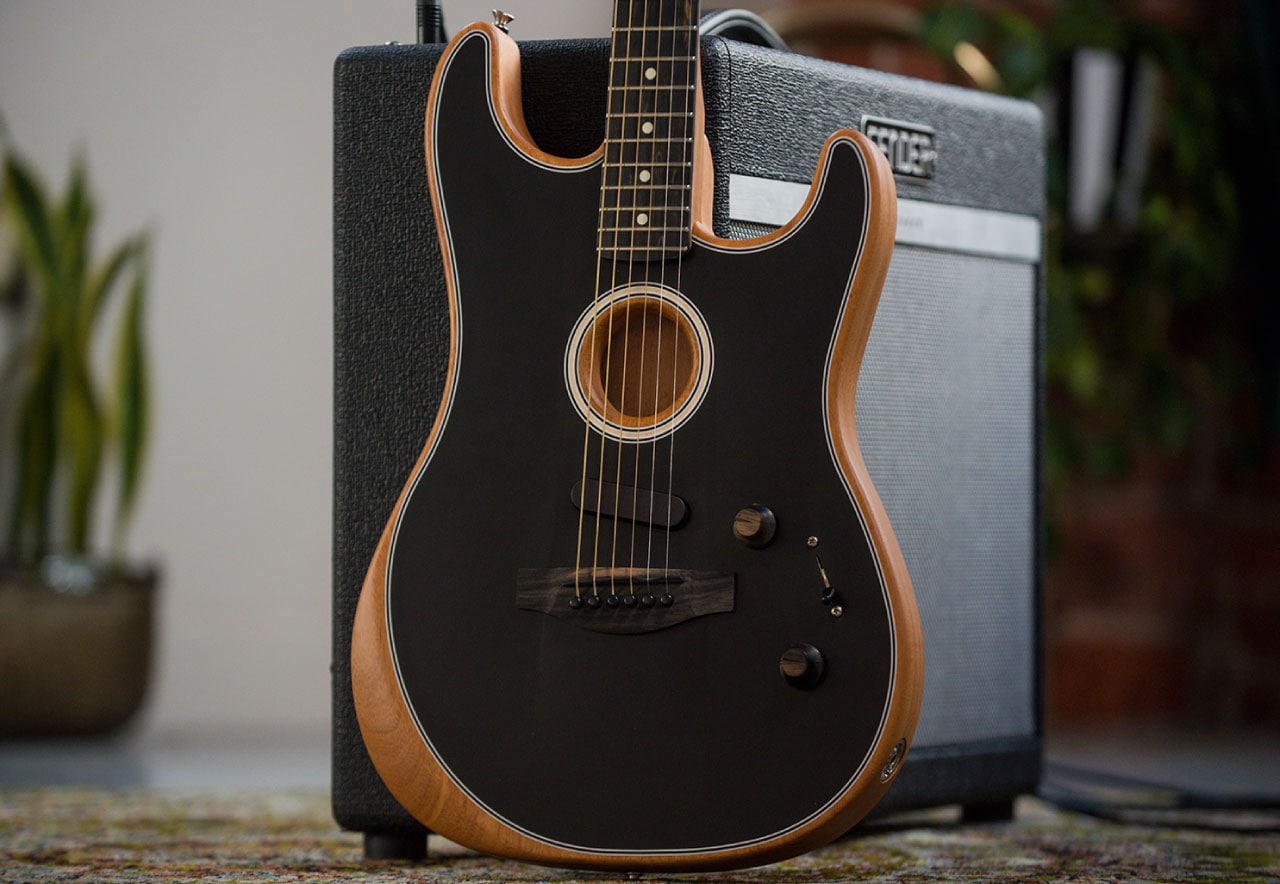 Sharing stories of songs past, present, and future, Phair explores the various tonal settings of the Acoustasonic Strat, from an electric tone while playing riffs from "Stratford on Guy" to a mellow acoustic tone for "6'1"." Phair also previews guitar parts from the track "Lonely Street" off of her upcoming record for which she has reunited with Exile in Guyville producer Brad Wood to create.
The active acoustic engine, with its state-of-the-art electronics, gives players the ability to dial in 10 tonal settings ranging from clean acoustics to overdriven electric. These 10 settings include five distinct tone pairs, accessible via the 5-position switch. The Mod Knob allows you to choose between the A or the B voice.
Position 5 (A/B): Core Acoustics
Position 4 (A/B): Alternative Acoustics
Position 3 (A/B): Percussion and Enhanced Harmonics
Position 2 (A/B): Acoustic and Electric Blend
Position 1 (A/B): Electric
Liz Phair isn't afraid to experiment, explore, and find new sonic territories for her music to exist. "Sometimes I'll take songs and reimagine them... and that's what I think is so cool about this guitar — is that someone reimagined the Stratocaster.
Learn more about the Fender American Acoustasonic Stratocaster.
Keep up with Liz Phair at lizphairofficial.com.