While Avid is known for making frequent updates to its industry-standard Pro Tools DAW, its latest interface, the MBOX Studio, is both highly anticipated and long awaited. Over the decade-plus period since Avid's previous, third-generation desktop release, the collective music production community has evolved its list of stylistic wants, I/O needs and plug-in-control nice-to-haves. From guitar- and bass-friendly accommodations, such as dual variable-Z inputs, an intuitive re-amping system and an onboard tuner, to impressive features like Bluetooth I/O and four high-quality mic pres—Avid has delivered the goods. Avid's newest member of its hardware lineup promises to be a formidable studio centerpiece, whether using Pro Tools or any other DAW.
John "JDub" Whitcore is the senior product manager and product designer for Pro Tools Systems—as well as a gigging musician and perennial gearhead. We picked his brain on the ins and outs of all things MBOX Studio and its accompanying MBOX Control software, to bring you up to speed on Avid's cutting-edge desktop interface. 
The MBOX Studio really moves into a different class of interface since the last version of the MBOX was released, with significantly more connectivity and functionality. Can you take us behind some of the thinking behind the design?
John "JDub" Whitcore: You are spot-on that MBOX Studio is not your parents' MBOX. In coming up with the concept, I wanted to create the ultimate desktop interface that would meet most—if not all—my needs as a recording musician and content creator. That meant not only addressing the need to have flexible, high-quality I/O with a variety of tonal options, but also comprehensive control room monitoring and cue mixing capabilities.
Looking at the MBOX Studio, you may notice it's a bit larger than some of the other desktop interfaces on the market, but it also replaces the need to have a dedicated monitor controller and cue mixing system. It was important not to sacrifice capability for size, which is still a quite manageable footprint for most typical desktop workspaces.
It seems like a lot of consideration has gone into the workflow and needs of guitarists/bassists. What features are guitarists going to appreciate the most, and which less-obvious features will they appreciate as they become more familiar with MBOX Studio?
Being one of the 750 million+ guitar players in the world, there were some key features that I knew other guitarists would appreciate having built in to MBOX Studio. The first was integrating variable-Z (impedance) circuits on the two instrument inputs. This allows you to match your guitar/pickups to the input and plug-in chain to dial in not only your tone, but also feel—which, to a guitar player, can be just as important when recording using virtual amps and effects. To emulate the reactive feel of playing through a real tube amp, I included a + capacitor on each Z setting.
I also wanted to build in a re-amp system to be able to re-record direct guitar tracks from Pro Tools (or any DAW you decide to work with), by playing them out the "Hi-Z out to amp" front jack, and feeding them directly into a guitar amp for re-recording. Not only have I had a lot of success using this technique for guitars, but also for re-recording drum loops and vocals through one of my guitar amps. It can be a lot of fun, and you often get some amazing and unexpected results.
The other important piece to a guitarist's sound these days is stompboxes. If you're like me and have an ever-growing collection of these little boxes, now you can integrate them into your mixing workflow using the Hi-Z impedance switchable effect loops on MBOX Studio. Having the S/PDIF input is also key for anyone who has a Kemper, Fractal or any other digital guitar modeler.
Probably the most important thing, though, for guitar players, is staying in tune—especially when you're recording. There's nothing more frustrating than recording the perfect take, but then realizing that your low-E string was slightly out of tune. MBOX Studio integrates a hardware and software tuner, right on the interface, so you can stay in tune and right in your workflow the entire time.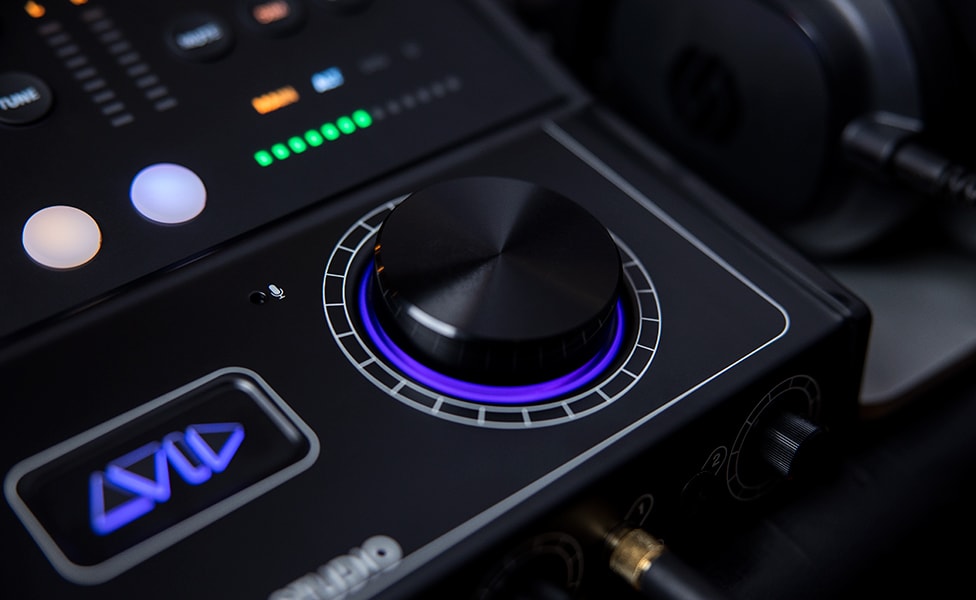 Among many other connections, there are two jacks for expression and footswitch, which are connections more commonly found on keyboards. Was that with plug-in control in mind, or more for DAW control?
There are several functions of the MBOX Studio you can assign to the external footswitch inputs, including talkback, monitor switching, muting and effects loop bypass controls—to name a few. In a future release of MBOX Control, you'll also be able to map Pro Tools functions to the footswitch inputs.
If you choose to plug an expression pedal or two into these inputs, you can then map them out via MIDI to any host of functions, ranging from plug-in EQ frequency, delay time, volume or a wah pedal. The options are really limitless, and you don't need to have a keyboard (as you mentioned) to have these types of controls for your virtual instruments and effects.
You've added Bluetooth I/O. Can you speak to the typical use cases for those in a recording or mixing environment?
There are so many ways to integrate Bluetooth into your workflows. The first thing to mention is that the Bluetooth inputs and outputs are separate, meaning you can have two separate devices paired to MBOX Studio simultaneously, and use them at the same time—one for input and the other for output.
On the input side (RX), you can pair an iPhone, iPad or any Android device you may want to stream audio from. What are some of the reasons you might want to do this? Maybe you want to play a mix off your phone, but don't want to go hunting for cables. Maybe you need to record a phone call directly into Pro Tools for a podcast interview. It's also great if you want to record something into your DAW that you created on a music creation app on your iPad. Finally, how about jamming along with tracks playing on Spotify from your phone, when you don't have your computer booted up?
On the output side (TX) is where it gets really interesting. Most of us are listening to music, podcasts and other creative content on wireless headphones or earbuds nowadays. Imagine having the ability to check your mixes on your Apple AirPods without having to leave your creative flow. Well, with MBOX Studio, you can do exactly that by pairing your AirPods and monitoring through them via MBOX Studio. You can do the same thing to check your mixes on a wireless speaker system in your home, or if your car is parked close enough to your studio in the car, you can monitor in there—wirelessly. The cool thing with that is if you're using Pro Tools, you can download the free Avid Control app and have control over your Pro Tools session from your car, as well. It's a game-changer for sure!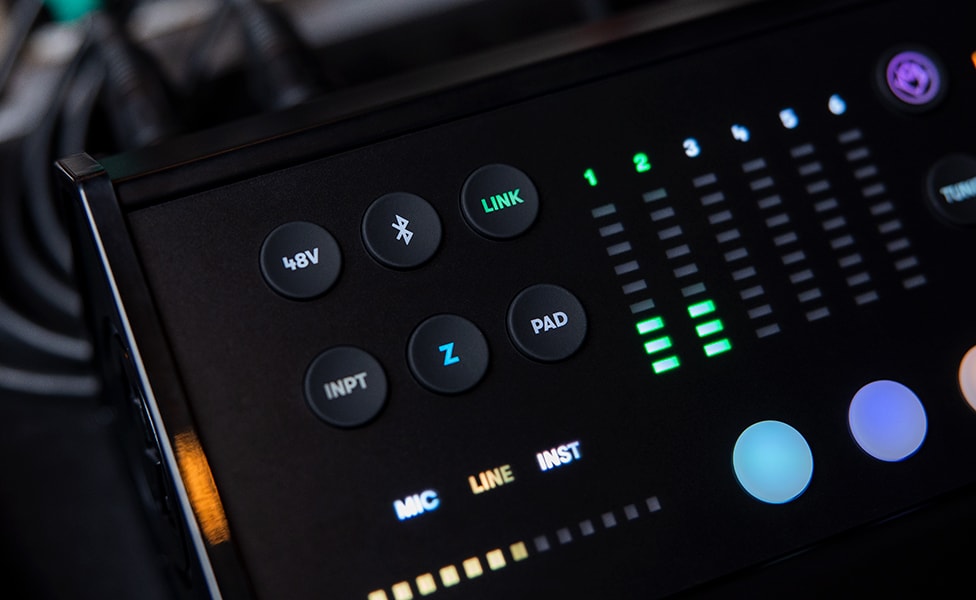 How would you describe the sound of the four onboard mic preamps?
The first thing I'll mention about the four onboard mic preamps is that they're the same mic preamps that we use in Pro Tools | Carbon, as well as VENUE | S6L. They have a great reputation in the industry for their exceptional sound and clarity. That, along with the variable-Z input options, make the MBOX Studio preamps very versatile.
What type of added functionality will the MBOX Control software provide that users aren't able to access right from the interface itself?
MBOX Control software allows you to really tap into all the powerful processing capabilities inside the MBOX Studio. With any USB interface, the important limitation to overcome when recording is the inherent latency of USB. When recording a vocal into Pro Tools, or any DAW, it's best not to monitor that same vocal through the DAW's mixer. Think of that delay you hear on a bad phone or Zoom call when you're hearing your voice echo back. That's not any way to get inspired when you're trying to give your best performance. MBOX Control circumvents this issue by allowing you to direct monitor off the MBOX Studio, while you're recording along to other tracks playing back from your DAW, eliminating the latency issue. MBOX Control goes even further to allow you to create custom cue mixes out each headphone, or any other output on the MBOX Studio. You can also add soft limiting, channel EQ and Avid FX—including high-quality reverb and delay effect—in this low-latency environment to dial in the vibe and get inspired with the best sound possible.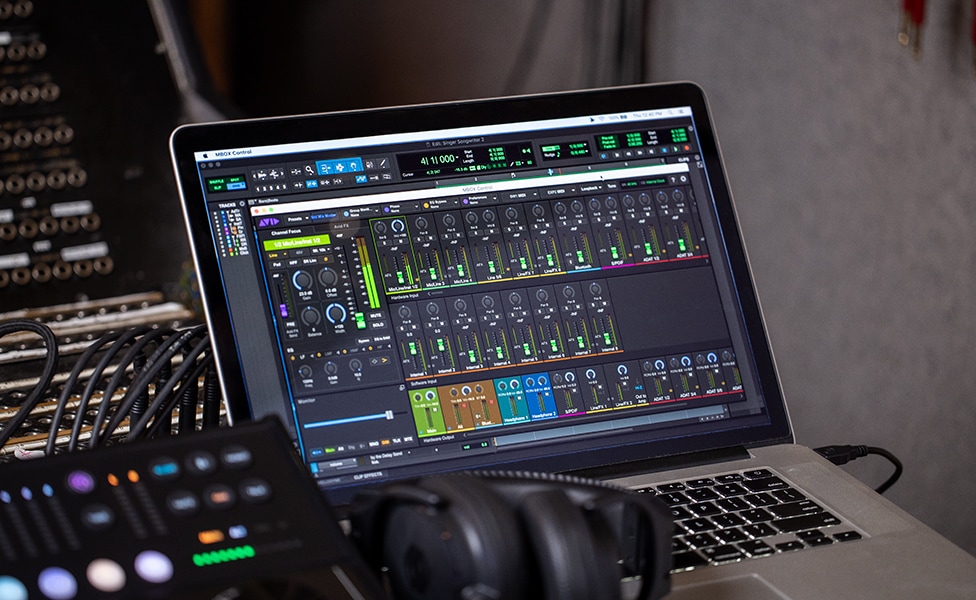 You've included loopback functionality, something that podcasters and other content creators are going to appreciate. What's the process, and typical applications, for using that?
Loopback allows you to record audio routed to MBOX Control on two dedicated software inputs back into your DAW. A great use of this would be recording the output of a Zoom call back into Pro Tools for a podcast or maybe recording audio from a separate music creation application into your DAW.
Can you tell us a little bit about the bundled software?
MBOX Studio comes bundled with a one-year subscription to Pro Tools Studio, which gives you access to the Pro Tools Inner Circle, and a one-year subscription to Sibelius Artist—which offers guitar tab notation, by the way. It also comes with the MBOX Studio Ignition Pack, which features some great plug-ins from Plugin Alliance, like Ampeg SVT and A/DA Flanger emulations, as well as Brainworx's versions of MESA/Boogie, BOSS CE-2 Chorus, Ibanez Tube Screamer, Neve console channel strip and the opto compressor. Topping off the Ignition Pack are a special MBOX Studio-exclusive Baby Audio VibeBox, LUSH VOX parallel compressor from Gauge, and BPM Create's MBOX Producer Toolkit.
Here's the full list:
Plugin Alliance
bx_megadual (MESA/Boogie emulation)
Ampeg SVT-VR Classic (Ampeg emulation)
ADA Flanger (A/DA Flanger emulation)
bx_bluechorus2 (BOSS CE-2 Chorus emulation)
bx_greenscreamer (Ibanez Tube Screamer emulation)
bx_console N (Neve console channel strip emulation)
bx_opto compressor (all-around compressor emulation)
Baby Audio
VibeBox (special MBOX Studio-exclusive plug-in)
Gauge
LUSH VOX (parallel compression processor)
BPM Create
MBOX Producer Toolkit
If you have an existing subscription to Pro Tools Studio, you will have the option to extend that subscription for another year—or activate a second subscription. If you choose not to renew your subscription at the end of one year, then your subscription will automatically revert to Pro Tools Intro, which is no cost. You also have the option to use any third-party DAW of your choosing with MBOX Studio, including, but not limited to, Apple Logic Pro, Steinberg Cubase, Reaper and more.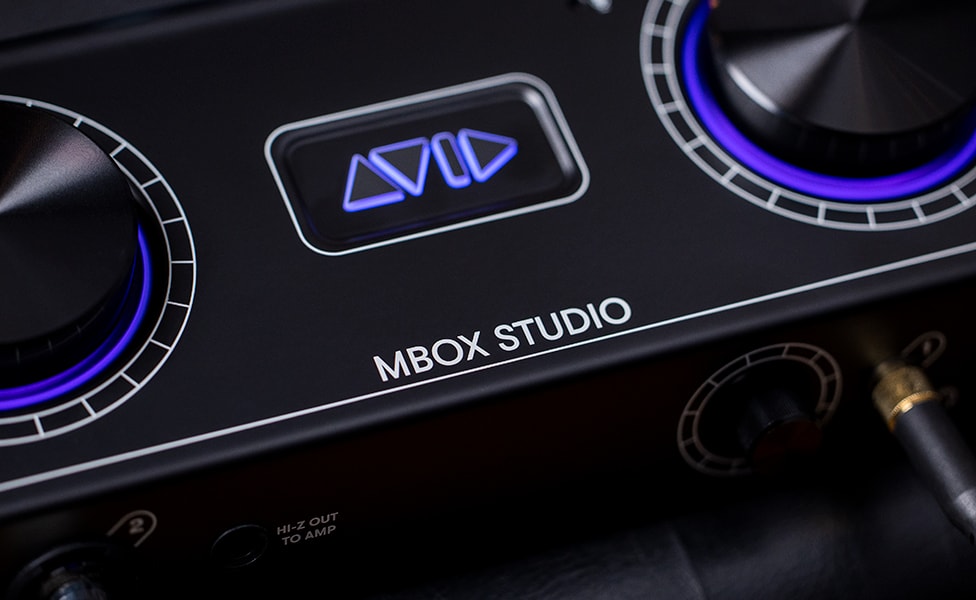 Thanks for your time, John!
Thank you!