With five Grammy awards already under his belt at the age of 23, FINNEAS has broken out as a unique voice in the music scene. Now a highly in-demand artist after winning Producer of the Year for his work on sister Billie Eilish's debut studio album, he's also collaborated with Selena Gomez, Camila Cabello and Justin Bieber. FINNEAS injects his music with inspiration he finds in his environment, often enhancing mixes with found sounds—like crickets, rain and even dental drills. Paired with his meticulous work crafting authentic-sounding drums, it's easy to see why FINNEAS has enthused a generation of creatives.
In 2020, FINNEAS released a deluxe edition of his debut EP, Blood Harmony, as well as two singles. FINNEAS broke down one of those songs, "Can't Wait to Be Dead," and gave us insight into his music-making philosophy and how he makes spur-of-the-moment ideas flourish into full songs.
Tell us about your song, "Can't Wait to Be Dead."
"Can't Wait to be Dead" was a result of me sitting with an acoustic guitar for an afternoon. I don't know that I could have told you what the song was about when I was writing it—it wasn't until later that I realized this song was about my relationship with the internet this year. One of the many terrible side effects of spending all our time in isolation is [that] I spent a lot of time on Twitter and Instagram. There's something so overwhelming about the amount of content you're being fed from people that you may not agree with philosophically—and then you're seeing terrible tragedies happen all the time, and you're also seeing funny, nonsensical cat videos at the same time.
The song is about the internet. The first line's about rideshare apps and people being driven home by strangers. I felt like part of the worst period of this year was when people were coming up with bad fake anecdotes for illness they didn't quite have a grasp on. Remember all that stuff at the beginning, like, "If you drink water for 10 seconds and hold your breath, you're definitely fine"? Somebody's trying to help and making everything worse.
"Can't Wait to be Dead" obviously is a total joke. There's a lot of reasons I love my life, but there are moments of your life where you're like, I would love to check out of this hotel for a while, like this is a huge drag.
How do you approach writing and recording songs?
When I first started, I was caught up in trying to sound like the music that I was inspired by—that only led me to make derivative material. I had this lightbulb realization when I was 18 or 19 that your own form of success is going to come from something that doesn't exist yet—it's going to come from something that's unique.
Sometimes your brain can play a trick on you, because you'll make a song that doesn't sound like a song you like already. Your brain will be like, "This is different and weird and you should probably not show it to anybody." And that's probably the most valuable song you've made. It became my goal to always be experimental and try different approaches.
I'm never going to make everybody like a song of mine, but if I can get everybody to agree that they've never heard a song like the thing that I'm making, then that is a hundred percent a success.
What is your production philosophy?
My goal is to not have a signature sound or approach. I want to be an invisible collaborator to the artists that I'm working with. If I'm working on an album for my sister, I want it to sound like her. If I'm working on an album for another artist, I want it sound like that other artist. I want to be very transparent, and part of that is getting out of the way of the vocal—I try to pick and choose my instrumentation carefully to leave a lot of room [there].
[I've] become known for found sound work. One of the greatest things about music production software, [like] Logic Pro [and] Ableton, is they're incredibly accessible and affordable for kids now. Anyone that has a laptop or an iPad is making a beat whenever they want, at whatever age, and that's awesome. But, any time you're able to give yourself a tool that not everyone has, you're at a great advantage. If I'm recording myself knocking on this table, I'm the only person sitting at this table today—I'm the only person that's going to have that recording of that sound, and that makes it unique.
What is your process for seeking out these found sounds?
Usually it's on the way [to] something else I thought would be good. I'll be like, "I should go to the Burbank [Airport] Flight Path and record a plane." Then I'm standing in the parking lot, and I'm like, "These leaves sound pretty awesome." One thing will lead to another accidentally. I try to not overlook things that I find along the way. Anything that elicits some kind of response or that I think is interesting texturally or percussive, I want to have a recording of that.
How do those sounds tell a story when you're creating a song?
The story that sound would tell in a song is either in corroboration with the lyrical content of the song or just the emotive tone of the song. I'll have a lyric about something being set on fire and I'll think, "I wonder if I could record a matchstick being struck on a matchbox. And I wonder how that would sound? And what if I put a bunch of reverb on it and I took all the reverb off?" Sometimes lyrics are more abstract than that, and I'm looking for sounds that are reflective of whatever emotion that song is trying to convey.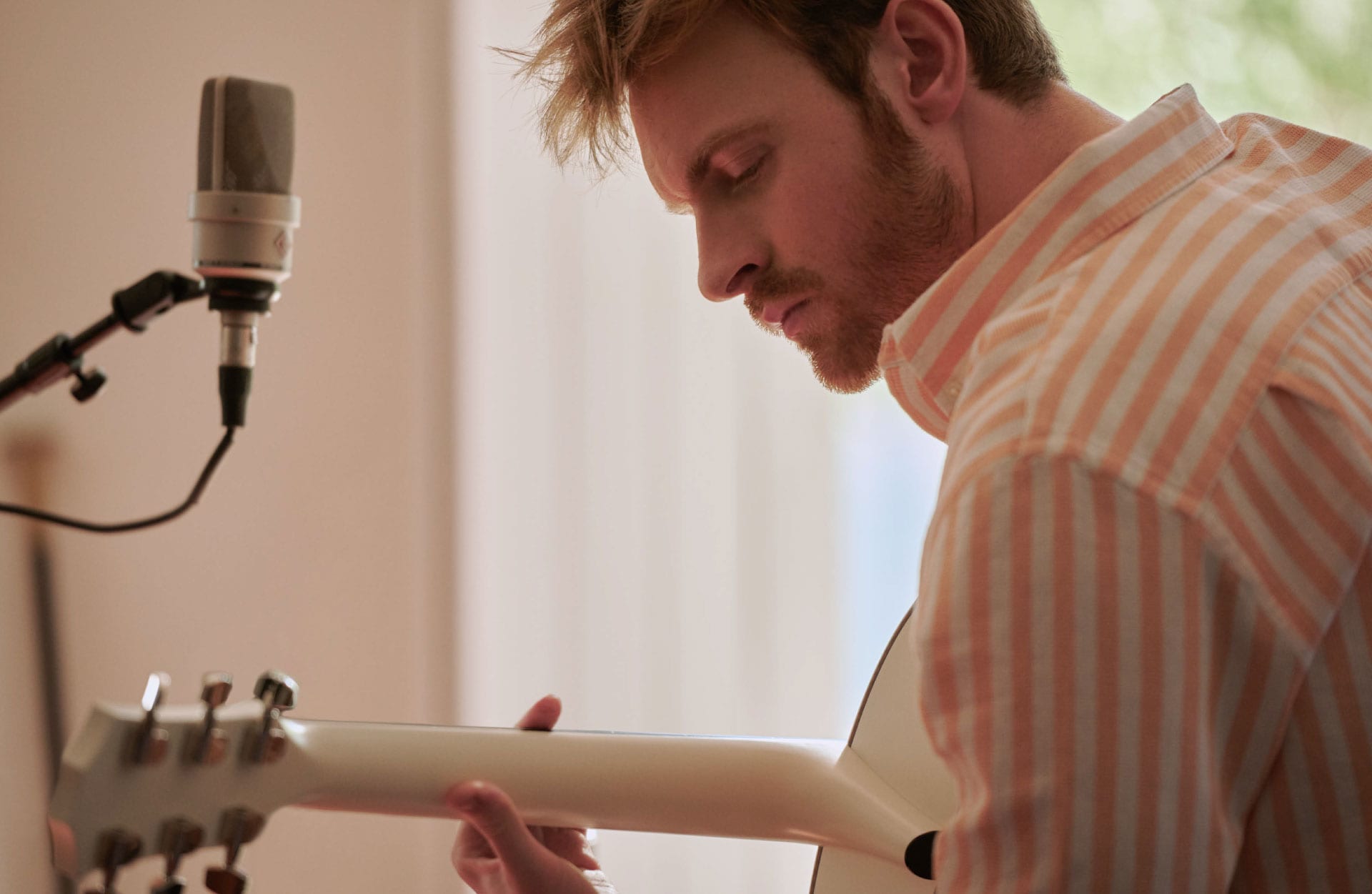 What do you need to do your best work?
The greatest tool is the one that I can use the fastest. I've gotten in arguments over like a tube microphone that you have to turn on and warm up for ten minutes, because by the time the ten minutes is over, I might have gotten bored of my good idea. It's important for me to have things at my disposal at all times so that as soon as I need them, they're there.
As a producer, what's the key to collaborating with an artist?
The most important part of being a producer is listening. That's how you figure out where your room and your space is in your collaboration. What I do for one artist is completely different than what I'll do for another. Some people give you room to be a lyricist, work on the melody, come up with the chord structure, record it and come up with the instrumentation. Some people only need a facet of that. If you go into every session, or song, trying to do the same things, it's not going to work. Everyone's needs are different.
I make music to connect with people and share my personal experiences with the world.
Why is it important that people make music?
It elevates the quality of music. The more people there are innovating, the more people there are breaking new ground and discovering new ways to say the same thing. The fact that we're essentially working off a 12-note scale, and we've been writing songs for roughly a thousand-plus years, and still coming up with new ways to say, "I love you" is pretty mind-blowing.
How do you connect through music? 
The most challenging and rewarding thing that can be done as a songwriter and musician is to create a song that provides a level of instant empathy for the listener. If you can express something that someone else can't express themselves, that is such a powerful thing. It's been done for me numerous times with songs that I love, where I feel that a song has expressed exactly what I was going through that day.
It's a wonderful and emotional experience to meet somebody that you've never met before at an airport [or] in line for a show, who tells you that some piece of art that you've made has gotten them through something or been the soundtrack to some powerful moment in their lives. If I ever got burned out, that would immediately revitalize my desire to make more music, because there's no better feeling. And if I have had the opportunity to meet [an] artist and tell them how important [a] song was to me, it's the greatest feeling. It works both ways.
Keep up with FINNEAS at his official website and Instagram.