When putting together a portable sound system for live performance, the two key parts are the speakers and the mixer. If you've already read our articles on choosing portable PA speakers and choosing live vocal mics, you'll be up to speed on that end of things. In this companion article, we'd like to talk about how to pick the best mixer for live sound systems that are generally aimed at small to mid-sized venues. The state of the art has changed quite a bit over a fairly short period of time, and the new combinations of analog and digital technology make this a golden age for powerful, affordable, versatile mixers for solo performers, duos and bands from small to large. So whether you're looking for a mixer that will cover just you and a friend, or your 8-piece jazz ensemble, you'll find some solid choices in the sections ahead. Pro Tip: While you're trying to make the right choice for your band, you might also want to rent a couple of types of systems from Guitar Center Rentals to get a feel for the gear you're considering.
Table of Contents
The Beginnings of the Modern Mixer
Mixer Basics
Planning for What You'll Need
Our Mixer Picks
   Best Live Mixers for Small Shows
   Best Double-Duty Mixers
   Stream It Live
   Powered Mixers
Final Thoughts
The Beginnings of the Modern Mixer
Prior to the late 1960s/early 1970s, there was really no such thing as a dedicated live sound mixing board. Systems for large concerts were frequently cobbled together from an assortment of smaller mixers, like old radio remote broadcast consoles, systems originally made for recording sound for film and old-school public address systems. For example, in creating the system for the Woodstock Music & Arts Festival in 1969, the legendary Bill Hanley combined multiple modified Shure M67 four-channel microphone mixers and M63 AudioMaster EQs, feeding an Altec Lansing 1567A tube mixer into Teletronix LA2A compressors which fed racks and racks of McIntosh tube power amps. In many ways, it was like a cross between a high school announcement system and a really big home hi-fi system. Although it covered the crowd of almost half a million people, clearly, there was a desperate need for more specialized live sound systems that were less complicated to set up and simpler to use. Over the next several years, companies like Soundcraft and Midas in the U.K., and Clair Bros. and Showco in the U.S., began to build large, dedicated consoles with increasingly sophisticated capabilities for major touring systems, and that technology began trickling down to mixers that were affordable for the average local gigging band. The biggest breakthrough was probably the Tapco 6000 6-channel mixer, designed by Greg Mackie, and its succeeding generations. The quality of engineering in these mixers is affirmed by the fact that, almost 50 years later, many of them are still in use. By the end of the 1970s, affordable and versatile mixers for live sound systems were widespread, and waited only until the beginning of the digital revolution to become the all-in-one systems they are today.
Mixer Basics
So what do you look for in a live sound mixer? Like everything else, it all depends on what your final application for it is, and how much future-proofing you want in your system. Buying the right mixer will give you a piece of gear that can stay with you as your musical life and aspirations grow. In this section we're going to look at basic mixer anatomy, and an overview of some of the applications you may face.
Planning for What You'll Need
Depending on what and where you're performing, you'll need to take several factors into consideration. First, figure out the channel count you'll need, both in number and types of inputs. You'll need to know how many inputs for microphones and how many for line level signals. Second, if you're going to be using any sort of prerecorded loops or tracks, you'll have to take into account how many, what types of inputs they require, and where they'll be coming from (AUX, line, USB feed from a laptop or tablet, Bluetooth from a phone, etc.). Third, do you want to record your shows from your mixer, and in what format? Last, you'll also need to figure out what type of monitoring system you want to be running and make sure the mixer you choose can accommodate that. It's a lot to think about.
We've broken our mixer selection down into a few basic categories. First, we'll look at some mixers that are good for small performances, whether it's a solo artist, duo, trio, or small band that may use some prerecorded material or virtual instruments. Then, we'll take a look at some mixers with larger channel counts, most of which can also serve for interfaces for DAW recording. We'll take a quick look at a couple of the increasingly popular field of podcasting and live streaming. Finally, we'll take a look at a couple of powered mixers that can serve as your main system, or be used to control and power onstage monitor wedges.
Our Mixer Picks
There are a lot of choices out there and it can get confusing. We've consulted with our buyers, sales associates, staff and the crew of tech-obsessed geeks who hang around the stores and offices to come up with a selection of mixers that come out on top for versatility, flexibility and ease of use.
Best Live Mixers for Small Shows 
Though many of the systems we covered in our companion article on portable PA choices have small built-in mixers, once you grow beyond the need for more than two inputs, the necessity for a separate mixer becomes paramount, especially if you want to also capture your performances for critique or for distribution to your fans. Even a self-accompanied solo performer may need more than just a pair of inputs. The mixers in this section can handle from two to eight microphones and at least two stereo line inputs. They can also act as a basic USB audio interface, both recording and playing back from a laptop.
Mackie ProFX6v3 6-Channel Mixer With USB
Mackie is one of the oldest names in compact live sound mixers, and the compact, affordable ProFX6v3 is ideal for solo performers or duos who may be working with additional stereo sources for backing or instrumentation, like a computer or external audio player. Inputs 1 and 2 have XLR and 1/4" connections available on a Combi-Jack, with a Hi-Z (high-impedance) switch which allow instruments to plug in directly, without the need for a DI box. The great-sounding Onyx mic pres are borrowed from Mackie's higher-end mixers and include a low-cut switch at 100Hz, which is great for reducing stage and handling noise while helping control feedback. The mic inputs have 48V phantom power available, enabling the use of studio-quality condenser mics, like the Neumann KMS 105 and Earthworks SR314 we mention in our article on Best Vocal Mics, and a solid two-band EQ for contouring your sounds. Inputs 3/4 and 5/6 are stereo pairs, with 5/6 switching to USB audio feed. Also featured is Mackie's GigFX, which gives you the choice of 24 different effects for channels 1 and 2.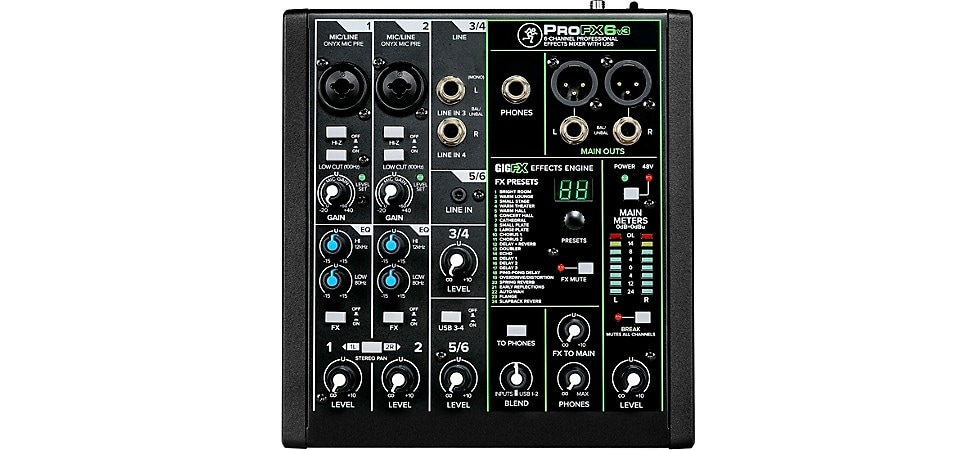 Pictured: Mackie ProFX6v3 6-Channel Mixer
Yamaha MG10XUF 10-Channel Mixer
Available exclusively in the U.S. from the Guitar Center family of brands, the Yamaha MG10XUF features analog architecture with digital effects and a built-in 192kHz/24-bit audio interface. The big differentiation from the regular MG10 mixer is the switch to channel faders, rather than knobs, and the addition of a PFL (Pre-Fader Listen) switch that enables isolated headphone monitoring of input sources. With four combo XLR/1/4" TRS combo jacks feeding Yamaha's Class-A D-PRE mic preamps with 25dB switchable pads, these can handle just about any input you can feed them. The first two inputs also have individual single-knob compressors to help smooth vocal or instrumental sounds. These first four channels also have a gain/trim knob and 3-band EQ, while the stereo channel inputs (5/6, 7/8 and 9/10) feature 2-band EQs. Each of the first four inputs has a peak indicator for easy visual feedback on the channels that need it most. Each input channel has an independent FX send, and the built-in, footswitchable Yamaha SPX effects unit has 24 different selections. There's also a paralleled FX Send output, if you want to use an external processor and bring it back to one of the stereo channels. Overall, this board, especially with its unique upgraded configuration, is a great choice for small bands that don't mic a lot of gear, but need a reasonable number of inputs and flexibility.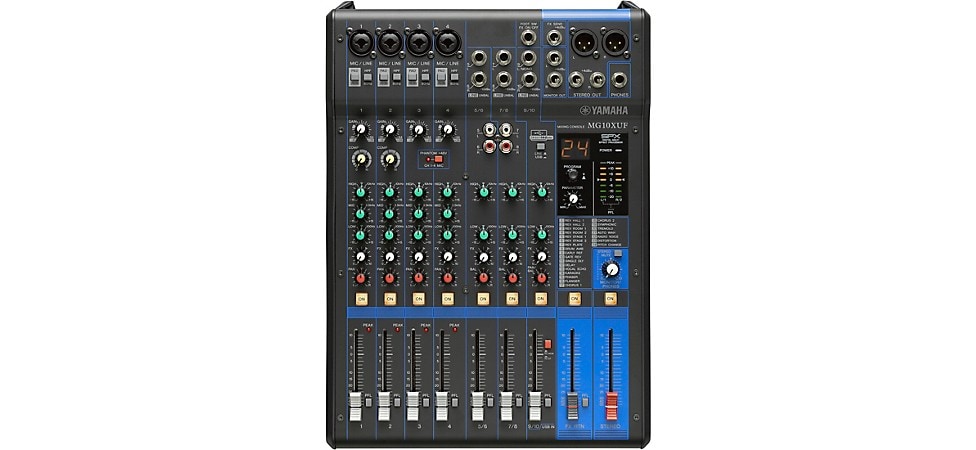 Pictured: Yamaha MG10XUF 10-Channel Mixer
Mackie ProFX12v3 12-Channel Mixer With USB
The third mixer we're recommending in this category, and the second from Mackie, is the PROFX12v3. Building up from the base feature set of our previous Mackie choice, this mixer begins to get us to mixers that can handle miking up a full band (though a small one). It has enough inputs to do basic drum miking as well as covering vocals, guitars, bass and keys, while also being able to feed tracks via USB from a computer. The ProFX12 features seven of Mackie's quality Onyx preamps, with Hi-Z switches and Combi-Jacks on channels 1 and 2. The first four inputs have channel inserts for using external effects, and each has an independent single-knob inline compressor for taming vocals, kick drums and more. PFL switches make for easy monitor and gain adjustments. It has the same internal GigFX engine as the ProFX6, with 24 available FX, but it also has individual AUX sends for each channel which can be used for multiple purposes, like setting up a monitor mix or a sub-mix. This is also the first mixer we're dealing with in this list with separate main and control room outs, indicating it's also intended for recording. There's a lot of power and versatility here in a very compact package.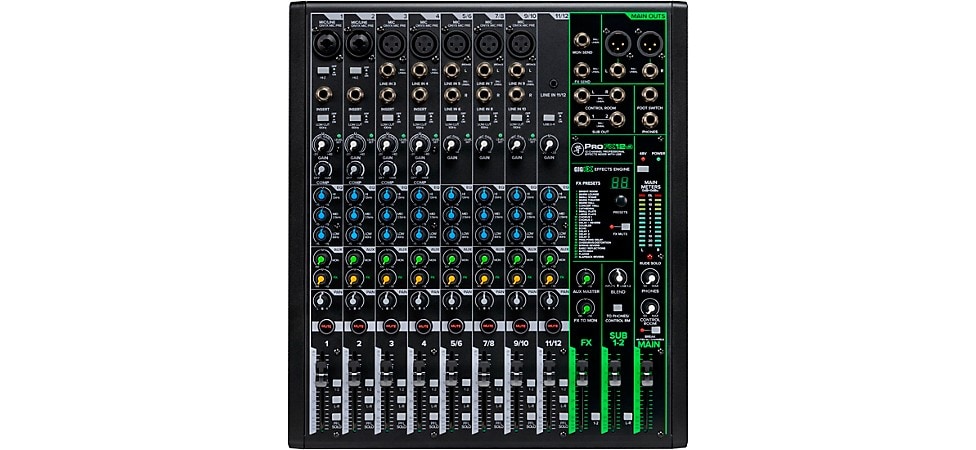 Pictured: Mackie ProFX12v3 12-Channel Mixer
Best Double-Duty Mixers
This next group of mixers are all designed to be equally capable at live recording as they are for live sound reinforcement use. With multi-channel audio interface capabilities reaching as high as 64x64, resolutions at 192kHz/32-bit, and onboard mutlitrack recording to SSD, these are some very serious live-sound machines. You might even find that they also make a great central hub for your recording studio. So, let's get started.
Mackie Onyx 12 12-Channel Premium Analog Mixer
Our third Mackie in this collection is from the next series up from the ProFX. The Onyx12 12-Channel keeps the principal signal path analog and saves the digital power for effects processing and recording, where it's most effective. This also helps keep the price point on this mixer surprisingly low, while still delivering a robust feature set. With eight of Mackie's ultra-low-noise Onyx mic pres and bypassable 3-band Perkins "British-style" console EQ on each channel, this board can deliver a distinct sonic personality. A nice bonus is that this 12-channel mixer has a channel pair labeled 13/14, which can be either an extra stereo line in or become a Bluetooth streaming audio input at the push of a button. An expanded range of effects and other controls are accessible through a small screen and a couple of knobs and buttons in the section called "Studio Command." There are also two independent AUX/Monitor sends for two separate monitor mixes, so everybody's happy on stage. It's ideal for small band/ensemble performances where you want to capture the performance, thanks to an ability to do 2-track stereo recordings direct to an SD card at 96kHz/24-bit. Take it to the studio, and it becomes a 14x4 96kHz/24-bit USB audio interface with DAW transport controls. If you're looking to step up from an entry-level live soundboard, the Onyx 12 is a big step in features for a fairly small step in price.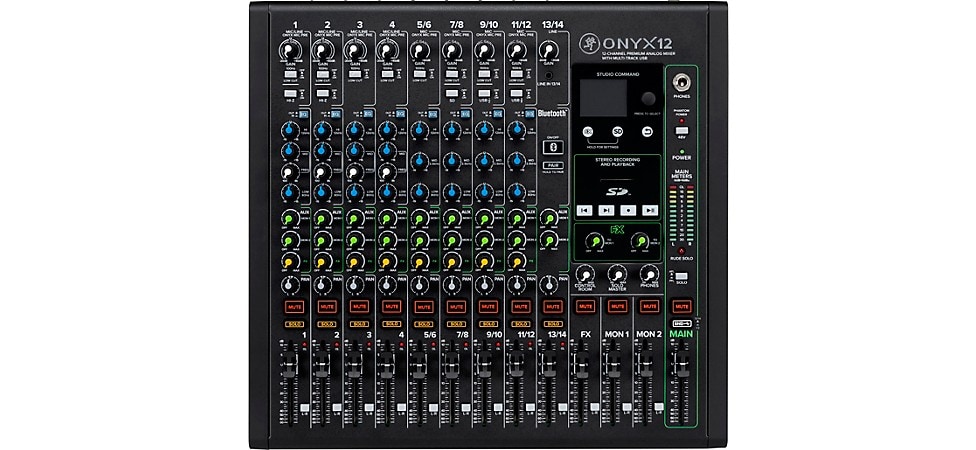 Pictured: Mackie Onyx12 12-Channel Analog Mixer
TASCAM Model 12 All-in-One Production Mixer
If you want versatility, you'll want to take a good look at our next choice, the TASCAM Model 12 All-In-One Production Mixer. From live performance to livestream to studio, the feature set on this mixer impresses. All eight of the main inputs have combo jacks for easy mic/line/instrument inputs, plus a 3-band EQ with sweepable mids. The mic preamps are clean, low-noise and quite transparent, with no discernible coloration. One key feature is that inputs 1–10 all have inline single-knob, digital compression. They also have phase inversion switches, so you don't have to worry about things like top and bottom miking a snare. The two mono AUX sends can be pre- or post-fader and there is a stereo Sub (as in sub-mix, not sub-woofer) out for flexibility in either monitor mixes or effects sends. Used as a live board, it can still record your stereo mix directly to an SD card at 48-kHz/24-bit. A unique feature is the built-in metronome/click output, which can be useful both live, if you play along to tracks, or for a guide in the studio. We can't think of any other board that has this built in. The 12-in/10-out USB audio interface is well-integrated, and the ability to route the AD/DA converters to pre-fader/post-fader/post-EQ make this a great choice for bands who are interested in livestreaming their performances. It also has built-in HUI/MCU DAW control modes, making it a production center for a home recording studio as well.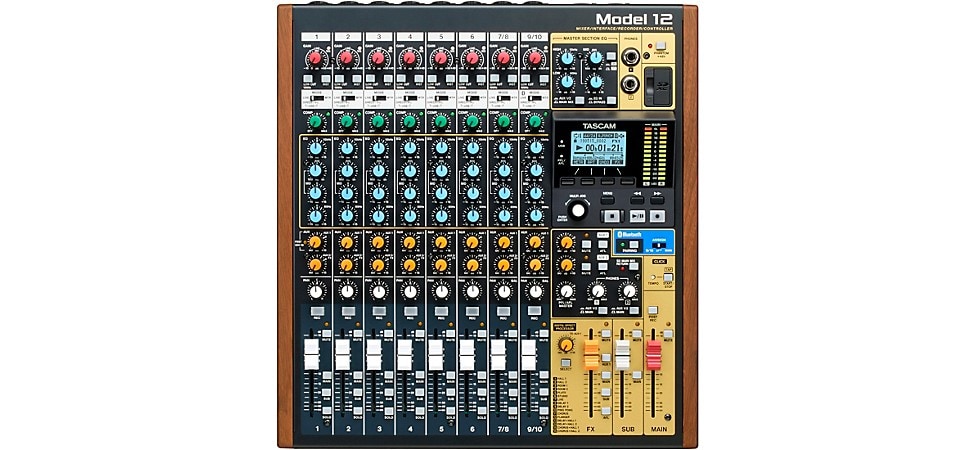 Pictured: TASCAM Model 12 Production Mixer
PreSonus StudioLive 32SC
The next two mixers are really in a separate class, with capabilities that are very much on a par with those used for major touring systems. The first we'll look at is the PreSonus StudioLive 32SC. First, it's designed as a superbly flexible live sound mixer, with enough dedicated mix busses and outputs for every band member to get an individual monitor mix. It's got 16 total inputs built in—8 dedicated XLR mic ins and 8 Combo XLR/1/4" Mic/Line—plus the capability to expand to 32 total inputs and/or add personal monitor systems through stage boxes and other accessories is simple. PreSonus' Fat Channel compressor and EQ is there on every input channel for total control, and the StudioLiveSC is fully controllable from your tablet. Did we forget to mention the 17 motorized faders (16 channel faders, plus the Master) for instant visual feedback? One especially cool feature is that the Fat Channel Compressors and EQs are plug-ins, just like you'd run in your DAW, so, customizing your sonics beyond run-of-the-mill is easy.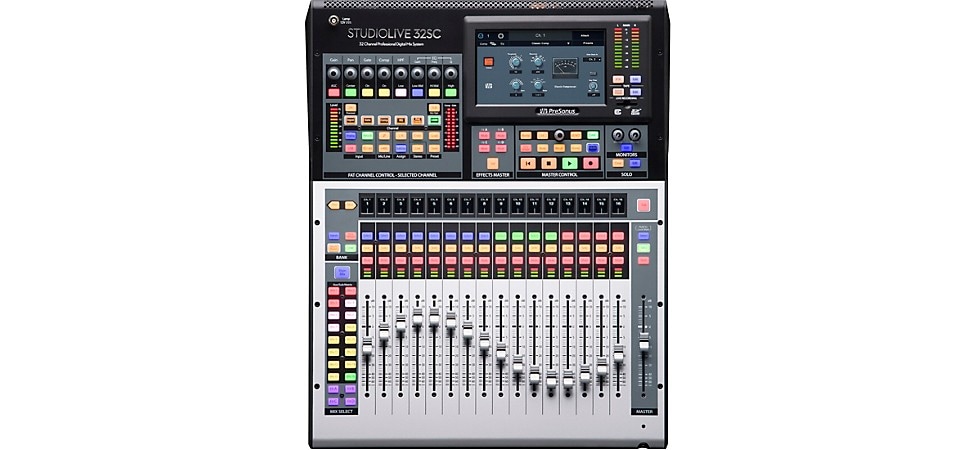 Pictured: Presonus StudioLive 32SC Mixer
The crossover to studio use starts with the ability to record mutlitrack and stereo mixes direct to an SD card or via USB, even simultaneously to both destinations. Once you get the StudioLive 32SC in the studio, it's deeply integrated with PreSonus' Studio One DAW, but also with Logic and Pro Tools, so you can take the recordings you made at the show, port them easily into your DAW, and begin to polish your final tracks. And if you run a networked studio, you can run the StudioLive's AVB to Dante bridge for even more flexibility. This is a great choice for bands or venues that love to livestream and then make mixes of those shows available to fans. It's also a great starting point for a serious project studio—all in a quite compact frame.
Allen & Heath SQ-5 Digital Mixer
The last choice in this category, the Allen & Heath SQ-5, takes technology that was developed for Allen & Heath's top-end dLive touring systems, and repackages it in a smaller size at a price that is unprecedented for the sheer amount of power that's available. Running on Allen & Heath custom DSP, there's some major horsepower here, and, since everything is designed and developed in-house, the integration is spectacular. Allen & Heath's optional DEEP plug-ins, for example, are similar to adding top-end plug-ins to your DAW, for accurate models of in-demand vintage gear. The board's ergonomics are also carefully thought out, and it's as easy to use as anything this powerful could possibly be. As with almost all modern digital mixers, the SQ-5 is remotely controllable via app from iOS and Android tablets. The SQ-5 features 16 XLR inputs on the compact mainframe, but that's expandable to 48 with breakout boxes. 12 outputs allow for Front-of-House mix, plus enough separate monitor mixes for a large band. Each of the 16 motorized channel faders has six layers, and each channel has a high-pass filter, gate with side chain, 4-band parametric EQ and inline Peak/RMS compressor. The eight stereo FX engines load immaculate models of classic reverbs and delays. And, when you get to the Main Mix section, there is a parametric EQ and a 28-band graphic, plus a master bus compressor. The onboard recording to Allen & Heath's QuDrive has been upgraded to 96kHz, and the mixer also functions as a 32x32 USB audio interface and control surface for your DAW. This is a superb mixer for tours of medium-sized venues, project recording studios that provide live recording services and, although perhaps a bit of overkill, would be an amazing choice for a larger rehearsal space that wants to offer musicians seriously good live mutlitracks to go.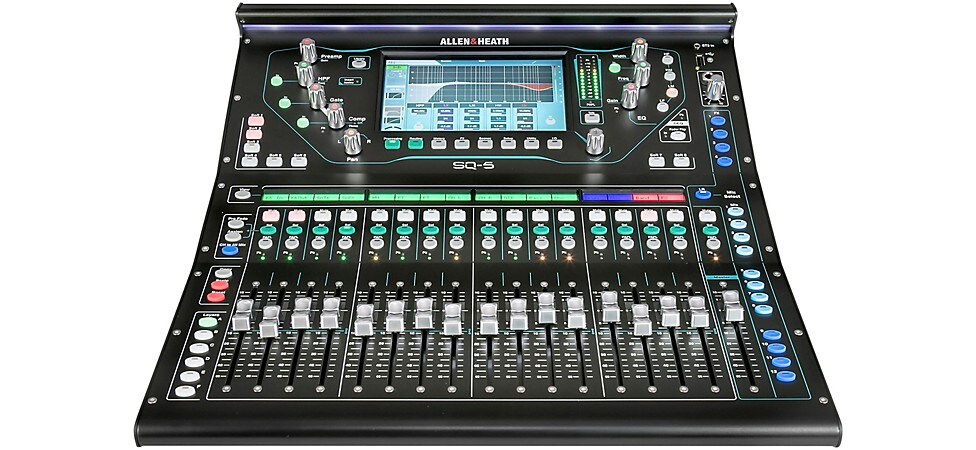 Pictured: Allen & Heath SQ-5 Digital Mixer
Stream It Live
Over the past year, livestreaming has blown up, big-time, and a lot of new technology has been aimed at creating solutions to common problems. The next couple of mixers are great choices for content creators who want to up their audio game.
Zoom LiveTrak L-8
It's completely unsurprising that Zoom, whose video/audio recorders have always been a popular choice for remote use, field recordings and podcasts/vlogs, has a serious entry here. The LiveTrak L-8 is a versatile digital mixer that runs off a variety of power sources—batteries, USB bus power or a standard AC adapter. It's an ideal choice for small ensembles who like to record or stream from a variety of locations, recording/mixing panel discussions and podcasts, or any sort of content creation, no matter your location. The LiveTrak L-8 has six combo jacks, two of which have Hi-Z switches for direct instrument input. Four of them also have switchable -26dB pads. There's phantom power available on all six of these inputs. Zoom saves a lot of mixer real estate by having a single channel strip control that acts on whatever input you have selected to apply EQ, effects and stereo pan. Channels 7 and 8 are particularly versatile as they get input from unbalanced mono 1/4" sources, USB audio from your computer, or from two of the features that make this mixer especially interesting for streamers and podcasters. These channels can be connected to six Sound Pad triggers, which are, by default, loaded with typical podcast sound effects, but are fully user loadable with the samples of your choice. There is also an 1/8" stereo TRRS input, which receives both the stereo audio output and the mic output from smartphones or tablets, with a "Mix-Minus" feature to avoid feedback and allow you to use smartphones for input, as when doing conference calls, or a podcast with a remote guest, for instance. There are a total of four mix outputs, so you can create three custom monitor mixes in addition to your main mix. For example, for a livestreamed podcast or vlog, with a couple of guest podcasters, or on a conference call, you could send each person a mix of the other participants, minus themselves, so everybody can participate without dealing with latency issues.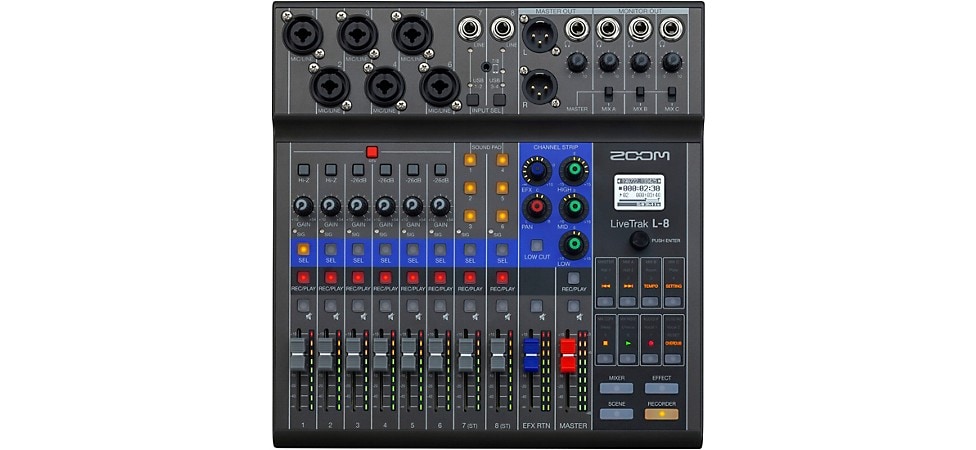 Pictured: Zoom LiveTrak L-8
As you might expect from Zoom, the recording capabilities are really solid. First of all, the LiveTrak L-8 can record mutlitrack (10 discrete audio tracks, plus the stereo mix) direct to an onboard SD card at 96kHz/24-bit. Secondly, it functions as a 12-input USB 2.0 audio interface directly to your computer or iOS device (the last with appropriate connections like the Apple Lightning to USB Camera Connector Kit). Due to the bandwidth limitations of USB 2.0, you lose the capability to do 96kHz when used as an interface, so if you want that high-bandwidth recording, we recommend using the internal mutlitrack capability, then transferring the files to your computer to continue working on a track there. All said, this is an impressive unit that excels as an extremely portable mutlitrack recorder.
Yamaha AG06 6-Channel Mixer/USB Interface
The Yamaha AG06 hybrid analog/digital mixer is an interesting combination of small mixer and PC/Mac/iOS-compatible audio interface. The interface, in this instance, supports 192kHz/24-bit audio, and incorporates a loopback function that combines all mixer and computer playback tracks to feed into livestreaming or podcasting software. Inputs are limited compared to some of the other units we've looked at, as the AG06 is more an audio interface with a small mixer integrated, rather than a mixer that doubles as an audio interface, if you can appreciate that subtle difference. That being said, it is a solid performer at what it does. Although there are only two combo jacks, they're well set up. Channel 1 has phantom power available and a built-in compressor and EQ for contouring vocal sounds. Channel 2 has a built-in amp simulator, based on Yamaha's established SPX amp sims. Both have borrowed Yamaha's D-PRE mic preamps from their higher-end consoles. The compressor, EQ, reverb and amp sim come set to a default preset, but are editable with a free downloadable app, so you can customize your sounds. Channels 3/4 are designed for line-level stereo instruments like synths or digital pianos. A nice feature for podcasting is support for headset mics, which feed Channel 1. There are a stereo out and a monitor out, plus a single headphone jack. All-in-all, it's a very simple setup that packs a lot of power. So, whether you're livestreaming your local gigs, doing an on-location podcast recording or using it to feed audio to your vlog, this is one for those creators looking for an easy way to set up a small, exceedingly versatile setup.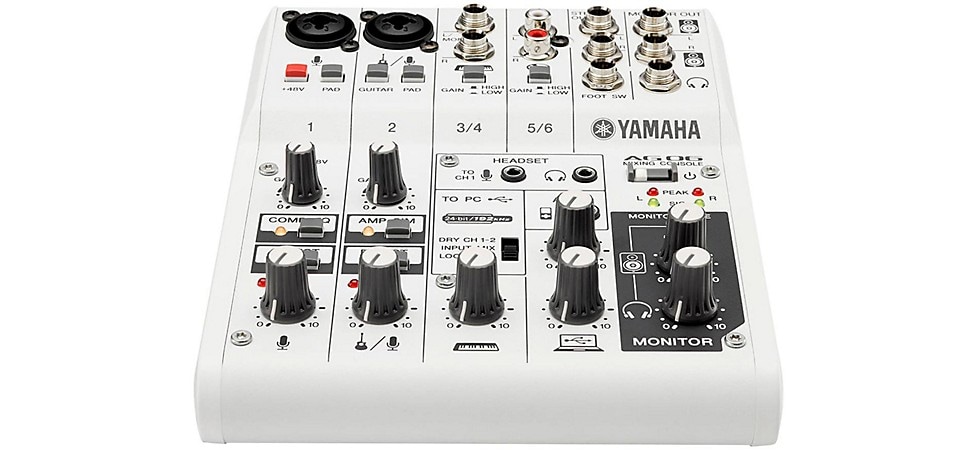 Pictured: Yamaha AG06 6-Channel Mixer/USB Interface
Powered Mixers
Our final category here is a little bit specialized. Back when passive speakers ruled the earth, systems used either a separate mixer and one or more dedicated power amplifiers, or an all-in-one powered mixer. While bi-amped powered speakers have become more the default for most bands and small venues, there are still a lot of perfectly good passive speakers out there, both new and used, and they all need power. Passive speakers are generally far lighter, and, in many ways, the combination of passive speakers and separate power amplifiers gives you more control over the system. It also removes the need to have a power outlet available near every speaker. So, let's take a look at a couple of options available here.
Harbinger LP9800 Powered Mixer
The Harbinger LP9800 combines a versatile 14-channel mixer with a power amp that's capable of putting out up to 800 watts when bridged into mono at 8 ohms. The LP9800 can be run as a stereo mixer, Mono with separate Mains and Monitor mixes, or in Mono Bridge mode. With nine XLR inputs, all with available phantom power, you can easily mic up a small band or ensemble. Six inputs also have a switchable -25dB pad, low-cut and clip indicator. Each channel has 3-band EQ and an FX send to the 16 available, high-quality digital FX. There are six channels (7-12) that function as stereo line-inputs and channel 13/14 is a line-level RCA connection. In addition to the powered outputs to your passive speakers, there are also line-level outputs for both the Monitor channel and the L/R mix. The main stereo output features a 9-band graphic EQ to help tailor your sound to the room. With the lower cost of passive speakers, combined with the Harbinger LP9800, it's a very affordable way to get started with a PA, and, as your needs grow, the LP9800 can be repurposed to drive monitor wedges or side-fill monitors.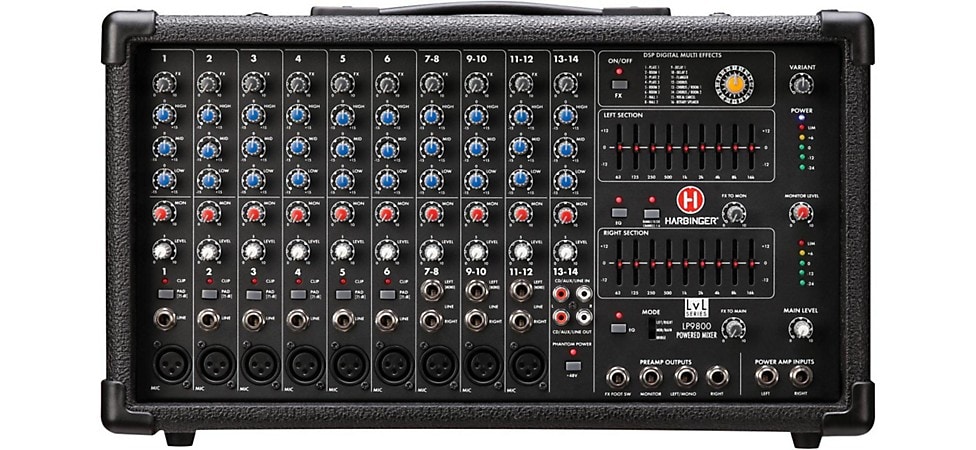 Pictured: Harbinger LP9800 Powered Mixer
Yamaha EMX5 12-Channel Powered Mixer
If you're looking for a powered mixer with a little more power, and multiple AUX sends for a couple of different monitor mixes, the Yamaha EMX5 12-Channel Powered Mixer is an excellent step up. The first four inputs are on combo jacks, with a Hi-Z switch on input four to support direct instrument connections. Five through 12 can be either an additional four mic inputs or used for four stereo line inputs. There's also an 1/8" input for feed from a music player. Dual AUX sends on each channel act as FX sends to the built-in Yamaha SPX effects or to the AUX Out jacks. AUX 1 is a pre-fader send and AUX 2 is post-fader. The built-in power amps are Class-D and can put out up to 630 watts per side. As with the previous powered mixer mentioned, the Yamaha EMX5 can continue to have a useful place in your system as your needs expand.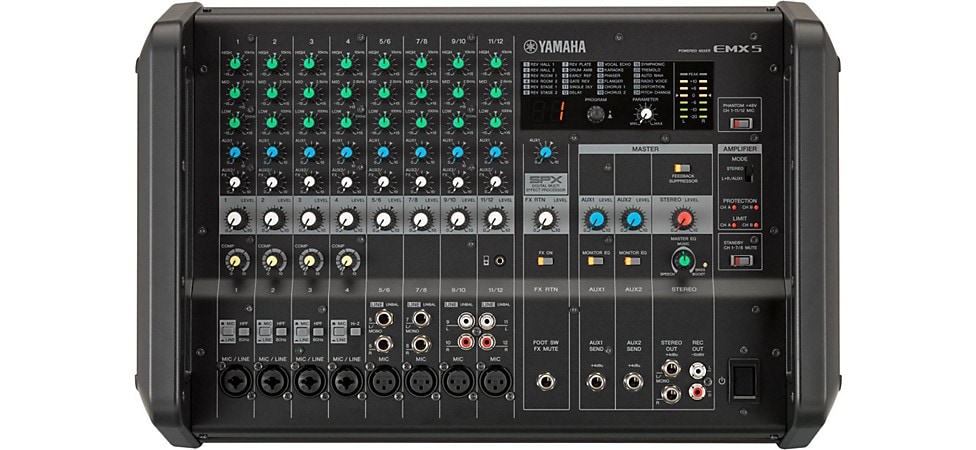 Pictured: Yamaha EMX5 12-Input Powered Mixer
Final Thoughts
There you have it—a quick rundown and some useful mixer selections, not just for getting a great-sounding PA set up, but for recording the gig, setting up a live stream, creating compelling content from remote locations and much more. As always, getting advice for a purchase that will be an integral part of your sound is important, and we strongly recommend talking with the associates at your local Guitar Center or at our Call Center to explore exactly what your needs are, so they can help you zero in on exactly the right mixer and system for your needs.
Don't forget that, as part of your system, you'll need accessories: stands, cables, mic clips and more. As players ourselves, who've been setting up for a gig only to discover that four of the mic cables aren't working (or are missing) since the last gig, and a couple of the mic clips have broken, having spares is always a good idea. Plus, you should always have some gaffer's tape, which can fix anything duct tape can, like taping a mic to the stand when you discover that broken mic clip, without leaving a nasty, sticky residue behind when you take it off.