In houses of worship, the "backline" can be some of the most important equipment for a successful worship service. A term with origins in the concert touring industry, the backline refers to amplifiers, keyboards, drums and related gear that connects the music equipment to your PA system. Having the right equipment ensures the instruments not only sound the way you expect but also balance sound levels on stage.
It's the job of the sound engineer to create a pleasant, balanced mix of audio during the music portion of the service. However, there are two elements outside the control of the sound board that can greatly affect the success of the mix: how the instruments sound coming into the board and the amount of extra noise within the room. A good backline and well-thought-out stage plot can address both and can make the difference between a reverent experience and a distracting one.
In this article, we'll go over some important considerations when looking at the backline for your house of worship. We will start by addressing the benefits of owning your own backline equipment. Then, we'll look at some considerations for the key parts of the backline, including drums, guitar amps, bass preamps, keyboards and more, as well as some suggested backline products for house of worship. Of course, you can always reach out to the experts at Guitar Center Professional for help in selecting the backline for your church or house of worship.
Should You Own Your Own Backline?
The first question you will need to address is whether your house of worship should own their own backline equipment. Some parts of the backline, such as mic stands, direct boxes (or DI), etc., will likely need to be owned regardless, but other parts of the backline can be an open question.
In small houses of worship, it's not uncommon for members of the worship band to provide their own backline equipment. Guitar amps, keyboards and even drum sets are sometimes owned by members of the worship team and brought to practice and service every week. However, there are some benefits of a house of worship owning their own backline equipment.
First and foremost, owning your own equipment can save time. Getting the perfect microphone positioning on equipment such as guitar amplifiers and drum sets can involve a lot of trial and error. When your musicians bring their own backline equipment every week, this not only takes time to set up the equipment itself, but it also takes time to recreate the microphone positioning, reset levels and equalization, dial in effects and so on.
As well, this changing of microphone positioning also creates the potential for a lot of unnecessary variances in sound from week to week. This inconsistency in sound is exacerbated further when multiple musicians are involved. In many houses of worship, different instrumentalists will play week to week, and if they all bring their own backline equipment, this can cause the entire sound of the worship band to shift unnecessarily. A single set of permanent backline equipment can bring a lot more constancy to the service.
Drums
For houses of worship with modern music styles, the core of any solid backline is going to be the drums. A key part of the musical sound, the drum equipment can have the biggest impact out of the entire backline.
The first choice a house of worship will need to make is whether to purchase electronic or acoustic drums. Electronic drums can be an enticing option for many, because noise on stage is essentially eliminated, putting full control of the volume of the drums in the hand of the sound engineer. Many excellent-sounding electronic drum options are now available from brands such as Alesis and Simmons. For drummers who prefer the feel of standard acoustic drums, options like the Roland V-Drums are available with more natural-feeling heads.
However, many worship leaders and drummers still prefer acoustic drums like the DW Collector's Series or the Tama Star Series. These high-quality drum kits have excellent quality for long-term use and are naturally more authentic sounding and feeling than electronic drums (on the whole). Of course, using acoustic drums can introduce a few challenges, because the sound of an acoustic drum set can quickly drown out the rest of the band on stage. Thankfully, with proper treatment, it's possible to set up your drum set so the sound levels are more manageable. This can potentially include dampener pads, O rings and even drum shields. The system engineers at Guitar Center Professional can help you select the right dampening solution for your space.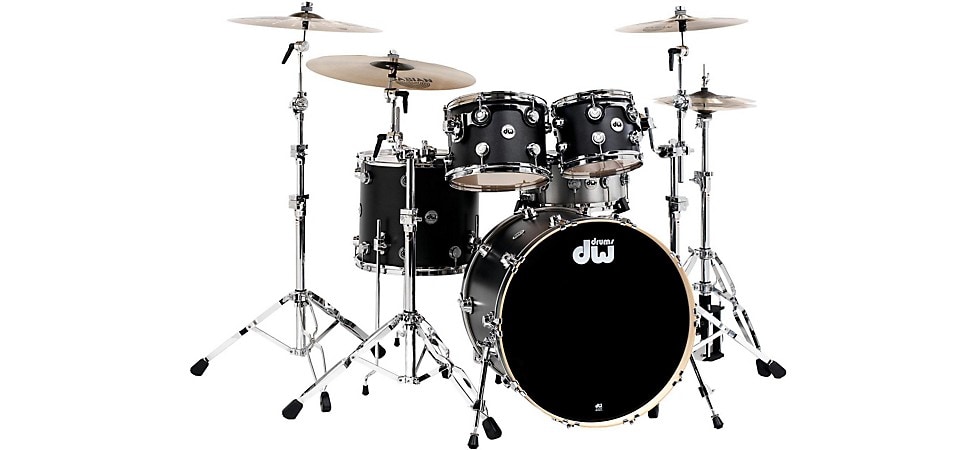 Pictured: DW Collector's Series 4-Piece Shell Pack
As well, if you purchase an acoustic drum set, you'll need a plan to address "breakables" such as cymbals, snares, drum heads and bass drum pedals, not to mention drum sticks, which your drummer will need regardless of the type of set you own. You can certainly provide these for your drummer, but it's also common to ask the musicians to bring their own breakables, with the house providing the drum shells, etc. And of course, no matter the drum set you choose, you will need to be sure you get whatever drum risers, stands, microphones or other equipment you need to ensure your drum set looks and sounds great on stage.
Guitar Multi-Effects Pedals and Amplifiers
The next element of the backline that can have a key impact on the sound is your guitar amplification. Guitar amps have distinct tonal qualities and can greatly shape the feeling of the music, which is why it's important to select the right guitar amplifier and mic it properly.
If you're looking for a guitar solution for your permanent backplane setup, you first need to determine if you want a true amplifier or a modeling pedalboard. Multi-effect pedalboards like the Line 6 Helix Series, or solutions from HeadRush, not only include a variety of effects, like crunchy overdrive, dotted eighth note delays and other sounds, but can also model various guitar amplifiers, cabinets and even microphones. Plus, you can connect them directly to the sound board for amplification through the PA. The technology in these pedalboards has become quite advanced in recent years, with sounds nearly indistinguishable from their real-life counterparts—only without the stage noise of  an amp outside the sound board's control.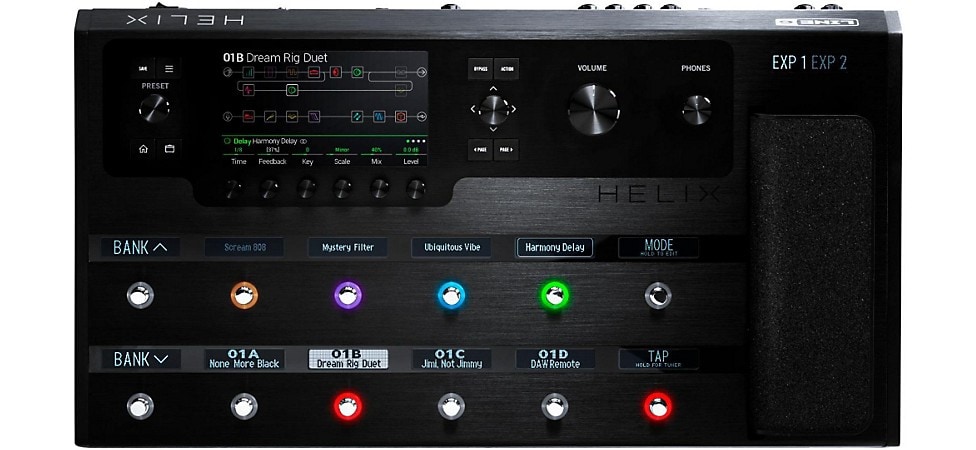 Pictured: Line 6 Helix Multi-Effects Guitar Pedal
However, as with acoustic drums, many guitarists prefer the natural sound of a real amplifier. If you choose to go this route, you should first have a plan for where to put the amp. Some choose to put the guitar amps on stage, but this can create a lot of extra sound in your space. Instead, many houses of worship choose to find a place to store the amplifiers. Sometimes this can be under the stage, if there is room, or else a dedicated "amp room" in an area behind the stage. This allows the guitarist to turn the amplifier up louder, which can improve the tone.
Once you've selected the location for your amplifier, you'll need to pick the right amplifier for your application. There are a variety of different amplifiers available depending on your musical style, and in some cases, you might even want multiple options for a single guitarist with a selector to go between the amplifiers, depending on the song. You can also combine an amplifier with a multi-effect pedalboard to provide more tonal options.
Bass DIs and Preamps
Unlike guitars, where there's a clear divide of opinions on whether you should use an amplifier or a modeling pedalboard, for bass guitars, the majority of sound engineers prefer using direct input or line-level output from an amp or preamp rather than miking a bass amp. The low frequencies of a bass guitar can be difficult to pick up clearly using a microphone, and can sound muddy. Using a direct signal for the bass guitar can give a clearer sound and better low-end performance than a miked bass amp.
As for how you get that signal into your system, there are a number of different options. The most simple is a direct box. DI boxes take the unbalanced, high-impedance instrument signal from the bass guitar and convert it to a balanced, low-impedance microphone signal. This approach gives the sound engineer the most control of the sound of the bass guitar, but provides no coloring of the sound before it gets to the board.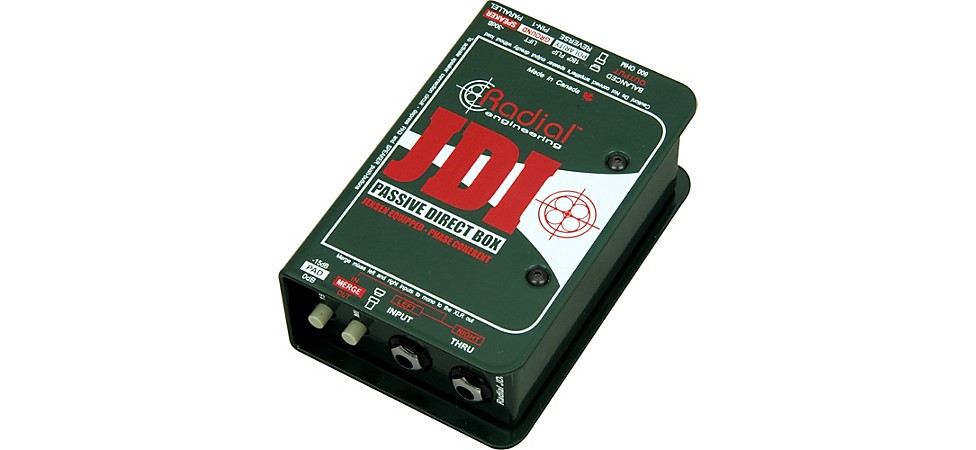 Pictured: Radial Engineering JDI MK3 Passive Direct Box
The other approach to use is a preamplifier, and this can come in a variety of different forms. On the one hand, you could use a modeling pedalboard such as the aforementioned options from Line 6 or HeadRush, which often offer bass-specific presets as well as the full range of guitar effects for more creative possibilities. Alternatively, you can select a rackmount preamplifier or use the line output from a bass amplifier to give the bassist control over the sound of the bass guitar without adding extra noise to the stage.
Keyboards
As with basses, there are keyboard amplifiers available for those that want them, but they aren't commonly used in house of worship applications. However, the keyboards themselves are a vital part of the backline for many worship teams. When selecting a keyboard, it's important to find a versatile solution that works with a variety of digital styles. Modern keyboard workstations include a broad range of sounds, samplers, effects, sequencers and more to give variety to your music. Houses of worship looking for keyboards should consider mid-range options like the Roland FA Series and the Yamaha MODX+ series, or high-end options like the Roland Fantom and KORG NAUTILUS. All these options offer excellent sound quality and enough hands-on knobs and sliders to manipulate the sound to get the perfect effect.

Pictured: KORG NAUTILUS 73-Key Synthesizer Workstation
The type of keyboard you need depends not only on your style of music, but also whether you want a digital replacement for a piano, an organ replacement, a digital synthesizer, or a combination of the three. Many modern keyboards have realistic piano sounds that make excellent all-in-one solutions. However, those looking for a dedicated keyboard that will be used predominantly as a piano will want to consider options like the Korg SV-2, which offers a broad range of piano sounds as well as weighted keys that replicate the key feel of an acoustic piano rather than the springier feel of other keyboard keys. For organists looking for a digital alternative, some keyboards, such as the Nord Electro Series offer a broad range of realistic organ modeling with adjustable drawbar settings.
In addition to selecting the style of keyboard you want, you'll also want to look at the number of keys the keyboard has. Some keyboards have a full 88 keys, which is sometimes preferred by traditional pianists, while a keyboardist is often fine with smaller key counts. Again, the best option will depend on your specific application, and the experts at Guitar Center Professional are available to help you find what's right for you.
Other Stage Gear
To round out your backline, you'll need several other items to make your service a success. Items like microphones, stands and cables are necessary for vocalists and instrumentalists, and extra DI boxes are important for instruments such as acoustic guitars and keyboards. These items seem small, but they are a vital part of a good stage layout and are easily overlooked.
One element that's often forgotten is power on stage. It's important that your stage includes plenty of power, with enough circuits to accommodate all the different electronic equipment on stage. While it might seem a simple matter to daisy chain powerstrips together, this can easily overload circuits, as well as damage your instruments and other electronics. It's also a good idea to include power conditioners as part of your design. In addition to protecting from surges, it also provides clean power that can eliminate hums and other noise caused from "dirty" power lines
Finally, don't forget to include plenty of monitoring on stage. This can certainly be floor monitors, which direct sound toward musicians and away from the audience, and are sometimes included as part of the PA system design. Alternatively, you can add personal mixers or other in-ear monitors (IEMs), allowing each member of the worship team to have their own customized monitor mix.
As you can see, there are a lot of different elements that go into a good backline for a house of worship. From selecting between electronic and acoustic drums to finding the right guitar and bass amps to keyboards, DI boxes and more, there are a lot of decisions that can affect the impact of a service. To help navigate these decisions, the experts at Guitar Center Professional are always available to assist you in selecting the right backline equipment for your house of worship application.