If the Leo Fender story was used as inspiration for a Netflix limited series, the screenwriters might follow current blockbuster trends and cast the founding father of Fender guitars as an all-powerful sorcerer. After all, Fender was a genius who got instrument design so mythically right that the company he founded in 1946 continues to thrive, and his timeless guitars and basses are still revered and played by musicians of all ages and musical styles to this day. There's certainly more than a spot or two of clairvoyance, virtuosity and outright magic guiding the longevity and continued relevance of Fender's creations.
It's no surprise then, that since the early 1980s, the Fender company has celebrated Leo's planet-shaking brilliance by crafting '50s, '60s and '70s instruments for modern players. Looking back at the company's early days has resulted in Fender incorporating vintage features into its standard line, as well as scrupulously recreating historic models in its Custom Shop. With a wealth of Fender innovations to draw from, each vintage-inspired series throughout the years has usually chosen to focus on models from different decades—such as the Fender American Original Series and Vintera Series—or commemorate instruments produced during a specific year, which is the concept of the new American Vintage II Series. Crafted from original specs, the AVII collection includes a 1951 Telecaster, 1954 Precision Bass, 1957 Stratocaster, 1966 Jazzmaster, 1966 Jazz Bass, 1972 Telecaster Thinline, 1973 Stratocaster, and other iconic models.
Fender Director of Product Management for Electric Guitars and Basses Allen Abbassi offered to give Riffs readers an overview of the new AVII Series, and detail the Fender history and development behind the new models. It's an excellent insight into what Fender was, and what it is today.
The prior vintage-inspired series, American Original, offered decade-inspired models, whereas American Vintage II is model-year specific. What prompted that change?
Allen Abbassi: In its first three decades, Fender was constantly experimenting and changing designs in pursuit of perfecting the instruments. There are so many interesting details and specifications born from that ethos. We wanted to celebrate that evolution and highlight the rich history of these classic instruments. A year-specific approach served that goal best.
What was the R&D process like?
A project like American Vintage II is a massive undertaking. The entire electric team—as well as our R&D and engineering departments—were enlisted to get the job done. Initial discussions about the direction and model mix for the series occurred at both the Hollywood office and Corona factory. Ideas were thrown around regarding which models we should reissue and why. We all agreed we should focus mainly on model years we hadn't explored before.
Part of the concept was to also celebrate significant or recognizable specification changes that occurred—or became standard—during those years. Our research was gathered from multiple sources, such as visiting dealers and friends with collections, reviewing our own vintage samples, revisiting historic materials and pooling our collective internal knowledge. There are still some folks at Fender who had the privilege of working with Mr. Fender.
In addition, the Custom Shop is a rich resource of knowledge and inspiration, and we always run our projects by them. The instruments invariably turn out better because of it.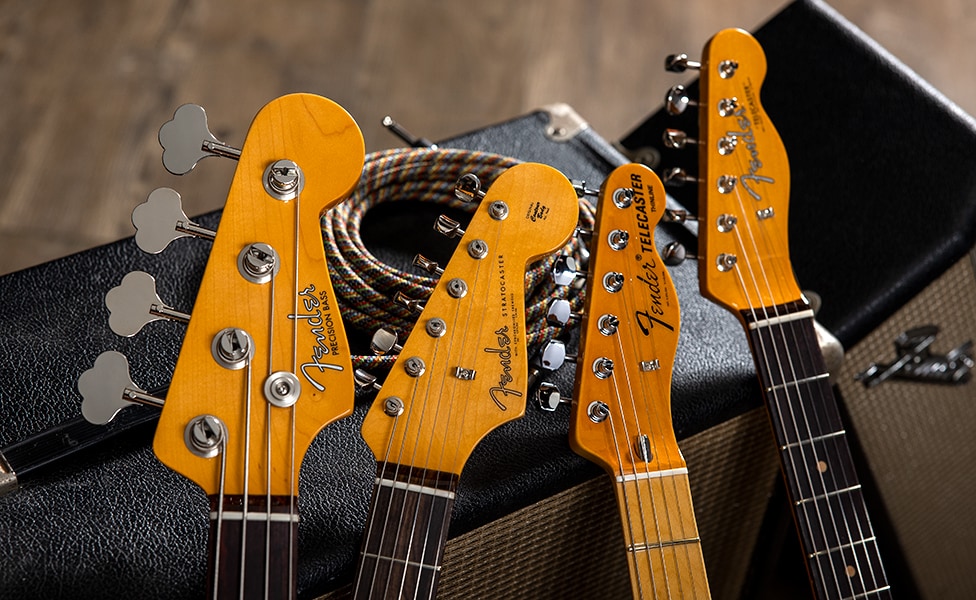 Is there any part of the development process that's harder to nail than others?
Not really. Each feature poses its own development challenges. Paint is finicky. It can look radically different depending on the light and the type of paint that's used. Pickup voicing is complex, and subtle changes in construction can cause big tonal shifts. The feel of a guitar neck is very subjective, and it is affected by nut width, finish, shape, thickness, etc. There are countless options available, so each part of the process is as challenging as it is fascinating.
What notable changes occurred during the evolution of the Telecaster, Stratocaster and Precision Bass?
We could fill a whole book—or three—with answers to that question. Early '50s Fenders were all about ash bodies, blonde finishes, bright single-coil pickups, single-ply pickguards and thick maple necks. Our AVII 1951 Telecaster highlights all of those classic features with its butterscotch blonde/black pickguard aesthetic and U-shape neck. A key transition occurred in 1956, with the introduction of alder as the stock body wood—although blonde finishes still featured ash. This is exhibited by our AVII 1957 Strat, which is available in ash with a Vintage Blonde finish, or alder with a three-color Sunburst or Olympic White finish.
Transitioning from the '50s to the '60s, you begin to see Fender models with 3-color Sunburst finishes, multi-layer pickguards and C-shape necks. The addition of rosewood fingerboards—which started with the Jazzmaster in 1958—would become a hallmark of '60s-era Fenders. Check out the AVII 1963 Telecaster, AVII 1961 Stratocaster or AVII 1960 Precision Bass for examples of these features.
The floodgates were open by the '70s, and lots of changes occurred throughout the Fender line. Some of the more notable features of this era include the introduction of three-bolt neck attachments, the use of Wide Range humbuckers, headstock-adjust truss rods with bullet nuts and the use of six-saddle bridges on Telecasters. The AVII 1975 Telecaster Deluxe is a perfect example of these specs. It also illustrates Fender's first use of modern features like 9.5"-radius fingerboards, block bridge saddles and two-pin mount tuners. Another interesting fact is the larger Stratocaster headstock is often referred to as a '70s feature, but it appeared on a Strat in 1965. The true '70s-style, big Strat headstock is paired with the bullet truss-rod nut, and that combination emerged in 1971. Our AVII 1973 Strat has these features, and it also highlights Fender's first use of the Mocha finish and black Strat pickguards.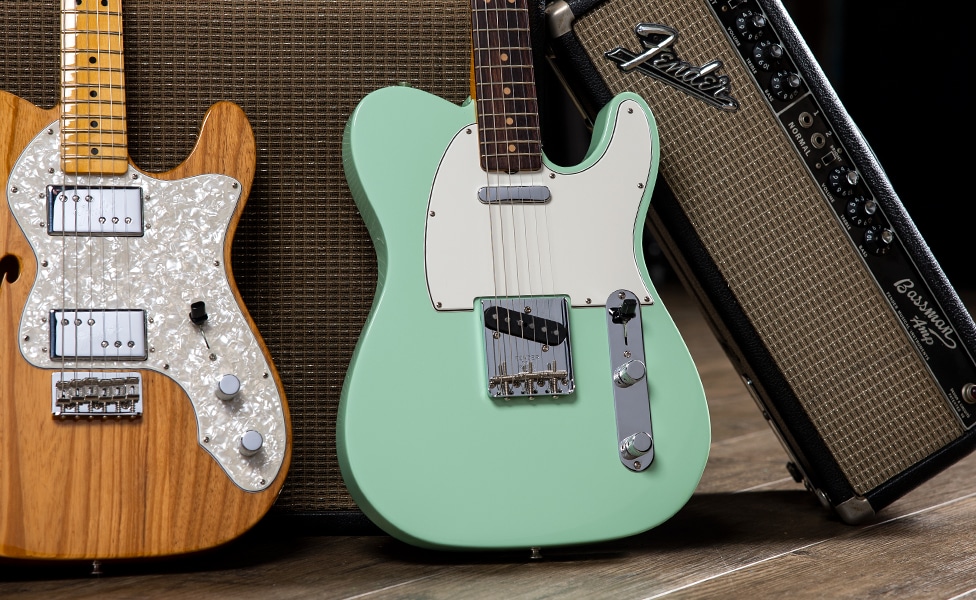 The '66 models—the Jazz Bass and Jazzmaster—have painted headstocks. What is the background on that feature?
The exact dates painted headstocks were offered are difficult to pin down, as Fender used them sporadically throughout the '60s. There are examples of Jazzmasters with painted headstocks as early as 1960, and Mustangs with painted headstocks as late as the early 1970s—after which their use seems to have tapered off. Fender initially offered painted headstocks mainly on higher-end models, such as the Jazzmaster, Jaguar and Jazz Bass—ostensibly as an upscale feature for more expensive instruments painted in custom colors.
Can you speak a little bit about the changes that occurred during the CBS ownership of Fender from 1965 to 1985?
It's an interesting subject. As touched upon earlier, some of the changes that occurred during the CBS years include the larger Strat headstock, three-bolt neck attachments with a micro-tilt feature and headstock-adjust bullet truss rods. Some players looked down upon these features simply because they were viewed as unnecessary meddling by the new owners of Fender. Purists viewed it as blasphemy. Others simply didn't like the look. There was certainly a time during the CBS years where quality became inconsistent, and I think a lot of players associate these CBS-specific features with a decline in quality. However, there were plenty of fine instruments manufactured during that time, and some of those features are great innovations. Moving the truss rod to the headstock was a huge benefit, and the micro-tilt feature allowed neck-angle adjustments without removing the neck or using shims. We are still using that system today.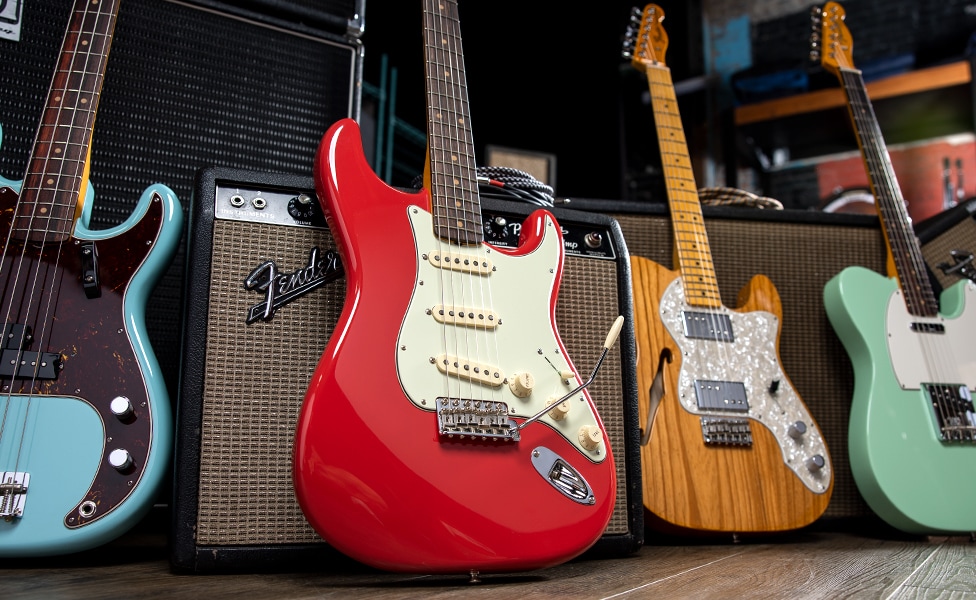 When you look at the three decades covered by AVII, what can you identify as moments where the instruments drove the development of musical styles, and, conversely, where musicians influenced the design of the instruments?
The solidbody design of the Telecaster allowed guitarists to play louder without feeding back, and its single-coil pickups afforded players a tone that was clear, vocal and bright. This influenced the emergence of the electric guitar as a solo instrument.
The Precision Bass was a revelation to bass players. No longer did they have to play heavy, unwieldy uprights that could barely be heard. The P Bass gave bassists a powerful new voice that was portable, loud and easily played—thanks to its comfortable neck and precise frets. As a result, you can scarcely imagine soul, rock or funk without an electric bass.
Conversely, when Fender was developing the Stratocaster, it was direct feedback from artists that helped drive some of the Strat's key features, such as its comfortable body contours, six-saddle bridge and tremolo. During the '70s, guitarists began to favor the fatter, dirtier sounds they could get with humbuckers, which influenced Fender to partner with Seth Lover to develop its own dual-coil pickup, the Wide Range humbucker. The prevailing musical trend of the time completely influenced that development.
This has been a very educational spin through Fender's history, as well as an excellent rundown on the American Vintage II Series. Thanks so much for your time, Allen.
Of course. Happy to do it. I obviously love talking about all things Fender!