The miniaturization revolution marches on. In fact, it's almost a free-for-all of diminutive options in the music-gear scene with micro DJ controllers, tiny stompboxes that can double the number of effects on a pedalboard, bass amps that can fit into an UberX and bite-sized travel rigs that can be stored in a plane's overhead compartment.
One of the latest entries in this teeny trend is the Positive Grid Spark MINI—an amp that can literally fit into the palm of your hand but delivers colossal guitar and bass tones. The little wonder provides four arena-ready onboard sounds that expand to 33 amps and 43 effects when the free Spark app is deployed. Logging in to Positive Grid's ToneCloud community opens up more than 10,000 additional sounds. Spark MINI also gets you jamming right from the get-go by offering AI-driven backing tracks that sense how you're playing and automatically generate a rhythm section that grooves along with your style. Spark MINI can even suggest EQ curves based on the instrument you're playing and the music you're jamming to. By the way, the Spark app isn't just a sound engine—it also supplies a bounty of learning tools and other goodies. As you can surmise, there's a ton of big features packed into the wee framework of Spark MINI.
Ethan Lu currently runs the product-design department for Positive Grid—a company known for its BIAS guitar-modeling software, music apps (X Drummer, JamUp, FinalTouch), Spark guitar amp and RIFF guitar-audio interface. An admitted gear nerd and digital nomad, Lu started his career in consumer electronics—an experience that forged his design ethos—and manages the development of hardware and software for Positive Grid products with a completely "in-house" staff of remote personnel based all over the world. In this discussion, Lu provides some behind-the-scenes insights on how Spark MINI grew from an idea to a pint-sized powerhouse of amp tone.
What was the initial design concept for Spark MINI?
Ethan Lu: When we design a product, we also plan the user experience as a kind of "first reward." It's very important to ensure in that first moment when someone unboxes the product that it's a real payoff of their investment. We treat those experiences as very important things. In the case of the Spark MINI, we wanted to create a "wow factor," because mini amps are often treated as toys. So, we really focused on the quality and the details, such as the fact the Spark MINI is covered with real Tolex. We wanted people to be really surprised that we put "real amp" thinking into a tiny amp. Happily, that has been backed up in the comments we've heard so far. People are saying they never expected a mini amp to have the volume or sonic detail that the Spark MINI delivers.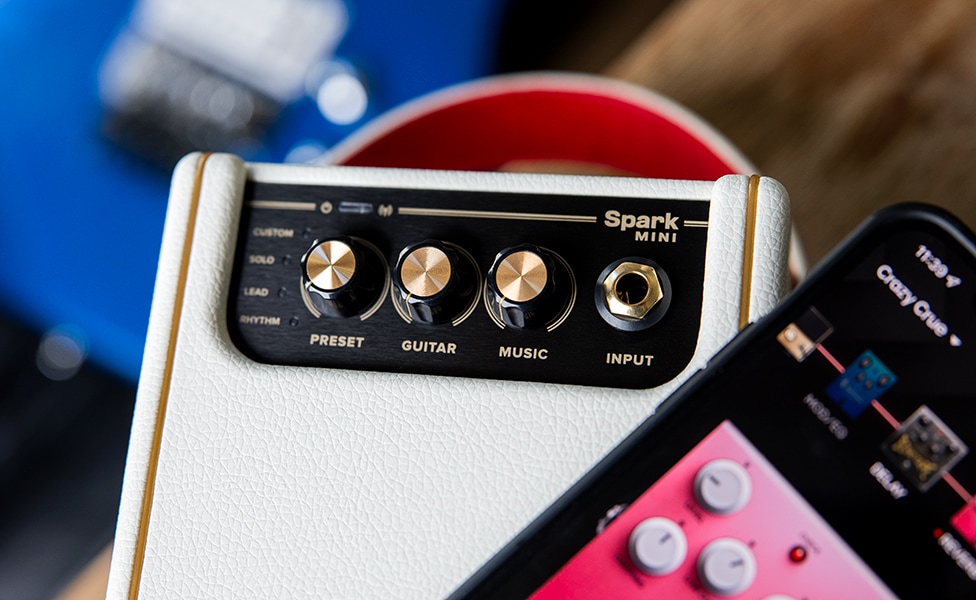 Positive Grid released the Spark guitar amp in 2019. What did you learn from that product that informed the development of the new Spark MINI?
The Spark guitar amp was an experimental project, and we definitely learned a lot from it. To be honest, we didn't know it would be as successful as it has been. I remember the day when we were on the verge of going into production. We were looking at our preproduction sample sitting on a table, and we said, "Are we really going to do this?" [Laughs.]
When we were initially designing the Spark guitar amp, we went back and forth between making a very modern-looking amp, or a more traditional-looking amp. But we wanted people to feel like it's a guitar amp—not something alien or exotic that just happens to be an amp. That aesthetic is definitely one thing that carried over from the Spark guitar amp to Spark MINI.
Similarly, we had two camps while developing the sound of the Spark guitar amp. You know, there are people who want the sound of a real guitar amp through a 1x12, 2x12 or 4x12 speaker cabinet. That sound is a little bit blurred, booming and wild. It's not like a high-end stereo system. On the other side, there are people who are modern-studio types, and they want to hear a processed guitar tone that sounds like a polished track. Both sides are right, but we ultimately decided to go with the amp sound. However, all of this experience with the Spark guitar amp steered us to design the Spark MINI with a more neutral tone—like a studio monitor—that should please both types of players. It still sounds like a real amp, but the clarity is there for people who like clean, studio-type sounds, and players who like old-school amp sounds can dial those in, as well. We even put in four EQ presets to help players find their sound. There's a general-purpose amp setting, and then there are options for electric guitar, acoustic guitar and bass. Actually, this tonal versatility is a very important part of Spark MINI. We want to eliminate people thinking about electric or acoustic or bass amps. We want them to get an amp and just enjoy playing.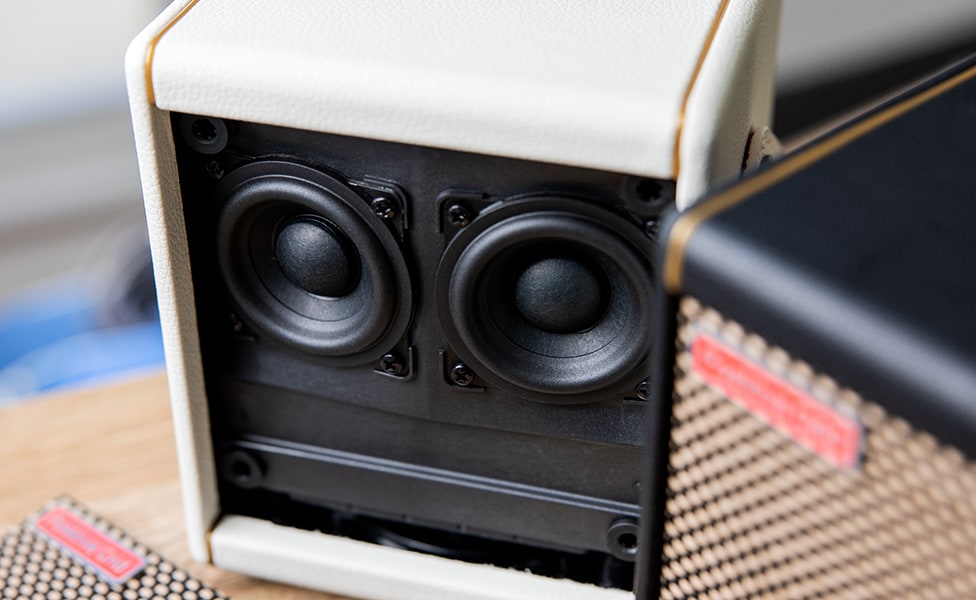 Spark MINI is powered by your BIAS amp and effects processor engine. Did you have to revoice the models to sound good on such a tiny amp?
No, we didn't need to revoice the BIAS models. Spark MINI was designed to be as neutral-sounding as possible, because it's not just reproducing amp tones—it's covering multiple instruments, backing tracks via Bluetooth and general music listening by way of streaming audio. So, it has to sound good for all of those uses.
The cabinet for Spark MINI is really small but produces a big sound. What's going on there?
For full frequency performance, we couldn't solely rely on the two 2" speakers in the Spark MINI cabinet. That's totally impossible. So, we added a passive, down-firing radiator to produce deep bass frequencies. We also angled the two speakers to expand sound dispersion.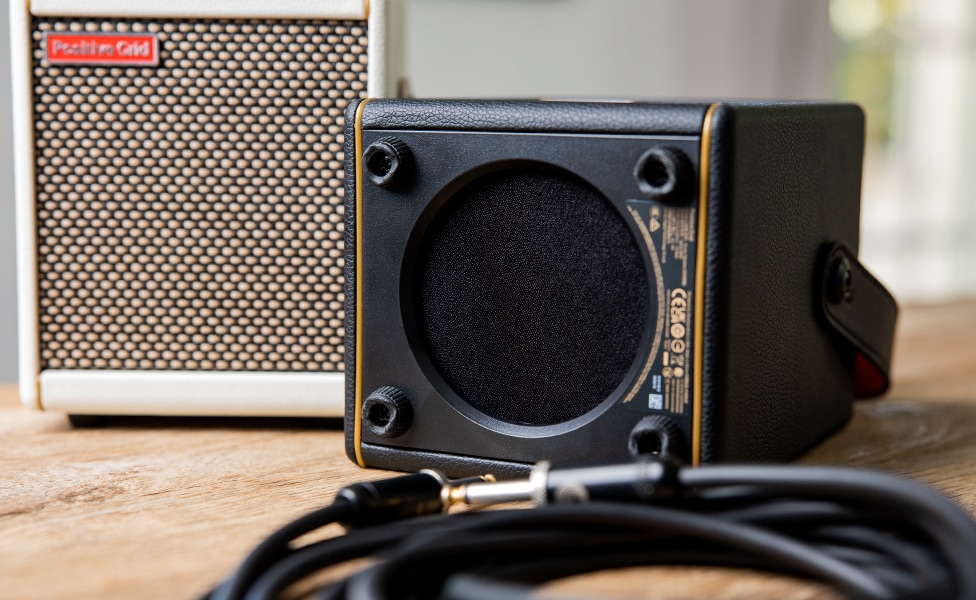 What was the idea behind limiting the physical amp controls to just three knobs—a preset selector, the guitar channel volume and the music playback volume? 
When we were designing the Spark guitar amp, we had a lot of ideas and jokes on Post-it notes that drove the development. One of the jokes was, "Guitarists spend more time on knobs than their strings." Another one was, "Guitarists keep buying new gear to get the same sound they've always had." So, if you follow that path, you design an amp with a lot of knobs. We wanted to reverse that thinking and make people focus on their playing, instead of the knobs.
It's kind of like when our founder once said his son will tell him he's going out to play basketball—not practice basketball. He wondered why guitar players tend to say the opposite. They'll say, "I'm going to practice the guitar," instead of, "I'm going to play guitar." We did a lot of research and focus groups on this topic, and we found that some people felt they weren't qualified to say "play," because they're amateurs. I feel that struggle, as well. When I'm in a music shop, I'm reluctant to take the most expensive guitar off the rack. But I think people pick up the guitar because they like it, and we don't want them worrying about their skill level. Instead, we want people to feel the joy of playing music. Of course, anyone who wants more options to dial in sounds will find lots of opportunities in the Spark app.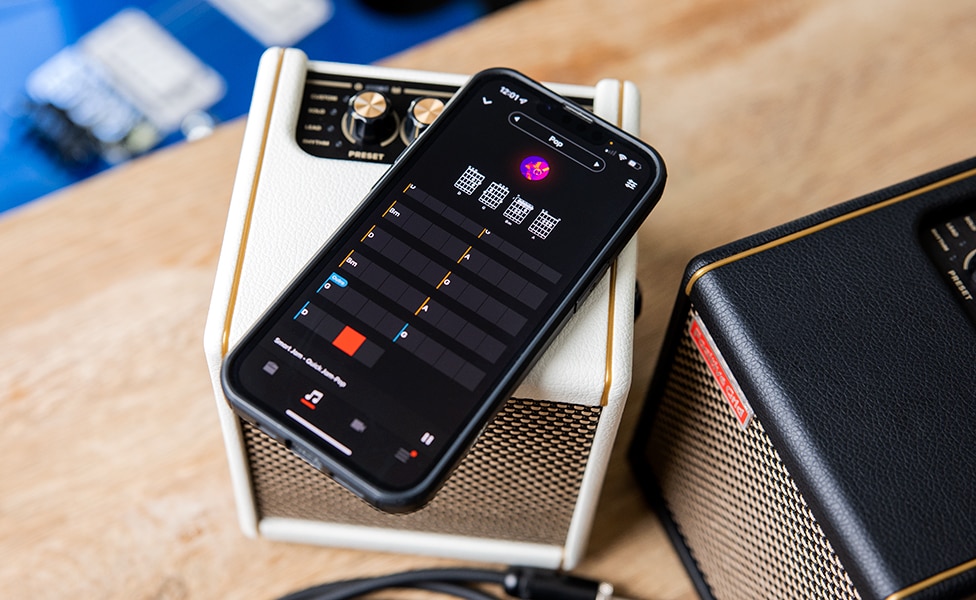 The Spark app is certainly helpful for building confidence, as well as providing both education and entertainment.
Yes. There's tons of inspiration in the app. We provide lots of tones, as well as the ability to share sounds with the user community. You can play along with music streamed via Bluetooth. You can jam with our automatic backing tracks, and our recommendation engine even serves up tone choices so you can just focus on playing. You can learn songs easily with Auto Chords, which shows you the chords to your favorite songs on Spotify and YouTube as you play. We even provide learning tools that teach you how to play, or how to improve your playing.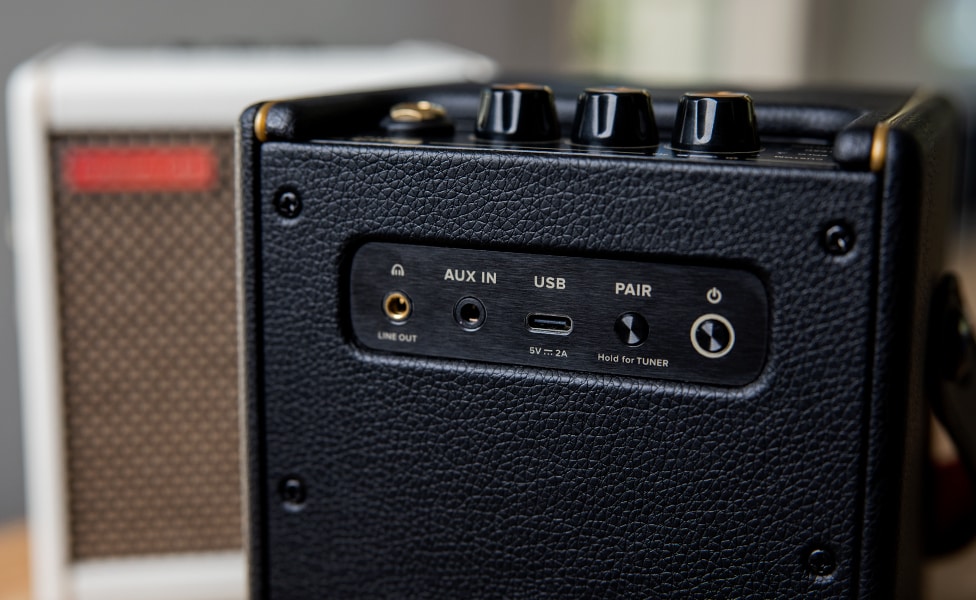 Are there any new features planned in the future you can share with our readers?
We've been doing a lot of work on tone-sharing functionality, and we've seen some good performance during beta testing. We want to make it so when you share a tone link through Facebook or somewhere else, it will show an exact thumbnail of your signal chain. We'd love to see a lot of "preset cards" getting shared.