Louisiana's own Tank and the Bangas made quite the splash at Clive Bar during their SXSW showcase this year - starting their set with a jazzy, spoken-word epic and ending on Nirvana's "Smells Like Teen Spirit", it was a wild roller coaster for the senses. We hung out with the Bangas backstage in Austin to talk about the gear they use to shape their unique sound (and why every horn player needs to have their own pedalboard).
Is this your first SXSW?
All: Yes.
How many showcases are you playing this year?
Alan (saxophone & flute): Five or six.
Tarriona "Tank" (vocals): Only five? I can't imagine it to be only five.
A: We're playing Aloft, Stubbs, Marriott, Gatsby, San Jose - guess that's one, two, three, four, five, six, seven.
What's it like bouncing from showcase to showcase?
A: That's just like regular touring. [laughter]
Josh (drums): Regular life.
A: We came straight here from Australia.
T: It's like the icing on the cake for me. Two shows a day, plus press.
J: The vibe is really dope. We're just taking it all in.
How do you stay sane on the road as a band?
Norman (keys): Listening to good music. Puts you in the right headspace.
A: Personal space - just a little bit every day. That, and separate cars.
T: Water. Lots of water.
What tips do you have for artists who might want to play SXSW in the future?
N: Make sincere music and be honest - people are going to feel that. Everybody's going to feel that.
A: That's an amazing answer.
T: Good one.
J: Practice, man - practice. Determination.
Let's chat gear! Tell us about each of your stage setups.
A: I play a Yamaha Custom Z Alto Saxophone and a Yamaha flute. They're awesome. I play them through a pedal board – it's my baby. But I can't give you all the details. Pedals are awesome, and more horn players should use them.
Etienne (saxophone): I play a Selmer Tenor Saxophone - I got it as a birthday present right after [Hurricane] Katrina. I also use an Otto Link mouthpiece, given to me by a student. I run it through a pedalboard. Pedals are awesome - get the pedals, horn players.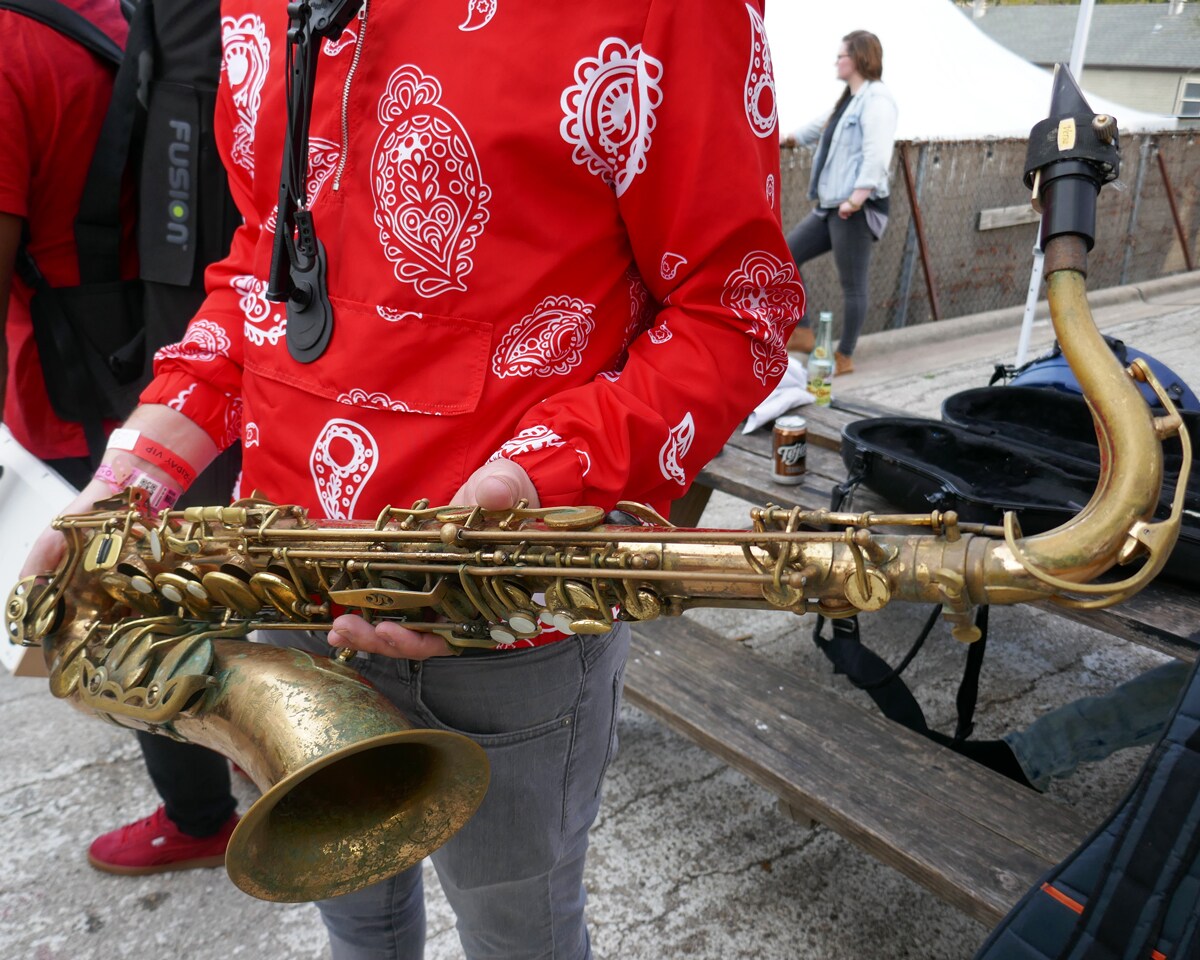 Danny (guitar): I could go full guitar nerd here, but I'm going to keep it to a minimum. I play a Fender '72 Deluxe Tele Reissue.
T: He said 'deluxe.'
All: Whoah, it's a 'deluxe'! Not the regular.
D: [Laughs] I put new pickups in it - Mojotone Wide Range Humbuckers. And I use a handmade '52 Fender Deluxe sort of reissue – made by a friend of mine. It's like a '50s Fender Deluxe 5A3.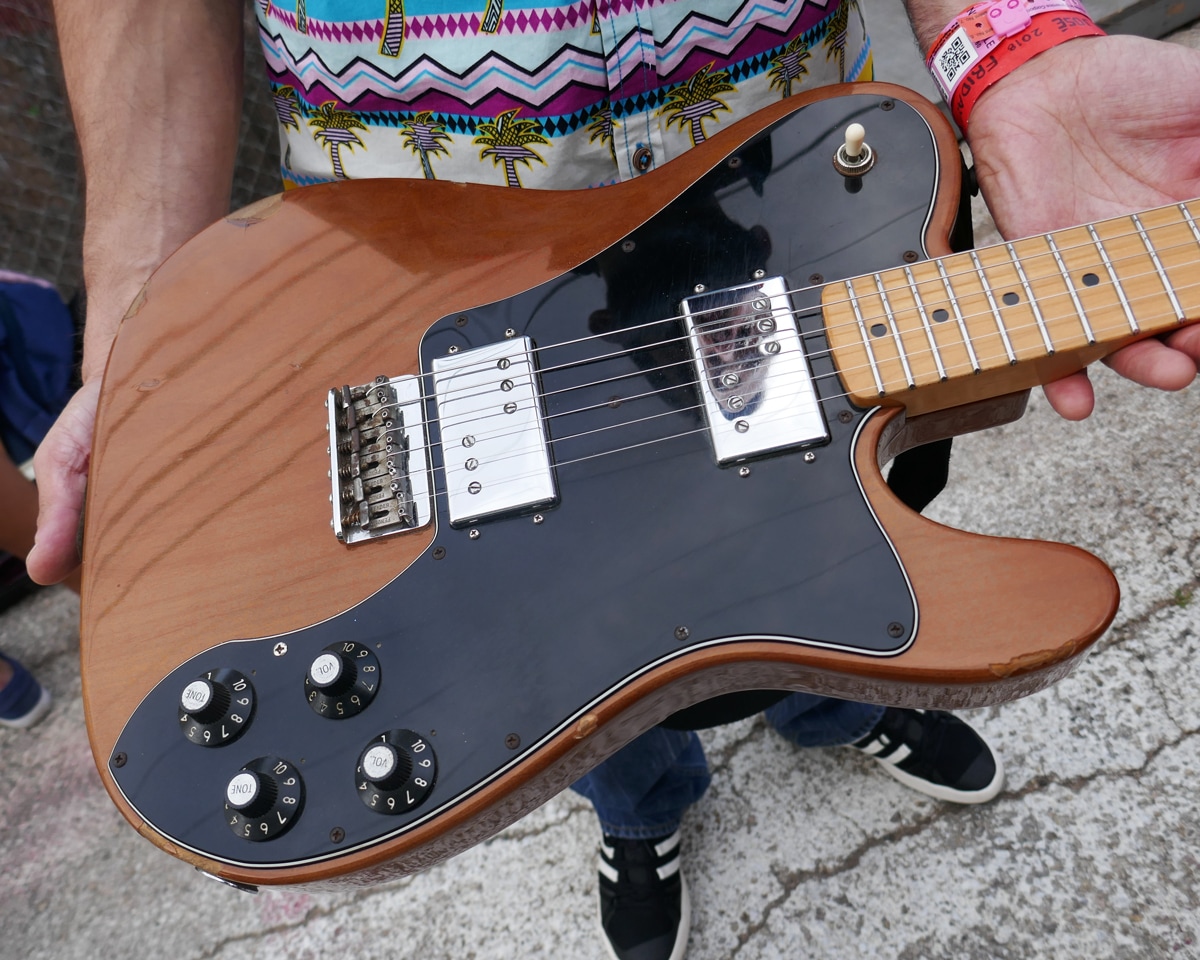 Merrell (keys): I play Korg keyboards. I have a Korg Kronos 2, KingKorg and a microKORG. The Kronos has some gnarly sounds. Also, the seamless transitions between settings allows me to move from one sound to the next without breaking. I don't have to be switching keyboards all the time. So thank you, Korg, for that.
All: Thank you, Korg - we love Korg.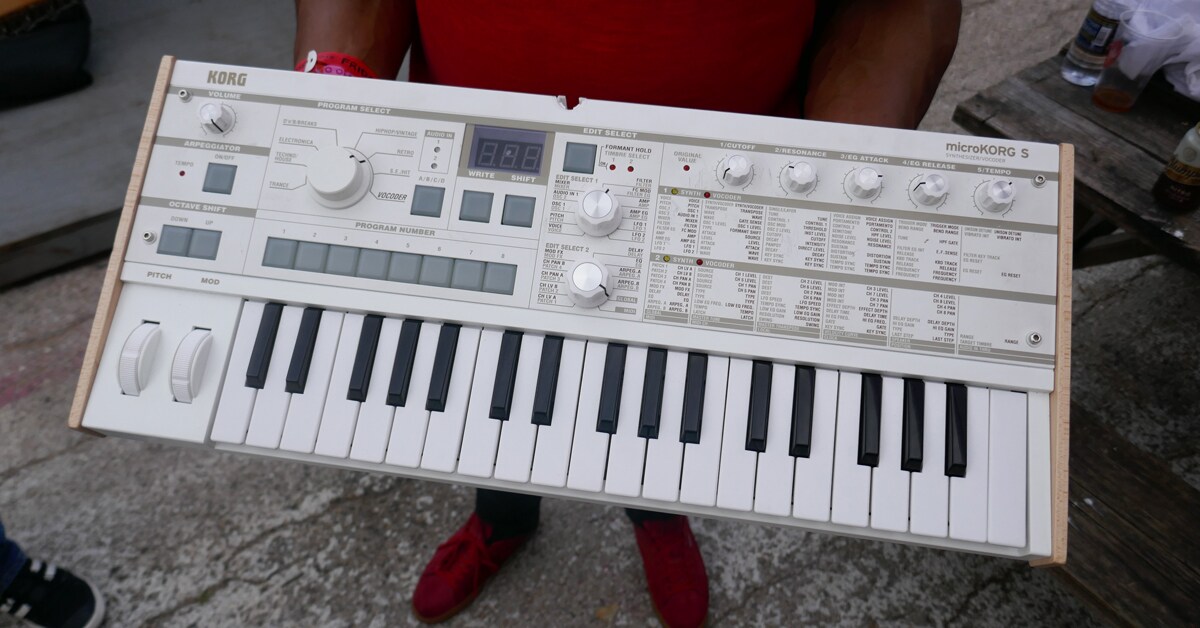 N: I play a Moog Little Fatty. I love it. It's my baby. I also have a Roland FA-06. It's cool for the synth sounds - all the color I need. Roland is the truth.
T: I use in-ears – 64 Audio. Those are dope. I also have a personalized Shure SM58 microphone. I have a voice box machine that I use every now and then, too.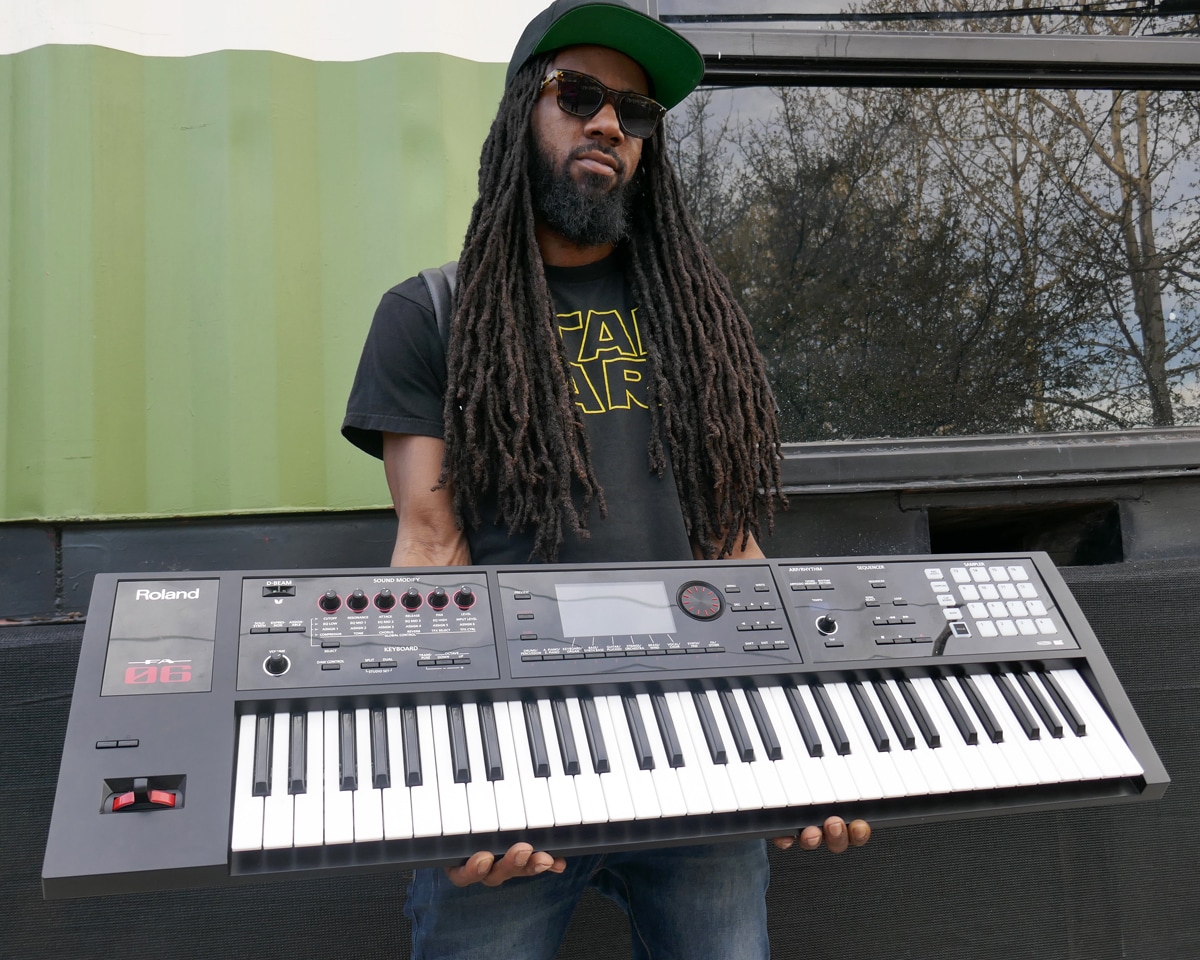 J: I play a Serenity snare from London – really dope snare. Fun to play and has great tones. I also love Vater sticks, Remo heads, and Zildjian cymbals. I love Yamaha kits, too. I have a Yamaha DTX.
Jonathan (bass): I like Air Bass Light gear. Shout-out to GK. I also play Fender basses and Fodera basses. Shout-out to Group Gear, too.
This question is for Tank - when you were deciding how to round out your sound, especially live, how did you pick which instruments you wanted to have on stage with you?
T: The funny thing is, I like [the sound] to be bigger for festival moments, but in my heart, I really like it when it's just me and an acoustic guitar. That's what I love the most. Bye, guys. [Laughs] But I've learned to love all of the crazy sounds - the Moog, the Korg, the beautifulness of the flute – which can even act as a beatbox. And when the drums are going really fast and jazzy - it does something to me. I always have to have bass up in my ear. And I love when the saxophone sync together for solos -
W: It's so saxy. It's a saxy solo.
T: It's so saxy. I learned to appreciate every instrument and what they do in creating this unique, big sound. The kind of sound that stays around forever. It's what books the festivals.
The band was featured on NPR's Tiny Desk YouTube channel, which resulted in overnight, viral attention for Tank and the Bangas. How did that shape what came next for the group?
T: It did everything for us. I mean, as far as making the next level for us. We've always been doing special things. We'd be inside of a little old club, but that little bitty club would be on fire. We're [always] having a really good time. Tiny Desk gave us the platform so that more people could see us, hear us and experience us. We're thankful. We're so happy.
A: We had the sauce, they just shipped it out.
T: The sauce. We need the spaghetti, though. Ragu. Gu-ey style.
Social media is a fantastic tool for artists to stay connected with their fans while on tour, writing new music, etc. How do you creatively use the platform to interact with your audience?
T: I like to show them the thrift stores I go to all over the world.
W: Take lots of pictures. Keep them informed of what gear we're using.
R: Sharing funny memes.
Do you guys have any cool stories related to your fan interactions on social media?
A: Tell the story about the couple who was trying to conceive.
T: Oh, man – so two of our fans were trying to have a baby, and after we did our Tiny Desk concert, they told us our song "Rollercoasters" gave them the courage to continue on going on. It's about being afraid, but still just as excited to do something. As a group, we prayed for them, and said, "Send us a picture when your baby comes." Sure enough, not long after, they sent us a picture when their baby was delivered. That's probably been one of the most powerful, most memorable stories - but we get letters all the time. Our Facebook inbox is crazy.
J: It reminds you of why we do what we do in the first place.
A: And they named the baby Tarriona.
T: Hey, they didn't do that. They named the baby Banga. [Laughs]
A: Baby Banga.
What are your food favorites here in Austin?
T: I went to an awesome food truck yesterday – it was just a yard full of food trucks. I had some jerk chicken with mashed potatoes, corn and a strawberry coconut smoothie.
A: Our manager cooked smothered chicken, green beans and rice today - it was rolling.
W: The Rolling Rooster - I had chicken and waffles from them. I was satisfied.
R: I had a fire sandwich from Casino's.
What's next for Tank and the Bangas?
A: We're making a record, and we're touring. We play Coachella in April.
J: Coachella's next. A lot of things - keep watching.
T: And in the meantime, we're working on our album. Can't give you the title of it yet - but it's going to be special. Can't wait. The world's waiting and we're waiting.
Check out the latest from Tank and the Bangas:
Upcoming Tour Dates:
April 11 /// Tucson, AZ /// 191 toole
April 12 & 13 /// Indio, CA /// Coachella
April 17 /// Solana Beach, CA /// Belly Up Tavern
April 18 /// Los Angeles, CA /// Fonda Theatre
April 20 /// Indio, CA /// Coachella
April 21 /// Charleston, SC /// High Water Festival
April 27 /// New Orleans, LA /// Tipitinas
April 28 /// Oxford, MS /// Double Decker Arts Festival
May 4 /// New Orleans, LA /// The Civic Theatre
May 6 /// Memphis, TN /// Beale Street Music Festival
May 9 /// Louisville, KY /// Headliners Music Hall
May 11 /// Richmond, VA /// Brown's Island
May 12 /// Saxapahaw, NC /// New River Ballroom
May 13 /// Asheville, NC /// The Grey Eagle
May 15 /// Charlotte, NC /// Visulite Theatre
May 16 /// Knoxville, TN /// U.S. Cellular Stage at the Bijou Theatre
May 17 /// Nashville, TN /// The Basement East
May 18 /// Atlanta, GA /// Terminal West
May 19 /// Gulf Shores, AL /// Hangout Music Festival
May 24 /// San Francisco, CA /// The Fillmore
More dates: http://bit.ly/2JBRFyn