Focusrite has built their reputation on mic preamps and audio gear that deliver spectacular sonic results, attested to by the fact that Focusrite audio interfaces are probably the most widely used interfaces in the world. With their new Vocaster audio interfaces, they've turned their attention to the world of podcasting and video blogging (vlogging for short). Bringing their commitment to both audio quality and ease of use to bear on the needs of content creators everywhere, Focusrite is offering up powerful solutions that can help every creator up the quality of their audio and pack some extra punch in their podcast.
Focusrite put us in touch with Vocaster Product Manager Dan Weston so we could get some answers about the features and advantages these new audio interfaces have for avid podcasters and vloggers.
Vocaster is your first foray into equipment specifically designed for podcasting. Why now?
Dan Weston: We've been producing audio interfaces for many years. Our Scarlett interfaces have always been designed with musicians in mind. However, their feature sets make them great for recording almost anything.
Over the past few years, we have seen growth in the number of Scarlett users who are podcasting, and knew that we could provide a better experience if we created a dedicated product [for podcasters]. This means we can focus on making Scarlett even better for musicians, too, with offerings like the recent Hitmaker Expansion that now comes with all Scarlett interfaces.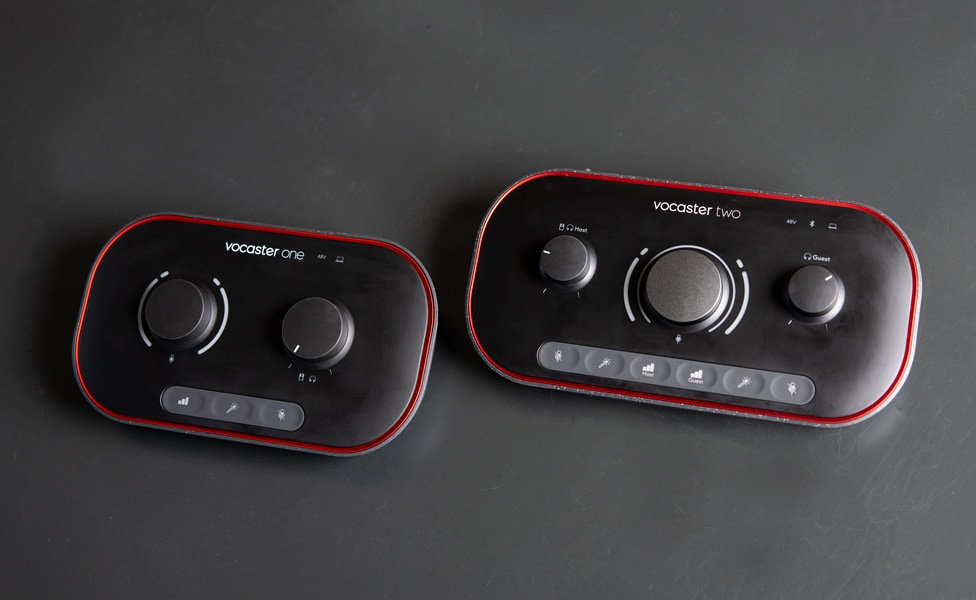 Tell us about the early days of developing Vocaster. What were the must-have features you felt it needed?
DW: During the development of Vocaster, we spent a lot of time talking to podcasters—to understand how they work and what issues they have in their workflows. We don't want technology getting in the way of their story, and we wanted to make sure Vocaster was able to help podcasters achieve broadcast-quality recordings effortlessly, allowing them to set up quickly, and focus on their content.
First, Vocaster has three key functions on the top panel which make recording great content in broadcast quality effortless. Auto Gain and Enhance help users set microphone levels and get their voice sounding clear and consistent in a matter of seconds. This combination alone will help step up the quality of thousands of podcasts. Then, with shows often being recorded in a single take, Vocaster's mute buttons make it easy to quickly cut the mic if you need to cough, sneeze or just don't need that microphone for a section of your show.
Second, we know interviews are crucial for some great podcasts, and wanted to provide the right tools to help users bring guests into their show easily. Vocaster Two has a headphone output for each mic input, meaning both speakers can hear everything that's being recorded for the show. We also have phone connections and loopback channels, so it's easy to bring in remote guests over the phone or use video conferencing platforms like SquadCast or Zoom.
Next up, traditional broadcast mics like the Shure SM7B are very popular with podcasters, but are lower sensitivity and require a lot of gain. We made sure Vocaster has more than enough—70dB of analog gain—to not only power this kind of mic, but also get great quality sound as a result.
Finally, more podcasters than ever are using cameras alongside their show to create video podcasts, and we wanted to make our studio-quality audio easily available to vloggers. Both Vocaster models have audio outputs for cameras, designed for recording straight to a DSLR or mirrorless camera mic input. This takes away the need to sync up video and audio after recording a show. It also makes it easy to bring broadcast-quality audio into video apps like OBS, providing a much faster and simpler workflow for livestreaming.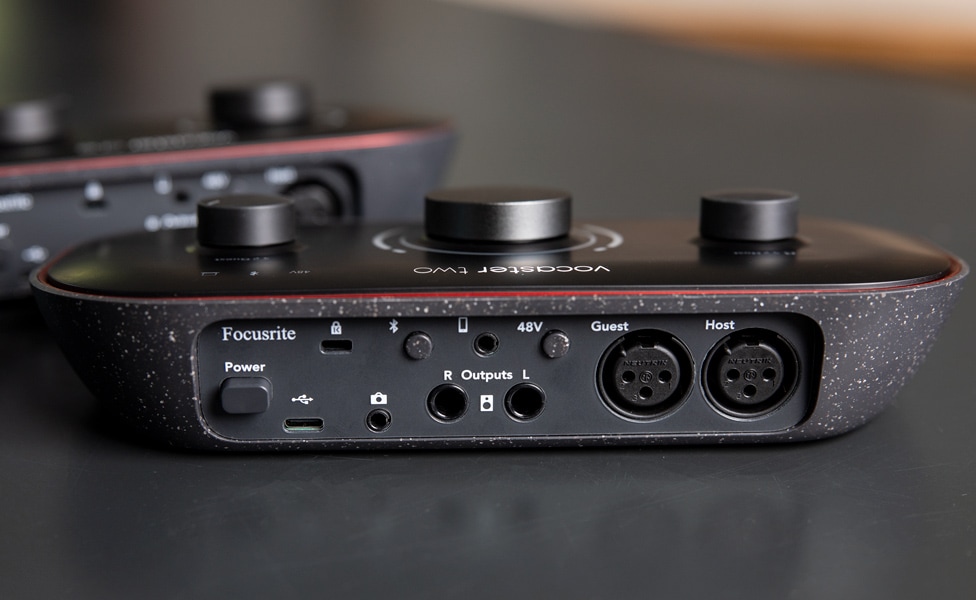 Many of the podcast-oriented production tools released over the last few years have been geared more toward the mixer/multi-track recorder format. Did that inform your design at all?
DW: With Vocaster, we were focused on making a product that was a complete solution for podcasters, and we found in our discussions with creators that control surfaces with lots of knobs, faders and buttons can be intimidating for those new to recording. In fact, these setups can actually make it more difficult for them to focus on their show. Vocaster's control surface is minimal and straightforward, making it easy to control the essential functions needed to create a great podcast.
This approach gave us an opportunity to make the interface simple and beautiful, so it fits in at home and looks great on video podcasts and vlogs. We were inspired by nature and organic forms in the design.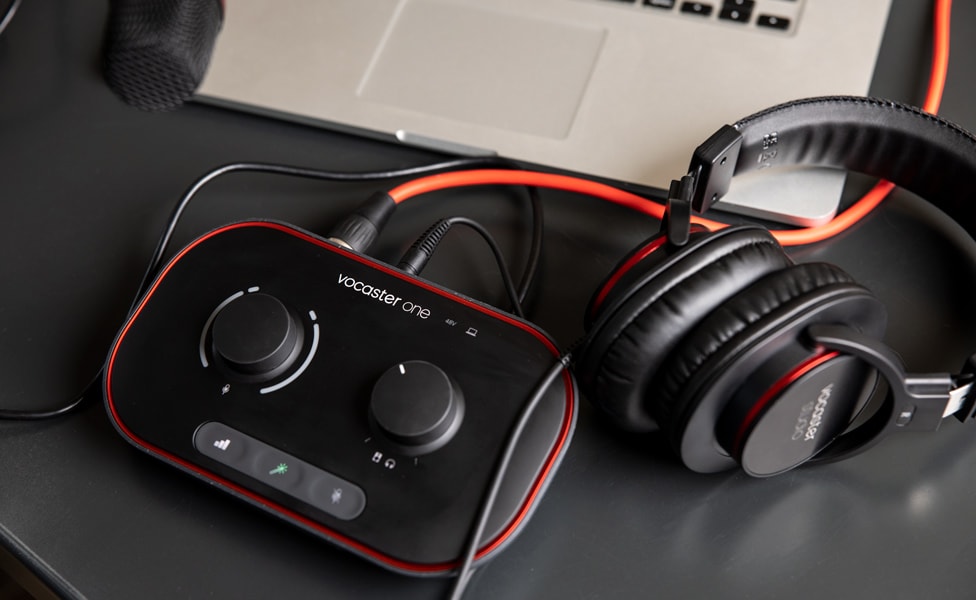 Can you walk us through the various connections that each model offers? Is it a question of Vocaster Two being just "more," or are their features and functions more differentiated or specialized than that?
DW: Both Vocaster units have a range of connections to suit any setup. The most important are the mic inputs, which allow you to connect and record any XLR mic. As the names suggest, Vocaster One has one mic input, Vocaster Two has two. There's also a headphone out for each mic on either unit, meaning everyone that has a microphone also has a way to hear exactly what's happening on the show, via Show Mix in Vocaster Hub.
The most significant change, stepping up to Vocaster Two, is the Bluetooth connectivity, which allows you to call in guests and stream high-quality audio from mobile devices wirelessly.
The Vocaster range has balanced speaker outputs, as well as a TRRS phone connection for taking phone calls and playing audio from a mobile device, and a camera output for sending auto straight to your camera, adding studio audio to your vlog.
There are also invisible, but very powerful connections: two sets of stereo Loopback channels. These allow you to record sounds from your computer onto a show, as though your software were running into a virtual mixer. That could be audio from video conferencing apps like SquadCast, or background music and jingles from streaming apps, DAWs and other music applications.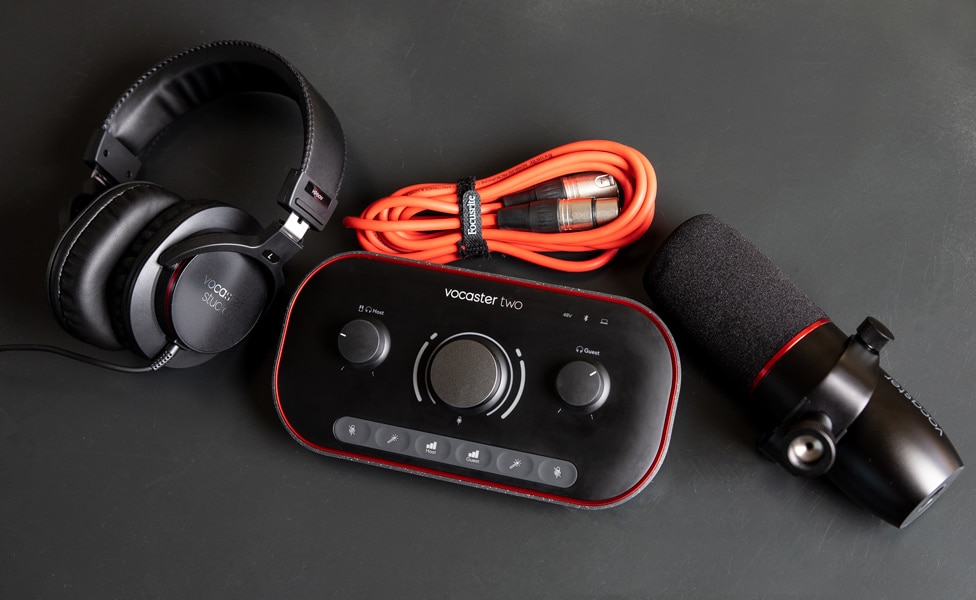 Who do you see as the typical user of Vocaster One versus Vocaster Two?
DW: Our main users are podcasters. However, we know a variety of users will find Vocaster's voice-focused features are ideal for taking their setup to a new level of audio quality.
The typical Vocaster One user is likely to be someone who wants to take their podcast further and doesn't plan to have guests in person on their show. Vocaster One is also a great option for voiceover artists, audiobook narrators, solo vloggers or simply improving audio quality on video calls. Basically, anyone who wants great quality voice capture in their own space.
Vocaster Two is perfect for customers who are looking for Vocaster quality audio with the flexibility to record with a co-host or in-person guest, and bring people and audio into the show wirelessly from a phone—on top of all the other great features the range offers.
What does the bundled software provide as far as production?
DW: Vocaster comes with a complete suite of software for recording, editing and publishing. Hindenburg is an industry standard for recording and editing among podcasters, journalists, voiceover artists and more. Vocaster users get Hindenburg LITE in the box, and a six-month trial of Hindenburg PRO. SquadCast allows Vocaster users to stream in guests with high-quality audio and video with SquadCast Pro + Video, free for three months. Next, leading publishers Acast give Vocaster users six months of Acast Influencer to get their show heard. Finally, Ampify Premium is the easiest way for users to create original music and jingles for their show.
Vocaster Hub gives users control of their interface directly from their computer, as well as access to additional functionality not available on the hardware. Access four Enhance presets and bring out the best in any voice. Control Show Mix panel and set the levels of Vocaster's mic, phone, Bluetooth and loopback inputs in Show Mix. Your Show Mix can be recorded as a stereo track directly to software such as Hindenburg, or streamed live using OBS or Zoom for your audience and guests to hear your show in real time.
Vocaster Hub is also completely accessible to screen readers, helping bring studio-quality voice recording to anyone who has a story to tell. Hindenburg will help make podcast recording simple for Vocaster users. Traditional audio editors are great for music production but aren't optimized for storytelling. Hindenburg simplifies and automates the spoken word recording process, so podcasters and storytellers can concentrate on their content and never have to worry about levels, EQ or other technical details.
SquadCast enables Vocaster customers to bring guests into their show in studio quality. It works by recording high-quality audio and video locally on your guest's computer, removing the network from the recording path, so you get studio-quality content for your show. SquadCast's cloud-based tech incorporates multiple backups, so customers are free from lost recordings and audio sync issues. You can podcast with remote guests as if they were in the room.
Acast will enable users to share their podcast to the world. It's the easy way to share a podcast and build an audience on leading listening platforms such as Apple Podcasts and Spotify. The included Acast Influencer gives Vocaster customers six months of podcast publishing, and the ability to analyze performance data, monetize through ads, provide listener support and get sponsorships.
Both Vocaster models can be purchased by themselves or bundled with a set of headphones and a microphone. What kind of performance can users expect out of the headphones and microphone?
DW: With our Studio packs, we are providing customers with end-to-end studio quality. Both kits come with our closed-back HP60v studio headphone, letting you hear every detail of your show in comfort. Vocaster One Studio includes the Vocaster DM1 mic, which sounds like a classic vocal mic and makes you sound like you're in a studio. The Vocaster DM14v microphone included with Vocaster Two Studio sounds like a professional broadcast mic, making it easy to capture your true voice, connecting you with your audience.
We see Vocaster One Studio as the perfect podcast kit to take your show to the next level. Vocaster Two Studio lets you take your show even further with the best microphone we've ever made.