Mackie Director of Product Management Matt Redmon has tooled around the company in a product-development capacity for more than 15 years. However, he has owned the entire R&D road map for the last five years, using his experience to drive the look, feel, performance and sound of Mackie products.
The Mackie team really went into creative overdrive when tasked with improving an already incredibly popular speaker line, the Thump series. Rather than idle in an alternate universe of "what could we do better?" the result was a near-complete rethink and upgrade. The new Thump series now offers basic models, enhanced ThumpXT versions and two subwoofers. But that's just the beginning. The output of all Thump models has been increased to 1,400 watts of Class-D power for a maximum sound-pressure level of 128dB. Even the basic models offer performance automation with music ducking and feedback elimination, and the XT versions add goodies such as different voicing modes (Music, Live, Club and Monitor), an outdoor mode for retaining sound quality in the great wide open and Bluetooth. Here, Redmon explains how the Thump Evolution/Revolution kicked off, how customers helped drive innovations and more.
Also, be sure to check out our video deep dive into the Thump redesign with Mackie product specialist Brad Gagné, and get some real-world first impressions of the new series by producer/DJ Jansport J.
What drove the development of the Mackie Thump series?
Matt Redmon:  It's in the name, right? That's where it all started. The impetus was to create the most attractive, highest-value option for DJs, as well as engineers and other musicians. It was very important to us to not only come out with an affordable loudspeaker, but one that had the [frequency] extension and output DJs require. It has been our number-one product line for the better part of the past decade.
The last major refresh for Thump was in 2017. What did you learn from customer feedback about the prior generation that you integrated into the 2022 redesign?
It's critical for brands to keep up with the competitive standard, so we work with our customers consistently all year round for solicited and unsolicited input. What popped up time and again was that our customers hate dealing with feedback. No prior generation of Thump had feedback elimination, but we came up with a bulletproof algorithm for this new series. You can jam a mic right into the compression driver of a Thump speaker and the onboard DSP will grab the offending frequencies right away and get rid of them.
Of course, every generation must have more power, better frequency extension, better voicing, and so on. To meet customer requests—as well as competitive requirements—we not only upped the power for this generation, we also increased clarity and musicality.
How do you define "musicality?"
One thing about our voicing philosophy that has evolved and solidified over the past five years is that customers don't want speakers that distort and sound like crap when you push the volume higher and higher. DJs, in particular, almost always run their speakers at or near maximum volume. Taking that into account, we devised compression and limiting algorithms that, in my opinion, are the most musical in the business. No matter how hard you're driving our loudspeakers—including the new subwoofer—they still retain their naturalness and musicality. For example, you will never hear the compressor pumping and breathing, right?
Also, to achieve the clarity that's a big part of the Mackie signature, some key components have a big impact. We don't just grab off-the-shelf components, put them in a box and ship it. We customize and tailor every driver that we put in our products, and the compression driver that produces the mid and high frequencies in the 2022 Thump series is all-new. It's a high-sensitivity driver, and it sounds amazing. It's a huge leap forward from where we were in the mid- and high-frequency clarity of the prior generation—let alone compared to what some our competitors are doing. We were also able to improve high-frequency horn dispersion by using the custom SYM-X horn used in our much more expensive SRM and SRT loudspeakers.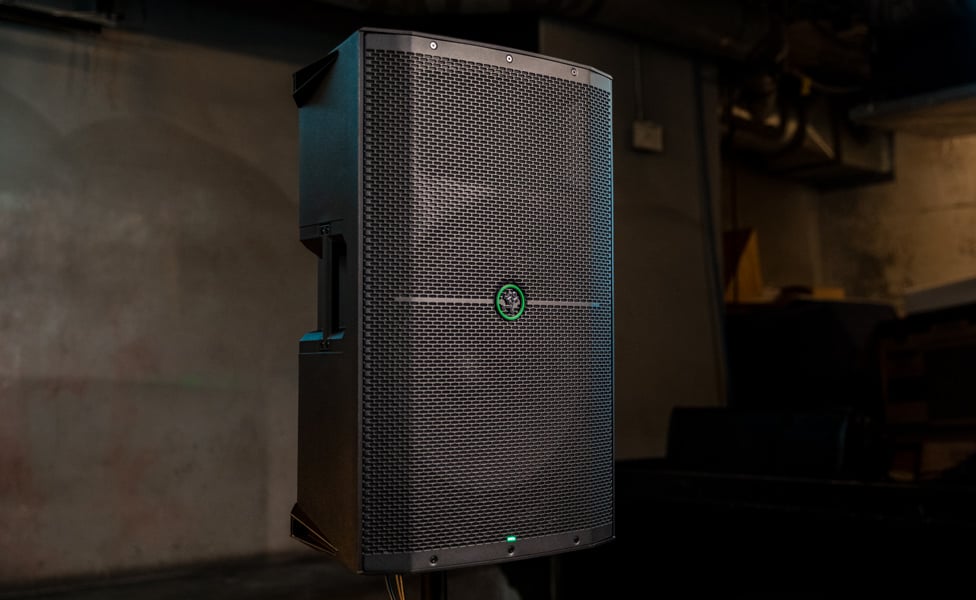 Why did you split the line into two tiers with the standard Thump and Thump XT models?
Our customer research showed a divergence in the user base. Roughly half the people needed a bare-bones loudspeaker, and that informed the standard 212 and the 215 versions of Thump, which don't have the voicing modes or Bluetooth and so on. We asked them, "Hey, if we got rid of all these other features, what would be the most important features you'd want?" And they said feedback elimination and music ducking. That data allowed us to put every other penny into increasing the power of the amp, improving the overall clarity of the speaker and providing the best-sounding product.
But for XT, we endeavored to meet the evolving expectations of some customers, and, as a result, there are no sacrifices in terms of features. For example, you don't just get Bluetooth streaming, there's also a fully integrated mixer. A lot of people will say, "Oh, great. I can stream music through this speaker. I expect that." But with the Bluetooth control on Thump XT, you can mix an entire show—the levels of all the mics, playing background music, changing the voicing modes and turning the feedback elimination on and off. You can even turn your LEDs on and off from across the room. Also, in zone mode, it turns two XT speakers into receivers of a mono signal from the Bluetooth stream. You can stream the same music to two different zones—such as indoor and outdoor locations. Think of a wedding where you have complete control over both of the speakers from a single phone. You can have quieter music in one room, louder music on a patio, or whatever you need. This is a really cool and unique differentiator that only Mackie does in this category. We say that XT is the "no-compromise" unit.
Added features aside, is the baseline performance of the standard Thump and Thump XT the same?
They are sonically identical.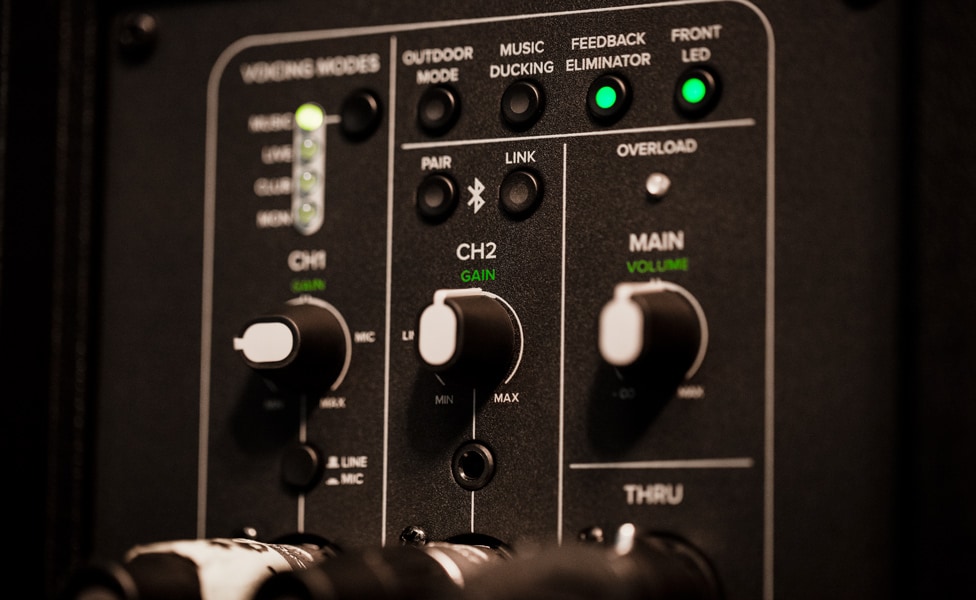 How does the feedback elimination work?
Without getting ridiculously technical, the system always knows what's going through it. When it identifies a tone that is feeding back in a particular frequency, it identifies it and then creates a notch EQ very quickly. It starts pulling the signal down by 3dB, and if that's not enough to solve the problem, it goes to 6dB, and then 9dB and so on. This is all very quick math. There's also enough memory in there that the system can grab multiple frequencies that are feeding back. It may be ducking 3 to 5 frequencies at any given time. It's like AI—the system keeps monitoring and thinking. Eventually, it will let go of the offending frequencies over time and give you back your full frequency spectrum. There are a lot of smarts under the hood. Even if you are completely misusing the product, the algorithms work so fast that it nukes those frequencies right away. In most cases, you never hear the feedback before it's lasered out.
You'd never know all of this smart DSP was going on from looking at the simple back panel.
That's sort of the point. We didn't want to scare users with a lot of options. All I want to say to them is, "There's the Feedback Elimination button." It was really critical that all you need to do is push a button, not have to think about it, and do your show.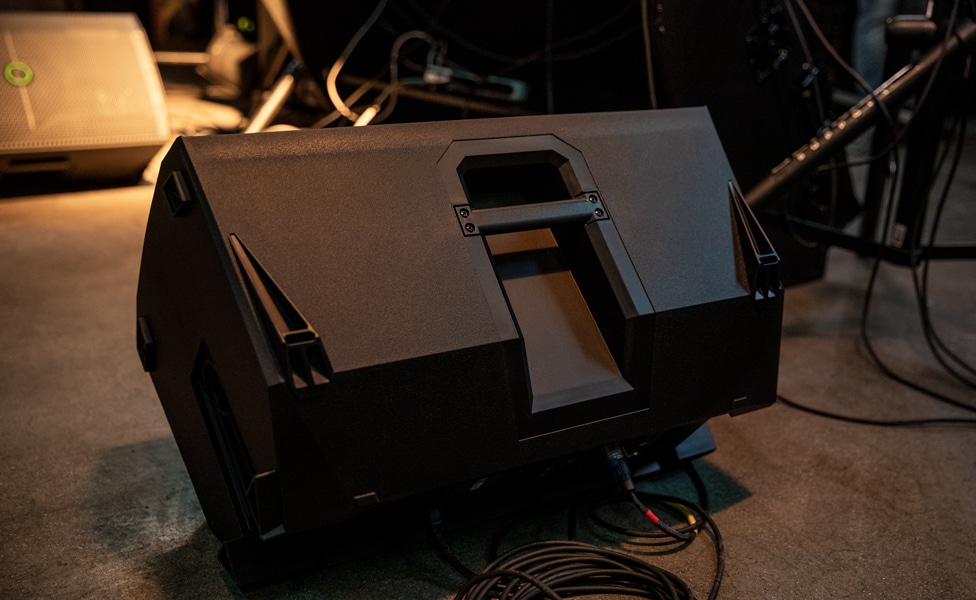 The XT models have different voicings—music, live, club and monitor. What's going on with these modes?
It's primarily different EQ curves that are meant to help you lean in the right direction for your use case. We're not going to mix the whole show for you, of course, but these can help you get you started.
The Music voice is really what it sounds like. If your primary use case is streaming mastered music with the occasional announcement, this flat voicing is what we would expect you to use. The Club voice—with this being a DJ-targeted product—has a 3dB shelf at 100Hz and 10kHz, so you get a little extra bass and brightness.
For the Live voice, one of the assumptions is you're dealing with multiple microphones and lots of stage noise. So, there's a subtle curve—a bit of a dip around the 160Hz–200Hz area and another in the sub-100Hz range—that helps eliminate some unwanted bass buildup. This is a nice mode if you're in a hurry, or are an entry-level user.
Similarly, Monitor also sucks out some of that unwanted bass—particularly the 160Hz–200Hz range. It also sucks out a notch in the 800Hz–1kHz range. Typically, when you place a monitor sideways on the floor, you get a spike right in that nasally region, and then there's a bit of a presence peak in the 2kHz–5kHz region. For voices, that means there's not enough clarity and too much bass. So, we shaped the EQ just enough to get decent sound if you don't have the time to ring out your monitors and do a full-blown mix.
Can you also explain the Outdoor mode?
This mode is really unique to Mackie. Every room has room modes—which means bass buildup, reflections and other factors. But you actually benefit from the room's acoustic-energy transference. You get a little bit more bass, and, in some cases, a little bit more mid-to-high presence. When you take that same speaker outside, however, it may sound anemic by comparison. So, we made some adjustments to the EQ curves to ensure that when you're using Outdoor mode, the speaker behaves somewhat the same outside as it does indoors. It's a pretty cool feature.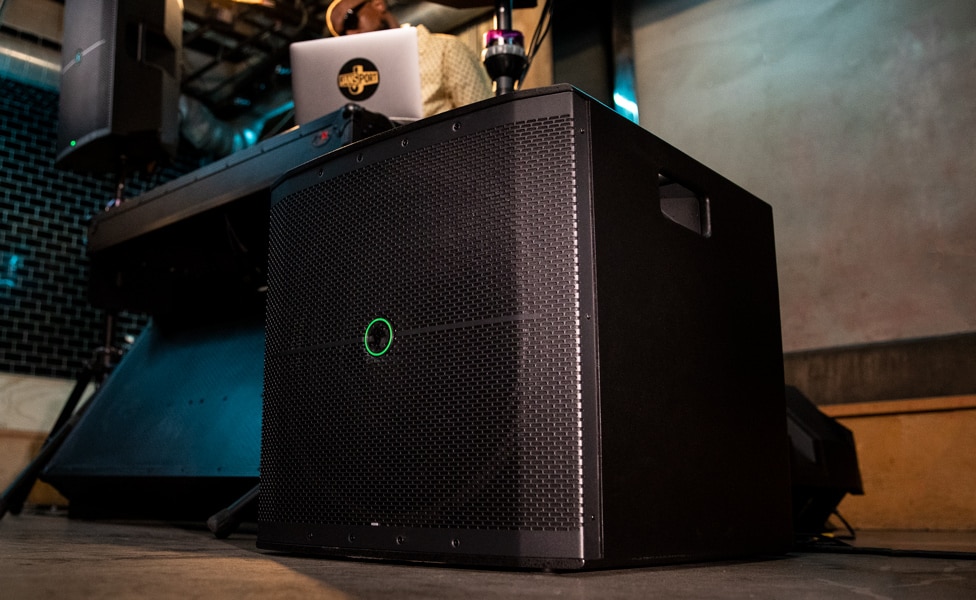 Overall, how would you compare this series to the previous one, and what do you foresee for the future of the line?
The thing that surprises me the most from the old Thump series to the new Thump series is the improved voicing and clarity. I liked the old Thump speaker, but as you're going through the voicing process with these—and hearing the new compression driver and horn system—it was like night and day. I was surprised at how much of a jump in overall clarity and performance we were able to achieve, and for no extra dollars—just extra effort. The same is true on the feature side. The feedback-eliminator algorithm is a beast.
Looking ahead, it's always difficult to know where the world of loudspeakers is going—whether it's battery power, real-time wireless, under-the-hood AI, or any number of things. There are a lot of exciting technologies we are beginning to look at, so the next refresh of Thump has already begun in a way. And the customer research we collect for this version is going to make the next version even better.