From The Carter Family to The Isley Brothers, The Staple Singers to the Jackson 5, there's always been something special about family bands. Perhaps it's a shared musical vision from an early age—maybe a couple of decades singing together around the house, or the quirks that make family voices raised in song blend in ways that cross the line between a group and a single voice. Whatever it is, it's apparent that the Boyd family, otherwise known as Infinity Song, has it in extraordinary quantity. The New York City-based family band, founded in 2014, started as an acoustic trio, sisters Victory and Angel Boyd with their brother Abraham, with siblings Israel and Thalia Mosaia (aka Momo) joining later.
Music is a family tradition. All the siblings grew up singing in their father's Peace Industry Music Group choir, with which they're still associated. It was through this association that they were first exposed to Kanye West and Jay-Z, who have been strong supporters of the group, from their days singing together on NYC subway platforms to their release of their current album, Mad Love. Listeners will be challenged to find a neat pigeonhole for their sound, which combines soul, folk, pop and contemporary elements in an original blend that's compelling to hear. Their commitment to a simple, honest and positive approach sets them apart, and, based on their first two releases, this is a group that will be around for a long, long time.
How did your dad's involvement in music affect you growing up?
Momo: Music played such a big role in our childhoods. I know, as long as I can remember, our parents were playing music all around the house. Our father and mother taught us everything we know about music. Growing up and singing with our dad around the dinner table and him instilling different skills—like songwriting and music production and rhythm.
How do you think that family background affects your music?
Victory: There's a lot that's special about performing with your very own brothers and sisters. Aside from the fact that, naturally, we know each other, we all have similar instincts rhythm-wise, music-wise. Beyond the music, there's something about bonding that happens in our spirits when we sing together—I mean, we might have just been arguing, but the moment we start singing, we overcome all of that.
Abraham: Also, just creating new things. Families are always together, and so there's chemistry that other people do not have the privilege of having. Using that chemistry, and the fact that you're in close proximity, lets you create stuff that is actually cool while pushing the envelope.
Do you write together or individually? What's your process?
Israel: The songwriting process is really different for each of us. I know I might write over a beat I made. Momo might just write over her guitar. But when we come together, it's a completely different process. Just the other night Momo, Angel and I were writing a song. We were just throwing ideas off of each other and I think that worked really well. So, it's really different for each and every artist, but the main thing is to just start writing.
Abraham: One cool thing about us, though, is that we are kind of hard on each other when it comes to the songs that we create because we always want the best to rise to the top. So, we could write a hundred songs, and maybe one or two of them will get through.
What's important to you about the music you make?
Victory: It's really important to us to create music that empowers people. You can look at any great artist, any iconic artist, and what made them iconic was the fact that people were empowered by their artistry. And so, we strive to be excellent and empower people through our artistry.
Angel: Yeah. And it's also really important that the lyrics we sing and that we've signed ourselves up to perform over and over again, do something for our own spirits as well as for the listeners.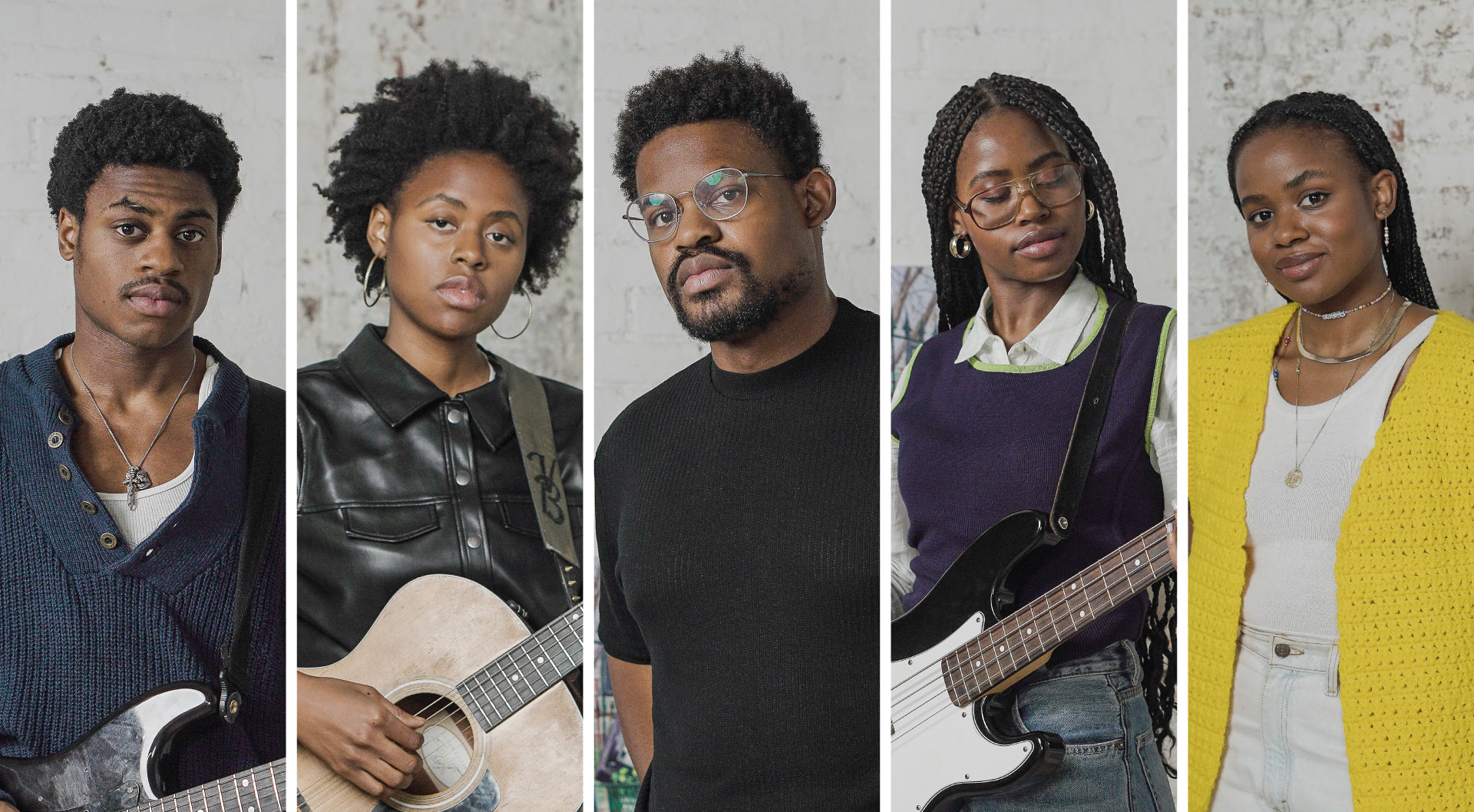 What was the concept behind your latest release, Mad Love?
Angel: "Mad love" means "love" but very real, hard family love. Also, friends that you love as family. The whole theme of the EP was kind of …
Israel: It just revolved around family. As a debut project, we wanted people to know what we're about. So, the whole album has themes of family and love throughout. In terms of the production of the album, I'd say we really went grounded. Except for one song, "Just Loving Me," we self-produced the album. So, it's very true to us.
Abraham: We tried to be as artistic as possible on this project. There's a lot of orchestration. There is a lot of different cool jazz piano moments, and a lot of horns. We really tried to stick to what makes music special. We come from a gospel, R&B and jazz background, but we also listened to a lot of classical music growing up, so we tried to intertwine all of those different flavors into this body of work. We're very happy with how it turned out.
Can you talk a little bit about the title track?
Israel: Like the EP, the song "Mad Love" is very much about family. In terms of writing it, what first came into my head is that melody. And I thought, "What does that feel like?" And it kind of just felt like home—it felt very kind of nostalgic for me. I felt that this has to be about family, so I just filled that right in, and it all just kind of fell into place. In terms of the production, what's really cool is that choir you hear on the end is actually us. We went in the studio, and sang each and every part, from the lowest part to the highest part. We sang each part all together, stacking and stacking and stacking them on top of each other. So, that's what was really cool about that.
Another cool thing about it is that I produced all the horns and strings. Most of the parts you hear on the record were created right on the spot in the studio. It does really change when we perform it live, at least for now because, in quarantine, all we have is ourselves. When we're performing it live, you'll just have me on guitar, Victory on her guitar, and Momo on the bass. It really scales down, but we try not to lose any of the excellence.
Abraham: One thing that's really cool is that this was the first song on the EP when we started recording it. This song really didn't change in the one and a half years that this project was under development. It came into view the day we worked on it. And so that was really special because we knew we had something really cool that people would love, hopefully. That was exciting.
Speaking of live performance, you have a fairly unique approach to creating your videos for songs. Can you talk about that a little?
Abraham: A lot of people ask us why we use overhead room mics, as opposed to handheld mics, to capture our sound in the studio. We just like to keep it special. We don't have anything blocking our faces on camera, and that creates this really vibe-y and free-flowing environment. It also helps people connect with the music. We have these AKG P170 dynamic overhead mics that we use, and they've really served us well. This performance setup works for us, and I love the sound.
Angel: We could also mention that when we started doing little cover videos for Instagram, we started off just using an iPhone. So, for anyone who doesn't necessarily have all the different equipment at the very moment they're trying to record something, you can always use what you have. We used iPhones for a bit, and now we're using these overhead mics and different camera setups and things like that. But just use what you have.
As a band, we make music because it's a lifeline, not only for us, but for all of our family. Music is life-giving.
How do the instruments support your vocals?
Momo: We usually try to keep our vocals as the centerpiece, as the focus, and when we use instruments, to complement them. I feel like the voice should always be the centerpiece, and everything else is an accessory to bring out the natural timbre, tonality and feeling of the voice. Sometimes, you just need a guitar. Sometimes, just a piano. Sometimes, you need a full-on band to really capture the essence of what's trying to be said—the message, and the emotions that are trying to be relayed to the audience. So, it's just all about trying to capture what feels right, and what's honest in the song.
Victory: The voice is an extension of the heart's song. To the extent that other instruments are also an extension of that, they should be added. But, if they're simply there to be fancy or add grandeur, it's not necessary.
Angel: A lot of our performances these days are acoustic, so we don't use a ton of technology. Israel plays electric guitar. So, often, he has guitar pedals, which are really cool. He does some looping stuff and effects on there. Momo plays the bass. She has a cool bass amp that she uses. And there are always different instrument add-ons.
Israel: Also, sometimes, I'll use [Native Instruments] MASCHINE to create a beat. That's really fun to do. And then a lot of times, especially recently, we've used Logic to kind of mix our vocals just a little bit before we put them out.
You've done a lot of covers on Instagram and YouTube. How has that helped you as a band?
Momo: This year, we really started releasing a lot more covers or interpretations of other artists' songs and putting our own spin on them. We've cultivated a fairly large audience as a result of that. We try to do our best with them and try to make them our own completely. We've done such a wide range of artists and genres, from The Winans to Destiny's Child to Fleetwood Mac to Marvin Gaye and The Bee Gees. All different types of genres. That process has started to really uncover our potential in creativity, because we can take something that's already been done 100 times and make it something that nobody's ever heard before.
Abraham: One thing about covers or interpretations of existing songs is that you've already heard the original artist sing it, and you don't need to hear us sing it the way that they sing it. You need to hear us sing it the way that we sing it. That's what we try to do. We try to bring ourselves into existing songs and try and give people something new.
How are the covers different from your own songs?
Victory: When we perform our original music and see the response, it's always more gratifying because it was conceived right from one of our brains. It's also rewarding to see our covers go really far as well. But it's nothing like seeing your own baby out there just performing and growing and being celebrated all over the world.
Keep up with Infinity Song on Instagram.