Be Heard: Guitar Center is celebrating artists, brands and organizations that are using music to raise awareness on critical issues facing us all, to help us heal, to bring us together—to make the world a better place.
Photography by Erick Anderson/EA Foto
When soldiers return home from their tours of duty, they often have a difficult time reintegrating back into society. Some face rehabilitation from catastrophic injuries, while others deal with PTSD and other issues. For some, it's simply a matter of finding a job in a tough economy. Unfortunately, government services often fail our troops back home.
Country music legend Charlie Daniels has supported American troops for decades with performances and charitable donations. He helped found the Journey Home Project to help veterans where the government falls short. "The Journey Home Project was started by my manager and myself and a couple other people," said Daniels. "We had been involved in helping to raise money for veterans' organizations and finally decided, 'Why shouldn't we just go ahead and have our own outfit so we could direct where the money is spent.' All of the agencies that are tasked with helping the veterans are bureaucracies. Those wheels grind very slowly. Some of the needs are immediate. And we started recognizing that, and thought we could fill a niche, so we did. The need is great."
"Our main mission is trying to help people transition back into civilian life after coming out of the service after maybe 20 or 30 years, or maybe just a few years of service. But a lot of those people are coming back from a combat situation to try to get their life adjusted back."
The Journey Home Project provides other assistance, too, from starting a veterans' center at Middle Tennessee State University to supporting suicide hotline services. "You know," Daniels reflected, "the military folks, you find they're proud. I mean, they don't go seeking help a lot of the time. They're almost too proud to ask for help."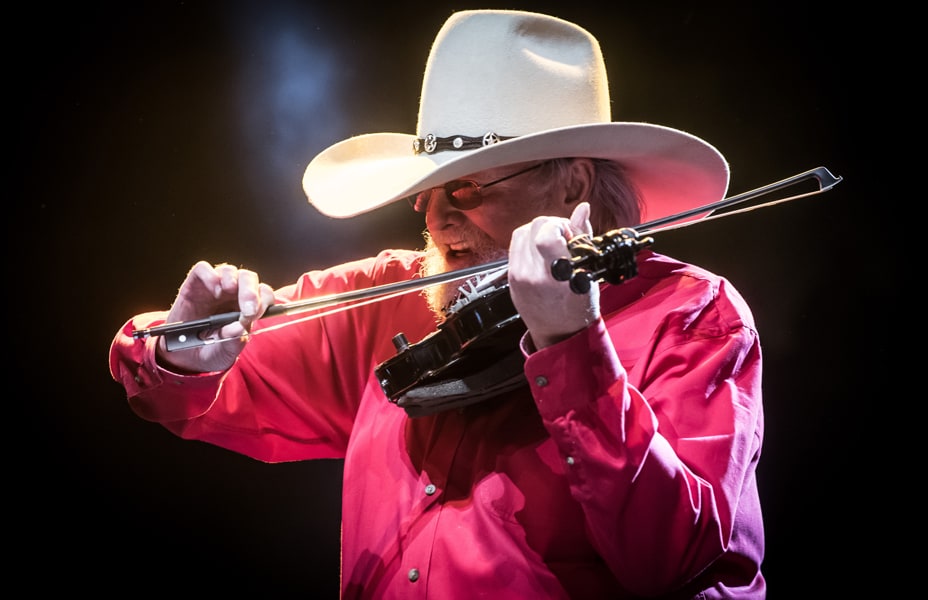 Daniels' own admiration for the United States military dates back to his childhood, during World War II. "I was born in Wilmington, North Carolina, which is a seaport town down in the southern part of North Carolina," he recalled. "I was born in 1936, so I was 5 years old when Pearl Harbor was bombed. We took the war very seriously in our part of the country. We had a shipyard that built Liberty ships, and we had a port where war goods were loaded onto cargo boats and taken across the Atlantic Ocean to service our troops in Europe. And quite a few of them were sunk just off our coast by German submarines. I've heard it said that it was so close sometimes you could see the fires of battle from our beaches. We never knew where the enemy was. We never knew whether the Nazis might try to land some troops on the beaches and come into our neighborhoods."
These early memories had a lasting impact on Daniels. "I say this onstage every night, I tell people—because I believe it with all my heart—only two things protect America: it's the grace of God and the United States military. I came up with a great sense of gratitude toward people who have put on a uniform and gone and sat between people who want to kill me and my family and my nation and everything I stand for. I just have the greatest respect and gratitude and admiration for our military."
Daniels has performed for the troops all over the world, including Iraq and Afghanistan. "I think some of the most gratifying things that we ever did, way out in the desert, there'll be what's called an F.O.B.; it's a Forward Operating Base. They might be an observation post or a special mission post, but there's just a few people there. It's just a place where nobody goes. It's just a bunch of guys within a wire in this little speck of land out in the middle of the desert. And we went and played some of those, where we'd go just to their mess hall or whatever they had and take a couple acoustic guitars, sit down and spend time with the troops and play some songs for them. And they were so appreciative. It was like, 'Nobody ever comes here. Thank you!' And I says, 'No, I want to thank you for what you're doing. This is not about me. This is about you. We came here because we appreciate you and we support what you're doing.' And that was my attitude the whole time. Every time we go to an out-of-country base, I always say, 'I bring you greetings from the United States of America.'"
Learn more about Journey Home Project.