Vocal booths are a simple, cost-effective way to significantly enhance the quality of your vocal recordings. They offer improved isolation, better acoustics and can make your vocal talent feel more comfortable—which may just result in the perfect take. Whether you have limited space or just want additional flexibility for on-location placement, portable vocal booths are a great solution when a permanent installation is not an option. In this blog, we'll discuss portable vocal booths that deliver the professional results you'd expect from commercial studios with permanent installations. If you're looking for additional ways to improve your vocal recordings, check out our great selection of sound shields and reflectors.
Different Styles of Vocal Isolation Solutions
When you consider your options for vocal recording isolation booths, you will come across an array of options, from fully enclosed booths (ex. LA Vocal Booths) to portable panel-based solutions (Primacoustics FlexiBooth), to DIY materials that can turn a closet into a makeshift recording space. Any of these options could offer the benefits you need based on your personal studio configuration and preferences, so let's learn more about each type of vocal recording solution.
Fully Enclosed Booths
If you're interested in setting up a fully enclosed vocal recording booth in your studio, you'll want to consider these four important factors: room size (floor space and height), materials, connectivity and temperature control for comfort.
Room Size
Although it may seem obvious, it can be easy to forget that any fully enclosed booth is going to take up a significant amount of space. The size of your room is going to dictate how much area you can comfortably dedicate to a vocal booth, whether portable or not. Carefully consider the exterior dimensions of your planned booth installation before you place an order. Your local team at Guitar Center Professional can help you plan ahead so that you make the best use of the space you have.
Materials
Most fully enclosed booths will come with basic surface materials, neutral colors and entry-level lighting, if any. If you're going to invest in a fully enclosed booth, consider customizing a few aspects, budget permitting. LA Vocal Booths, for example, offer a variety of great customizations so that your booth truly matches the aesthetic you've created in your space. Choose from custom patterns, colors, lighting and window options. They also offer an array of internal, functional options like mounted mic stands, tray and mounts for a TV or display.
Connectivity
With a fully enclosed booth, you're creating a tiny, isolated space, but you still need to get power into the booth, audio in and out, and perhaps video, too. Most manufacturers offer an array of options to keep you connected without sacrificing the isolation you need.
Temperature Control and Comfort
Most fully enclosed vocal recording booths do not have dedicated HVAC climate control. The booth is typically ventilated by an air intake fan as well as an exhaust fan, so it's critical that the room is climate controlled and set to a comfortable temperature. LA Vocal Booths offers two ventilation packages—standard and premium. The premium package offers a specialized silencing system to keep any noise from the ventilation system to a level that won't be picked up by your microphone.
Building Your Own Vocal Booth With Guitar Center Professional
Because you're busy running your studio and working with clients, it usually makes more sense to save your time and get a pre-built modular vocal booth. However, if you want something truly unique and customized to your exact specifications, you can always hire a contractor and build your own permanent installation.
The team of studio professionals at Guitar Center can help you plan your design and source all of the products you need to make your vision a reality. Here are a few things to consider if you endeavor to build your own, fully customized studio recording booth.
Room Size
Just like a pre-built, modular fully enclosed vocal booth, you'll need to find a balance between the internal space your booth will provide compared to how much area you're willing to sacrifice in your room. You may be able to build a smaller booth if you know you're only tracking vocals but may want something larger if you want to accommodate instruments.
Construction Materials
There are a lot of considerations when it comes to the materials you'll use to physically build your booth. They can vary widely depending on your budget, space considerations and how much isolation you need. You may decide to use a spare closet as your starting point, which will immediately narrow down your options for the materials that are best suited for that environment.
Regardless of your construction plan, you're going to want multiple layers of specialized sound-control material to ensure that you get the most out of your booth's isolation performance. If you're going to build something freestanding, you'll want to consult with your local Guitar Center Professional team and find a good contractor who can build a structure that's sure to last.
Doors and Windows
Plan out your booth doors and windows carefully. Two things to consider here—first, you want to be able to see and communicate with the performer while they're in the booth. Second, you want to place the door in a location so that you don't end up accidentally knocking over a mic stand or instrument. If the booth is large enough, some people use sliding doors for this very reason.
Lighting and Electrical
If you want to get the most out of your talent, you know it's all about getting the vibe right. When building your own vocal iso booth, you have an opportunity to design lighting that is unique, customizable, and most importantly, provides the flexibility you want to accommodate the preferences of the talent you'll be collaborating with. Look into solutions that give you different colors and moods, yet still offer adequate lighting whenever you need it.
You'll also need some basic electrical capacity. For a cleaner look and less clutter, you can use wall-mounted electrical outlets to power additional stand lights, headphone amps and more. If you're on a tight budget, you can opt to run a power strip and tuck it neatly off to the side.
Ventilation
Just as in the case of prefab modular recording booths, it is a necessity to plan for adequate ventilation. Smaller booths will get warm very quickly and you don't want your talent to be sweating bullets as they try to get through a take. Your local Guitar Center Professional team can help you pick quiet exhaust fans to keep the air moving through your booth. You can also go one step further and use a special staggered design to minimize fan noise even more.
Acoustic Treatment
Acoustic treatment, particularly in very small booths, can be a challenge. Many people make the mistake of simply putting up inexpensive egg crate-style foam and hope for the best. This type of foam is only effective above 1,000Hz and may leave your recordings sounding small and muddy. Depending on the size of your booth, you'll want to invest in high-quality acoustic panels to minimize reflections.
Here are some of our favorite solutions for sound isolation and acoustic treatment:
Primacoustic Broadway Panels
Primacoustic's Broadway Acoustic Panels are a range of high-performance acoustic panels that provide balanced acoustic absorption into the bass region. They come in a variety of sizes, which makes them perfect for vocal recording booths, both large and small.
Pictured: Primacoustic Broadway Max Trap 3-way Broadband Absorber and Bass Trap
Auralex SheetBlok 4'x30'
With a dense, limp-mass vinyl material, the SheetBlok Sound Barrier by Auralex acts as a thin yet incredibly effective sound barrier layer in walls, ceilings or floors. It's at its most effective when used in conjunction with an array of other sound-isolation materials.
Pictured: Auralex SheetBlok 4'x30'
Auralex Studiofoam
Alternatively, the Auralex Studiofoam series works very well in booths. The foam panels come in a variety of shapes, sizes and densities, and are very easy to cut and apply.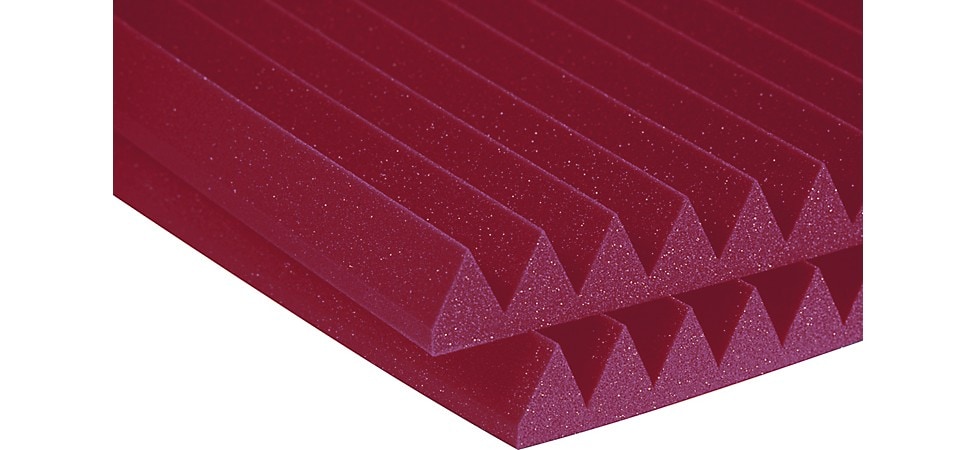 Pictured: Auralex 2" Studiofoam Wedge 2'x2'x2" panels
Portable Panel-Based Solutions
If you don't have the space for a stationary vocal booth, or if you prefer to have better flexibility and portability, then a panel-based solution may work best for you. The Primacoustic FlexiBooth creates an instant vocal booth in any room. The full-size 24"x48" design is remarkably effective at controlling room ambiance and can be set up in just a few minutes. While it's not going to create the same level of isolation you'd expect from a fully enclosed booth, it will give you good separation in most instances and will greatly improve your recordings, especially if you're in a room with poor acoustics.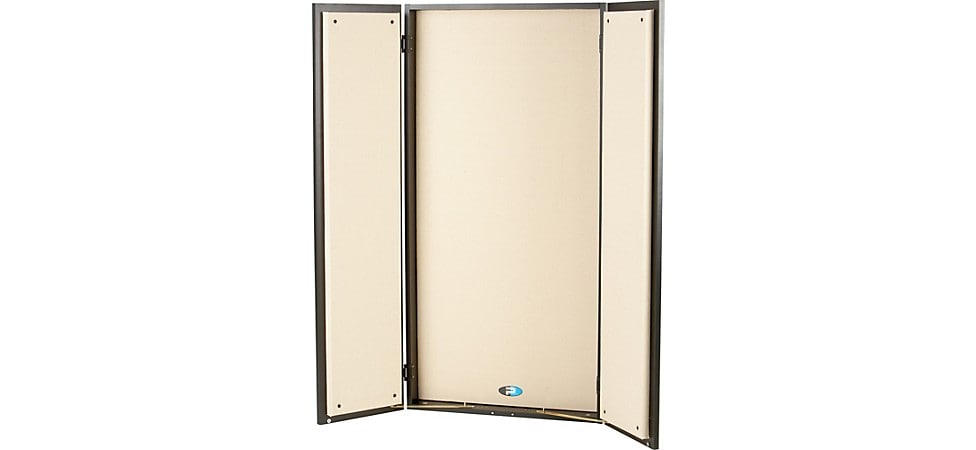 Pictured: Primacoustic FlexiBooth
Vocal Recording Booth Recap
When you're ready to invest in a professional vocal recording booth for your studio, you have three primary options:
A fully enclosed, modular system like LA Vocal Booths
Build your own fully enclosed booth from scratch with the help of a contractor and your local team of professionals at Guitar Center
Use a portable panel-based system like the Primacoustic FlexiBooth
If you decide to invest in a fully enclosed vocal booth, remember to consider important aspects of the design, including your room size, materials, electrical and lighting, ventilation and acoustic treatment. Keep these in mind, and you're sure to end up with a vocal booth solution that's perfect for your recording needs.
Contact Guitar Center Professional for more information and help finding your perfect vocal booth solution.