There's nothing more thrilling for any musician than to hear their own work echoed back to them. Whether it's through popular media or even, in the case of one 1980s rocker we know, driving down the street and hearing a garage band rehearsing one of your songs, it's validation, in a concrete form, that what you do matters to people. In that vein, we'd like to take an opportunity to acknowledge and applaud some of the unsung heroes of the music business—the designers and engineers behind the sounds of some of the most popular and iconic instruments of the past several decades.
A glowing example is the KORG M1 synthesizer workstation. From its debut in 1988, the M1 became solidly embedded in popular music thanks to the quality and versatility of its basic sounds and a workflow that, for many artists, changed the way they created. The list of artists spans genres from The Cure to Joe Zawinul (Weather Report). Some prime examples of the M1 will be found in "Vogue" from Madonna, "Right on Time" from Black Box, "I've Been Thinking About You" by London Beat, and "Rhythm is a Dancer" from Snap! Most recently, Beyoncè's hit, "Break My Soul," considered a "love letter" to Robin S.'s 1993 dance hit, "Show Me Love," prominently features the same M1 Organ while adding the equally iconic M1 Piano sounds. So just what is it about the M1 that has made it such an iconic keyboard?
A big part of the M1's success was the consistency of the sound set. Prior to the M1, many companies had entirely different sound design teams for different parts of the world. A synth or keyboard bought in Europe would sound very different from one bought in Japan or in the USA. The M1 was the first major project where a single sound design team was responsible for bringing together the sound and feel of the instrument. Jack Hotop—KORG's lead developer on the M1 sounds, currently lead voicing manager at KORG—reflected on this. "I think the M1 was really the first project where we were working as a collaborative team of musicians who were sound designers. Everyone [on the team] had a different playing style, which was a way of proofing that—if a sound could be played well by the programmers, it got a very high rating. It was, I think, a big part of the success of those products is that we were, again, working as a team with a pretty democratic system for sound selection."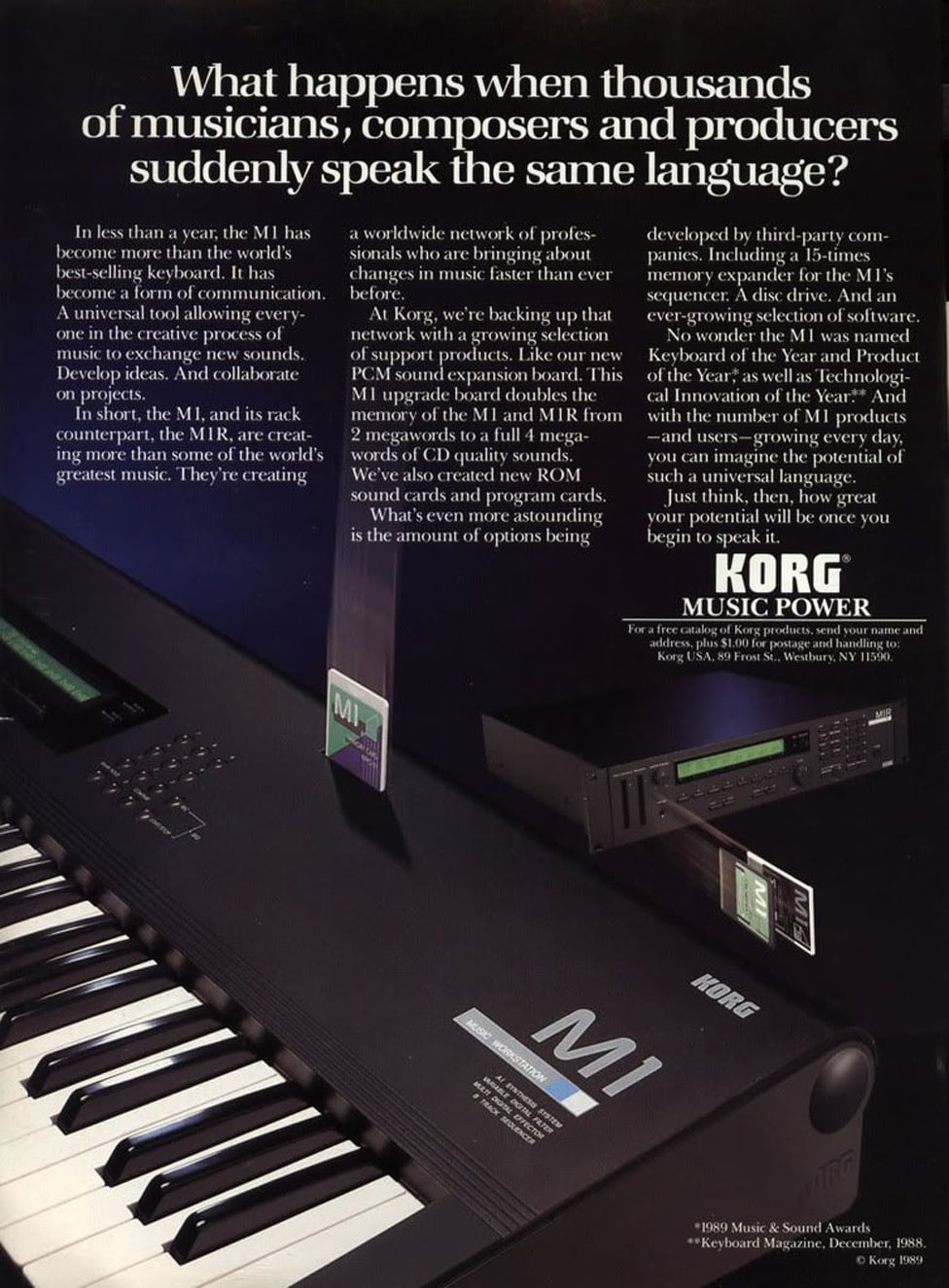 This was also a change from the earlier days of synthesis where it was up to the individual users to create the sounds they would use. For the average player, who didn't want to dive into the intricacies of learning about filters, oscillators, and the ins and outs of additive or subtractive synthesis, such synths were a barrier to simply making music. The M1 established a specific sonic identity for KORG that stepped beyond a synth being valued for just the specific circuitry. Hotop uses an analogy to guitars in explaining how the M1 was approached: "With a guitar, whether it's a Les Paul, whether it's a Martin, or a Taylor or a Strat, you have pickups. Then, you have strings. Then, you have the amps. Then, you have effects. And then, you have the gauge of a string. And all those decisions, they interact with the inherent quality of an instrument. With synthesizers and workstations, again, there are hundreds, maybe thousands of decisions. There's an integration there, and a lot of decisions are brought together, and they lead to a pathway that yields a specific result."
KORG's first completely digital synthesizer, the M1 expanded on the "sample & synthesis" engine created for the DSS-1 in 1986. Rather than tone oscillators, this engine used sample playback as the oscillator sound source, processing these with traditional subtractive synthesis tools like filters, LFOs and envelope generators. What set the M1 apart was the number and quality of those samples, including a (then) impressive 4 megabytes of sample storage memory and 144 built-in, high-quality instrument samples. With a good number of these being from world instruments, there was a lot of possibility inherent in the instrument. "At that time, one of the important things was getting a sample inside of a keyboard, then processing that with filtering and enveloping, with velocity and keyboard tracking. Those were vital tools which were used to shape and make the piano play and perform in a musical way," says Hotop. "Peter [Schwartz] and I had the chance to work with engineers on velocity, keyboard tracking and EG [Envelope Generator] intensity, which is how much an envelope would affect a filter. Filter cutoff basically can be affected by velocity, by keyboard range and by how much an envelope is being used to change the color or timbre over time. Those were vital elements in sound shaping. So, that was a great opportunity where Peter and I got to work closely with the engineers at KORG to develop a system that we could use to process PCM samples. It was hard enough to get a good collection together, but those were really important tools in defining the sound, the shape and the character to make them sound as good as they could be. That was the real strength of the M1 and part of the development process at that time during the '80s."
Considering the limitations of the technology of the time, there were some things along the way that may have been seen as compromises but ended up being part of what gives the original M1 its quality of being timeless while perfectly summoning an entire era of music creation. Take, for example, the M1 Organ 1 and Organ 2 sounds, a staple of '90s house music (in fact, the M1 may have been the defining instrument in the evolution of house music, along with the Roland TR-909, which created the beats behind the keys). As Jack Hotop explained, "What's interesting, is I noticed that if I hold and sustain notes on the M1 Organ, it has a sustain level which is different than what you would hear on a Hammond or on a modeled organ. You can hear the difference of the decay. The reason for that is the M1 Organ, which was obviously a sample, was normalized after it was looped, and the body of that is different than a real Hammond organ where the sound is being tucked down or going into a decay. That's one of the fundamental differences. Even though when we hear a bass line with the M1 Organ, it's not really stopping and holding a note to the point that you would hear that sustain." He goes on to explain further, "Originally, I had done that organ sound in the DSS library, and I said, 'Well, okay, the M1 Organ is great, but we need a version without percussion.' So, by advancing into the waveform and moving further past the initial attack, I was able to get another organ sound for the M1, the one without percussion, and normalize that waveform. So, actually, the M1 Organ, 1 and 2 ... It's the same organ. It's just the beginning attack was truncated off of the organ, which is not percussive, so they actually are the same organ."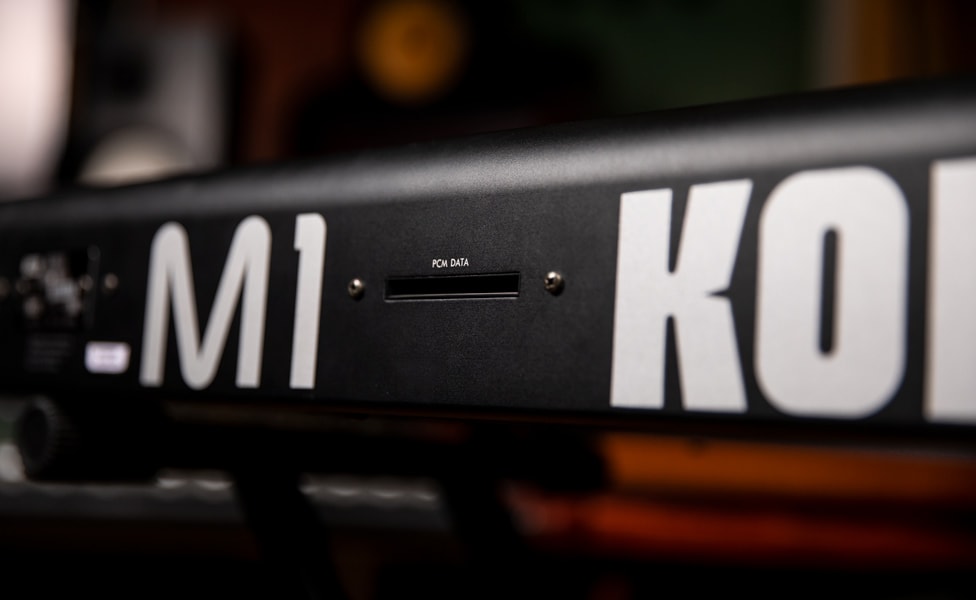 The M1 Acoustic Piano sound, as Hotop explained, was a last-minute addition as an attempt to improve the sound that had already been designed. Based on the piano sound in the KORG SG-1, it was the choice, but the M1 had space and size limitations that needed to be dealt with. "So," explains Hotop, "we played with the sample rate. We used fewer samples, stretched the pitch, and that gave the M1 piano a metallic kind of sound which, at the time, was great because [for] most keyboards, that was a well-sought-after sound. Everyone was searching for a good piano sound, [and] a decent acoustic piano sound was a difficult target to hit. We were able to do that with the M1 through some trickery and, again, the method that we used to create that M1 piano sound gave it a unique character which is still used today for its specific sound."
Those M1 sounds were so iconic and so successful, in fact, that we continue to hear them in many KORG keyboards yet today. Examples are the piano and organ sounds already mentioned, the Slap Bass, made famous by Jonathan Wolff's work on the Seinfeld score, and the Fretless Bass sound. Among less traditional sounds, the Universe pad, about which Hotop notes, "We used a choir sample for Universe, which is one of my favorite sounds. And, of course, that has been used in many other keyboards;" the Synth Bass, sampled from Hotop's personal Minimoog; a pan flute picked up at a street market in Yokohama; and many others.
The M1 is known for its groundbreaking selection of more exotic instruments. Some of these are highly individual, like the unique Bottle Blow. "We had a big three-foot sake bottle," says Hotop, "and that produced a bottle sample, but it was a very low-pitched bottle. All the other bottle samples and libraries were higher pitch, and you could hear the aliasing at the bottom of the keyboard. It was different with the M1 bottle because it was such a low fundamental pitch. So, it was being stretched upward, and that gave it a different unique character than other bottle samples in other libraries."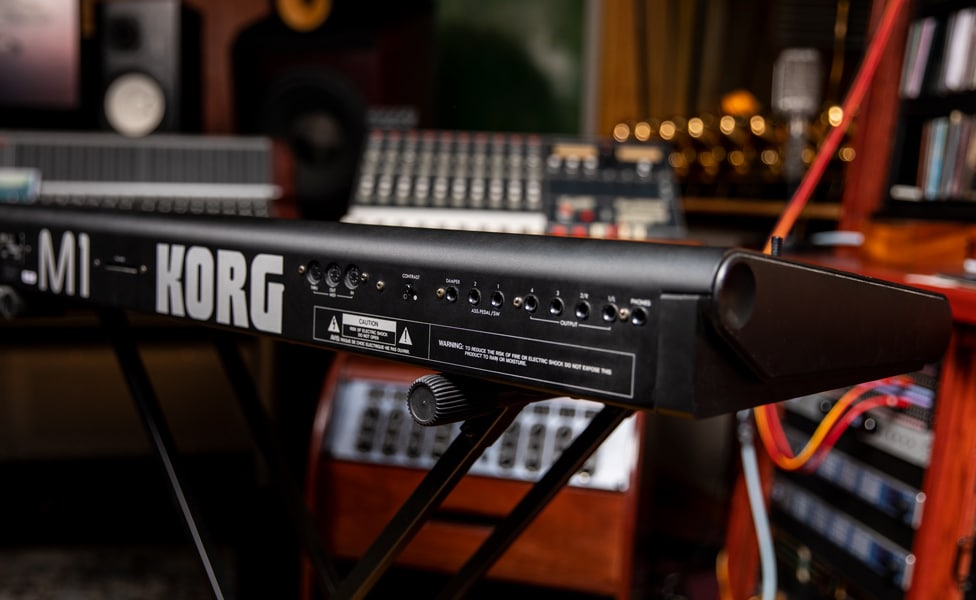 Considered by many to be the first true synth workstation, the M1 also changed the way many musicians created. With an eight-track sequencer, eight-voice multi-timbral capability and two built-in digital effects units, a producer could, working on their own, write a song and create an entire arrangement that could easily be, not just a skeleton or demo, but an almost-finished product, needing only vocals to be ready to release. This made it a major stepping stone to modern production methods and the growth of the producer/artist as a moving force in popular music.
As for the M1's longevity in the musical world, we put a lot of that down to the fact that it was a project that drew on a wide variety of sound designers who were also musicians, like Peter Schwartz, who went on to be musical director for David Bowie, Cher, Madonna, Pet Shop Boys and Enya. What those musicians heard and bounced off each other were the sounds that they wanted to play—satisfying sounds that felt good in your ear. That the M1 sounds keep popping up in newer instruments, and the M1 plug-in provides a whole new way to bring back that vibe in a fresh way, is a satisfying idea to fans of the instrument, and to its lead designer and the team that created those sounds. Jack Hotop muses about that. "I thought, 'Well, okay, the M1 Organ, the M1 piano, okay.' They were reborn in the '90s, used on a lot of real cool hits and stuff, and I thought, 'Okay, people have had enough of that.' But, apparently, they haven't. Maybe that's like people haven't heard enough grand piano, Hammond organ, Minimoog, Les Paul, Stratocaster, etc., you know? There's still a hunger and a desire for that. So, I'm pleasantly surprised with the longevity and the usefulness."
In the end, though, it is all about the music, much more so than purely the technology. As Hotop says, "The bottom line is, if it's music, or if it's sound, or an instrument, you want to just make sure that people like what you're doing, and there's an interest for that. I don't like to use the word 'market,' just an interest, and a love and appreciation."
Finally, as a testament to the legacy and continuing influence of the M1, KORG has just announced, at the time of this article's publishing, a free collection of M1 sounds for the Nautilus. It includes the original demo songs, giving you the equivalent of a full M1 inside the Nautilus. The EXs321 Xpansions library options were put together by some of the original M1 sound design team members, including Jack Hotop, whom we've quoted extensively above. These library options are available for both the Kronos and the Nautilus workstations and speak worlds to the vision of the original sound design and engineering teams.