Alesis Nitro Max 8-Piece Electronic Drum Set With Bluetooth and BFD Sounds Black
(1)
|
Q&A
|
Item #:

1500000413581
POS #:119518827
6-month special financing^ + $19 back in Rewards**
Learn More
Lease-To-Own Purchase Options
Learn more
Save on orders $499+ and get advice on drums from a Gear Adviser
Need Help?
Alesis Nitro Max Electronic Drums | Demo and Overview with KlueWorld
Introducing Nitro Max Kit
The Sounds and Samples of the Nitro Max Drum Kit 

Description
The Alesis Nitro Max is a complete e-kit that's perfect for rehearsing, recording, songwriting, practicing, learning, jamming, or simply digging the versatile and propulsive sounds of the popular BFD drum sample library. The mesh drum heads on the Nitro Max not only allow you to play super quiet, they also provide an authentic feel that's just like sitting on an acoustic drum kit. You can go from practicing silently at home to bashing it out on an acoustic stage kit without worrying about your attack or technique being hampered. In addition, the Bluetooth connectivity of the Alesis Nitro Max can help you upgrade your skills by serving up streaming music tracks and audio from video lessons for play-along practice and education. Alesis takes chops training even further by offering a three-month free tryout of Drumeo online lessons, as well as a 30-day free subscription to the educational desktop app Melodics Premium. Nitro Max provides all the inspiration you need to transform yourself into a virtuoso percussionist.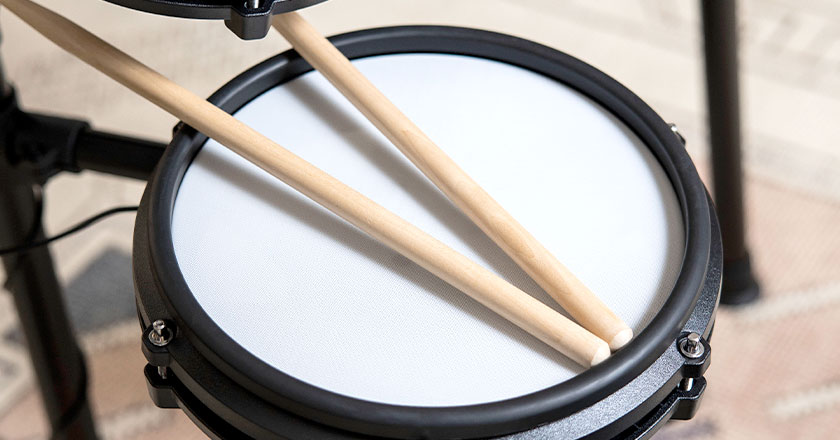 Great-Feeling Mesh Pads
Old-school electronic kits often had "drum heads" that felt like you were playing on the top of a Formica dinette table. The premium, tightly woven mesh heads on the Alesis Nitro Max, however, have all of the rebound and wrist-saving give of acoustic drum heads. Less fatigue means you can practice longer and more productively. And if those increased training sessions stretch deep into the night, you'll never have to worry about bothering neighbors or your family, because the mesh heads are virtually noiseless. So, put on some headphones and rock a virtual arena. Anyone in close proximity to your ferocious beats will hear only muffled thwacks. You won't have tiny targets to aim for, either. The Nitro Max includes a generously sized 10" snare, three 8" toms, a sturdy kick drum pad, a 10" crash cymbal with a choke feature, a 10" ride cymbal and 10" hi-hats with a foot controller. Transitioning from the Nitro Max pads to an acoustic drum set with a different-sized snare, rack toms and a floor tom is easy and familiar.
Drum Module Packed With 440 Sounds
The Alesis Nitro Max drum module is the ultimate control center for playing and learning. With 440 meticulously recorded drum, cymbal and percussion sounds from the renowned BFD drum sample collection; 32 classic and modern preset kits and 16 user kits, you'll be able to play any style and find the perfect vibe for any mood. Precisely capture the sounds in your head by tweaking the onboard reverb and 3-band EQ. When you're ready to lay down tracks, you can connect to a DAW via USB, or use the drum module's built-in performance recorder. There are also 60 onboard play-along tracks, a sequencer and a metronome. In the extremely rare case that you can't find the exact drum sound you want, the USB/MIDI connection opens up a vast expanse of virtual instruments from numerous software companies—including unlocking a bonus premium sound pack via BFD Player. The module also includes essential I/O, such as a 1/8" stereo input, 1/4" stereo line outputs and a 1/8" headphone output.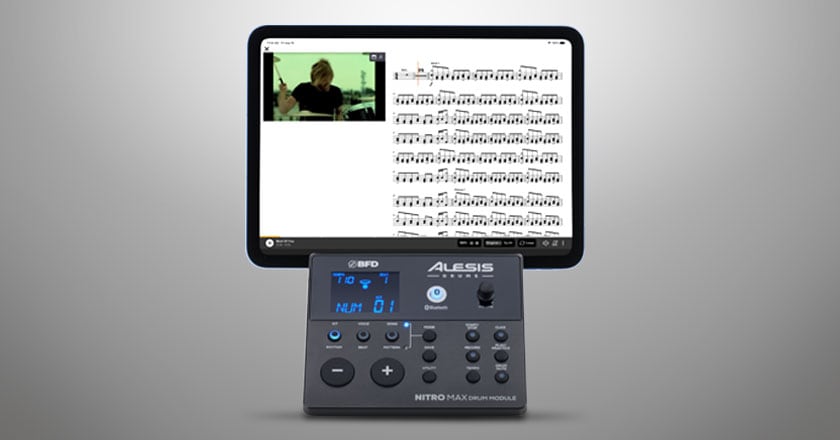 Comprehensive Learning Tools Onboard
The Alesis Nitro Max is packed with incredible drum sounds, so you could likely play for years without getting bored. But why not use those inspiring sounds to also expand your chops? Nitro Max offers some wonderful options to do just that. First, Alesis includes 90 days of Drumeo—the planet's most comprehensive online drum education platform—for free. More than 200 professional drummers provide step-by-step lessons, and you can also dig into 5,000 hit songs, with the ability to slow down or speed up the audio, or even remove the drum parts completely, in order to interpret the tracks in your own way. (Or to check if you're playing the original parts exactly, if that's what you are going after.) That's not even the whole groove. Nitro Max offers 60 free lessons from Melodics, as well as a 30-day Melodics Premium subscription. Melodics takes a game-styled approach to education that gets you jamming with songs and learning grooves—all with instant feedback on your progress.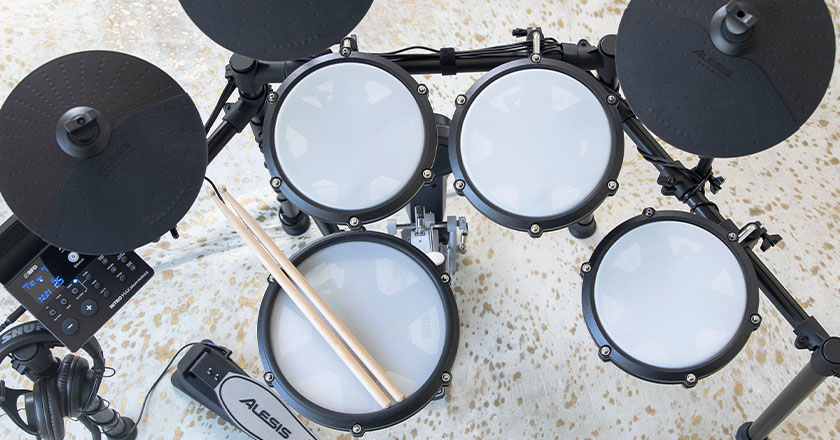 Out of the Box and Ready to Rock
The Alesis Nitro Max immediately delivers all the tools for playing and learning the second the kit is set up. A lightweight, four-post aluminum rack saves space and allows the mesh pads, cymbals and control module to be positioned to your liking. Once you get everything set, you can rest easy that the rack and mounts can stand up to even extreme pummeling without slipping out of position. A power supply and all connection cables are included, and you even get a pair of drum sticks and a drum key for tightening (or loosening) the tension of the mesh pads. If you want another tom and a cymbal to get "more metal" or "more prog rock," all you need to do is add the optional Nitro Max Expansion Pack. Finally, if you need to move the Nitro Max, it folds up into a compact configuration that can be stored against a wall or in a medium-sized closet.
WARNING: This product can expose you to chemicals including Diisononyl phthalate (DINP), which is known to the State of California to cause cancer. For more information go to www.P65Warnings.ca.gov
Specs
Kits: 32 ready-to-play classic and modern kits from BFD + 16 user kits
Instruments: 440 drum, cymbal and percussion sounds.
Effects: Reverb, 3-band equalizer
Sequencer: 60 built-in play-along tracks, sequencer, metronome and performance recorder
Tempo: 30–280 BPM
Display: Backlit LED
Dimensions (HxDxW): 12.12" x 21" x 36.2"
Weight: 31.97 lb.
Warranty
One year parts and labor warranty on all keyboards, DAT, and modules.
One year or 1500 hour warranty (whichever comes first) on tape heads.
Custome must register purchase online to receive customer registration number and warranty.
(No warranties are sent with product.)