Moog Mother-32 Semi-Modular Synth Module
(22)
|
Q&A
|
Item #:

1435592275474
POS #:111503652
6-month special financing^ + $29 back in Rewards**
Learn More
Lease-To-Own Purchase Options
Learn more
Save on orders $199+ and get advice on keys from a Gear Adviser
Need Help?
Moog MOTHER 32
Mother-32 | Tempo Sync Multiple Mother-32's
Mother-32 | Low-Pass Filter as Second Oscillator
Mother-32 | High-Pass Filter as Second Oscillator

Description
Handcrafted in Asheville, NC, Moog's Mother-32 is their first-ever semi-modular synthesizer. The Mother-32 adds a distinctive raw analog sound, sequencing and extensive interconnectivity to any electronic or modular ecosystem. A great companion for the Moog Grandmother, DFAM or other lager Eurorack systems, the Mother-32 is meticulously designed to provide musicians with a diverse array of creative tools to inspire new music, unique sound and endless sonic exploration. Loaded with features, the Mother-32 is pure Moog sound throughout every component.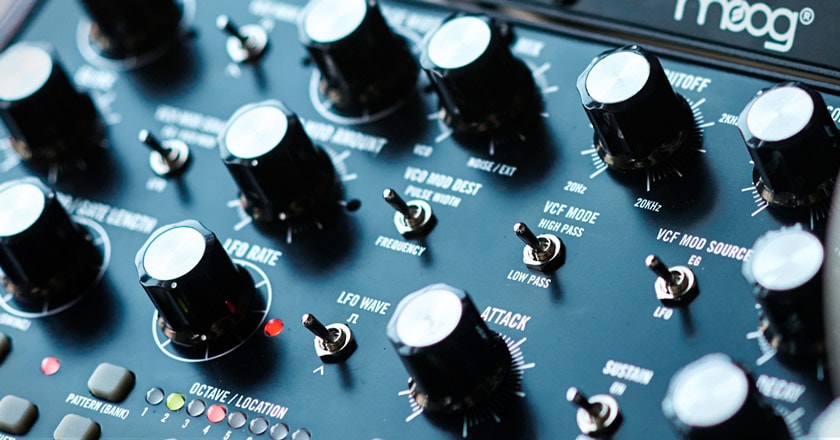 Pure analog power
Mother-32 is driven by a 100% analog sound engine with a semi-modular architecture that means its prewired for immediate use, but all of its internal wiring can also be interrupted using any of the 32 patch points. At the core of the Mother-32's structure is a single VCO with the choice between a sawtooth waveform and a square shape waveform with a variable pulse width control that can dial in a wide variety of tonal variations. There's also a switchable high pass and low pass classic Moog Ladder filter with its characteristically smooth 20Hz to 20kHz frequency response. The LFO on the Mother-32 can switch between sawtooth and triangle waveshapes with audio-rate modulation capability.
Built-in sequencer
One powerful feature on the Mother-32 is its voltage controlled 32-step sequencer with up to 64 sequence locations. There are two input methods available on the Mother-32 including a keyboard input where you can play in the note for each step with a connected MIDI keyboard controller, or you can use the 1-octave keypad that's built right into the Mother-32. In addition, you can program rest, tie, accent, gate length, glide on/off and ratchet count per step to create more complex and interesting patterns.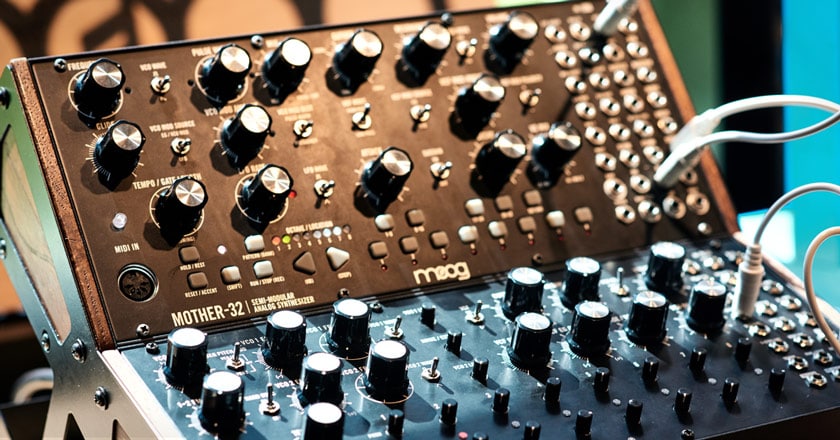 Infinite expansion
Despite the fact that there is only a single oscillator inside the Mother-32, the 32-point patchbay provides an extensive amount of routing capabilities both internally and through external Eurorack compatible modules for an exponential expansion options. Mother-32 is the perfect companion for other Moog semi-modular synthesizers that have come along including the Grandmother and the DFAM. Try putting adding multiple Mother-32s or DFAMs into the optional 2- or 3-tier rack system, and create a wide range of rich harmonic textures.
Features
Voltage-controlled 32-step sequencer with 64 sequence locations
Low Pass & High Pass Moog Ladder Filter (20Hz–20KHz) with voltage controlled resonance
External audio input for processing outside sound sources
Definitive Moog oscillator with Pulse and Sawtooth wave outputs
5-pin MIDI input and MIDI to CV converter
32 Modular Patch Points (Includes 5 patch cables)
2 Voltage controlled mixers
White Noise
Superb companion to Werkstatt 01, Minitaur and other synthesizers
Main module can be easily transferred into any Eurorack skiff
Mount 2 or 3 units vertically with optional 2 and 3 tier kits (sold separately
Warranty
LIMITED WARRANTY
Moog music warrants each instrument to be free of defects in material and workmanship for a period of one year after delivery to the retail purchaser. The warranty is void if the instrument has been modified in any manner other than in accordance with written instructions from Moog Music, Inc., of if the defect or failure is judged by Moog Music, Inc., to be caused by normal wear, accident, neglect, or conditions of operation other than those specified in the instruction manual.

This warranty is subject to verification by Moog Music, Inc., that a defect or failure exists and that the original purchaser complies with the following:
1. Warranty Registration Card must be returned by the purchaser to Moog Music, Inc., within 10 days of retail purchase.
2. Moog Music, Inc., must be notified by telephone, or in writing, of the problem to secure authorization to return the instrument to the factory or warranty center.
3. The instrument must be shipped prepaid. It will be returned with shipping charges prepaid by Moog Music, Inc.

MOOG MUSIC, INC., MAKES NO OTHER EXPRESS WARRANTY OF ANY KIND WHATSOEVER. ALL IMPLIED WARRANTIES, INCLUDING WARRANTIES OF MERCHANTABILITY AND FITNESS FOR A PARTICULAR PURPOSE, EXCEEDING THE DURATION OF THE AFORESTATED OBLIGATIONS ARE HEREBY DISCLAIMED AND EXCLUDED FROM THIS WARRANTY. NORLIN SHALL NOT BE LIABLE FOR ANY INCIDENTAL OR CONSEQUENTIAL DAMAGES.

Moog Music, Inc., authorizes no persons to assume for it any warranty or other liability in connection with the sale of Moog Music, Inc., instruments.

Moog Music, Inc., reserves the right to make changes in design at anytime without incurring any obligation to install same on units previously purchased.