Description
Since JBL debuted the EON series in 1995, they've been at the forefront of the world of premium portable powered PA cabinets. The EON700 Series gives a fresh kick to their technological lead. Comprising three 1,300W-peak powered PA speakers, the EON710, EON712 and EON715, plus a 1,500W-peak powered subwoofer, the EON718S, the EON700 Series leverages technology, not just from JBL, but from across the entire spectrum of Harman brands, to create a system with class-leading volume, clarity and features.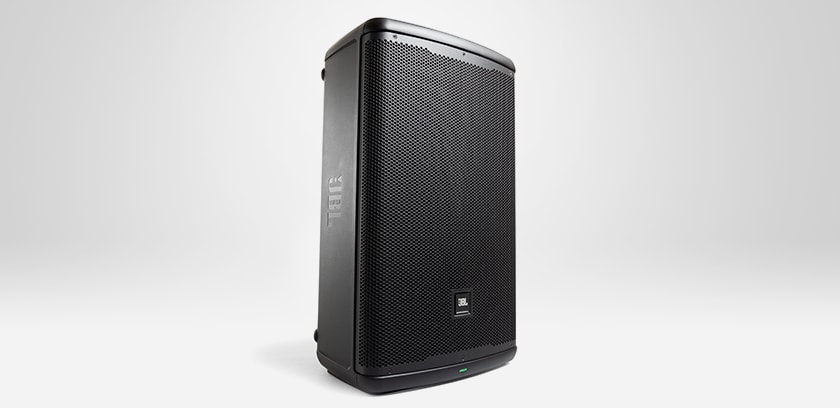 Response and Volume to Spare
The EON700 Series starts with completely redesigned, high-efficiency, low-frequency drivers, from the 10" EON710 to the 18" 718S sub. Along with JBL's 2414H high-frequency driver and an optimized horn design, these cabinets are engineered to retain accuracy and smooth, natural sound, even under the most extreme performance conditions. With levels up to 128dB for the loudspeakers and 131dB for the subwoofer, the system is ideal for covering up to medium-sized venues, from the first row to the last.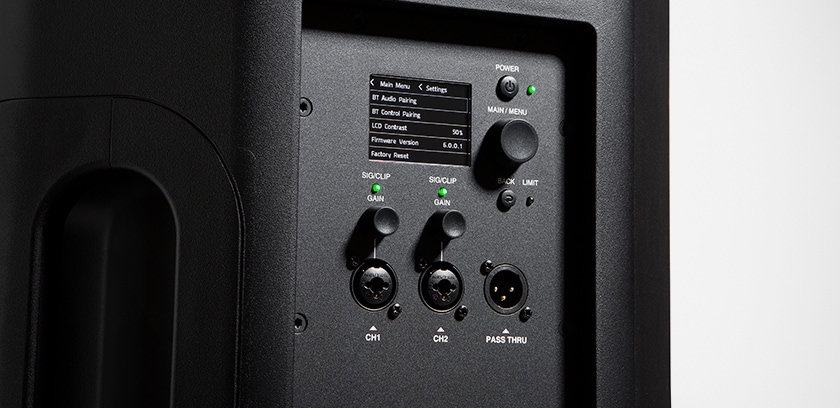 Powerful DSP for Crafting Performance
Thanks to tech developed in concert with Harman sibling companies like dbx and Soundcraft, EON700 speakers feature pro-grade DSP (digital signal processing) with eight-band EQ, multiple optimized presets and Soundcraft automated ducking, among other features. One major advantage of the systems is the dbx Automatic Feedback Suppression system which keeps your ears, and your audience's, safe from the screech.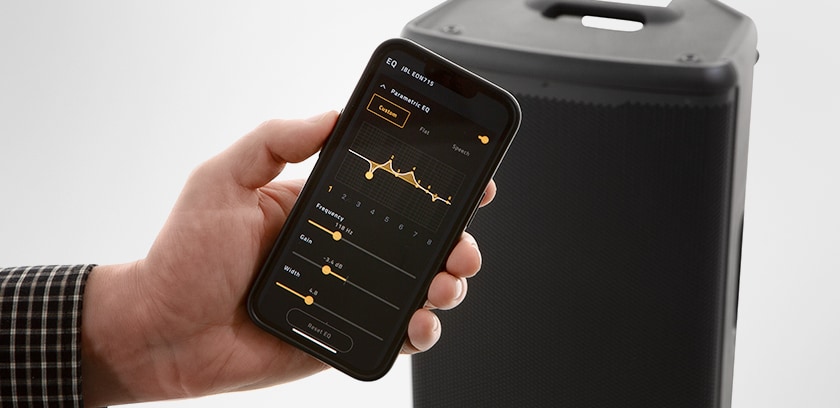 Versatility and Control for Any Application
Connectivity is never an issue with the EON700 Series. From the built-in, low-latency, high-bandwidth Bluetooth 5.0 audio streaming and the JBL Pro Connect mobile app to the pair of combo inputs and XLR loop out, hooking everything up is simplicity itself. That holds true whether you're using a single cabinet with the integrated 3-channel mixer, or a larger system with a larger front-of-house mixer feeding multiple full-range speakers and subwoofers. And the mobile app gives you the power to adjust JBL EON700 speakers from anywhere in the venue.
Multiple Installation and Setup Options for Added Flexibility
If you need setup flexibility, EON700 Series speakers have you covered. In addition to the standard pole-mount sockets, all full-range models feature top and rear suspension points if you need to fly the cabinets. There's also an optional universal yoke bracket for fixed installations. The EON718S subwoofer can act as a base for a standard threaded pole mount, plus is designed for easy stacking for cardioid configurations.
JBL performance tests every loudspeaker and subwoofer for 100 hours before they'll ship it out, so you know you get consistency, performance and rugged reliability that lasts, straight out of the box. So, step up to an EON700 Series system, and get the volume, versatility and sound quality you need.