Yamaha MODX8+ 88-Key Synthesizer
(14)
|
Q&A
|
Item #:

1500000381905
POS #:118412550
6-month special financing^ + $219 back in Rewards**
Learn More
Lease-To-Own Purchase Options
Learn more
Get advice on keys from an expert like Katie and save on orders $499+
Need Help?
New Yamaha MODX+ Music Synthesizer | Overview and Demo with Philip Cornish
MODX+ Overview
Yamaha's Tech Talk: Introducing MODX+
Yamaha Global Stage | Michael Lecoq "Gritty Funky" Performance

Description
The biggest of the Yamaha MODX+ series with its 88 keys, the MODX8+ synthesizer struts a staggering amount of power and sonic versatility. Ideal for music production and sound design alike, its 8-operator, fully programmable FM-X engine delivers an array of sounds as vast as your imagination. The Yamaha MODX8+ features a semi-weighted, synth-action keyboard that is purpose-designed to stimulate creativity and emotive performance. Much of its muscle comes from the same technology that powers the top-of-the-line Yamaha MONTAGE synth line, blending the ingenious AMW2 (Advanced Wave Memory 2) engine with the sublime synthesis of FM-X (Frequency Modulation) for a limitless cosmos of creative possibilities—with double the polyphony of the original MODX8. Available at Guitar Center, this cutting-edge 5-octave MODX8+ synth keyboard is ready-made to inspire awe and make your ideas a reality.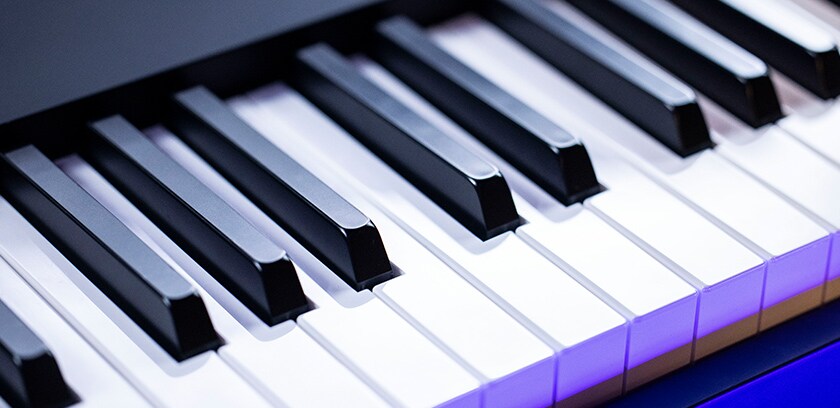 Unlock a World of Sound
Taking cues from the flagship MONTAGE keyboard synth, the MODX8+ gets its sounds from the AWM2 (Advanced Wave Memory 2) sample-based engine as well as the FM-X (Frequency Modulation) synth architecture—each with an impressive 128 notes of stereo polyphony. Exclusive to Yamaha synthesizers, the AWM2 engine boasts 16 parts, with eight programmable synthesizers apiece. Each of those contains 18 filter types, amplitude, pitch and filter envelope generators, 3-band EQ, nine LFOs and a dedicated dual insert effect featuring Virtual Circuit Modeling for stunningly realistic sound reproduction. Going above and beyond everything that made the legendary Yamaha DX7 one of the best-selling synthesizers of all time, the 8-operator FM-X architecture gives the MODX8+ classic '80s or modern EDM synth tonality with superb fidelity, dynamic range and power. "Playing" either the touchscreen or Super Knob, Smart Morph lets you transition between up to eight FM-X sounds via its cutting-edge A.I. algorithm and its interacting morphing map. The resulting combination of the AWM2 and FM-X is a profound plethora of gorgeous sounds, begging to be blended and manipulated into something entirely new.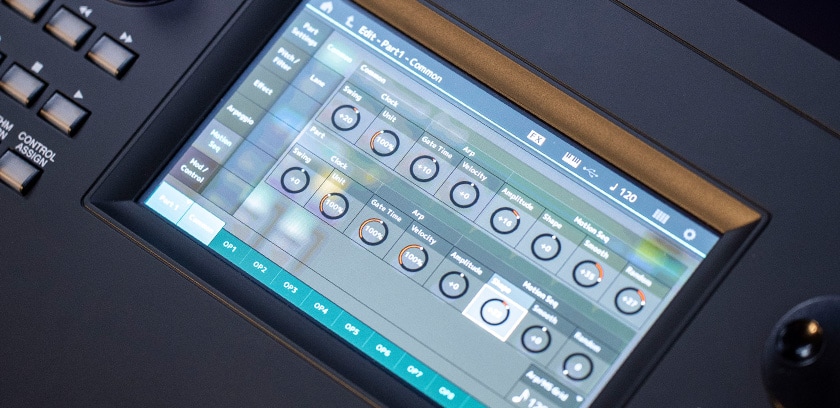 Texturize With Motion Control
One of the best ways to utilize the MODX8+ to create unique sounds with evolving textures is via Motion Control. With the Super Knob, Motion Control gives you control of up to 128 parameters in a single Performance—granting unprecedented rhythmic and dynamic customization. Anything from mix functions (such as volume, pan and effect sends) to synthesis parameters (including filters, LFOs and operators) can be adjusted with ease. Tempo-synchronized and completely customizable, Motion Sequences can be assigned to almost any synth parameter, making it fun and easy to manifest never-before-heard sonic landscapes with a turn of the Super Knob. You can even plug in external instruments and adapt those signals to your liking with Motion Control.
Make an Effect—or Many
Packed to the brim with DSP ingenuity, MODX8+ serves up a heap of signal processing power, from high-definition immersive reverbs to complex Virtual Circuit Modeling (VCM) effects. Break Repeat, Vinyl Break and Bit Crusher lend themselves to dancefloor-ready EDM sound, while the Spiralizer effect tricks the brain into perceiving a continuously rising or falling pitch. Play with sidechain compression for that "pumping" ducking effect, or harken to retro vibes with Analog Delay, VCM Phaser or any of the onboard amp simulators. Pianists will love the piano-focused effects, like Damper Resonance and HD reverbs, that recreate an ultrarealistic playing experience.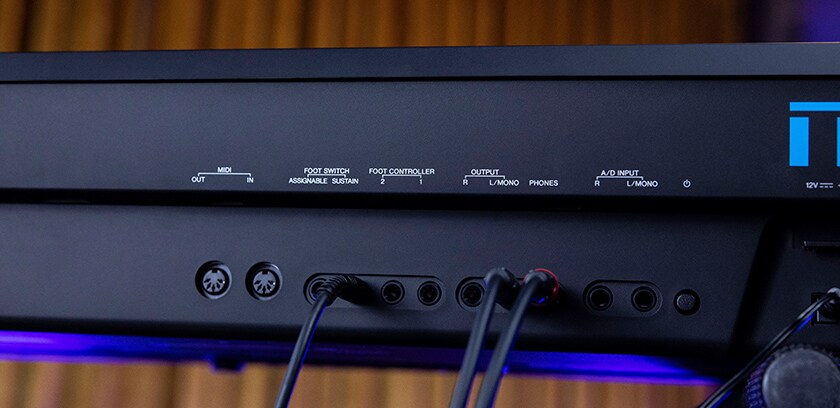 Play Well With Others
True to the spirit of collaborative artistry, the MODX8+ works well with others. It's a 2-in/10-out multichannel USB audio interface, giving it studio-centerpiece potential. Its stereo A/D input lets MODX8+ take external sources like analog synths, vocals and other instruments into the Motion Control system. With Vocoder, Envelope Follower (which converts—even live—audio into a control source for just about any synth parameter) and Audio Beat Sync (which detects BPM of audio from an external device and synchronizes the MODX8+ Arpeggiator, Motion Sequencer or Songs to the tempo of the external input), the A/D input virtually acts like its own instrument. A dedicated USB volume delivers independent control of external devices, allowing you to connect computers, iOS devices and more. MODX8+ is also directly compatible with MOTIF XS/XF Voices and Performances. And when you've got something so good you just can't keep it to yourself, the Soundmondo social sound sharing network allows you to store and recall MODX+ and MONTAGE Performances, and lets you share them with other users. It's available as an app on iOS for easy uploading and downloading.
The MODX8+ packs an astonishing amount of power and features, akin to the MONTAGE, but in a substantially lighter design. It was engineered to be a formidable powerhouse in the studio as well as a reliable stage companion, with its ease of transport making load-ins and loud-outs a breeze. In addition to being a beautifully sophisticated synth in its own right, MODX8+ packs the power of the DX7, DX7II, TX802 and TX816 synthesizers, all of the sounds created by Yamaha's world-class sound designers and artists since they started making synths 1974, a built-in drum machine in Rhythm Pattern, as well as the coveted Bösendorder Imperial Grand Piano. With 1.75GB of integrated, non-volatile, low-latency flash memory, you can save your music and custom samples—or download synth libraries from the Yamaha MusicSoft site in a cinch.
Features
88-note weighted-action keybed, for a familiar feel to pianists
Motion Control Synthesis unifies and controls AWM2 and FM-X sound engines
256 notes total polyphony (128 AWM2 + 128 FM-X)
1.75GB internal Flash memory
Super Knob controls multiple parameters simultaneously
Send 10 and receive four audio channels, plus 16 channels of MIDI, via a single USB cable
Live Sets allow Performance organization without copying, changing order or renaming
Four-part seamless sound switching—change Performances while holding notes without sound or effect cutoff
Motion Sequences drive synthesizer parameters through rhythmic control data you can interact with in real time
Specs
Keys: 88
Keybed: Weighted action
Polyphony: 256 notes (128 AWM2 + 128 FM-X)
Internal Flash memory: 1.75GB
Weight: 30.4 lb.