Yamaha Genos2 Arranger Workstation
(1)
|
Q&A
|
Item #:

1500000414024
POS #:119550259
6-month special financing^ + $284 back in Rewards**
Learn More
Save on orders $499+ and get advice on keys from a Gear Adviser
Need Help?
Genos2 - Your Next Masterpiece
Genos2 Voice and Style Demo
What is FM Synthesis
What is Style Dynamics Control

Description
Yamaha's presence as a force in the world of self-contained arranging keyboards is undeniable. With the Genos2 Arranger Workstation, they raise the bar, once again. Whether you're a solo keyboardist looking to flesh out your sounds, a songwriter creating fully orchestrated demos in your studio, a producer following the trail of inspiration or simply wanting pro-quality backing when playing for your own entertainment at home, Genos2 opens up a new world of sonic possibilities.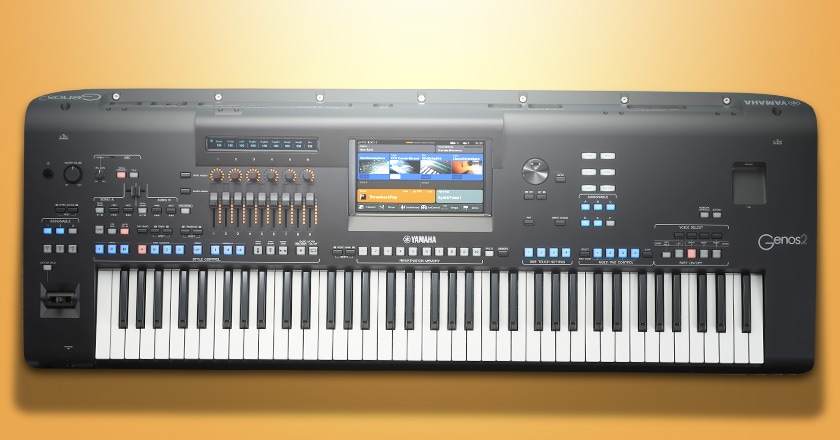 A Full-Featured Creation Station
Much more than a synthesizer, the Yamaha Genos2 Arranger Workstation is a complete production tool, designed to put you in control of every aspect of your creative workflow. Combining AWM (Advanced Wave Memory) synthesis with an FM synthesis engine gets you started. Seventy-five available drum kits and effect banks keep you building your arrangement out. The Ambient Drums are sampled with both close and room mics that you can blend to achieve exactly the vibe you want, whether that's studio tight, or live "in-the-room" groovin'. On top of that, there are Super Articulation 2 (SA2) voices that allow you to capture the expression and nuances of non-keyboard instruments, like flute or guitar. And, since it's a full production workstation, there's vocal processing as well, with pitch correction, a vocoder and other vocal effects. As a final touch, the VH2 vocal harmony engine can provide up to three backing vocal harmony tracks.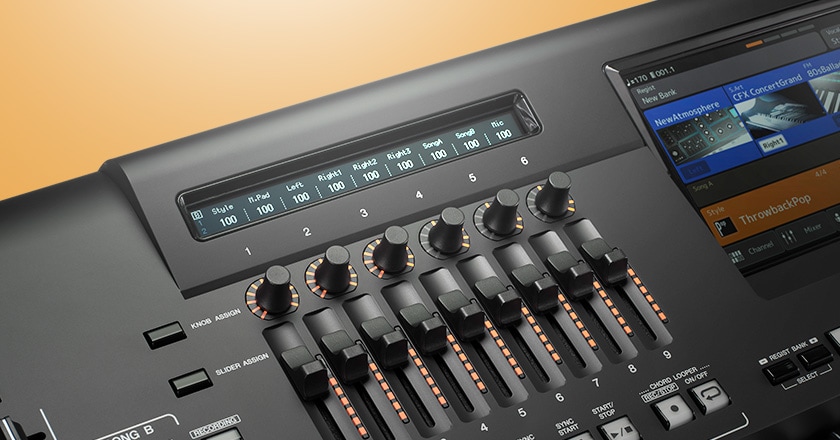 The View You Deserve With the Control You Need
Not only are the Genos2 controls logically laid out and simple to use, but the sizable, full-color touch panel makes it easier than ever to see and adjust Voice and Style assignments, as well as dig deep to access the most essential and useful features and settings. The assignable control knobs and sliders provide real-time control of Voices, Styles and more, depending on what you decide you need for a particular arrangement. These controls are available on the fly, so you're never locked into your previous choices when inspiration hits.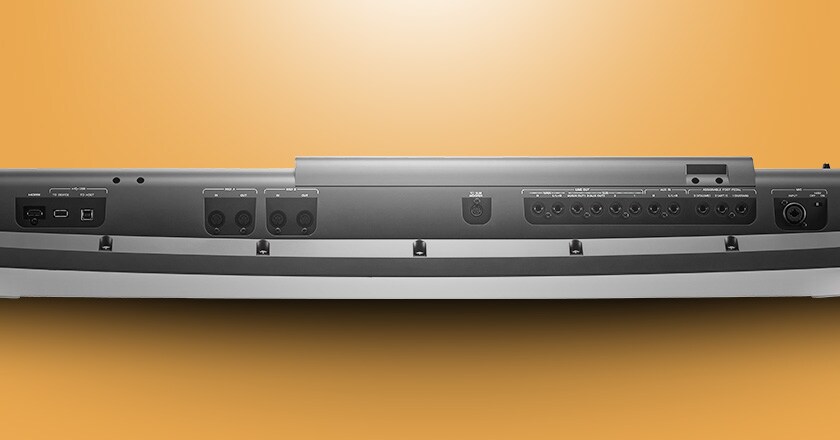 Generous I/O
When it comes to connectivity, it would be hard to beat the Genos2 Arranger Workstation. Of course, there are separate Left and Right output jack for stereo and a headphone jack, but that's just the start. There are also four submix outputs to feed monitors, extra powered speakers or whatever you need. The dual MIDI In/Out connections enable easy control of separate keyboards or other MIDI gear. A USB-A connector lets you attach an external USB hard drive for recording or for data storage and a USB-B host connector turns the entire rig into a class-compliant USB audio/MIDI interface for your computer, hugely expanding your possibilities. The phantom-powerable XLR/1/4" combo jack lets you plug in a mic or an external instrument to run through the Genos2's powerful onboard processing. There's built-in Wi-Fi and Bluetooth connectivity and even an HDMI connector for an external 720p monitor. With all that, Genos2 has definitely got the hookup.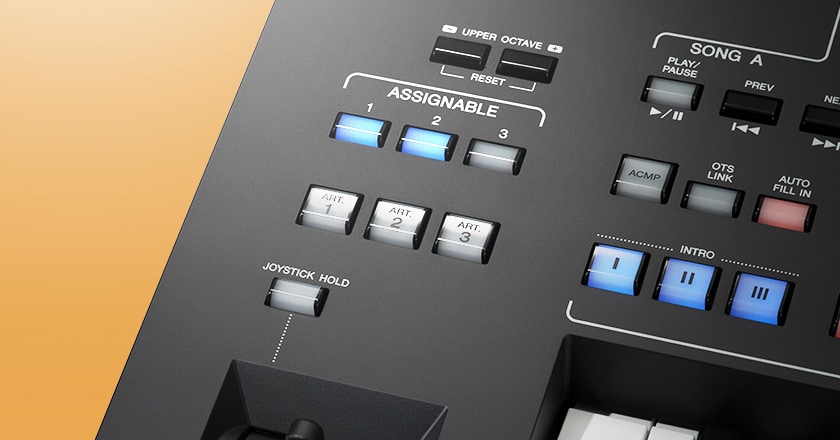 Find the Perfect Arrangement
Speaking of hookups, Yamaha can hook you up with Voice and Style expansion packs to add a huge selection of additional content from around the world, so your only musical limits are what you can imagine. With more, and easier to use, features than ever before, the Yamaha Genos2 is an ideal choice for any musician who's got the DIY spirit, a broad-ranging musical imagination and a compulsion to create.


Features
AC power cord included
Music rest, two music rest brackets included
Owner's manual included
Specs
Control Interface
Number of keys: 76
Type: Organ (FSX), Initial Touch/Aftertouch
Touch Response: Normal, Easy1, Easy2, Soft1, Soft2, Hard1, Hard2
Other Controllers
Joystick: Yes (Assignable)
Knobs: 6 (Assignable, with LED gauge)
Sliders: 9 (Assignable, with LED gauge), Cross Fader
Assignable buttons: 9 (A-F, 1-3)
Articulation buttons: ART. 1, ART. 2, ART. 3
Main Display
Type: TFT Color Wide VGA LCD
Size: 800 x 480 dots; 9"
Touch Screen: Yes
Language: English, German, French, Spanish, Italian
Sub Display
Type: VA LCD (LIVE CONTROL View)
Size: 512 x 48 dots
Voices
Tone Generator: AWM Stereo Sampling, AEM technology, FM
Polyphony (max.): 384 (128 for Preset AWM Voices + 128 for Expansion AWM Voices + 128 for FM Voices)
Number of Voices: 1,990 Voices + 75 Drum/SFX Kits
Featured Voices: 106 S.Articulation2!, 437 S.Articulation!, 141 FM, 123 MegaVoice, 24 OrganFlutes, 11 Ambient! Drums/SFX, 11 Revo! Drums/SFX
Ensemble Voices: 95
Compatibility: XG, GM, GM2 (for Song playback)
Keyboard Parts: Right 1, Right 2, Right 3, Left
Effect Types
Reverb: 85 Preset + 30 User
Chorus: 107 Preset + 30 User
DSP Variation: 363 Preset (with VCM) + 30 User
DSP Insertion: 1–28: 363 Preset (with VCM) + 30 User"
Master Compressor: 5 Preset + 30 User
Master EQ: 9 Preset + 30 User
Part EQ: 28 Parts
Vocal Harmony: 54 Preset + 60 User (*)
Synth Vocoder: 20 Preset + 60 User (*)
*The User number represents the total of Vocal Harmony and Synth Vocoder."
Others: Mic Effect, Noise Gate, Compressor, 3-Band EQ Vocal Effect: 23"
Preset
Number of Styles: 800
Featured Styles: 720 Pro, 69 Session, 11 Free Play
Fingering: Single Finger, Fingered, Fingered On Bass, Multi Finger, AI Fingered, Full Keyboard, AI Full Keyboard
Style Control: INTRO x 3, MAIN VARIATION x 4, FILL x 4, BREAK, ENDING x 3
Other Features: One Touch Setting (OTS), Chord Looper, Style Section Reset Yes
Compatibility: Style File Format (SFF), Style File Format GE (SFF GE)
Expandability
Expansion Voice: Yes (approx. 3 GB)
Expansion Style: Yes (Internal Memory)
Expansion Audio Style: Yes (Internal Memory)
Songs (MIDI)
Preset: 9 Demo Songs, 1 Preset Song
Number of tracks: 16
Data capacity: Approx. 3 MB per Song
Function: Quick Recording, Multi Track Recording, Step Recording
Format Playback: SMF (Format 0, Format 1), XF
Recording: SMF (Format 0)
Songs (Audio)
Data Capacity: Approx. .8GB (80 minutes) per Song
Playback: WAV (44.1kHz, 16-bit, stereo), MP3 (44.1/48kHz, 64/96/128/256/320 kbps or VBR, mono/stereo)
Recording: WAV (44.1kHz, 16-bit, stereo)
Playback (Multi): .aud (Genos original: 44.1kHz sample rate, 16-bit resolution, stereo)
Recording (Multi): .aud (Genos original: 44.1kHz sample rate, 16-bit resolution, stereo)
Time Stretch: Yes
Pitch Shift: Yes
Vocal Cancel: Yes
Multi Pads
Number of Multi Pad Banks: 507 Banks x 4 Pads
Audio Link: Yes
Functions
Voices: Harmony/Echo; Arpeggio; Panel Sustain; Mono/Poly
Styles: Style Creator; OTS Information
Songs: Score Display function; Lyrics Display function; Lesson/Guide Follow Lights, Any Key, Karao-Key, Your Tempo
Registration Memory: Number of buttons: 10
Control: Registration Sequence, Freeze
Playlist, Number of Records: 2,500 (max.) Records per Playlist file
Search: Yes
Demo: Yes
Overall Controls
Metronome: Yes
Tempo Range: 5–500, Tap Tempo
Transpose: -12 – 0 – +12
Tuning: 414.8 – 440.0 – 466.8Hz (approx. 0.2Hz increments)
Octave button: Yes
Scale Type: 9 Types
USB audio interface: 44.1kHz, 32-bit, stereo
Miscellaneous Direct Access: Yes
Text/Image Display function: Yes
Wallpaper Customization: Yes
Storage and Connectivity
Internal memory: Yes (approx. 15GB)
External drives : USB flash drive
Connectivity
Headphones: Standard stereo phone jack (PHONES)
Microphone: Yes (Combo Jack), Phantom Power (+48V) available
MIDI: MIDI A (IN/OUT), MIDI B (IN/OUT)
AUX IN: L/L+R, R, Standard phone jack
LINE OUT: MAIN (L/L+R, R), SUB (1, 2), SUB (3, 4/AUX OUT); Standard phone jack
Digital Out Audio
Display out: HDMI (1280 x 720p max.)
FOOT PEDAL: 1 (SUSTAIN), 2 (ART.1), 3 (VOLUME), function assignable
USB TO DEVICE: Yes (x3)
USB TO HOST: Yes
Wireless LAN
Standards: IEEE802.11b/g/n (IEEE802.11n 5GHz: not compatible)
Range of transmit frequency (channels): Models for United States and Canada: 2401–2473 MHz (channels 1–11)
Others: 2401–2483mHz (channels 1–13)
Maximum RF output power: 14 dBm
Security: WEP, WPA-PSK (TKIP), WPA-PSK (AES), WPA2-PSK (AES), WPA/WPA2 mixed PSK
SAR value: 0.258 W/kg
*May not be included, depending on your area. Check with your Yamaha dealer."
Bluetooth
Bluetooth version: 5.0
Supported profile: A2DP
Compatible codec: SBC
Wireless output: Bluetooth class 2
Maximum communication distance: about 10 m
Radio Frequency (Operational Frequency): 2401.5–2480.5mHz
Maximum output power (EIRP): +6.94 dBm
Type of modulation: GFSK, π/4 DQPSK, 8DPSK
*May not be included, depending on your area. Check with your Yamaha dealer."
Power Supply, Auto Power Off: Yes
Size and Weight
Dimensions (WxDxH): 1234 mm x 456 mm x 151 mm (48-9/16" x 17-15/16" x 5-15/16")
Weight : 14.2 kg (31 lb., 5 oz.)