false { "sourceCodeId" : "7700001", "sourceName" : "GCDIRECTSOURCECODE1", "sourceSegment" : "Direct", "profileZipcode" : "", "profileStoreId" : "", "profileStoreName" : "", "profileID" : "2294395098", "isInternational": "false", "isWarrantyShippable": "true", "isInternationalCommerceEnabled": "true", "currencySymbol": "$", "cookieLoggedIn" : false, "richRelevanceMode":"render", "richRelevanceApiKey":"9ed4604c5beebd43", "richRelevanceUserId":"", "richRelevanceSessionId":"d825f99739ab438a7764f096c41d15ea", "rrBaseUrl":"//recs.richrelevance.com/rrserver/", "rrChannelId":"-", "rrMobileChannelId":"fc5eedc2f1f5f7c9", "hashedUserIdForCriteo":"", "rrTimeout":"10000", "isEducatorAccount": "false", "sessionIsDC": "false", "fullyLoggedIn" : false, "isMobile":"true", "isProp65User":"false", "JSESSIONID":"", "showEloyalty": "true", "gcProExperience":"false", "enableStoreFinderService":true, "applePayEnabled":"false", "gcProApproved":"false", "gcProCheckout" : "false", "gcProStatus" : "NeverApplied", "gcProSplitCart" : "true", "callCenterNumber" : "866-498-7882", "liveChat" : "false" }

Tour the Facility 238
//stores.guitarcenter.com/search.html?serviceTypes=474
hasStudio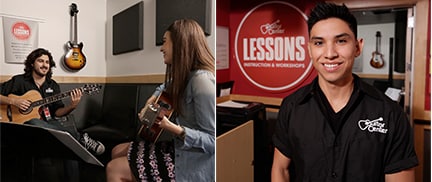 Our dedicated instructors are fully screened and certified, with multiple years of experience in music instruction. They are truly experts in the instruments they teach, often with credentials from highly esteemed schools of music. With a positive, nurturing attitude, they motivate and inspire students to reach their goals.
For more information about our instructors, contact your local store.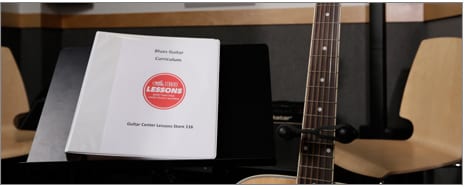 The Guitar Center Lessons curriculum is based on a progressive advancement model. This proven method provides a well-defined roadmap of the material covered and skills taught so you can easily track your past and future progress. Since we use the same curriculum in all locations, students have the flexibility to take lessons from any instructor at any of our locations and progress through the same content. Our program is fun but challenging–both for beginners and serious musicians who want to improve their existing chops.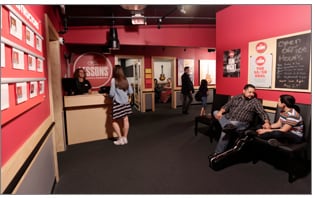 Take advantage of open office hours.
Any time you need extra help with your musical performance or are looking for inspiration, feel free to consult with an instructor during store hours. There is no charge for this service and no appointment is necessary.
Attend workshops and clinics.
No matter what your style or instrument, chances are we have a free workshop or clinic to help you learn more about it. Contact your local store for upcoming dates.
Be a part of Jam Night.
Our Jam Nights are a fun, casual way to meet and play with others. We match musicians of similar skill level together so you can easily swap great musical ideas. Jam Nights are free for Guitar Center Lessons students.
Perform in your own Rockshow.
Rockshow is a unique Guitar Center program where you are placed in a band with other musicians, learn three to five songs and ultimately perform a concert for your friends and family.
In the Rockshow program, you are matched with other musicians at similar skill levels. With the help of an experienced band coach, your band will learn a few songs and get tips on performance techniques. After practicing two hours per week in one of our rehearsal rooms, your group will perform a concert on the last Saturday of the month.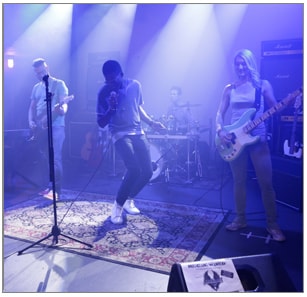 Are you dreaming of one day becoming a world-class recording engineer? Or maybe you'd simply like to set up a home recording studio for yourself and your friends or bandmates to make basic recordings and demos. It's all good - no matter what your recording goals are, Guitar Center is ready to help. We offer recording lessons that will hook you up with the knowledge you need to get great results if you're a beginner, or to improve your recordings if you already have a little bit of experience under your belt. All you have to do to take the first step is reach out to us, and we'll connect you with experienced instructors ready to share their expertise.
We are proud to offer state-of-the-art facilities for all Guitar Center lessons. In the recording field, that means putting you face-to-face with industry-standard software and equipment. The way to get great results in any task is to have the right tools for the job, and recording is certainly no exception. Those recording tools include a variety of high-tech hardware, software and apps that can be tough to navigate without guidance. So don't hesitate to get in touch with us; we're ready and waiting to give you the guided tour.
When you set out on that journey through the world of recording equipment and technique, having the right tour guide will go a long way. That's where our expert instructors come in - they've been carefully chosen for their personal experience and skill, ensuring they have the know-how required to prepare you to achieve your own recording goals. Don't hesitate to ask questions: that's what your instructor is there for!
The only thing that's really left to ask yourself is what you want to accomplish. Understanding your aspirations in the recording field will give your instructor the information he or she needs to tailor your lessons specifically to you. We're on your side in the quest to become a recording master - schedule your first lesson today, and let us put our hardware, software and instructional resources to work making you the best recording professional or hobbyist you can be.