PreSonus ATOM Production and Performance Pad Controller
(4)
|
Q&A
|
Item #:

1500000237457
POS #:114794381
6-month special financing^ + $14 back in Rewards**
Learn More
Lease-To-Own Purchase Options
Learn more
Get advice on keys from an expert like Katie and save on orders $499+
Need Help?
PreSonus ATOM Production and Performance Pad Controller
PreSonus ATOM Pad Controller: Getting Started
PreSonus ATOM Pad Controller: Using Studio One Instruments and the Pattern Editor
PreSonus ATOM Pad Controller: Starting your Song

Description
PreSonus ATOM is the fast, flexible and feature-filled production controller you've been waiting for. Highly portable and versatile, ATOM has everything you need to produce beats, play instruments and trigger sounds on the fly. You get the best of a compact, dynamic production controller and a fully integrated production environment all in one unit. Pair ATOM with the included PreSonus Studio One Artist software and you'll be writing and producing music immediately. But you're not limited to Studio One. ATOM is versatile enough to work with most music software. It lets you perform and produce with virtual instruments, trigger samples and loops in real time, and features full-size, velocity- and pressure-sensitive RGB pads and eight assignable pad banks.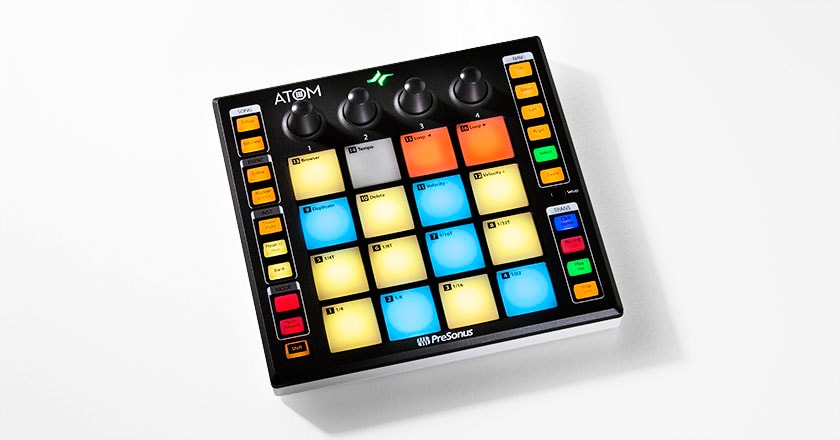 Intuitive integration puts you in control
With a simple USB connection, ATOM is ready to seamlessly pair with your favorite software, or you can use Studio One with ATOM for a tightly integrated experience. When using the included Studio One Artist software, you can browse virtual instruments and add them to your session, change instrument presets, create looping points, change your song's tempo and more—all directly from the ATOM hardware. Its tactile design puts you in control of your music and your production workflow. Trigger loops and effects, and play virtual instruments with 16 full-size, velocity- and pressure-sensitive RGB pads. Dive deeper into sound design or navigate your sessions fast with four programmable rotary knobs and 20 assignable buttons. MIDI Keyboard mode, Note Repeat mode and Full Velocity mode enable you to custom control your instruments.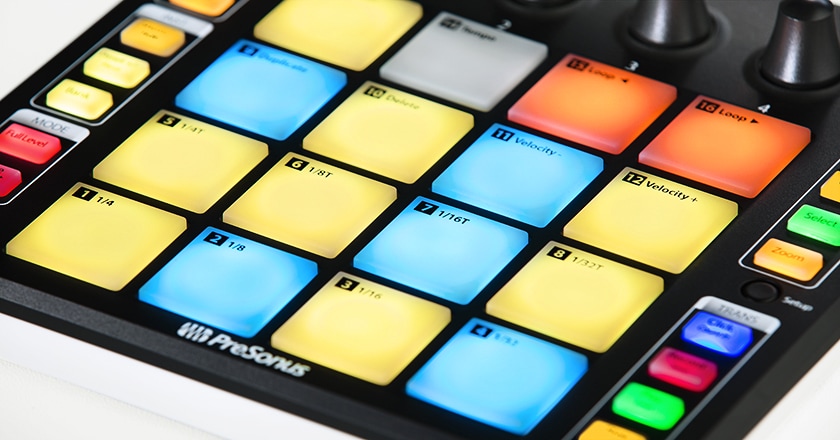 Come out and play
ATOM is a production powerhouse in the studio, but it's the ideal performance controller as well. Use the velocity- and pressure-sensitive pads to play your virtual instruments live, with incredible expressiveness. Set up pad banks for a full virtual drum set and perform beats that will energize any crowd. You can even play multiple ATOMs at once to put on an exciting live show. Once you start playing with ATOM's flexible controls and responsive pads, you won't be able to put it down. You'll also get a wealth of virtual instruments, loops and drum kits with Studio One to fuel your creativity. Studio One Artist lets you work quickly and stay focused on your inspiration, and offers unlimited tracks and plug-ins. As for its size, ATOM has everything you need neatly packed into an ultra-slim design. Just slip an ATOM, or two, into your production bag, and bring a blazingly fast, professional-style workflow with you wherever you go.
Features
MIDI controller pad with 16 pressure- and velocity-sensitive RGB LED pads
8 assignable pad banks, 20 assignable buttons and 4 rotary encoders
Tight integration with included Studio One and Ableton Live Lite for easy use
Pressure switchable between MIDI aftertouch, channel pressure and CC messages
Includes MVP Loops content custom-designed for ATOM
Warranty
One year parts and labor warranty.