Description

The Subsequent 37 is a (2-note) paraphonic analog synthesizer that builds on the award-winning design of the Sub 37 Tribute Edition. Its control panel has 40 knobs and 74 switches, placing a vast array of analog sound design tools and onboard sequencing options immediately at your command. The Subsequent 37 improves upon its source through the implementation of user-requested enhancements. Each enhancement maintains the magic and character of its predecessor while also providing access to new dimensions of sound and improved playability.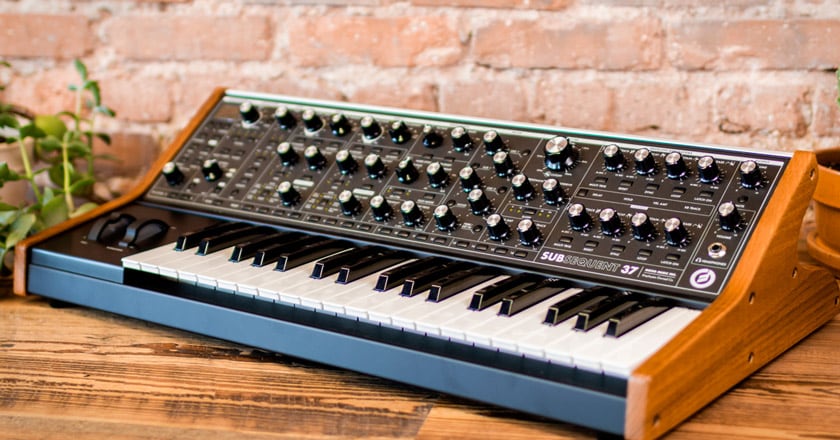 Even better than before
The Subsequent 37 mixer section has double the headroom of that in the Sub 37 Tribute Edition. This provides access to a new range of classic clean tones in both mono and duo performance modes. Leveraging the mixer's newfound flexibility, gain-staging in the Ladder filter has been reshaped to boost harmonic saturation and analog compression, resulting in an overall richer low end. Completing the sonic evolution of the Subsequent 37 is a re-tuned Multidrive circuit that extends well beyond the grit and growl of the original Sub 37. In addition to the sound engine augmentation, each Subsequent 37 comes with an upgraded keybed for improved playability, a high-powered headphone amplifier strong enough to drive the most demanding headphones, and a software plug-in/editor for both Windows and Mac platforms.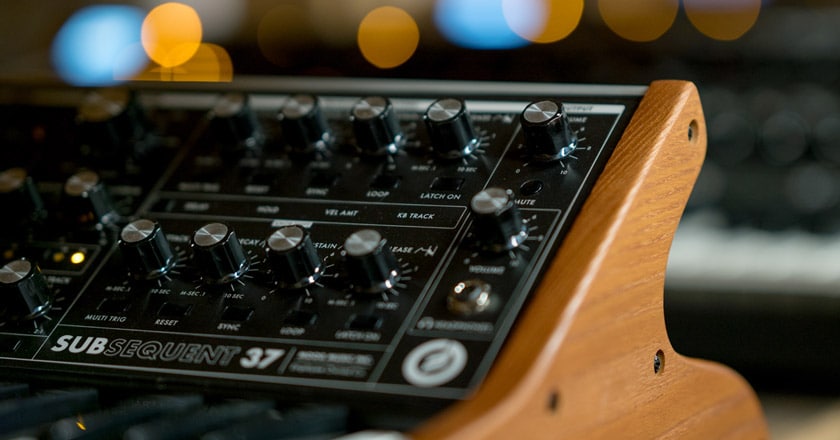 Powerful sound shaping
The Subsequent 37 comes stacked with 256 pre-loaded presets divided in 16 banks with 16 patches per bank and they showcase the wide range of sounds this synth is capable of. Though the real fun comes with the knob-per-function design that lets you explore every aspect of the Subsequent 37's sound design capability, leaving you to create some of your own unique, original presets. Powering the sound are two variable waveshape oscillators, one square wave sub oscillator, one analog noise generator, an external input/feedback generator and a whole lot of attitude. To shape your sound, Subsequent 37 has a 20Hz-20kHz Moog Ladder filter with 6, 12, 18 and 24B per octave slopes and a MultiDrive functions. There are also two DAHDSR (Delay, Attack, Hold, Decay, Sustain, Release) envelope generators and a fully featured mixer section with dedicated controls and mutes for each sound source. Playing the Subsequent 37 is as enjoyable as creating sounds, thanks to its 37-note semi-weighted keybed with velocity sensitivity and aftertouch.
Features
All the controls and features found on the Sub 37 Tribute Edition
Richer low end and greater sonic dimension
More Multidrive—wider range and dirtier than ever before
More headroom means Duo mode sounds even better
37-note keypad with swift action and aftertouch
2 assignable mod busses, 2 DAHDSR looping envelopes
Ultra-powerful arpeggiator/sequencer
256 presets—16 banks of 16 patches
Specifications
Sound engine: 100% Analog
Polyphony: Selectable Monophonic or Paraphonic
Keybed: 37-note Semi-weighted with After Pressure
LCD: 128 X 64 pixel LCD with white backlight
Controllers: Pitch Bend, Mod Wheel, After Pressure, Velocity
Sound Sources: 2 Variable Waveshape Oscillators, 1 Square Wave Sub Oscillator, 1 Analog Noise Generator, 1 External Input/Filter Feedback
Oscillator Range: 22Hz-6.8KHz. Note range at 8' = 18 - 116
GLIDE MODULE: Assign to Osc1/Osc2/Both. Type - LCR, LCT, EXP, Gated, Legato
FILTER: 20Hz-20KHz Moog Ladder Filter w/ 6/12/18/24 dB/Oct Filter Slopes and MultiDrive
Transposition: +/- 2 Octaves
Arpeggiator/sequencer: Up, Down, Order, Random, Latching, Back/Forth, Invert, +/-2 Range, Tie, Rest, MIDI Sync, 64-note sequencer
Modulation Busses
Sources: LFO (Triangle, Square, Saw, Ramp, Sample & Hold), Filter EG/PGM
Programmable Sources: Amp Env, Constant ON, Sine LFO, Noise LFO, Osc 1 Pitch, Osc 2 Pitch, Seq Note, Seq Vel, and Seq Mod.
DESTINATIONS: Osc 1 Pitch, Osc 2, Osc 1 & 2 Pitch, Filter, LFO Rate, VCA Level, Osc 1 Wave, Osc 2 Wave, Osc 1 & 2 Wave, Noise Level, EG Time/PGM
LFO panel features: Hi/Low Range from .01Hz–1kHz, MIDI Sync, KB Reset
ENVELOPES: DAHDSR Envelopes with Multi-Trigger, Reset, Looping, MIDI Sync, Latch, and Variable control of EG Delay, Hold, Velocity Amount, KB Tracking.
I/O
Audio input: 1xTS
Audio output: 1xTS, 1xTRS Headphone with separate volume control
Presets: 256 Presets - 16 Banks x 16 presets
MIDI I/O: DIN In/Out, and MIDI over USB
CV/GATE input: Filter CV, Pitch CV, Volume CV, KB Gate
Mod 1x Ctrl, Mod 2, Mod 2 x Ctrl, Filter EG, Amp EG, Pitch Wheel, Mod Wheel, Seq Mod, Duo Pitch.
GATE destinations: KB Gate (is also sequence gate), Ext. Gate, Arp/Seq Clock, Arp/Seq Run/Stop, Arp/Seq Step 1 Trig, Filt EG Trigger, Amp EG Trigger, LFO 1 Rate, LFO 2 Rate.
Dimensions: 6.75 x 26.75 x 14.75 in.
Weight: 22 lbs
Warranty
LIMITED WARRANTY
Moog music warrants each instrument to be free of defects in material and workmanship for a period of one year after delivery to the retail purchaser. The warranty is void if the instrument has been modified in any manner other than in accordance with written instructions from Moog Music, Inc., of if the defect or failure is judged by Moog Music, Inc., to be caused by normal wear, accident, neglect, or conditions of operation other than those specified in the instruction manual.

This warranty is subject to verification by Moog Music, Inc., that a defect or failure exists and that the original purchaser complies with the following:
1. Warranty Registration Card must be returned by the purchaser to Moog Music, Inc., within 10 days of retail purchase.
2. Moog Music, Inc., must be notified by telephone, or in writing, of the problem to secure authorization to return the instrument to the factory or warranty center.
3. The instrument must be shipped prepaid. It will be returned with shipping charges prepaid by Moog Music, Inc.

MOOG MUSIC, INC., MAKES NO OTHER EXPRESS WARRANTY OF ANY KIND WHATSOEVER. ALL IMPLIED WARRANTIES, INCLUDING WARRANTIES OF MERCHANTABILITY AND FITNESS FOR A PARTICULAR PURPOSE, EXCEEDING THE DURATION OF THE AFORESTATED OBLIGATIONS ARE HEREBY DISCLAIMED AND EXCLUDED FROM THIS WARRANTY. NORLIN SHALL NOT BE LIABLE FOR ANY INCIDENTAL OR CONSEQUENTIAL DAMAGES.

Moog Music, Inc., authorizes no persons to assume for it any warranty or other liability in connection with the sale of Moog Music, Inc., instruments.

Moog Music, Inc., reserves the right to make changes in design at anytime without incurring any obligation to install same on units previously purchased.