Moog Grandmother Semi-Modular Analog Synthesizer
(15)
|
Q&A
|
Item #:

1500000218359
POS #:114389174
6-month special financing^ + $99 back in Rewards**
Learn More
Lease-To-Own Purchase Options
Learn more
Open Box starting at

$879.12
Get advice on keys from an expert like Katie and save on orders $499+
Need Help?
The Build & Sound of the Moog Grandmother

Description
Harkening back to the early years of analog synthesizers, Moog's Grandmother has the characteristic style of a vintage synthesizer from the past. But make no mistake; this all-analog semi–modular instrument is 100% ready for the future. With a design focused on pure synthesis, you'll appreciate the immediacy of just getting on and designing sounds. There are no presets, no recall, what you see is what you get, leading to a lifetime of creative sound exploration. Grandmother's sound engine, modulation engine and onboard spring reverb tank are 100% analog. There are no menus, nothing to get in your way of creating your own unique sounds.
Grandmother's semi-modular design means you can start playing immediately without the need to manually patch and route any signals. But should you want dive deeper into creating more complex sounds, Grandmother features 41 individual patch points that will override the internal wiring, leading to expansion possibilities that are only limited by your imagination. Even if you're only familiar with the basic building blocks of an analog synthesizer, the Grandmother welcomes an experimental approach that can turn into incredibly inspiring sounds. In addition, the 21 inputs, 16 outputs and a parallel-wired 4-jack mult, can be used to expand the Grandmother into a larger Eurorack ecosystem, or is the perfect patch point to integrate with Moog Mother-32 or DFAM semi-modular synthesizers.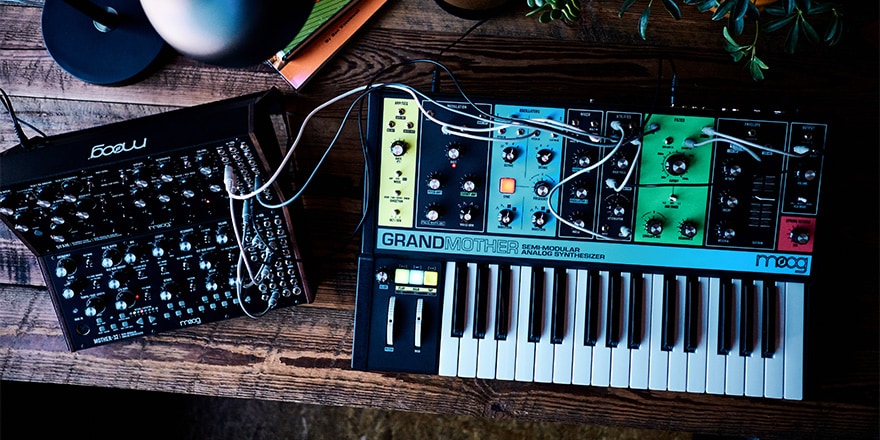 All analog, start to finish
Grandmother has the essential tools you need to get started, with some added extras. There are two analog oscillators built-into Grandmother, each with selectable triangle, sawtooth, square and pulse waveforms, and a hard sync button capable of creating some very complex timbres. The analog LFO is capable of reaching audio rates, acting as a third oscillator that can develop into some really aggressive tones. Also onboard is a classic Moog Ladder filter with a range of 10Hz – 20kHz, a patchable 1-pole high-pass filter, and an analog ADSR envelope generator ready to sculpt your sound.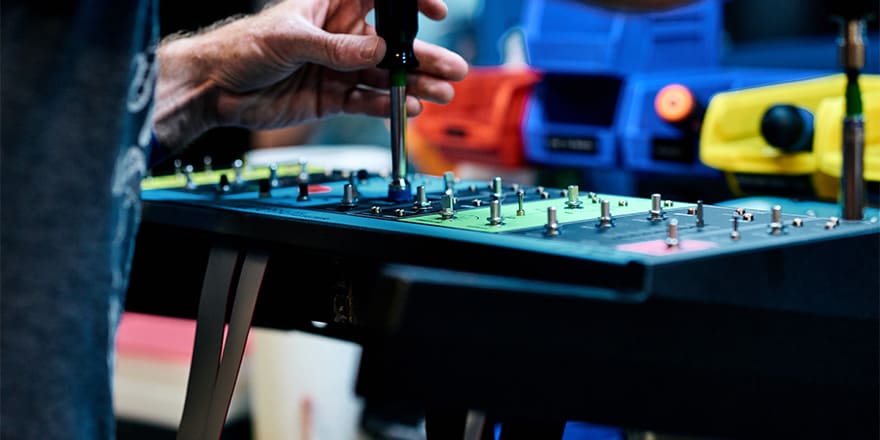 Diving deeper
The team at Moog thought of everything here. Knowing that most sound designers would use a spring reverb effect on a synth of this nature, they've gone ahead and added an onboard analog spring reverb tank capable of processing internal and external sounds. It's a welcomed addition, with the ability to add some darker tones or tame any intense frequencies. Grandmother also features a built-in arpeggiator and an onboard sequencer that can store up to 3 sequences with up to 256 notes each. Add this to your Eurorack ecosystem and you'll have full control over all of your modules.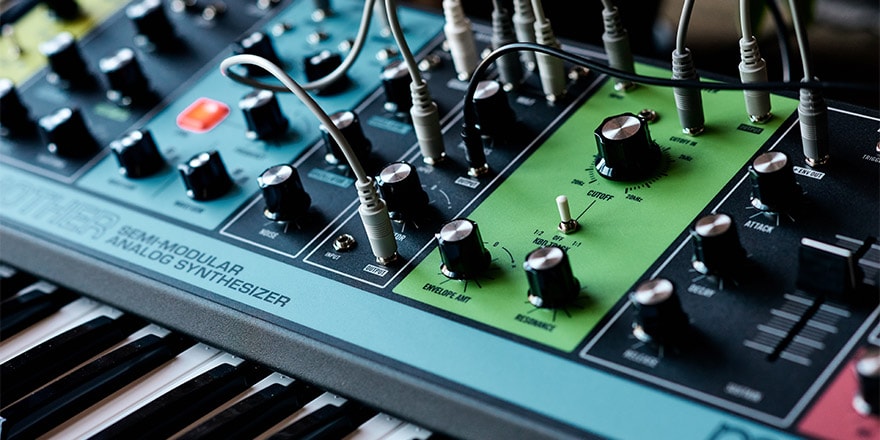 Classic feel, current mood
Even though Grandmother is every bit retro in design, it features some modern-era additions that take this synth from a thing of the past into an instrument for the future. As for connectivity, the Grandmother has everything needed for today's production environment including a 5-pin MIDI In/Out/Thru as well as MIDI over USB for instant integration with your host computer. There's also both a 1/4" main output and a 1/4" external audio input that's capable of taking in signals from guitars, drum machines and more. Grandmother can route these audio sources through its signal chain, imparting classic Moog character at every step along the way, including its spring reverb tank, and spit them back out again. Grandmother's 32-note premium Fatar keybed makes this a premium standalone synth but will also work perfectly as the front end to an existing modular system. No matter how you decide to use it, Grandmother will give you a lifetime of sound exploration.
Features
100% analog synthesizer with 32-note Fatar keybed
Semi-modular design, requires no patching to play
All normalized connections can be interrupted for full modularity
Hardware Spring Reverb can be used to process external sounds
1/4" External audio input for guitars, drum machines, and more
Easy to use Arpeggiator and Sequencer
Store up to 3 sequences with up to 256 notes each
2 Analog Oscillators with selectable waveshape and hard sync
Classic 4-Pole 10Hz-20kHz Ladder filter
Patchable 1-Pole High Pass filter
Analog ADSR Envelope Generator
Analog LFO with audio-rate capabilities
DIN MIDI In/Out/Thru and USB MIDI
Patchable bipolar attenuator
Works with Mother-32, DFAM, Eurorack modular systems and more
41 patch points with 21 inputs, 16 outputs and a Parallel-Wired 4-jack Mult
Warranty
LIMITED WARRANTY
Moog music warrants each instrument to be free of defects in material and workmanship for a period of one year after delivery to the retail purchaser. The warranty is void if the instrument has been modified in any manner other than in accordance with written instructions from Moog Music, Inc., of if the defect or failure is judged by Moog Music, Inc., to be caused by normal wear, accident, neglect, or conditions of operation other than those specified in the instruction manual.

This warranty is subject to verification by Moog Music, Inc., that a defect or failure exists and that the original purchaser complies with the following:
1. Warranty Registration Card must be returned by the purchaser to Moog Music, Inc., within 10 days of retail purchase.
2. Moog Music, Inc., must be notified by telephone, or in writing, of the problem to secure authorization to return the instrument to the factory or warranty center.
3. The instrument must be shipped prepaid. It will be returned with shipping charges prepaid by Moog Music, Inc.

MOOG MUSIC, INC., MAKES NO OTHER EXPRESS WARRANTY OF ANY KIND WHATSOEVER. ALL IMPLIED WARRANTIES, INCLUDING WARRANTIES OF MERCHANTABILITY AND FITNESS FOR A PARTICULAR PURPOSE, EXCEEDING THE DURATION OF THE AFORESTATED OBLIGATIONS ARE HEREBY DISCLAIMED AND EXCLUDED FROM THIS WARRANTY. NORLIN SHALL NOT BE LIABLE FOR ANY INCIDENTAL OR CONSEQUENTIAL DAMAGES.

Moog Music, Inc., authorizes no persons to assume for it any warranty or other liability in connection with the sale of Moog Music, Inc., instruments.

Moog Music, Inc., reserves the right to make changes in design at anytime without incurring any obligation to install same on units previously purchased.