Laney Mini-St-Lion 2x3W Stereo Mini Guitar Amp Blue
(4)
|
Q&A
|
Item #:

1500000213940
POS #:114267693
6-month special financing^ + $5 back in Rewards**
Learn More
Open Box starting at

$105.59
Save on orders $499+ and get advice on amps and effects from a Gear Adviser
Need Help?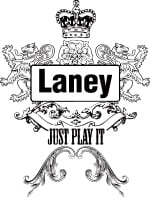 Description
The Laney MINI-ST-LION is a battery powered amp, perfect for desktop, backstage or practice, a super compact solution for guitar tone and performance anywhere.

The MINI-ST-LION model features a clean & drive channel, gain, tone and volume dial, guitar input, Aux in, On-board tape style digital delay with level control, headphone socket and the unique Laney LSI – Laney Smartphone Insert.

The LSI allows you to collect your amp to your favourite guitar tone generating app to access all your favourite guitar tones. The LSI connecting cable is supplied with the unit and works with IOS and Android devices.

Launched in conjunction with the Tonebridge app from Ultimate Guitar it's super easy to make your MINI-LANEY sound like any of the thousands of guitar tones on the Tonebridge database.

Specs
Power: 2x3W stereo
Two channels
Single input
Controls: Gain, Level, Tone, Delay and Volume Knobs
Aux. in
Headphone output
LSI - Laney Smartphone Insert cable included
Battery powered