Kramer 1983 Baretta Reissue Electric Guitar Classic White
Q&A
|
Item #:

1500000404858
POS #:119277069
$46/mo.‡ with 48 months financing* + $109 back in Rewards**
Learn More
Lease-To-Own Purchase Options
Learn more
Beat the rush: Order this highly anticipated release now and we'll ship it as soon as it arrives. You won't be charged until it ships.
Notify me when this item is in stock.
Save on orders $499+ and get advice on guitars from a Gear Adviser
Need Help?

Description
The Kramer 1983 Baretta Reissue is a faithful recreation of an archetypal Superstrat for hard rock and metal guitarists. Initially styled as an Eddie Van Halen signature model, the Baretta took several cues from illustrious instruments in his collection, including the infamous Frankenstrat, which inspired the Baretta's Floyd Rose tremolo system, diagonally positioned bridge humbucker and single volume control. Scores of innovative rock and metal guitarists gravitated to the Kramer Baretta as a powerfully simplistic platform that allowed them to push the boundaries of their playing, and Kramer electric guitars skyrocketed to the pinnacle of popularity by the mid '80s. The Kramer 1983 Baretta Reissue harkens back to an explosive era in electric guitar history, during which generational talents forged contemporary techniques and new sounds with a forcefully influential instrument in their hands.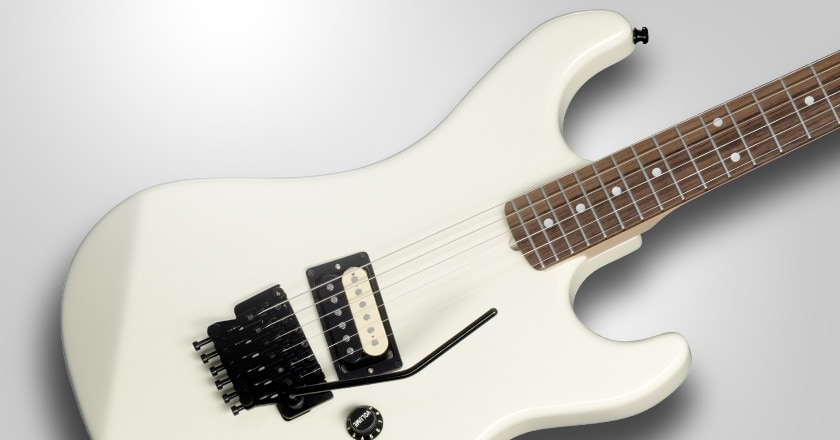 Definitive '80s Double Cutaway
The soul of the '83 Baretta Reissue is a maple double-cut body owning plenty of curves and contours consistent with a Superstrat-style electric guitar. The cornerstone of a hard rock and metal workhorse is comfort that facilitates efficiency, made possible by the 1983 Kramer Baretta's extensive belly carve and exaggerated arm contour that puts the picking hand in optimal position. Maple is dense and provides the Baretta a substantial feel despite its sculpted lines—as a tonewood, it's lively and punchy, complementing high-gain amp settings with perceptible clarity. Favoring softer, rounder edges than similar high-performance instruments of the day, the Baretta's outline is, at once, vintage-inspired and ever contemporary.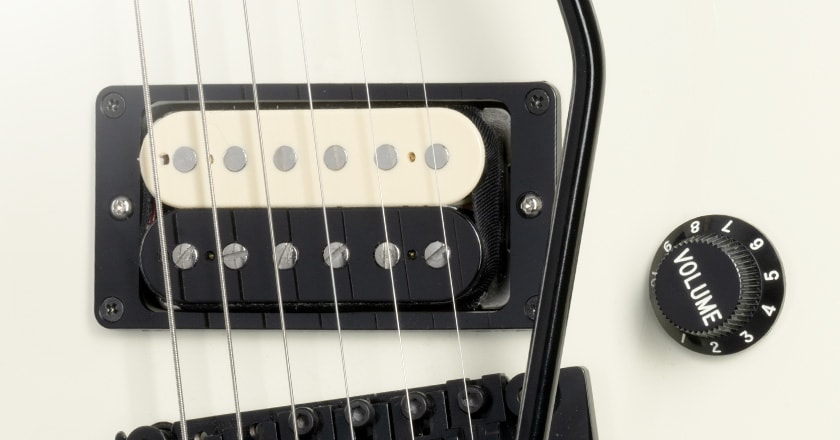 Single Duncan Humbucker
The Kramer 1983 Baretta Reissue incorporates a Seymour Duncan '59 SH-1 bridge humbucker with reverse zebra coils. Offset and slanted at an angle, this was originally done to compensate for the tremolo's wider string spacing relative to the humbucker's narrower pole pieces. The Duncan '59 is one of the brand's most popular offerings—a vintage output, P.A.F.-style pickup with modern refinements, including a brighter top end and moderately more compressed sound. In the bridge position, the SH-1 can be notably aggressive, capable of dishing high-gain tones thanks to its compatibility with lighter gauge strings and amplifiers much snarlier than any of those played in the 1950s. Players can roll off the master volume knob to clean up their sound, but the Kramer 1983 Baretta Reissue is "Made to Rock Hard" at all times.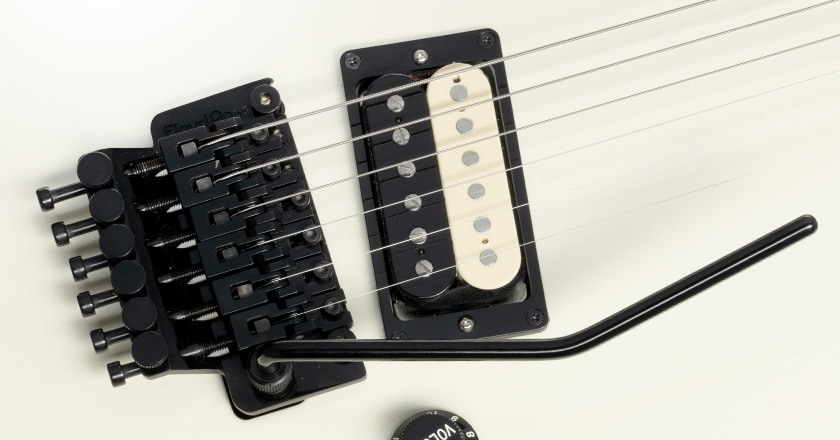 Original Floyd Rose Tremolo
Much of the fingerboard acrobatics taking place in the '80s owes itself to the Floyd Rose tremolo. At the time, Kramer was the only electric guitar company installing Floyd Rose systems stock on production models, giving players a rock-solid tuning foundation and the opportunity to embellish solos and riffs with whammy flutters and dives. The Kramer 1983 Baretta is equipped with an Original Floyd Rose tremolo, R5 locking nut and Gotoh SG360 tuning machines. With one of the most stable floating bridge designs ever invented, even the most demanding techniques won't push the Baretta out of tune.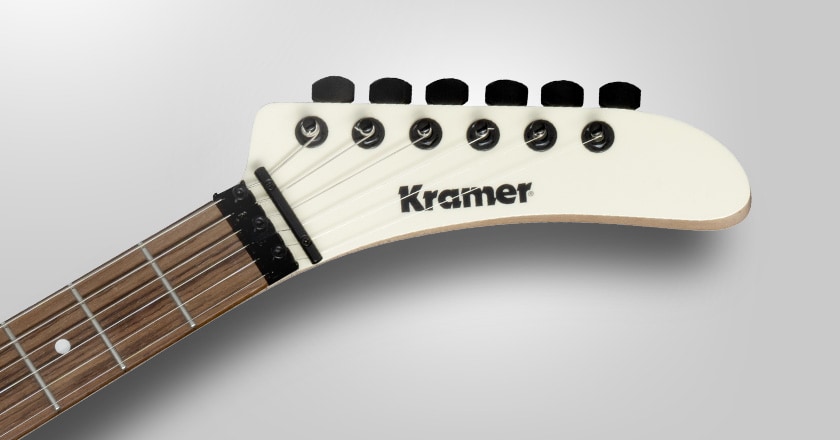 Iconic Headstock, Shredder's Neck
Colloquially referred to as the "banana" by Kramer, the 1983 Baretta bears the iconic headstock shape, rumored to have been inspired by one Explorer-style, custom "shark" guitar belonging to Eddie Van Halen. Following below the recognizable headstock is a maple neck and 22-fret rosewood fingerboard hewn to a period-accurate Historic 1983 Baretta profile and inlaid with 1/4" mother-of-pearl dots. Meticulously crafted to vintage specifications in Japan, the Kramer Baretta Reissue plays identically to the sought-after originals.
The Baretta was a groundbreaking model in 1983, and it catapulted Kramer into the stratosphere as the best-selling guitar brand of 1985 and 1986. With a competitive edge contributed by stock components like Floyd Rose tremolos and Seymour Duncan pickups, the flagship Baretta boasted global acclaim throughout the mid '80s. The Kramer 1983 Baretta Reissue encapsulates a piece of electric guitar history and represents the brand's thought leadership as a pioneer in the industry. Visit your local Guitar Center and see what makes the vintage-spec Kramer Baretta such a distinctive guitar enjoyed by players like Eddie Van Halen, Mick Mars and Vivian Campbell.
Features
Maple top and body
Maple neck
Rosewood fingerboard
Seymour Duncan '59 single coil
Specs
Body
Cutaway: Double cutaway
Body type: 1983 Baretta
Top wood: Maple
Neck
Nut width: 44.45mm
Neck Wood: Maple
Fingerboard: Rosewood
Scale length: 647.7mm
Number of frets: 22
Electronics
Pickup/preamp: Seymour Duncan '59
Tuner: Gotoh SG360 right-angle
Other
Bridge: Floyd Rose
Saddle & nut: Floyd Rose R5 Locking Nut
Special features: Mother-of-pearl inlay
Case: Kramer hardshell
Country of origin: Japan