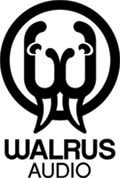 Description
Reverb and distortion have been harnessed and woven together for an eternity of ethereal power with The Melee: Wall of Noise effects pedal from Walrus Audio. The Melee unapologetically uses a joystick to meld reverb and distortion into one massive blaze of sound with the flip of the order switch. For the sonic explorer, the Melee can run one of three different reverb programs Ambient, Octave and Reverse. Controls are fun to use and are designed to inspire a wealth of creative output. Use the joystick to control the amount of distortion by moving it up and down, or move the joystick left and right to adjust the reverb mix. The tone and decay toggles have low, medium and high settings, and modulation can be added to the wet signal by holding down the bypass switch and moving the decay toggle. The left position is no modulation, the middle is a slight modulation and the right is a high modulation.

The Melee is equipped with three different reverb programs, which can be changed by simultaneously pressing the bypass and sustain stomp switches. Experiment with the order toggle switch to hear how differently these all react in front and after the distortion.

Ambient Reverb (Pink LED) - Huge reverb capable of massive trails and engulfing your chords into an angry wash of sound. Great for soaring melodic lines or shoegaze-driven chord progressions.
Octave Down Reverb (Yellow LED) - Similar to the Dark mode in the Slö, you'll find an eerie lower octave hovering in the reverb trail for a nice and dark atmospheric touch.
Reverse Reverb with Feedback (Blue LED) - Add reversed reverb trails back into your signal, create gentle melodies or push into reverse feedback overload. Big, slow and sad chords love to hang out here.