Rockett Pedals The Melody Mark Lettieri Signature Overdrive Effects Pedal
(2)
|
Q&A
|
Item #:

1500000213609
POS #:114255961
6-month special financing* + $9 back in Rewards
Learn More
Lease-To-Own Purchase Options
Learn more
Open Box starting at

$175.12
Order it today! This item is backordered, but you can save your place now so you don't miss it when it's back in stock. You won't be charged until it ships.
Notify me when this item is in stock.
Get amp and effects pedal help from an expert like Duane
Need Help?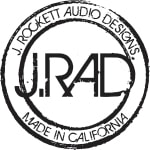 Description
The Melody Overdrive from J. Rockett Audio Designs is the signature Mark Lettieri overdrive, which provides excellent overdrive characteristics. It includes a 6-band graphic EQ with 18 db cut and boost on each frequency, making it perfect for all styles. This feature allows for solo boosts, or to help a struggling backline setup. From Mark's solo stuff all the way through the Snarky Puppy tunes, this thing will elevate your rhythm and solo tone and feel.
Specs
Power requirement: 9 volt negative tip adapter and a 5.5mm x 2.1mm jack
Dimensions: 4? x 2.3?