Description
Designed for musicians, recordists and content creators, the Harbinger LX12 12-channel mixer is packed with the tools you need to be your creative best. Whether you're setting up your home recording studio, creating a podcast, playing solo or small group gigs at local clubs, or looking for a utility sub-mixer for your keyboard, guitar or drum rig, the LX12 connects you and your audience with pristine, easy-to-use quality. Featuring a variety of inputs, from low-noise, high-gain mic preamps with solid phantom power to high-impedance guitar inputs that preserve your tone and Bluetooth for serious flexibility, built-in 24-bit digital effects and a 2x2 USB audio interface, the Harbinger LX12 is ready whenever inspiration takes you.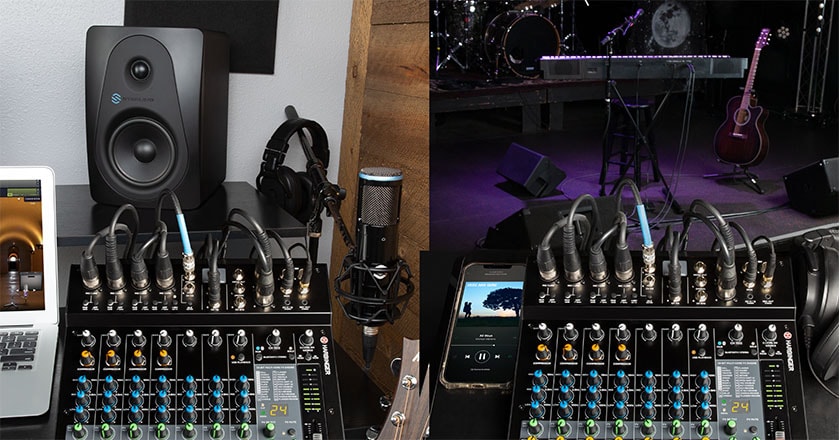 Versatility Is Key
With the ability to be equally at home while recording music or podcasts, or on stage controlling your show, the Harbinger LX12 is an ideal choice for musicians who are constantly moving back and forth between those environments. With a wide range of available inputs and the ability to connect directly to a computer for recording and playback, as well as having provisions for main and monitor outputs, the LX12 can take almost any combination of sources you want to throw at it. At the same time, you get a great sounding feed for your audience or your DAW.
Ready to Record
With the Harbinger LX12, there's no need for a separate audio interface. The integrated 2x2 USB audio interface has zero-latency hardware monitoring and an easy plug-and-play connection to your laptop or desktop computer. You'll also find Harbinger has included the cross-platform (macOS, Windows and Linux) Traction Waveform multitrack recording software, so you've got everything you need to plug it in and start on your recording journey.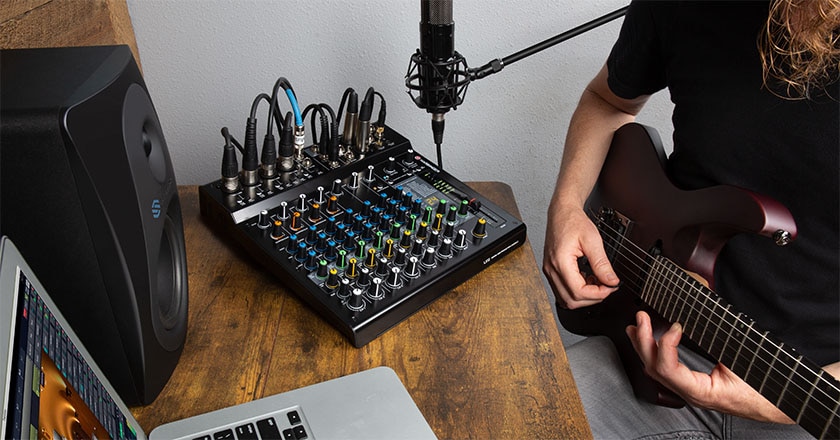 Ready to Rock
Also included with the LX12 is Two notes Torpedo Wall of Sound plug-in software that makes the mixer a powerful tool for guitarists, both acoustic and electric. The award-winning Torpedo Wall of Sound makes it easy to get amazing electric guitar sounds when using amp simulation plug-ins, or incredible "amp-in-the-room" realism when you record from multi-FX units, preamp pedals or an amp running into a reactive load box. Plus, turn off the speaker cabinet and mic, and Wall of Sound's EQ, compressor and reverb are great for your acoustic signal chain. And if you want a super-clean input you can post-process with whatever plug-ins you want, the high-impedance (Hi-Z) switch on the instrument input matches your instrument's output impedance. This lets you connect any guitar, acoustic or electric, or bass directly without losing any tone or sonic quality.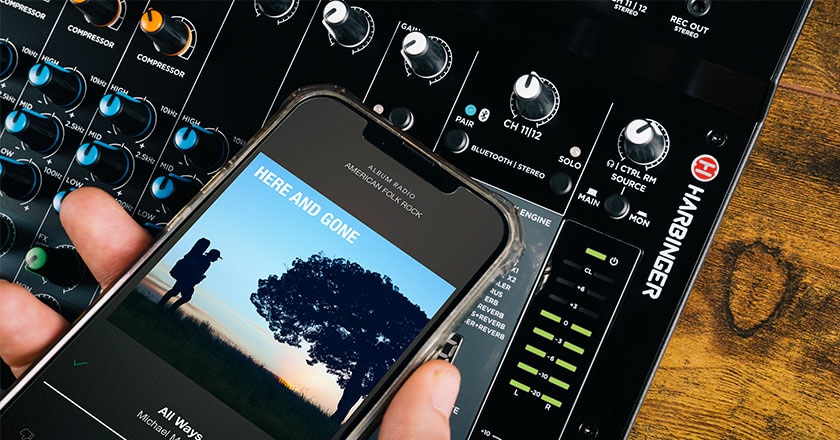 Bluetooth and Monitor Mix Make It Happen
Whether you're using it at rehearsal to play reference tracks, or for backing tracks and break music at a gig, the Harbinger LX12's integrated Bluetooth and mobile device audio inputs have your covered. Another key feature is the Monitor Mix bus that lets you monitor your playback in headphones without sending the playback to your main mix, so that overdubbing to your recordings via USB is a seriously tasty piece of cake.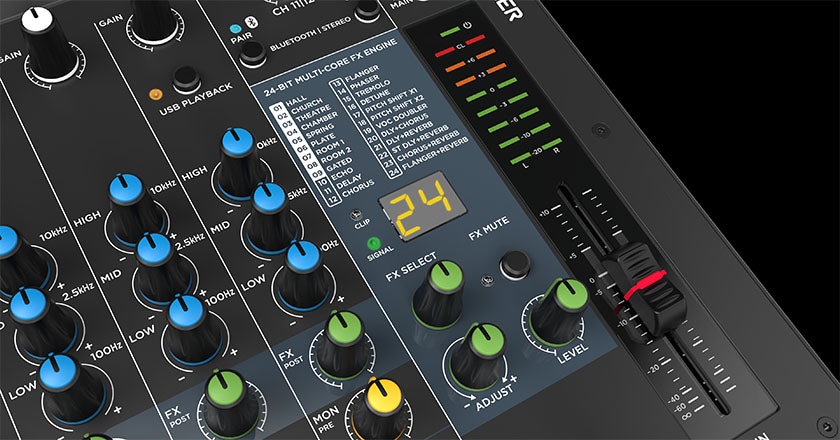 Powerful FX Section
With 24 available programs in a 24-bit, multi-core FX engine, you can call up reverbs, delays, chorus, doubling and more to sweeten your sound, whether you're looking to wow an audience live, or add a little extra to a recording.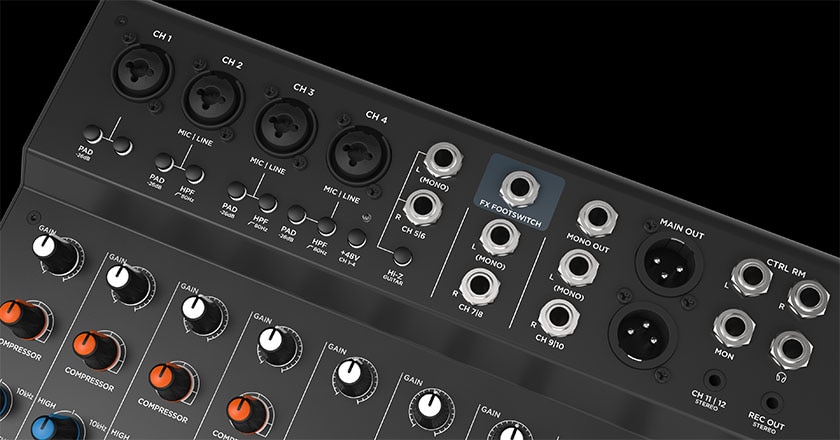 More Utility Than DWP
With LX12's four mono inputs, four stereo inputs (including USB) and multiple outputs, it makes a stunningly versatile utility mixer. Using it for a stereo keyboard sub-mix, you can combine up to three stereo keyboards, four mono synths and output from a laptop to feed to the main house mixer with room to spare. Drummers can run a basic mic set up, and add a couple of drum modules they can trigger, a click track and output from a laptop. One of the best parts is that you can also create your own personal monitor mix at the same time, feeding headphones, in-ear monitors or a separate monitor speaker.
Extraordinary Value Meets Incredible Sound
With all of this going for it, the most amazing thing about the Harbinger LX12 is the amount of value it provides. The phrase "punches above its weight class" is probably one of the most overused phrases in modern marketing, but Harbinger's LX series is definitely deserving of that accolade. From solo gigs to the nerve center of a home recording setup to touring as your utility sub-mixer, the LX12 is ready to take you to your next musical destination.
Features
Integrated 2x2 USB audio interface for computer recording and playback
Recording software and FX plug-ins included
Bluetooth audio input for use with smartphones or any other Bluetooth source
Compressors for adding professional polish to instruments and vocals
24 built-in 24-bit digital FX with parameter adjust for fine-tuning FX presets
4 XLR 1/4" microphone/combo inputs, supporting a wide range of sources
3 channels of balanced stereo 1/4" line inputs
Instrument-ready input for connecting a guitar or bass
Stereo 1/8" input to connect audio from a mobile device
48V phantom power for professional condenser microphones
80Hz high-pass filter and 26dB PAD on each combo input
3-band EQ for even more tone-sculpting control
XLR outputs for connecting to pro-standard equipment
Dedicated monitor bus allows for running a custom mix to stage monitors, at the same time as using internal FX
Stereo 1/8" record output to send a mix to an external recorder
Stereo 1/4" control room outputs
Stereo 1/4" headphone output to monitor a mix through professional headphones