Line 6 HX One Stereo Multi Effects Pedal
(0)
|
Q&A
|
Item #:

1500000409721
POS #:119516334
6-month special financing^ + $14 back in Rewards**
Learn More
Lease-To-Own Purchase Options
Learn more
Save on orders $499+ and get advice on amps and effects from a Gear Adviser
Need Help?
Line 6 HX One Stereo Multi-Effects Pedal | Demo and Overview with Dre DiMura
Line 6 | HX One | Overview
Line 6 | HX One | Performance

Description
The Line 6 HX One single-stomp effects pedal puts the power of Line 6's acclaimed HX Modeling technology in a single, compact and amazingly versatile pedal that can easily slot into any player's pedalboard. With over 250 available effects, taken from the huge library developed for their entire HX family of processors, the HX One provides a stunning assortment of effects to inspire your musical imagination.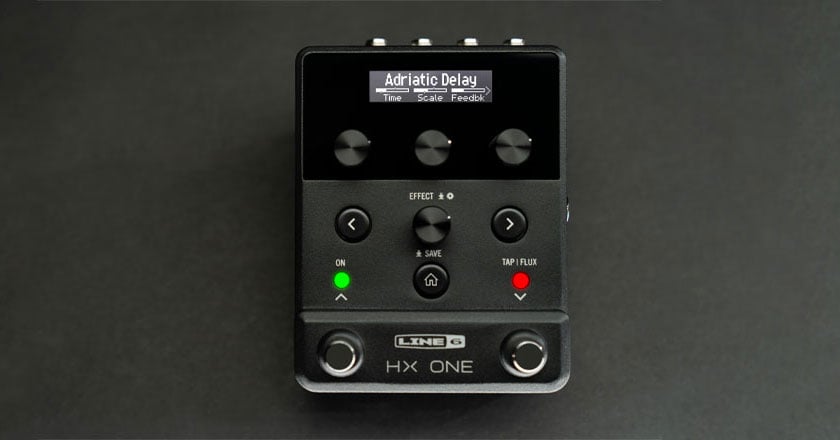 A Legacy of Powerful Modeling
Since the introduction of the original AxSys 212 amplifier in 1996, Line 6 has been at the forefront of the digital modeling revolution. The development of their HX Modeling technology, which debuted with the Helix multi-effects, further cemented their reputation, and the Line 6 HX One takes all that modeling magic and packs it into a single, standard-sized effect pedal. The HX One is loaded with over 250 of the effects developed for Helix, HX Stomp and HX Effects, all available in a pared-down, easy-to-use single-stomp format.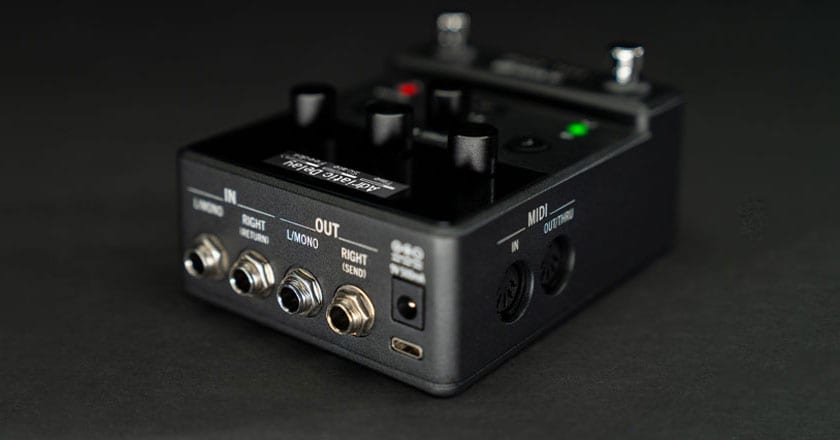 Flexible I/O
Don't be fooled by the HX One's compact format. It's loaded with all the connections you could want. Able to run mono or stereo, and with full MIDI control capability, it also has an expression pedal jack that's assignable individually for each of the 128 available presets. No expression pedal? That's okay, because Line 6's Flux control allows you to program automated parameter changes without the need for one. There's also a USB-C jack for connection to your computer for control, programming or future firmware updates—and keeping their gear updated is something for which Line 6 is well known.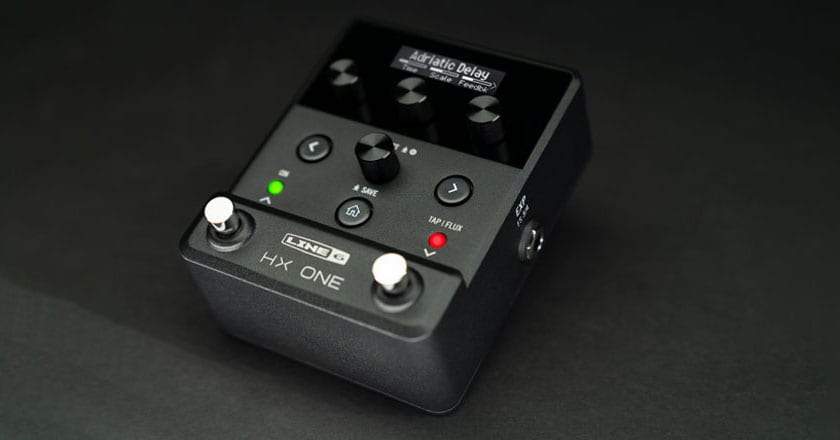 Immaculate Control
Speaking of control, you've got complete access to all effects and effect parameters right from the top dynamic knobs that change their function to suit the chosen effect, displayed on an easy-to-read OLED screen. Alternatively, you can hook it up to your computer and dive even deeper with HX Edit software. If you already use a MIDI controller or switcher, you can plug in to the 5-pin standard MIDI jacks and incorporate it into setlist, patch changes and MIDI sequences. The control can be as simple as you want or as complex as you need.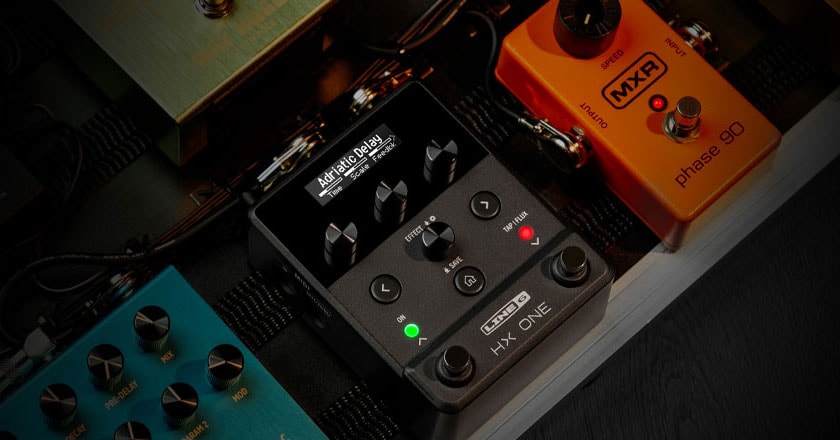 Massive Versatility in a Small Package
Whether you tend to use a single pedal at a time, or love to stack multiple pedals for lush, complex sound fields, the Line 6 HX One is something that fills out the possibilities of your pedalboard. The fact that it can be, in essence, any pedal you want or need it to be in a given situation can hugely expand the sonic capability of your entire performance or recording rig. When you need a rich, stereo delay, a throbbing rotary speaker, a studio-quality compressor, a wild fuzztone, or a trippy, synth-y pulse, HX One is there to provide the missing ingredient in your tonal recipe.
Features
250+ effects taken from the HX family processors
Intuitive controls make selecting and editing effects easy
Flux Controller for automating parameter changes
Adjustable input impedance to match your instrument
Connect an optional expression pedal or 2 external footswitches
MIDI In, Out/Thru connectors (receives PC and CC messages)
Stereo I/O with choice of True Bypass or buffered DSP Bypass
128 preset slots
USB-C port for firmware updates and use with HX One Preset Librarian
9V Power supply included